Timely sales events during Prime Day 2020 encourage early holiday shoppers and are expected to surpass 2019's record-breaking black friday and cyber monday events.
What's Happening: 
This week, Amazon will kick off its highly anticipated sales event Prime Day 2020 over October 13-14 with a 48-hour online savings event. The event marks the biggest shopping day of the year for Amazon, and while traditionally hosted in July, was postponed due to the pandemic. Across the globe, retailers have faced pandemic challenges including store closures, supply chain disruptions and headwinds for in-store spend. 
As both Amazon and competitive retailers aim to make up for lost time and spur early holiday shopping, App Annie forecasts American consumers are anticipated to spend 60 million hours in mobile shopping apps on Android devices during the week of Prime Day 2020, an increase of 30% year over year — marking a new record for mobile shopping, up 5% from the previous peak week commencing April 26, 2020 where mobile shopping had surpassed holiday shopping levels in 2019 due to the increase in shopping from home during the pandemic.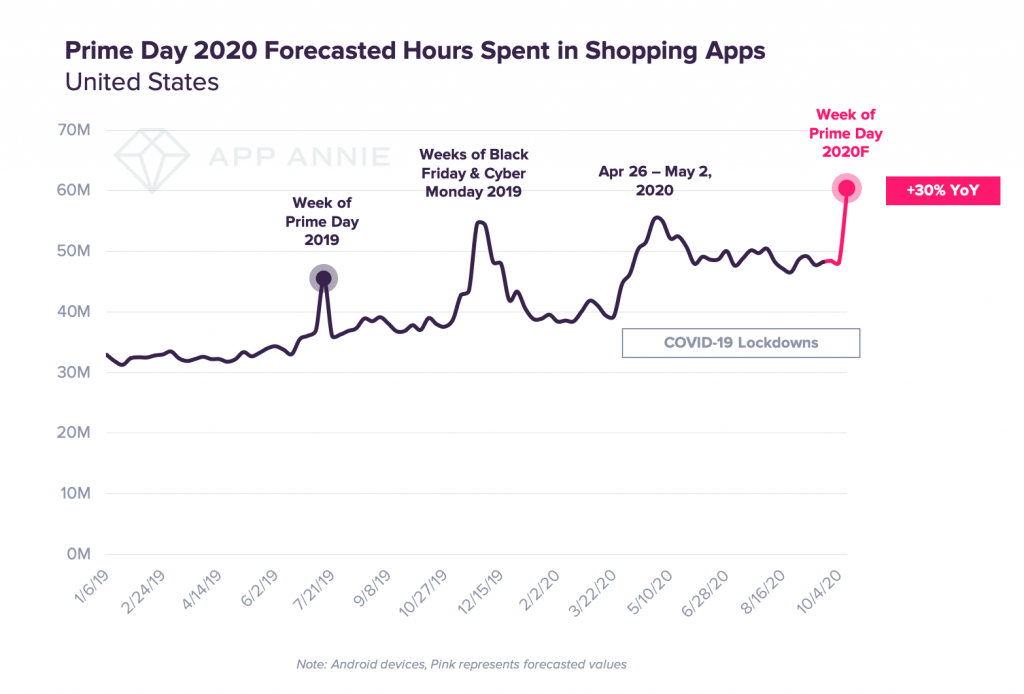 Why It Matters:
While Amazon will drive a significant portion of the mobile traffic as the #1 Shopping app by smartphone weekly active users (WAU) in the US, other retailers are capitalizing on the shopping event and launching competitive events. Kohl's WoW Week (Oct. 5-9) and Overstock Customer Day (Oct. 5-6) were launched just prior to Prime Day. Walmart's "Big Save" and Target's "Deal Days" and Best Buy's sales events will take place over the same time period to satisfy consumers' cravings for holiday savings and capitalize on the mindset for shopping. As a result of Prime Day being pushed into Q4, we expect holiday Prime Day to steal some of the thunder of Black Friday and Cyber Monday — particularly as consumers face an economy weakened by COVID.   Overall, we predict the biggest Q4 holiday shopping season on mobile yet with nearly 1 Billion hours spent on Android devices in the US, up 50% year over year — as holiday shoppers embrace the socially-distant COVID shopping habits that have shifted to socially-distant mobile devices during the pandemic.  
While Prime Day marks a significant mobile shopping day in the west, globally the biggest mobile shopping day is set to be Singles Day 2020 on November 11. From a global perspective, we predict Alibaba's Singles Day will bring in $45 billion globally in 24 hours — with the lion's share fueled by mobile commerce. Other upcoming sales events aimed at mimicking this success include the 10.10 Shopping Festival and Double 12 (12/12) — a follow up to Singles Day aimed at promoting small and midsize businesses.
We've already seen the 9.9 shopping day reach new heights in 2020. In South East Asia, we saw time spent in Shopping apps on Android phones during the week of 9.9 break records, 2x time spent on 9.9 in 2019. During this week, Shopee was #1 by time spent on Android phones in Indonesia, Malaysia, Philippines, Singapore, Thailand and Vietnam.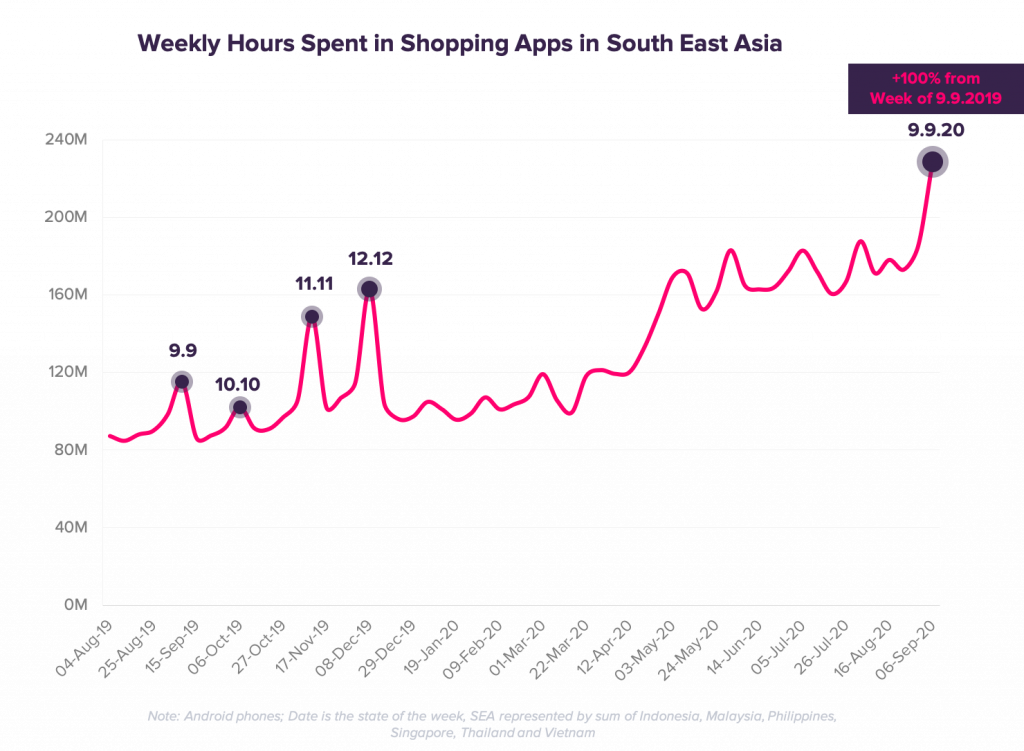 Go Deeper:
As retailers will be relying heavily on Q4 sales to close out the year strong, these timely savings events provide a valuable opportunity to encourage shoppers to act quickly to secure value. By leveraging mobile solutions, retailers can expand the footprint of these events and capture consumers' attention on the devices where they spend the most time.

For an in-depth analysis of 2020 holiday shopping predictions, as well as insights for retailers to prepare their mobile strategies — check out our full list of predictions here. 
For more information on the impact of the pandemic on the mobile economy, please read our latest report: How COVID-19 Has Changed Consumer Behavior on Mobile Forever. 
Looking to make more of the mobile opportunity? Talk to an expert today.
This post is the latest in a Mobile Minute series that features App Annie's perspective on how mobile is impacting current events and consumer trends. Check in weekly for our take on the latest news cycles and how mobile transformation is shaping industries around the world.
DISCLAIMER
App Annie is a mobile market estimate service provider. App Annie is not registered in any investment advisory capacity in any jurisdiction globally, and does not offer any legal, financial, investment or business advice. Nothing contained in this communication, or in any App Annie products, services or other offerings, should be construed as an offer, recommendation, or solicitation to buy or sell any security or investment, or to make any investment decisions. Any reference to past or potential performance is not, and should not, be construed as a recommendation or as a guarantee of any specific outcome. You should always consult your own professional legal, financial, investment and business advisors.