Fintech embraces the concept of super apps to meet the full range of consumer demands.
What's Happening: 
"Super apps" are a concept that allow users to access an entire ecosystem of products and services. With their extended capabilities, they allow customers to purchase products, book appointments and access services — all within a single platform. The concept has traditionally been popular in global regions including APAC, but most recently we've seen western expansion with companies like PayPal announcing plans to launch a super app. Additionally, iOS 14.5 limitations may provide an impetus to make super apps more prevalent in order to bolster first-party data and offer a more personalized user experience. 
Why It Matters:
By integrating new features, super apps can expand and tap into new markets and potential users. For example, our data reveals that many users of fintech apps also use social apps to prioritize both their financial and social well-being. In fact, 76% of US PayPal users on iPhones also used Facebook in March 2021. Additionally, 38% of US PayPal users on iPhones also used TikTok in March 2021, up from 26% in March 2020.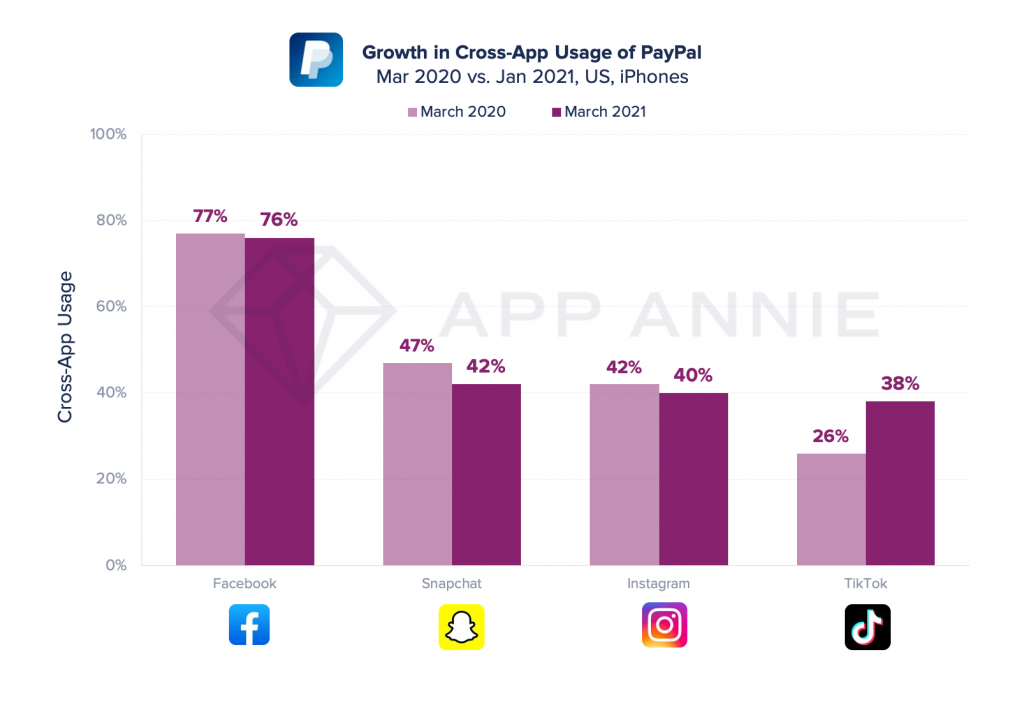 Our newest composite metric: App Annie's Performance Score can compare apps from different industries with diverse business models and agnostic of app lifecycle. During the week of April 26 - May 1, PayPal and Facebook were tied for their acquisition and engagement scores with a perfect score of 100. With respect to sentiment, we see PayPal outperforms Facebook by 97 to 64. PayPal is poised to leverage this positive sentiment when positioning itself in the super apps space. App Annie's Performance Score is the industry's first proprietary metric comprising over nine disparate performance metrics across sentiment, acquisition, monetization and engagement metrics to give one composite metric to show true mobile performance. Benchmark against rising stars in the App Annie Pulse app today.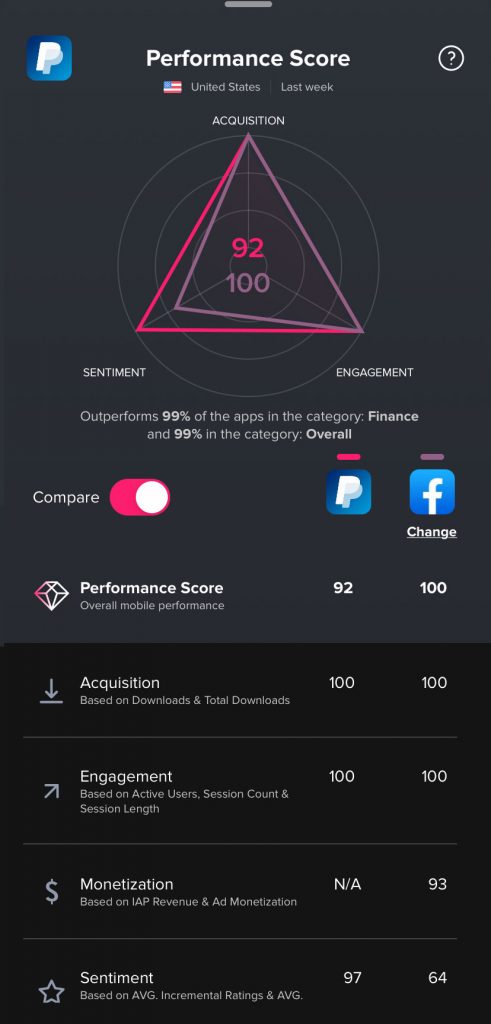 When looking at finance apps in the US, PayPal ranked #2 for MAU in Q1, only behind Venmo which PayPal owns. APAC has traditionally led the pack of super apps (Grab in SEA, WeChat in China) and Japan's PayPay ranked #1 among Finance apps in that market this past quarter. While Japan is a more cash-centric economy, PayPay has grown in popularity this past year and is on a trajectory to becoming a super app. Other important players in the space include D Payment, RPay and LINE Pay, along with Mercari which has Mer Pay included as a feature in its app and is in partnership with D Payment.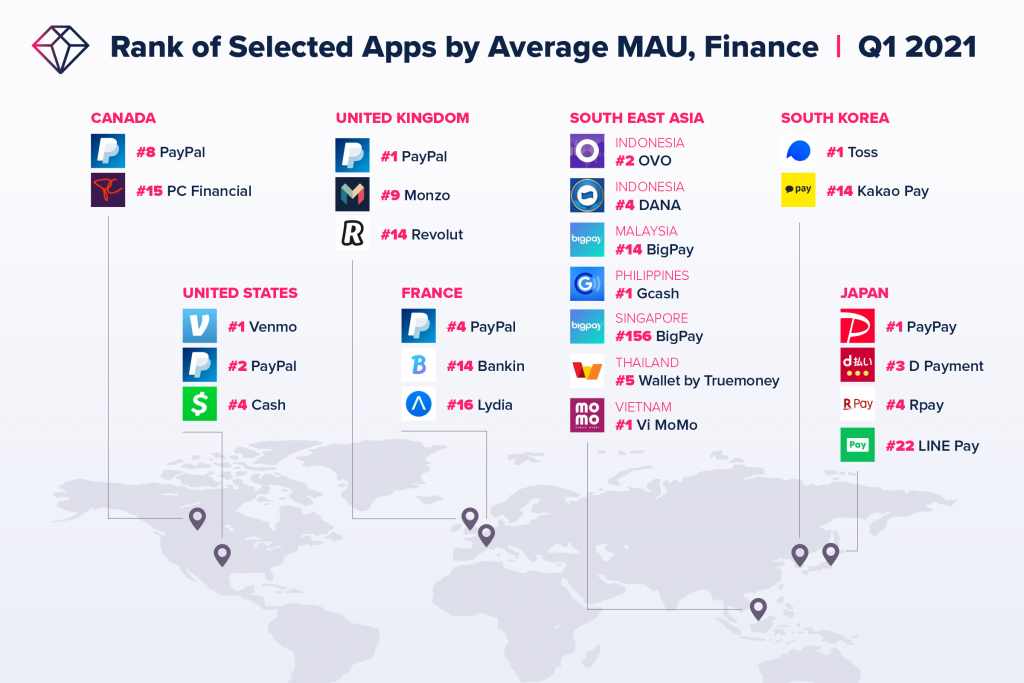 2021 was coined the year of IPO for Korean fintech companies, which we've seen most recently from KakaoPay, the super app where users can make cashless and cardless payments, online and offline purchases, as well as manage their investments.
Go Deeper:
Today, consumers spend 4.2 hours daily on mobile as a means for communication, business, shopping, finances and other day-to-day tasks. As apps are extending their capabilities to include social, financial and other personal needs, these deeper engagements will help grow overall time-spent in-app and allow brands to further tailor personalized experiences. 
Looking for more mobile insights? Download App Annie's industry-leading State of Mobile report, covering everything you need to know about how to win on mobile in 2021.
Looking to make more of the mobile opportunity? Talk to an expert today.
This post is the latest in a Mobile Minute series that features App Annie's perspective on how mobile is impacting current events and consumer trends. Check in weekly for our take on the latest news cycles and how mobile transformation is shaping industries around the world.
DISCLAIMER: 
App Annie is a mobile market estimate service provider. App Annie is not registered in any investment advisory capacity in any jurisdiction globally, and does not offer any legal, financial, investment or business advice. Nothing contained in this communication, or in any App Annie products, services, communications, or other offerings, should be construed as an offer, recommendation, or solicitation to buy or sell any security or investment, or to make any investment decisions. Any reference to past or potential performance is not, and should not, be construed as a recommendation or as a guarantee of any specific outcome. You should always consult your own professional legal, financial, investment and business advisors. Additionally, by providing the information herein, App Annie does not make any representations or warranties and does not undertake any legal or contractual obligations whatsoever. No liability may accrue to App Annie as a result of providing this information to you.