This year, streaming platforms Netflix, Amazon and Apple TV+ received 19 nominations between them … but which came out on top with viewers?
What's Happening: 
On Sunday, the much anticipated 95th Academy Awards ceremony takes place, highlighting buzzworthy artists like Michelle Yeoh and Austin Butler.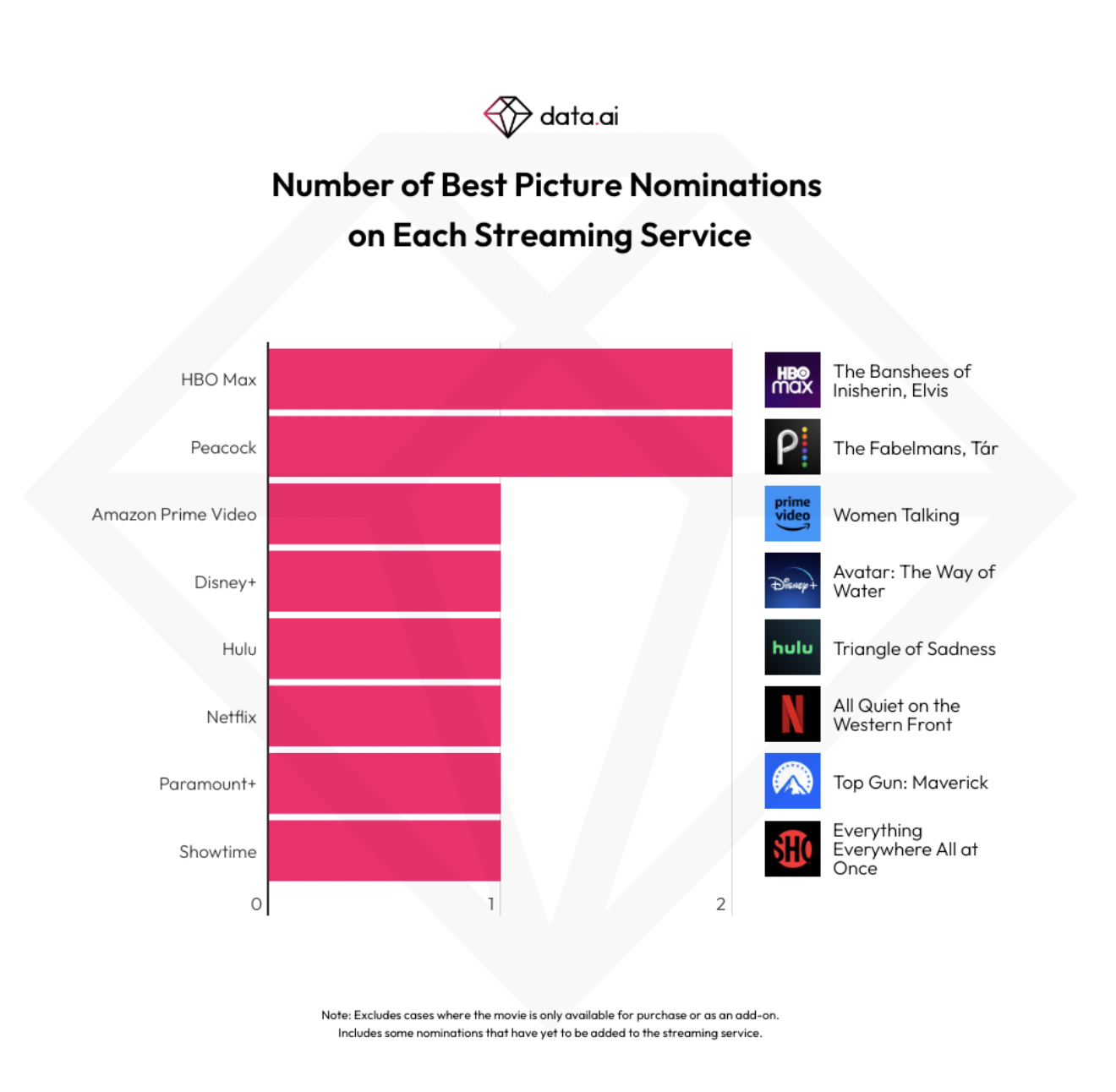 The nominations for the Oscars, announced on the 24th of January, saw viewers rush to watch their favorite, now critically acclaimed movies. And streaming app Paramount+ saw the biggest increase in week-over-week download growth – 80%! – thanks to  Top Gun: Maverick and Everything Everywhere All At Once. 
Amazon Prime Video and Netflix also saw an increase in downloads following the nominations of their movies:  The Fabelmans, Blonde and All Quiet on the Western Front.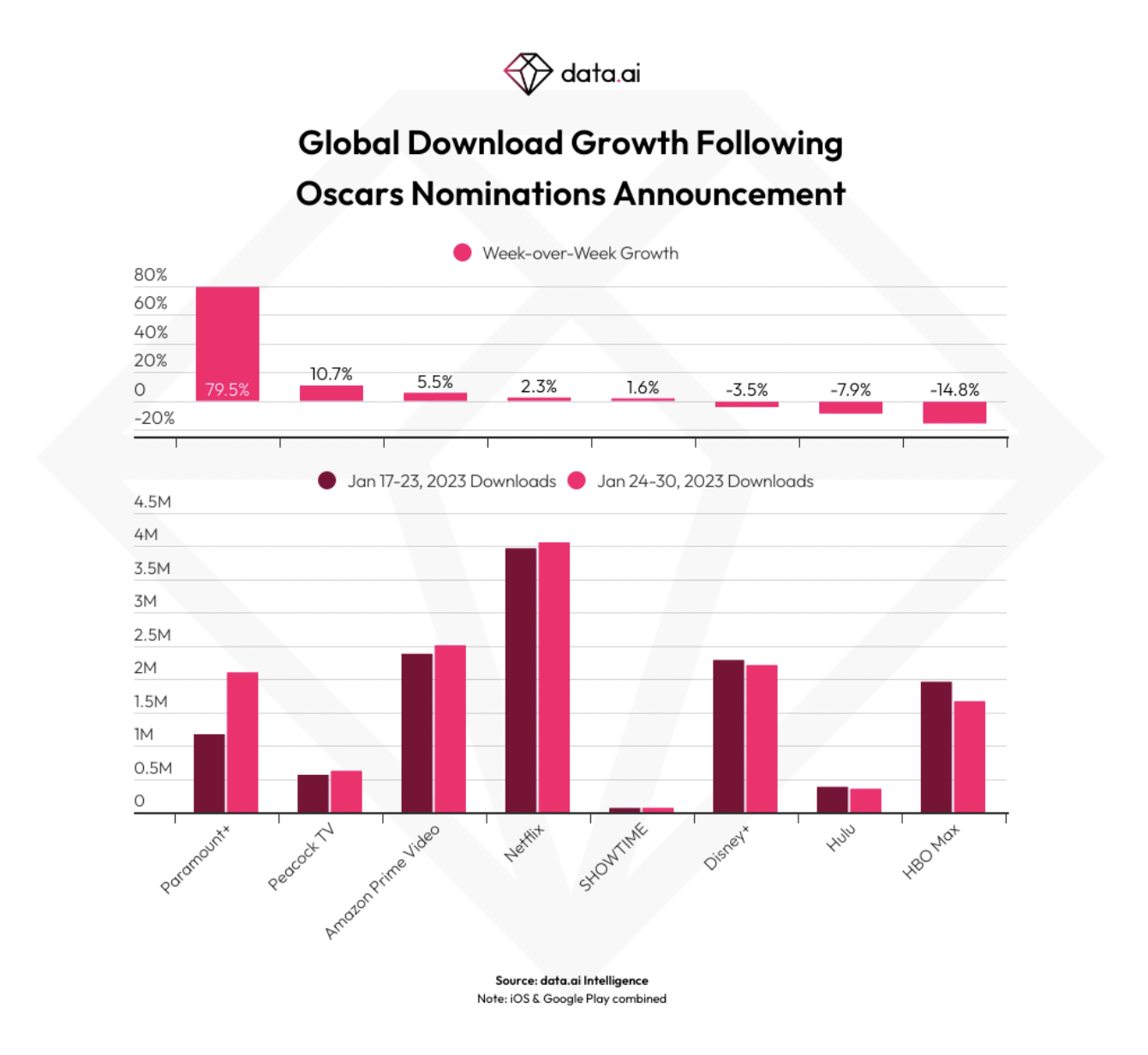 Why it Matters:
The pandemic had a profound effect on the entertainment industry, with streaming services seeing explosive growth as movie theaters paused operations.
That trend isn't slowing, with global downloads of video streaming apps in 2022 climbing by 23% YoY to 3 billion. And spending on video streaming apps topped $7.2 billion globally (+12% YoY) … with US viewers contributing 44% of all spend.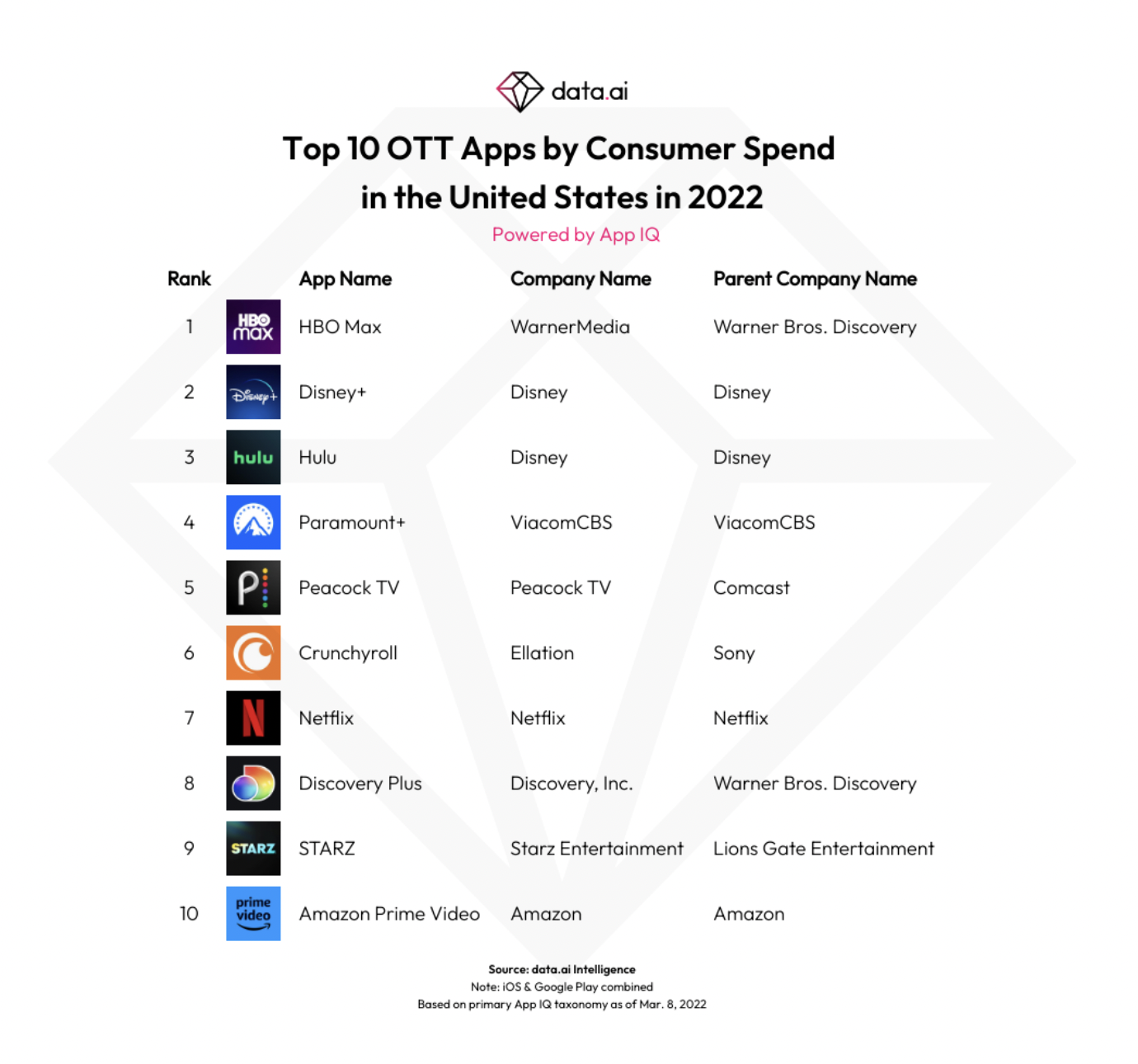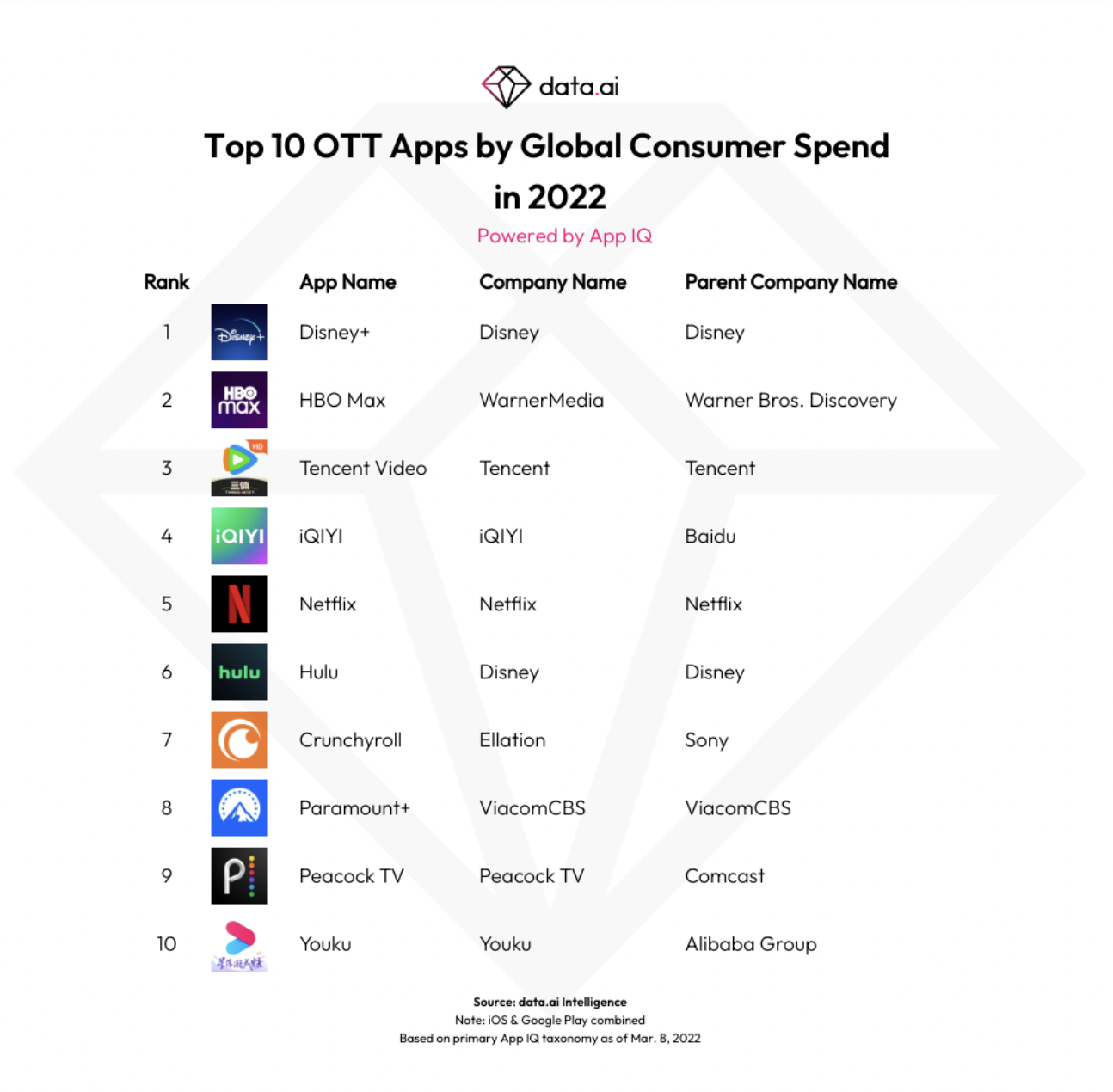 The streaming app wars began long before this awards season, and they're only expected to heat up with two of the largest platforms having celebrated recent anniversaries: Netflix on January 15 (14 years) and Amazon Prime Video on February 22 (10 years)
Netflix surpassed the 430 million global MAU mark in April 2020, due to strong growth in user acquisition, combined with a boost from COVID-19 lockdowns. While Amazon Prime Video surpassed the 200 million global MAU mark for the first time in 2022.
Go Deeper:
What's more, viewers have more streaming platforms at their disposal than ever before, especially in emerging markets. Apps such as MX Player are seeing an increase in popularity in countries like India. MX Player was the third-most downloaded video streaming app in the world after giants YouTube and Netflix in 2022. 
In 2022, Brazil saw the entertainment/OTT category grow by downloads more than any other genre, up 78.6 million year-over-year. This increase can be attributed to more competition in the sector. For example, Brazil's two largest pay-TV providers, Claro Brasil and SKY Brasil, have both recently launched streaming services in the country to complement their traditional pay-TV offers. 
In other parts of LATAM, Mexico witnessed a similar spike in the entertainment/OTT category. Which  was easily the top category by spending growth with $41.7 million more spent by consumers in 2022 than 2021. Mexico was also the second largest by downloads, rising to 31.3 million.
Get an Insider Look:
Check out our State of Mobile 2023 to stay ahead of mobile trends and predictions. Because world-class brands leverage data.ai for the most powerful competitive advantage. So don't make a single decision without our first-party insights (and AI-powered solutions) on your side. Only at data.ai.
This post is the latest in a Mobile Minute series that features data.ai's perspective on how mobile is impacting current events and consumer trends. Check in weekly for our take on the latest news cycles and how mobile transformation is shaping industries around the world.
DISCLAIMER: 
data.ai is a mobile market estimate service provider. data.ai is not registered in any investment advisory capacity in any jurisdiction globally, and does not offer any legal, financial, investment or business advice. Nothing contained in this communication, or in any data.ai products, services, communications, or other offerings, should be construed as an offer, recommendation, or solicitation to buy or sell any security or investment, or to make any investment decisions. Any reference to past or potential performance is not, and should not, be construed as a recommendation or as a guarantee of any specific outcome. You should always consult your own professional legal, financial, investment and business advisors. Additionally, by providing the information herein, data.ai does not make any representations or warranties and does not undertake any legal or contractual obligations whatsoever. No liability may accrue to data.ai as a result of providing this information to you.