Sports season openers drive increased usage of sports apps. With both American and English Football kicking off, we analyzed the mobile engagement of these fans.
What's Happening: 
As the Premier League kicked off in Europe and American fans wrap their NFL fantasy team draft picks in advance of the NFL season start, sports fans across the globe are turning to mobile to make their top picks, place their bets, stream live matches and follow news updates. 
Why It Matters: 
We took a look at the top sports apps in the United Kingdom and the United States by peak smartphone weekly active users. This allowed for us to control for seasonality during the last year and simply compare the largest week for each app. With the top sporting apps determined for each country, we then compared and ranked the apps by peak average sessions per user and peak average time per user. This enabled us to control for the size of the market and determine the most engaged sports fans during the biggest week of each app. By doing so, we were able to answer the question: Where are the most fervent sports fans?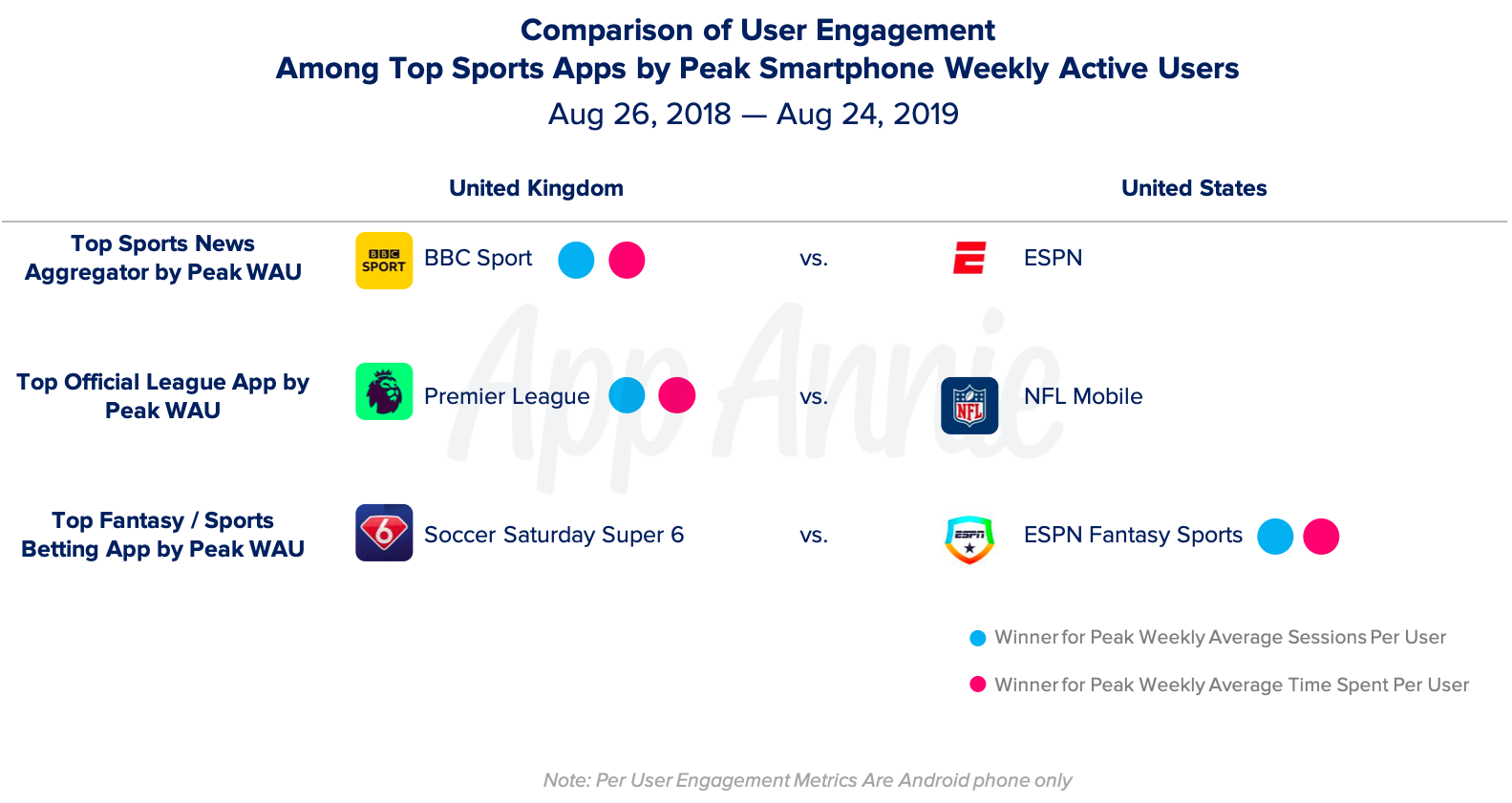 During its biggest week, BBC Sport and Premier League both won out by per user engagement compared to their US counterparts: ESPN and NFL Mobile. However, ESPN Fantasy Sports saw deeper engagement in sessions per user and time spent per user than Soccer Saturday Super 6, the top sports betting app in the UK by peak WAU. The answer is clear: for news and official league apps, British Premier League fans were the most engaged. However, when it comes to betting and fantasy drafts, American NFL fans see deeper mobile engagement as users checked their draft picks more frequently and spent more time managing their team and monitoring the performance in the app.
Go Deeper:
The popularity of apps such as ESPN Fantasy Sports, BBC Sport and Premier League have broadened the reach and increased participation in sports apps over time by simplifying the overall participation process — whether that is accessing scores on the go, drafting your favorite players or streaming live matches. No matter which sport has the most fervent fans, the data shows they are turning to mobile. 
For a deeper dive on increased mobile usage, check out our  2019 State of Mobile Report: 
This post is the latest in a Mobile Minute series that features App Annie's perspective on how mobile is impacting current events and consumer trends. Check in weekly for our take on the latest news cycles and how mobile transformation is shaping industries around the world.