App Annie predicts that shoppers will spend 20% more time YoY in shopping apps this holiday season, correlating closely to US Census data showing e-commerce sales poised to approach $250 Billion in Q4 2021
What's Happening: 
2021 has shattered e-commerce sale records as the pandemic redefined consumer behaviors and mobile shopping is showing no signs of slowing down. As consumers increasingly turn to the power of their handheld devices to make purchases, we expect that this holiday shopping season will break new records in time and consumer spend on mobile shopping apps. 
Since App Annie is committed to helping our customers win on mobile, we put together our top predictions for this holiday season so you can best prepare for mobile success.
US Consumers to Spend Over 900 Million Hours in Shopping Apps this Season, a 20% Increase YoY
As shoppers gear up for end-of-year gift exchanges, Q4 consistently sees the highest volume of e-commerce sales — and this year will be no exception. According to the US Census Bureau, in Q4 2020, eCommerce sales topped $200 billion. Q2 2021 has already surpassed this number, with nearly $225 Billion in online sales and is expected to continue to accelerate leading into the holiday season. In direct correlation on mobile shopping habits, App Annie estimates shoppers in the US will spend over 900 million hours in Shopping apps in Q4 2021 — a 20% increase in time spent year over year.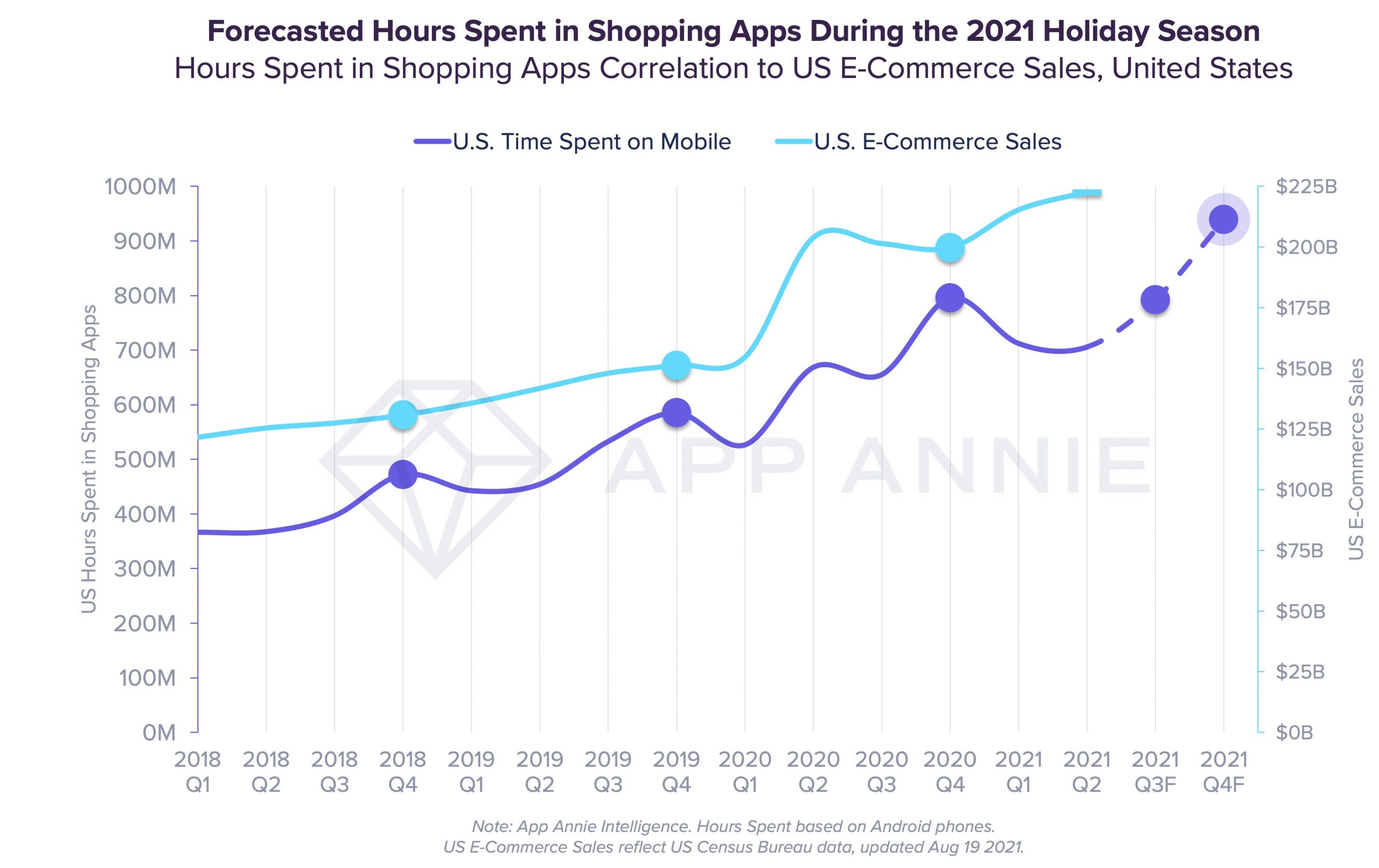 The uptick in mobile usage around the holidays isn't unique to the United States; the United Kingdom is currently on track to spend over 145 million hours in shopping apps this season — compared to 138 million hours last year. Lockdowns in Europe around the holidays in 2020 translated to record-breaking time spent on mobile. This year, while we expect more in-person shopping to be available, we anticipate a 45% bump in time spent in Shopping apps vs. Q4 2019, as mobile remains central to the omnichannel shopping experience, driving contactless payments, loyalty programs and access to in-store benefits.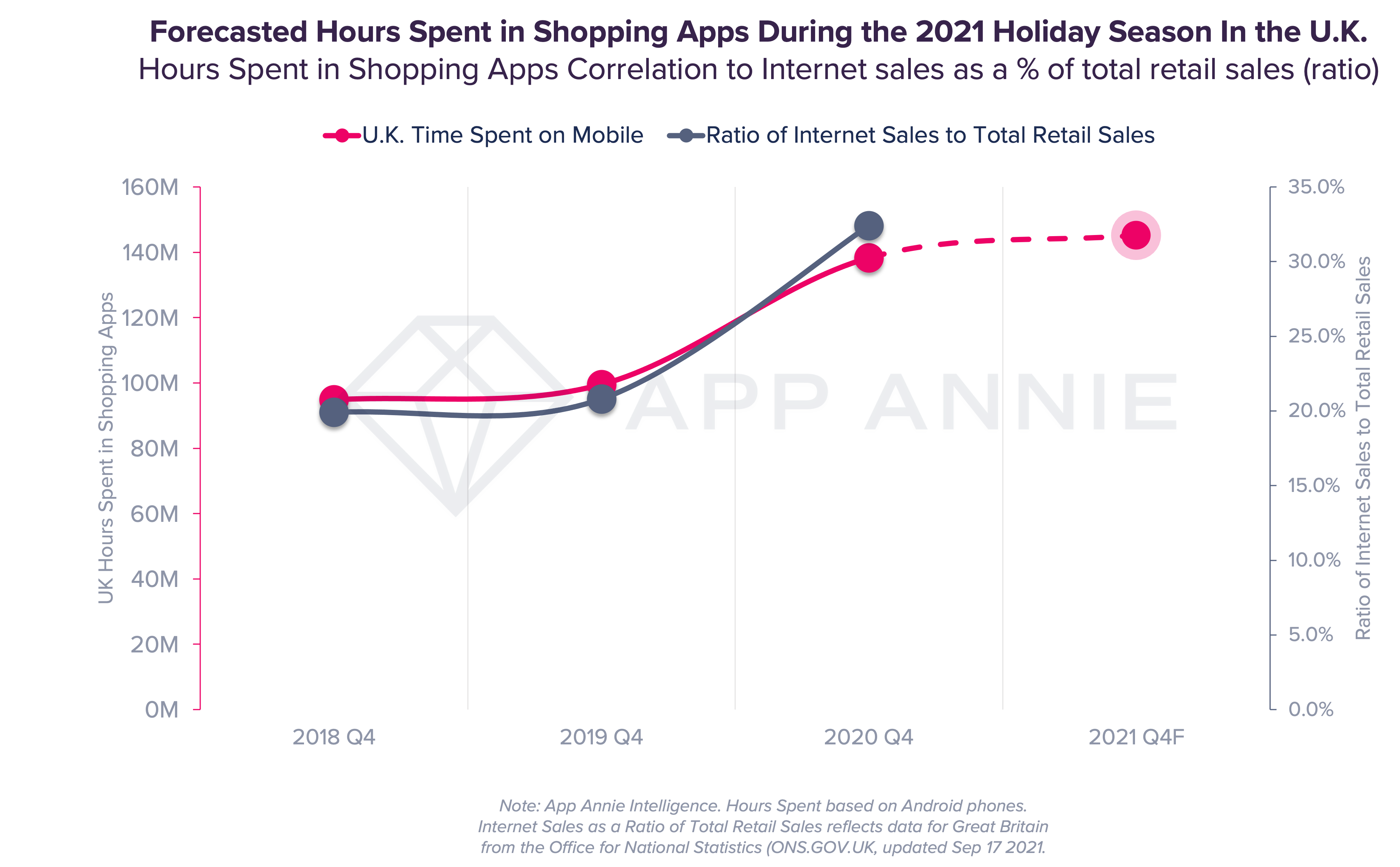 Fashion Retailers and Buy Now, Pay Later Poised to Disrupt Holiday Shopping
It's not only major retailers —like Amazon and Walmart—that hold users' attention on mobile during the holiday season. In fact, the top breakout shopping apps worldwide by downloads this year point to the success of women's fashion apps including SHEIN, Blush Mark, AliExpress Russia, H&M. Earlier this year in May 2021, SHEIN even overtook Amazon as the top shopping app worldwide by Google Play and iOS downloads in the United States.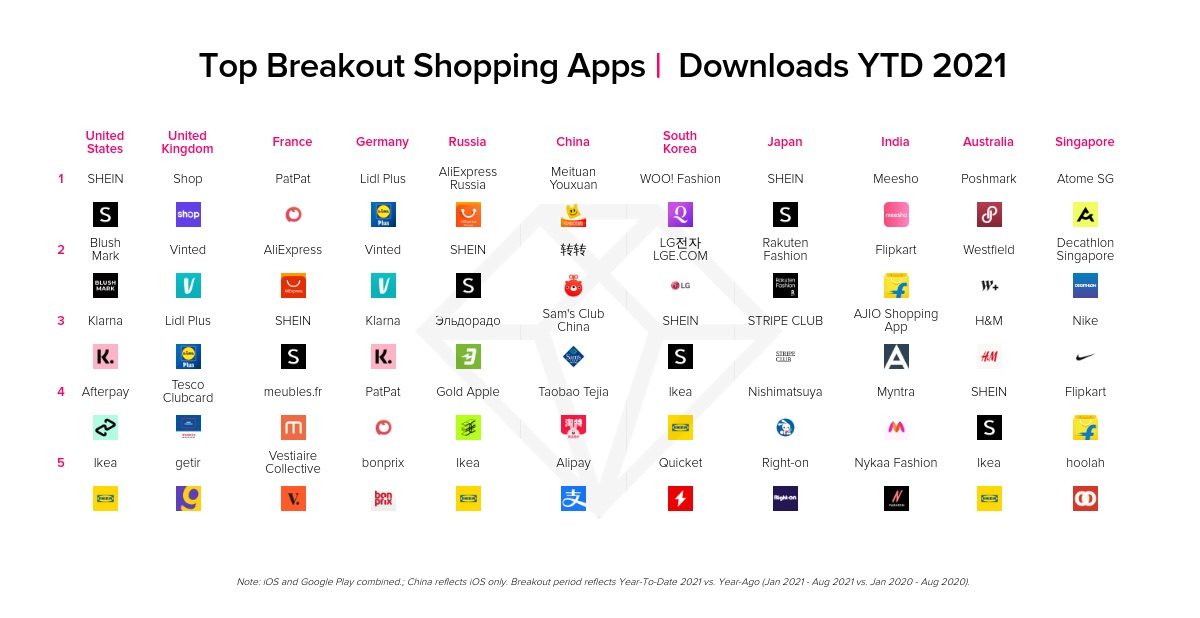 Fashion marketplaces with resale components are also popular among consumers heading into the holiday season. Poshmark rose to the top of the charts in Australia after launching in the region in February 2021, while WOO! Fashion ranked number one by downloads among breakout apps in South Korea. Vinted, Vestiaire Collective and Meeshho—second hand marketplaces and online stores—also ranked among breakout shopping apps worldwide by downloads this year. 
As consumers continue to accelerate spending, buy now, pay later apps are having their moment too. Klarna and Afterpay rank third and fourth among breakout Shopping apps by downloads in the United States. It is important to note that some buy now, pay later apps are listed under the 'Shopping' category and some under 'Finance' on iOS and Google Play. This analysis was limited to the Shopping category.  Similarly in Singapore, Atome SG became the top breakout shopping app by downloads to date (Aug 2021)  year with Hoolah rounding out the list as the 5th most popular shopping app in the country.
How to Prepare for This Year's Holiday Season on Mobile
Reevaluating and revamping your App Store Optimization (ASO) strategy before the end of the year will be essential for retailers looking to capitalize on the shopping rush. Check out our latest Expert Guide to ASO to get started. With this year's season poised to break new mobile shopping records, start preparing your mobile strategy now to stand out from competitors and attract new customers on mobile. For the complete breakdown of how to succeed in mobile shopping, download our latest Mobile Shopping Apps Report.
Looking for more mobile insights? Download App Annie's industry-leading State of Mobile report, covering everything you need to know about how to win on mobile in 2021.
Looking to make more of the mobile opportunity? Talk to an expert today.
This post is the latest in a Mobile Minute series that features App Annie's perspective on how mobile is impacting current events and consumer trends. Check in weekly for our take on the latest news cycles and how mobile transformation is shaping industries around the world.
DISCLAIMER: 
App Annie is a mobile market estimate service provider. App Annie is not registered in any investment advisory capacity in any jurisdiction globally, and does not offer any legal, financial, investment or business advice. Nothing contained in this communication, or in any App Annie products, services, communications, or other offerings, should be construed as an offer, recommendation, or solicitation to buy or sell any security or investment, or to make any investment decisions. Any reference to past or potential performance is not, and should not, be construed as a recommendation or as a guarantee of any specific outcome. You should always consult your own professional legal, financial, investment and business advisors. Additionally, by providing the information herein, App Annie does not make any representations or warranties and does not undertake any legal or contractual obligations whatsoever. No liability may accrue to App Annie as a result of providing this information to you.