As regions continue to quarantine in place, news providers are finding new routes and channels to relay information
What's Happening: 
As people continue to self-isolate globally due to continued COVID-19 concerns, San Francisco county has entered its second week of shelter-in-place and was joined by the whole state of California on Mar 20, India entered into a 21-day full lockdown on Mar 25, and the UK has closed all non-essential businesses and enforced an effective lockdown on Mar 24. As populations continue to adjust to a "new normal" of confined living, users are leveraging mobile more than ever to get updates on new local and global developments related to the pandemic. From the World Health Organization's Snapchat channel, real-time updates from the CNN app and Hulu launching its own free, live news stream, these resources are being utilized at never before seen rates to keep the public informed, safe and connected during this time. 
Snapchat has seen strong increases in engagement in South Korea, Japan and Italy amidst the coronavirus pandemic. These countries were impacted at scale relatively early on during the outbreak with lockdowns and social distancing measures in place before many other markets. Consequently, as people are forced to stay indoors, they turned to mobile to stay connected and entertained.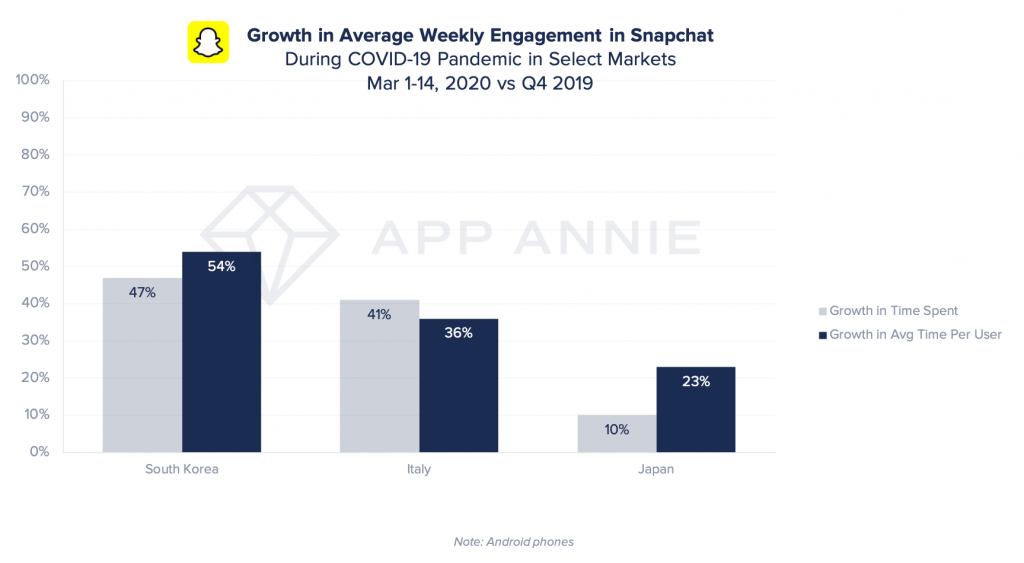 In fact, the average weekly time spent per user in Snapchat grew 54%, 36% and 23% during the first half of March compared to the average weekly time spent per user in Q4 2019 in South Korea, Italy and Japan, respectively. As more users — particularly Gen Z users — engage with Snapchat, the social app is particularly well-positioned to keep users informed with its news channels and partnerships. 
Why It Matters: 
In a period of heightened misinformation, including sites that market a "cure to coronavirus," news sources are looking for additional ways in which they can inform the general public on accurate developments and proper ways to safely quarantine. In addition to traditional television and print news channels, many social platforms have begun incorporating news features into their platforms to reach digitally-connected viewers and maintain steady, real-time updates. News apps have seen increased demand as consumers aim to remain as connected and in-the-loop as possible during the COVID-19 pandemic.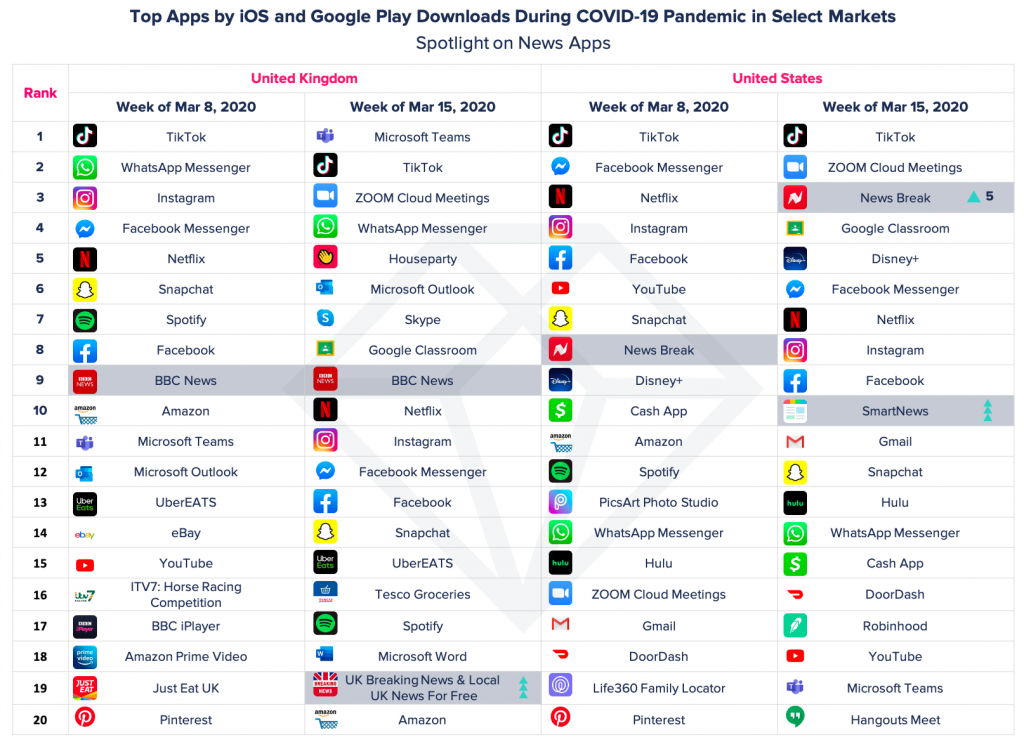 News apps such as News Break and SmartNews in the US and BBC News and UK Briefing News & Local UK News for Free saw spikes in downloads in the week of Mar 15, 2020 as COVID-19 cases escalate in the US and UK.
Go Deeper:
Slowing down the spread of coronavirus means people will be staying at home for the foreseeable future. As the global economy continues to work to flatten the curve, we'll see more consumers heading to their mobile devices to stay up-to-date. 
For more information on the impact of the virus on the mobile economy, please see our blog post here: The Impact of Coronavirus on the Mobile Economy.
To uncover more mobile insights, download our annual industry-leading 2020 State of Mobile Report:
This post is the latest in a Mobile Minute series that features App Annie's perspective on how mobile is impacting current events and consumer trends. Check in weekly for our take on the latest news cycles and how mobile transformation is shaping industries around the world.