Growth shows mobile grocery app usage remains high as shoppers leverage apps for evaluating inventory, savings, BOPIS and delivery services.
What's Happening: 
As an essential business, the grocery industry is receiving heightened demand on a global scale. Nevertheless, consumer behaviors and in-store protocols continue to shift — for example, retailers face regional restrictions on in-store traffic capacity, enhanced cleaning/sanitizing procedures, as well as increasing demand for curbside pick-up and delivery services. To help maintain engagement with shoppers, maximize sales and stand out amidst the competition, grocers are finding digital solutions and mobile apps to be critical.
Why It Matters: 
As accessibility, efficiency and value become even more important for shoppers, mobile-first solutions have helped grocers keep up with demand both online and in-store amidst COVID-19. In April, Kroger announced updates to its mobile app to provide shoppers with enhanced payment, self-checkout and buy online pick-up in store (BOPIS) options. Ranking #2 in average monthly active users among US grocery apps in Q2 2020, Kroger's efforts proved to pay off as its recent earnings showed 92% growth in digital sales.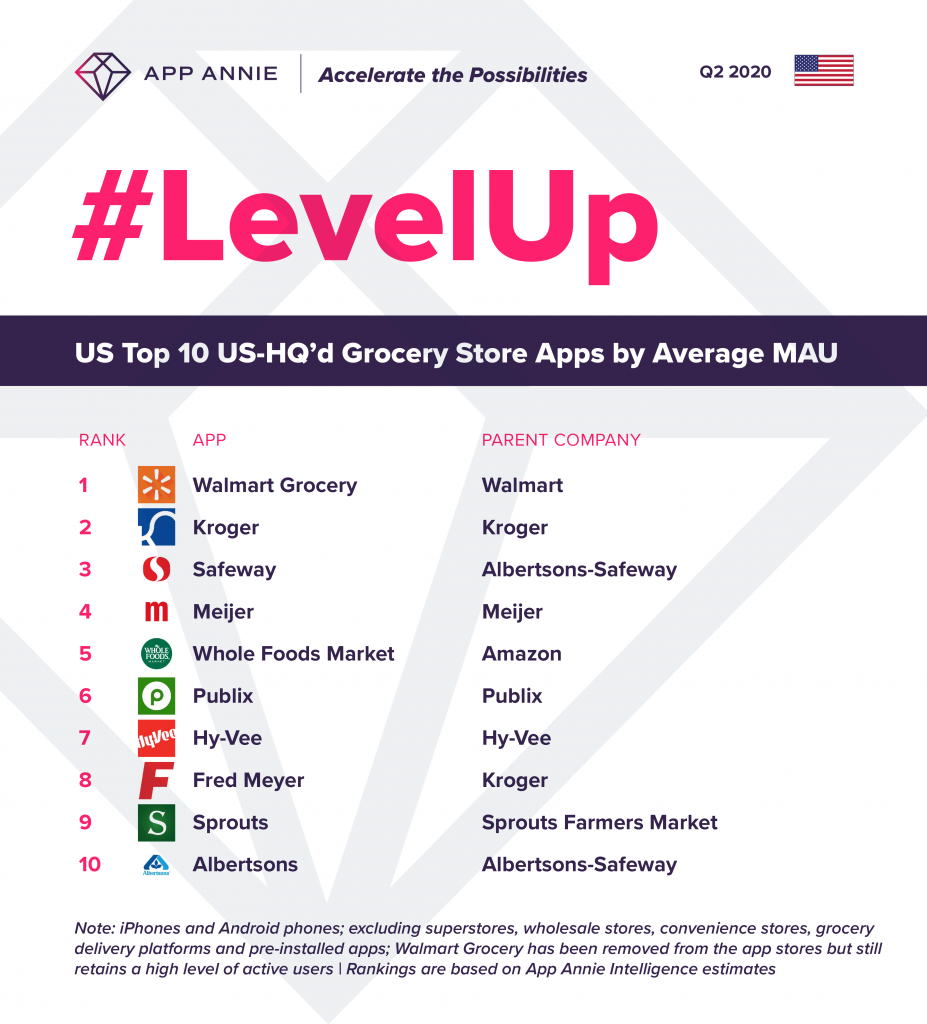 As social distancing and stay-at-home orders largely continue, shoppers are changing their usual habits — reducing their grocery store trips and shifting brand loyalties. In addition to traditional grocers, they are looking to super-stores and convenience stores for essential items.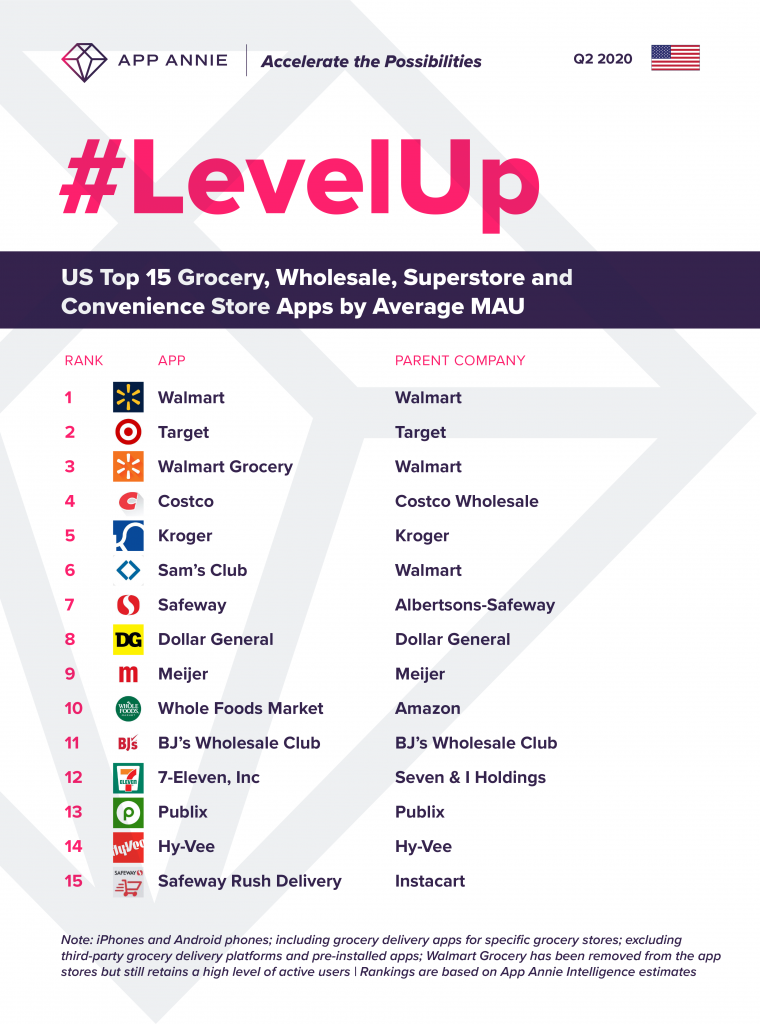 Target has capitalized on the digital grocery opportunity by announcing its BOPIS and delivery services (managed through Shipt) have been extended to include fresh and frozen food items. Convenience stores such as Dollar General have also seen steady app growth as shoppers rely on local accessibility for everyday essentials. 
While 2020 is shaping up to be a monumental year for grocery growth, other mobile-first leaders are also eager to break into the business. For example, Walmart is preparing to launch Walmart+, which will aim to provide a same-day grocery delivery service as part of its paid subscription perks. Additionally, Uber Eats recently signed a deal with French supermarket Carrefour to provide 30-minute grocery delivery. 
As grocery delivery remains a key priority for retailers, third-party delivery service Instacart saw early download growth amidst COVID-19. Despite increasing competition, last month Instacart announced $25 million in funding expanding its valuation to $13.7 billion. The provider's growth is largely credited to its strong network of 400 national, regional and local retailers across more than 30,000 stores across the U.S. and Canada.
Go Deeper:
The ongoing pandemic has proven that digital innovation is no longer just a nice-to-have within broader business strategies. Looking forward, it will be important for grocers to focus on mobile as a communication channel with customers to maintain brand loyalty and capitalize on revenue.

For more information on the impact of the virus on the mobile economy, please see our blog post here: The Impact of Coronavirus on the Mobile Economy.
To hear more from our panel of mobile experts — including a special guest from Snap, Inc. — on the impact of coronavirus on the mobile economy, watch our webinar. 
Looking to make more of the mobile opportunity? Talk to an expert today.
This post is the latest in a Mobile Minute series that features App Annie's perspective on how mobile is impacting current events and consumer trends. Check in weekly for our take on the latest news cycles and how mobile transformation is shaping industries around the world.
DISCLAIMER
App Annie is a mobile market estimate service provider. App Annie is not registered in any investment advisory capacity in any jurisdiction globally, and does not offer any legal, financial, investment or business advice. Nothing contained in this communication, or in any App Annie products, services or other offerings, should be construed as an offer, recommendation, or solicitation to buy or sell any security or investment, or to make any investment decisions. Any reference to past or potential performance is not, and should not, be construed as a recommendation or as a guarantee of any specific outcome. You should always consult your own professional legal, financial, investment and business advisors.