Top 10 mindfulness apps saw 40% year-over-year growth in time spent in August 2019 among users — providing an accessible peaceful outlet within busy daily lives.
What's Happening: 
In 2019, the World Health Organization officially recognized burnout as a medical condition — a syndrome conceptualized as resulting from chronic workplace stress that has not been successfully managed. HCA Healthcare called stress the "health epidemic of the 21st century." People across the world are turning to mindfulness apps to obtain peace of mind, live more fully in the moment and wind down from stressful days. October 10th marks World Mental Health Day. With 1 in 5 Americans experiencing some sort of mental illness, it's more important than ever that consumers have accessible resources to prioritize mindfulness  and complement professional medical advice. 
Why It Matters: 
In 2018, global consumer spend in the health and fitness app economy grew 3x compared to 2016 — with mindfulness apps occupying the #1 and #3 ranks. As we've seen a growing cultural shift toward wellness, growth in consumer spending indicates consumers are deriving value from the services these apps provide. We also looked at the top 10 mindfulness apps by global active user base in August 2019 to see which apps consumers are turning to for meditation or stress-relieving breaks throughout the day.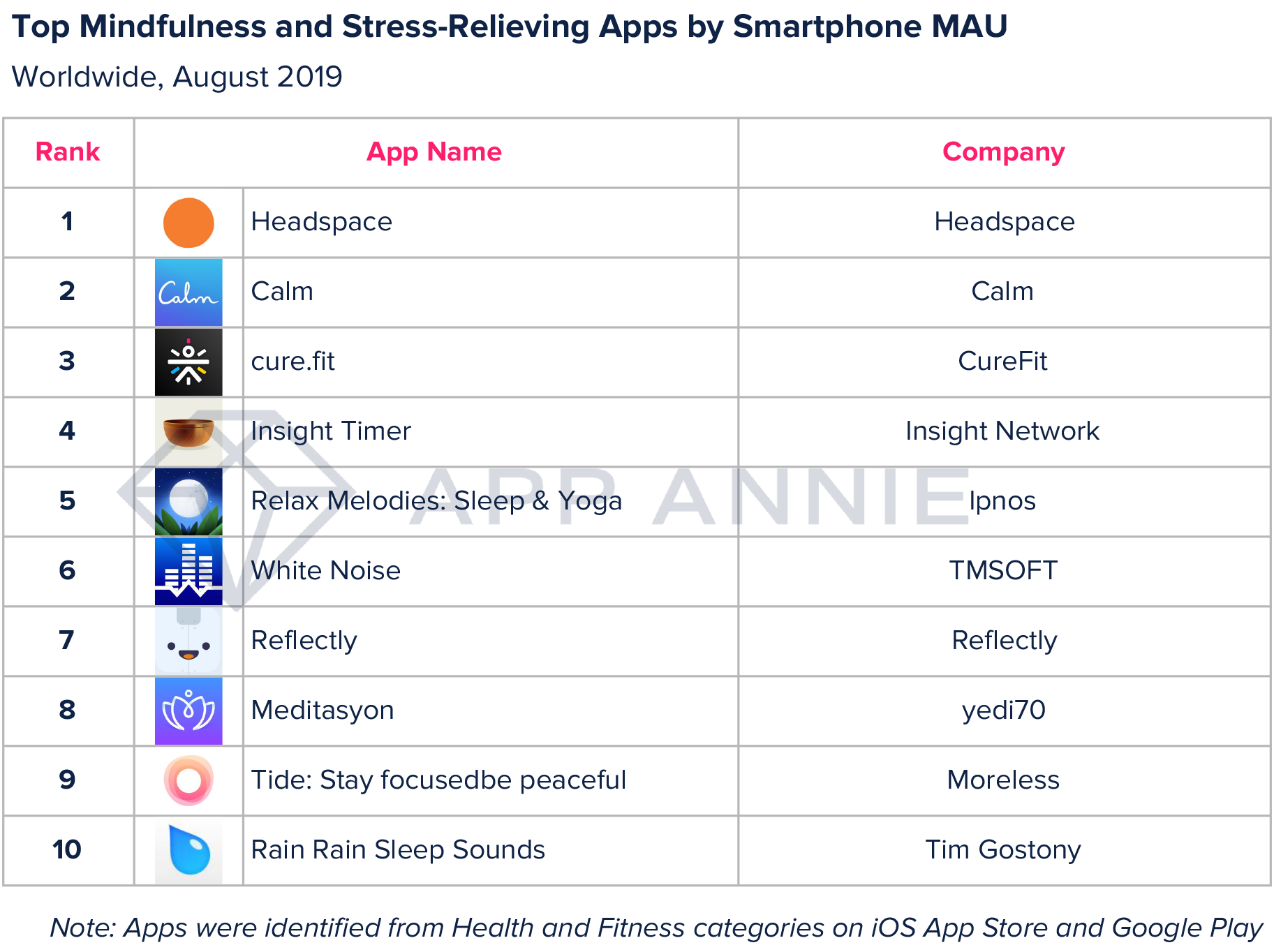 Among meditation apps, Insight Timer, saw the highest time spent from users among the mindfulness app category in H1 2019 — which reports having the largest free library of both secular and spiritual guided meditations in the app stores (27,000 and counting). 
Go Deeper:
By utilizing mindfulness and stress-relieving apps on mobile, it can lessen the burden to set aside the critical minutes to manage stress levels — even during the busiest days, or while on-the-go. Health and wellness apps place meditation, mindfulness and tools to unwind — such as relaxing sounds — within users' fingertips. 
For a deeper dive on mobile's disruption of the health and wellness industry check out our 2019 State of Mobile  Report: 
This post is the latest in a Mobile Minute series that features App Annie's perspective on how mobile is impacting current events and consumer trends. Check in weekly for our take on the latest news cycles and how mobile transformation is shaping industries around the world.