The home improvement industry's biggest selling season sees acceleration driven by DIY projects and technology innovations offering professional expertise.
What's Happening:
In recent weeks, home improvement has proven to be a bright spot in the retail industry. Deemed an essential business during the COVID-19 pandemic, companies including Home Depot and Lowe's have seen impressive mobile growth from consumers researching and buying materials for DIY home projects. Traditionally, the industry sees an acceleration in sales during the spring, but we expect this trend to continue as consumers prepare for more time at home due to extended remote work and "staycation" summers. 
Why It Matters: 
Home improvement retailers saw significant growth in monthly downloads in May 2020 (compared to January 2020) — including Home Depot (195% growth) and Lowe's (205% growth). Lowe's credits this success to its DIY-focused customer base. The increased time at home has also fueled demand for homewares digital-first retailer, Wayfair, with app downloads up 85% in May 2020 from Jan 2020.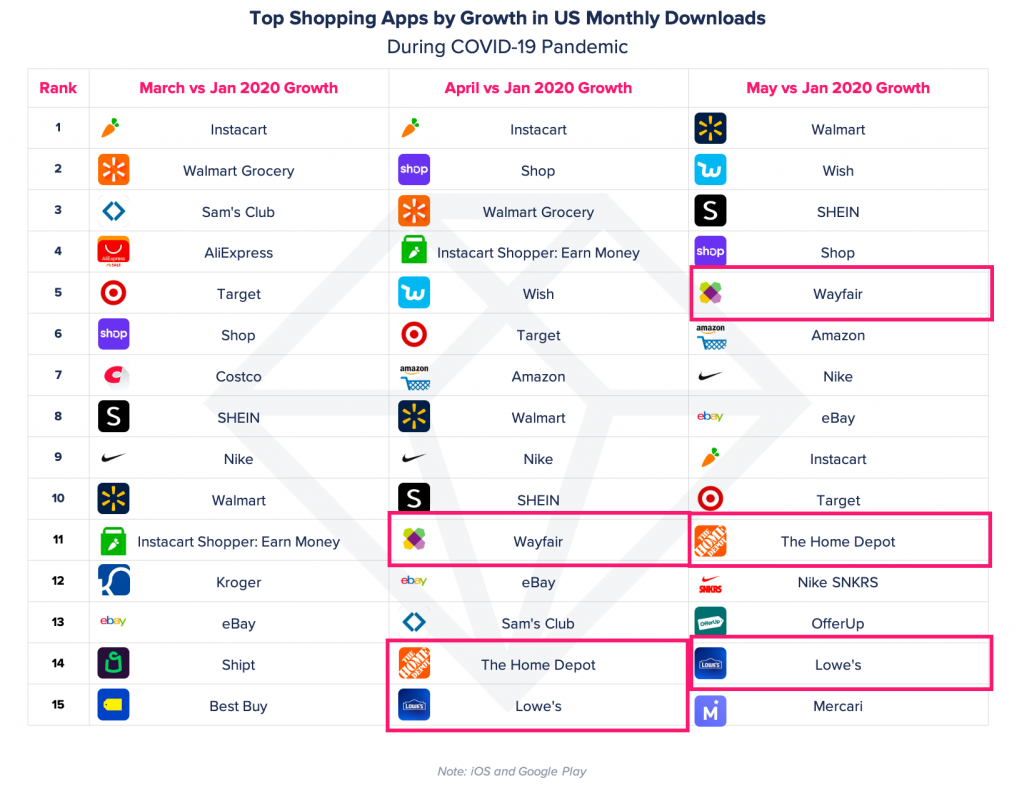 Due to social distancing measures, retailers are also leveraging high-tech features such as augmented reality to offer customers enhanced customer service. For example, Lowe's recently launched its Lowe's for Pros JobSIGHT powered by Streem, an augmented video chat service that allows professionals to conduct virtual home visits and consultations with customers. In terms of furniture and decor, Wayfair's app also features augmented reality capabilities that allow customers to remotely "test" and visualize furniture within their homes. 
Recent analysis of Pinterest — which ranked #21 in May 2020, up 11 ranks month over month, among non-gaming apps by iOS and Google Play downloads in the US — also shows increasing interest in home projects, including a 150% increase in searches related to "home office" ideas between February and March 2020. In response to the acceleration in online shopping and DIY interest, Pinterest has unveiled a "Shop" tab in its Lens camera search results to help users find and buy items.
Real estate apps have also seen positive growth in consumer interest. Increased time spent at home and within apps may have highlighted the need for more space to work from home or prompted the desire to renovate a new space.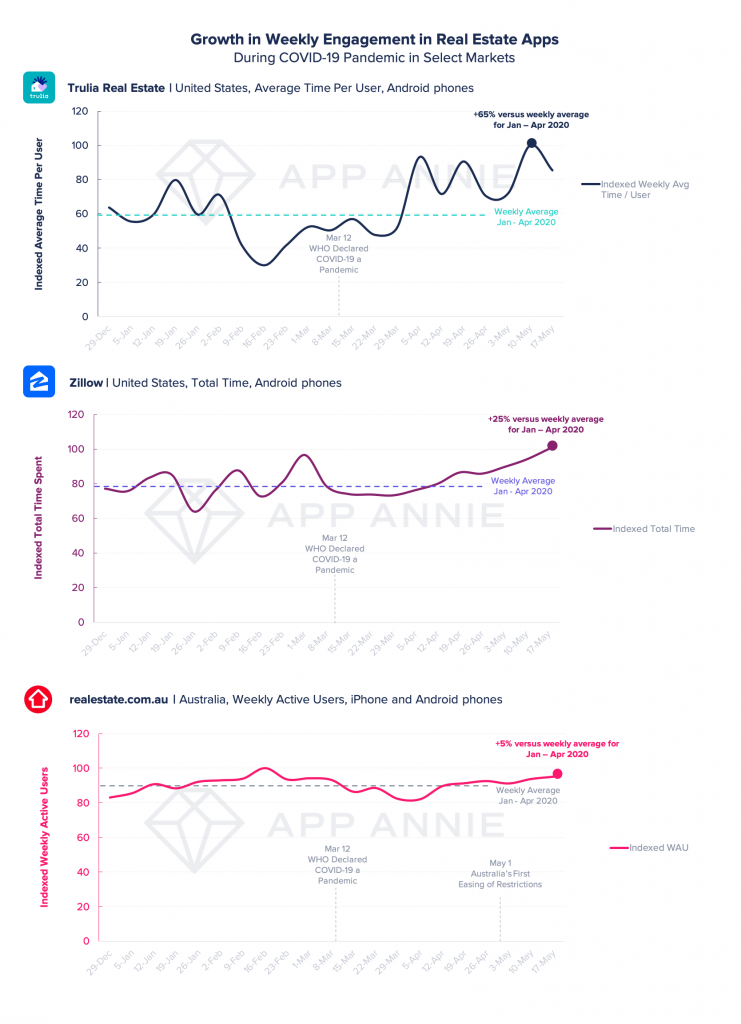 Time spent in Zillow on Android phones in the US increased 25% during the week of May 17-23, 2020 compared to the weekly average of Jan - April 2020. Trulia saw growth in per user engagement with average time spent per user on Android phones in the US seeing an increase of 65% during the week of May 10-16, 2020 compared to the weekly average of Jan - April 2020. In Australia, realestate.com.au saw a relatively resilient level of smartphone weekly active users (WAU) despite an initial dip during COVID-19 lockdown measures. As restrictions in Australia began to ease on May 1, 2020, realestate.com.au's WAU was trending upward indicating growth in consumer interest in the real estate market in the period after home quarantines. 
Go Deeper:
As consumers are spending more time at home, mobile apps are helping to support home improvement and DIY renovations. While the timeline for a full "return to normal" is still unclear, retailers from all sectors will need to focus on how they can leverage mobile technology to create personalized and engaging customer experiences. 
For more information on the impact of the virus on the mobile economy, please see our full analysis here: The Impact of Coronavirus on the Mobile Economy.
To hear more from our panel of mobile experts — including a special guest from Snap, Inc. — on the impact of coronavirus on the mobile economy, watch our webinar. 
Looking to make more of the mobile opportunity? Talk to an expert today.
This post is the latest in a Mobile Minute series that features App Annie's perspective on how mobile is impacting current events and consumer trends. Check in weekly for our take on the latest news cycles and how mobile transformation is shaping industries around the world.
DISCLAIMER
App Annie is a mobile market estimate service provider. App Annie is not registered in any investment advisory capacity in any jurisdiction globally, and does not offer any legal, financial, investment or business advice. Nothing contained in this communication, or in any App Annie products, services or other offerings, should be construed as an offer, recommendation, or solicitation to buy or sell any security or investment, or to make any investment decisions. Any reference to past or potential performance is not, and should not, be construed as a recommendation or as a guarantee of any specific outcome. You should always consult your own professional legal, financial, investment and business advisors.