Powered by App IQ, data.ai's latest analysis highlights record-high global interest in avatar-based social apps
What's Happening:
The gaming community has been familiar with the concept of 'the metaverse' with ROBLOX being the largest mainstream example today — ranking #1 for global consumer spend on mobile in 2021 and garnering over $4.5 billion in app store consumer spend as of Mar 31, 2022 to date — a testament to its widespread popularity. However, the concept of the metaverse extends beyond gaming. While the idea of shopping, marketing, and interacting with others in a virtual world may not be mainstream yet, tech giants like Meta (Facebook) are seemingly leading the charge and consumers and brands in other sectors are quickly jumping on board, which we can see reflected in the mobile landscape. In fact, we are seeing a spillover effect of interest in the metaverse causing a surge in global demand for Avatar-Based Social Apps (a new subgenre of data.ai's App IQ).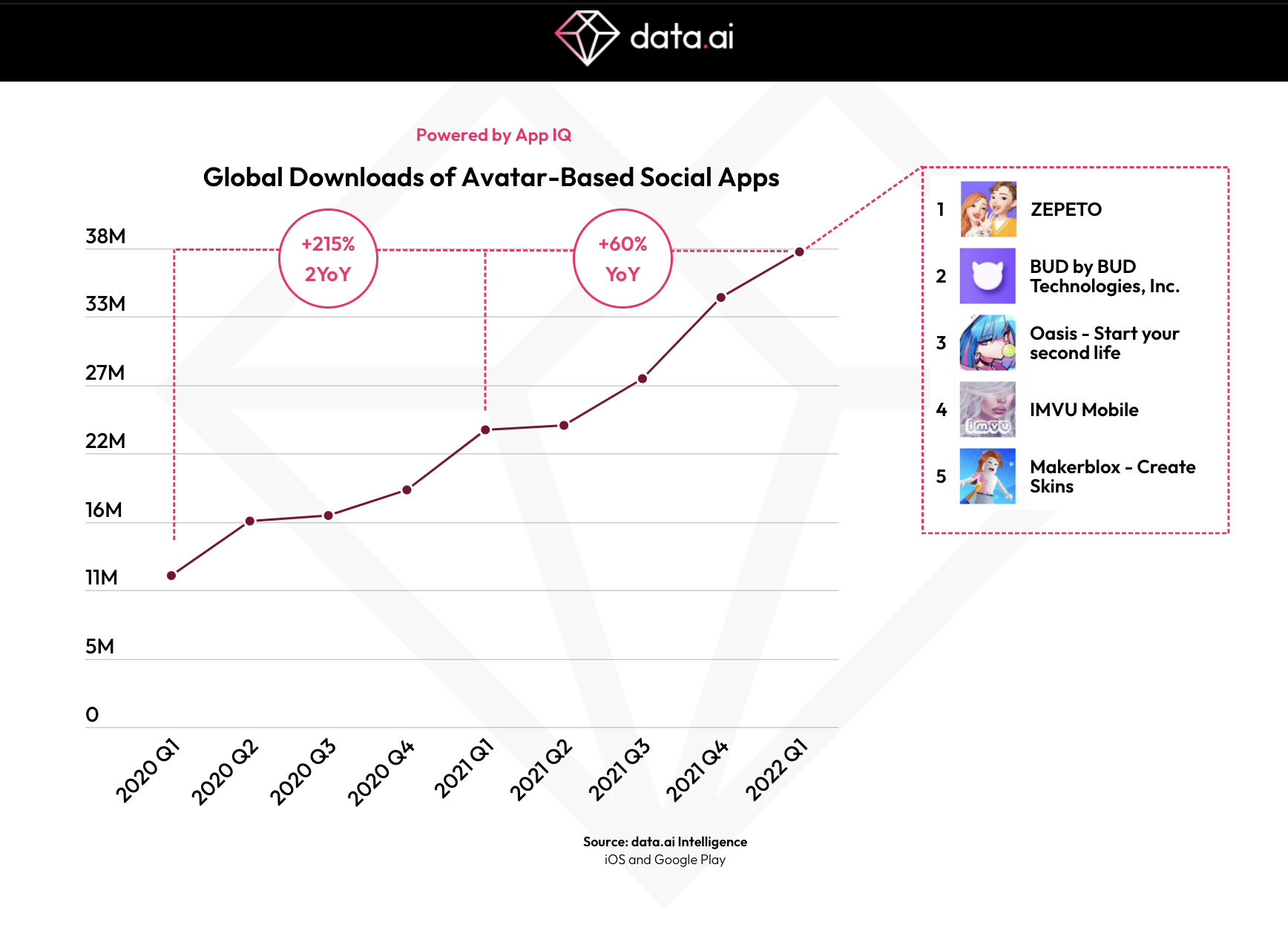 data.ai's App IQ allows you to perform analysis on a niche and sector of apps: Avatar-Based Social (Social Media) feature apps that allow users to create and customize avatars — sometimes with branded items — and socialize with others within a virtual world. See how App IQ can give you unparalleled granularity into mobile trends.
With collaborations occurring between brands and apps within the metaverse (Chipotle and Nike both have stores within Roblox), it's clear to see that consumer interest is booming and stretching across numerous sectors — gaming, retail, restaurants, and events — to name a few.
Why It Matters:
data.ai's mobile data shows that avatar-based social apps, such as ZEPETO and BUD, have seen the largest YoY growth in terms of downloads compared to any other social media category at 38 million – this is up 60% YoY and 215% from two years prior. 
Globally the top 5 avatar-based social apps by downloads in Q1 2022 were: 
In the US, downloads of avatar-based apps peaked at 4.6 million in Q2 2021, but still remain high at 4 million in Q1 2022, up from 2.4 million in Q1 2020 (two years prior). For publishers looking to reach these engaged consumers with an interest in metaverse-friendly content, it's important to understand where they are spending their time, what motivates them and how these tastes and habits vary by country. This will help you understand which partnerships, features or targeting will give you the best chance of succeeding.
App IQ provides unparalleled granularity into user habits through  — as Apple's App Tracking Transparency (ATT) is well in effect, access to contextual data is critical for advertisers and publishers to make informed marketing and partnership decisions. Request a demo of App IQ today.
Cross-Genre Affinity shows you what other subgenres of apps users are most likely to engage with compared to the overall population. It paints a picture of overall preferences and mobile proclivities. And while avatar-based social apps have a wide global footprint, users' tastes vary dramatically by country. In the US consumers who use avatar-based social apps are 6.6x more likely to use Karaoke apps, 5.5x more likely to use Audio Chat apps and 4.8x more likely to use Astrology apps. Of the markets analyzed (US, UK, France, Japan, Australia, South Korea), Audio Chat apps only appeared in the top 6 by affinity in the US and Astrology apps only appeared in the top genres for the US and the UK. Comics apps only ranked in the top genres for Australia and Brazil, showing a nuanced trait for avatar-based social apps in these markets. We also see the intensity of the skew varied by country — In France, users of Avatar-Based Social apps were 11x more likely to use Early Childhood Education apps (the highest skew) and in Japan users were 8.4x more likely to use Painting (Graphic & Design) apps — whereas in the US, the highest skew was 6.6x. 
These genre affinities illuminate underlying trends in demographic cohorts — especially for age. We see Gen Z tends to be driving this trend, and in many markets users of Avatar-Based Social Apps have a high affinity for Education subgenres.
Among the top three avatar-based social apps by MAU in the US in March 2022, all 3 skewed heavily Gen Z with Itsme skewing the most at 120% more likely to be used by Gen Z than the average population.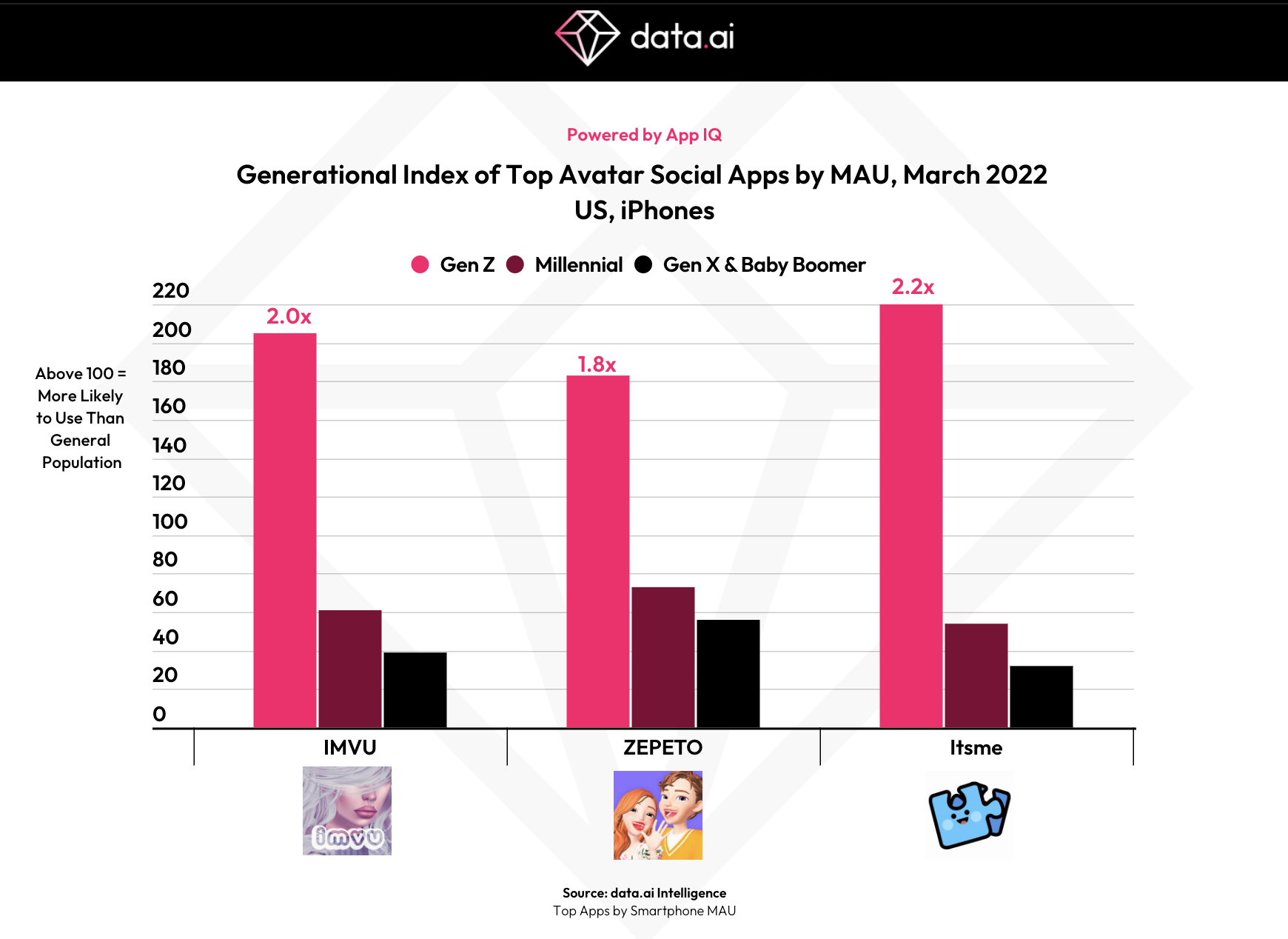 Leveraging cross-genre affinity, age and gender data gives you a more robust picture of who these users are, what motivates them and how they spend their time on mobile. 
The top 3 avatar-based apps in the US by Monthly Average Users (MAU) in March 2022 were IMVU, ZEPETO and Itsme (available only on iOS). On iPhones, all 3 apps skew much more female than male in terms of MAU with Zepeto leaning the most — female users were 54% more likely to use the app than the overall population. Itsme saw the smallest gender gap, but was still 20% more likely to be used by female users in the US. 
It is important to note that our analysis is limited to males and females only and is not representative of all gender identities.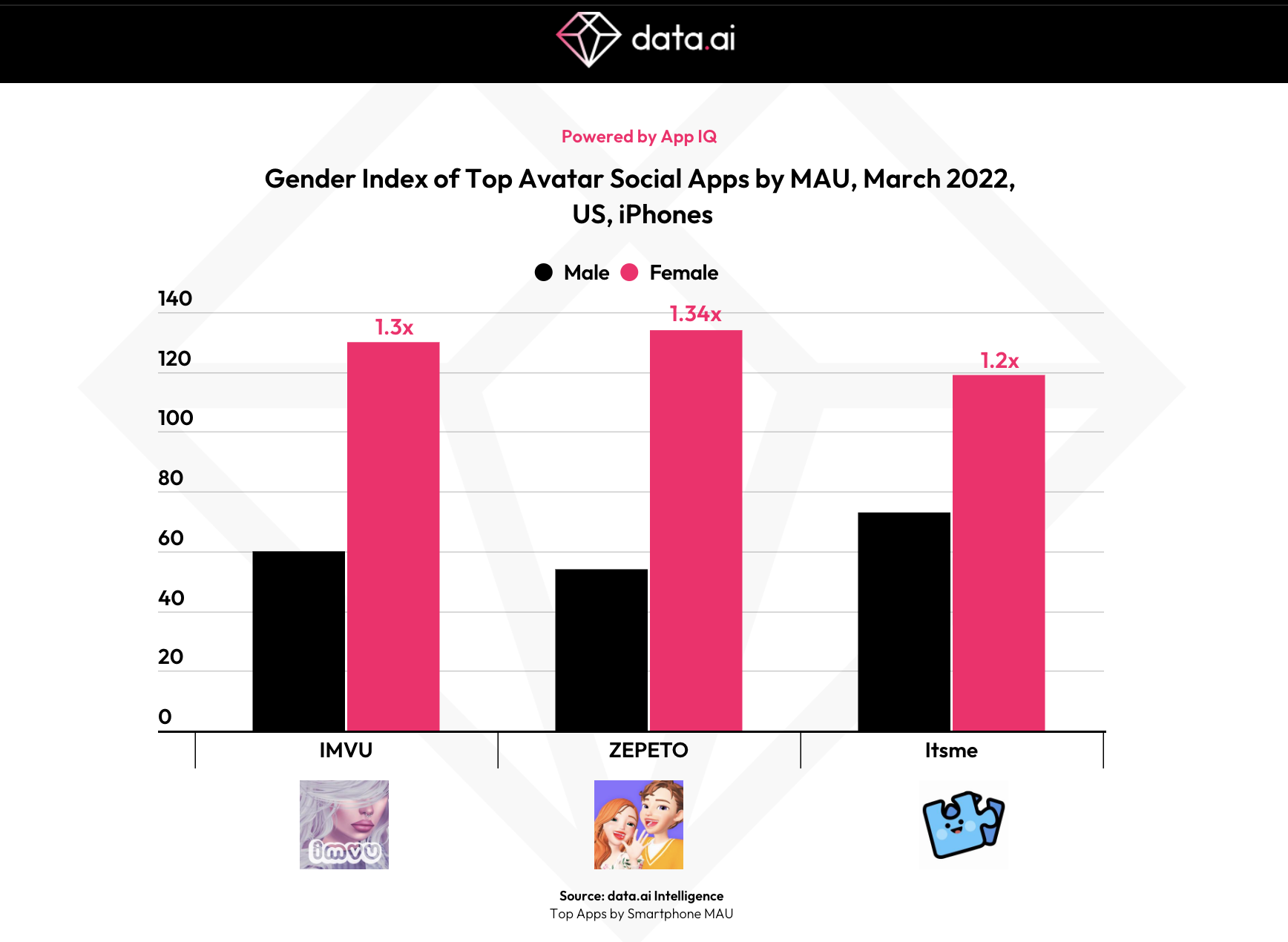 Go Deeper:
The increasing popularity of avatar-based social apps creates more opportunities for brands and celebrities to engage with consumers on mobile. For example, in August 2021 Ralph Lauren announced an exclusive partnership with ZEPETO which consisted of a digital apparel collection as well as three digital spaces for the app's avatar community to gather. In one of these digital spaces, Ralph Lauren's virtual Madison Avenue Flagship, the avatars of the members of the K-pop group Tomorrow X Together (TXT) hosted a live event in the app and wore Ralph Lauren's digital apparel. 
And just last month from April 8-24, 2022, Samsung and ZEPETO teamed up to offer a virtual treasure hunt, exclusive to Galaxy users in Malaysia. The event spurred 80% growth in average daily downloads compared to the 2 weeks prior. 
Given the steady upwards trajectory of avatar-based social apps' growth these past 2 years, we'll likely see an increase in collaborations between brands and apps of this category as well as celebrity particpation. App publishers would be wise to explore these types of unique collaborations which provide the opportunity to both retain and attract mobile users interested in experiencing all that the metaverse has to offer.
Looking for More Mobile Insights?
Sign up here to claim a copy of data.ai's industry-leading State of Mobile report:
Looking to make more of the mobile opportunity? Talk to an expert today.
This post is the latest in a Mobile Minute series that features data.ai's perspective on how mobile is impacting current events and consumer trends. Check in weekly for our take on the latest news cycles and how mobile transformation is shaping industries around the world.
DISCLAIMER: 
data.ai is a mobile market estimate service provider. data.ai is not registered in any investment advisory capacity in any jurisdiction globally, and does not offer any legal, financial, investment or business advice. Nothing contained in this communication, or in any data.ai products, services, communications, or other offerings, should be construed as an offer, recommendation, or solicitation to buy or sell any security or investment, or to make any investment decisions. Any reference to past or potential performance is not, and should not, be construed as a recommendation or as a guarantee of any specific outcome. You should always consult your own professional legal, financial, investment and business advisors. Additionally, by providing the information herein, data.ai does not make any representations or warranties and does not undertake any legal or contractual obligations whatsoever. No liability may accrue to data.ai as a result of providing this information to you.