Powered by App IQ, data.ai's latest analysis highlights the increased interest in F1 races in the United States
What's Happening:
Formula 1 racing officially made its mark on American soil as the Miami Grand Prix on May 8, 2022 resulted in over 85,000 fans in attendance and an average of 2.6 million US viewers, the largest audience for a live F1 race broadcast on American television.
With ESPN expected to increase its television coverage of the sport and a growing number of younger viewers that rivals NASCAR's fanclub, Formula 1's popularity in America is only expected to grow from here. But where did this growing popularity stem from and how are we seeing demand grow on mobile? 
At data.ai we are a proud official partner of the BWT Alpine F1 Team at the 2022 FIA Formula 1 World Championship.
Why It Matters:
Despite American racers competing in the early 2000s, Formula 1 hasn't historically garnered much traction with the American audience prior to Liberty Media's acquisition of the F1 series in 2017. The Netflix series "Drive to Survive"— the reality show that captured an influx of viewers during the pandemic lockdowns — shined a light on this sport when it aired in 2019. Three years later, following the recent race in Miami, American viewers are tuning in to the F1 races in greater droves than ever before, as evidenced by the surges in downloads of the two official F1 apps: F1 TV and Official F1.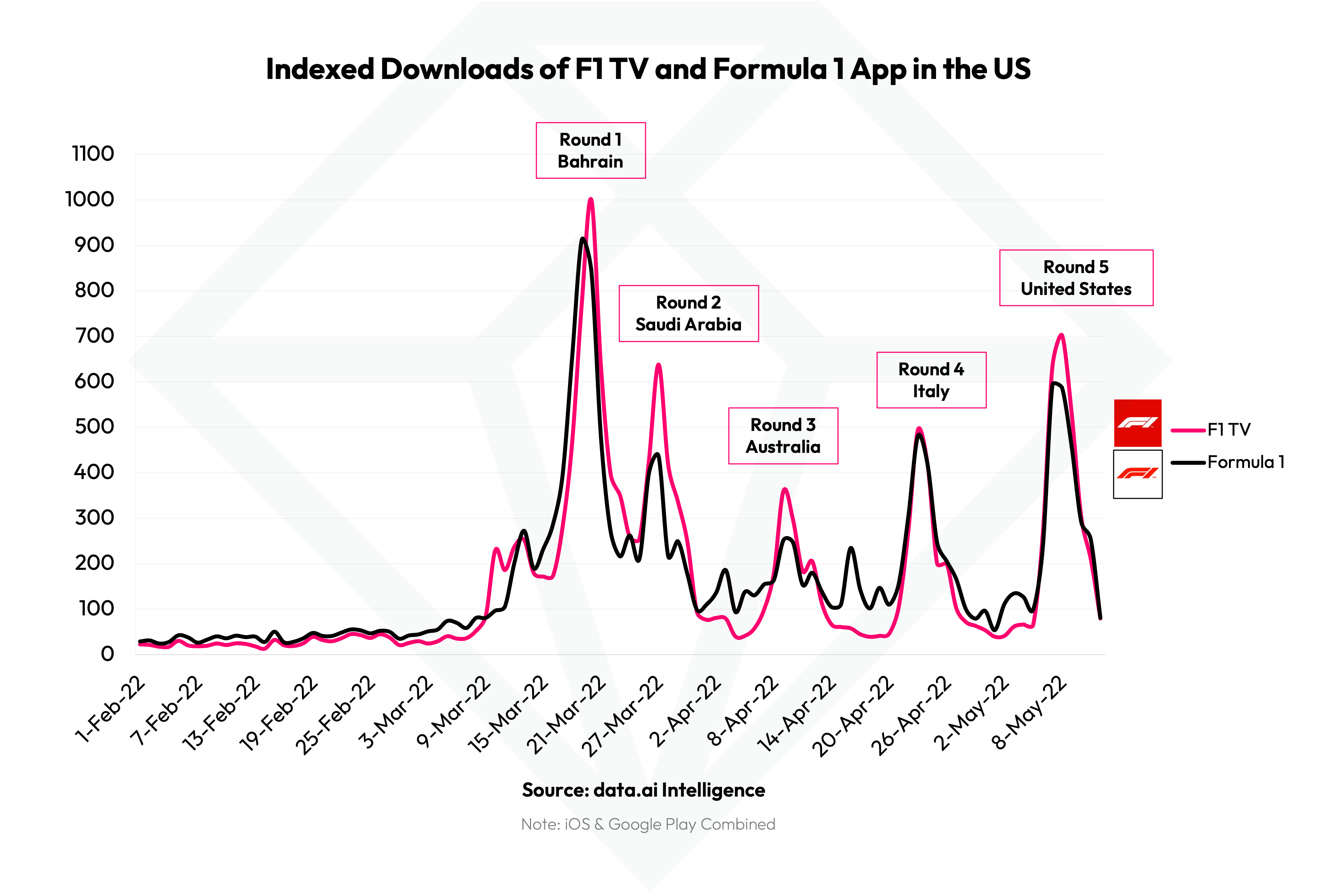 Both F1 TV – which provides live streams of races, replays, expert commentary and exclusive shows – and Official F1 – which reports racing news, live-tracking and in-depth analysis – broke downloads records in the United States in May 2022. From the first F1 round in Bahrain in March (Mar 20, 2022), to round 5 in the United States in May (May 8, 2022 in Miami), the apps experienced a 80% year-over-year increase and a whopping 1300% jump from two years prior. 
In the lead-up to the Miami race from the 7 weeks spanning March 20 to May 8, the Formula 1 app downloads more than doubled globally compared to the seven weeks prior and jumped 30 places in the app store to rank #28 among all sports apps worldwide in 2022.
In the United States, Formula 1 app downloads also doubled during the same time period to rank #39 among all sports apps in the US. But what was more incredible was the fact that F1 TV saw an 170% increase in downloads and jumped 47 places in the app stores compared to the seven weeks prior reaching #38 among all US sports apps leading up to round 5 in Miami. This illustrates that the demand for live streaming (and access to 1600+ hours of historic race archives to catch US viewers up on all the missed action) surpassed the demand for racing news and analysis.
As interest in F1 in the United States picks up, analyzing the makeup of the app users provides an interesting perspective on the sport's audience. As of April 2022, both the F1 TV and Formula 1 apps skewed heavily male in the US. Additionally, both apps see millennials as their biggest user base. However, noticeable differences emerge between the 2 apps: millennials make up more than 7 of every 10 users for F1 TV and about half of all users of Formula 1. Gen Z and Gen X/Baby Boomers claim nearly equal splits in both apps, with a larger Gen Z and Gen X/ Baby Boomer audience size in the Formula 1 app. Formula 1 has successfully made in-roads with US millennial consumers, particularly males. It will be interesting to watch their strategy unfold over the next 2 years to see if they can attract a wider demographic cohort of women and younger viewers.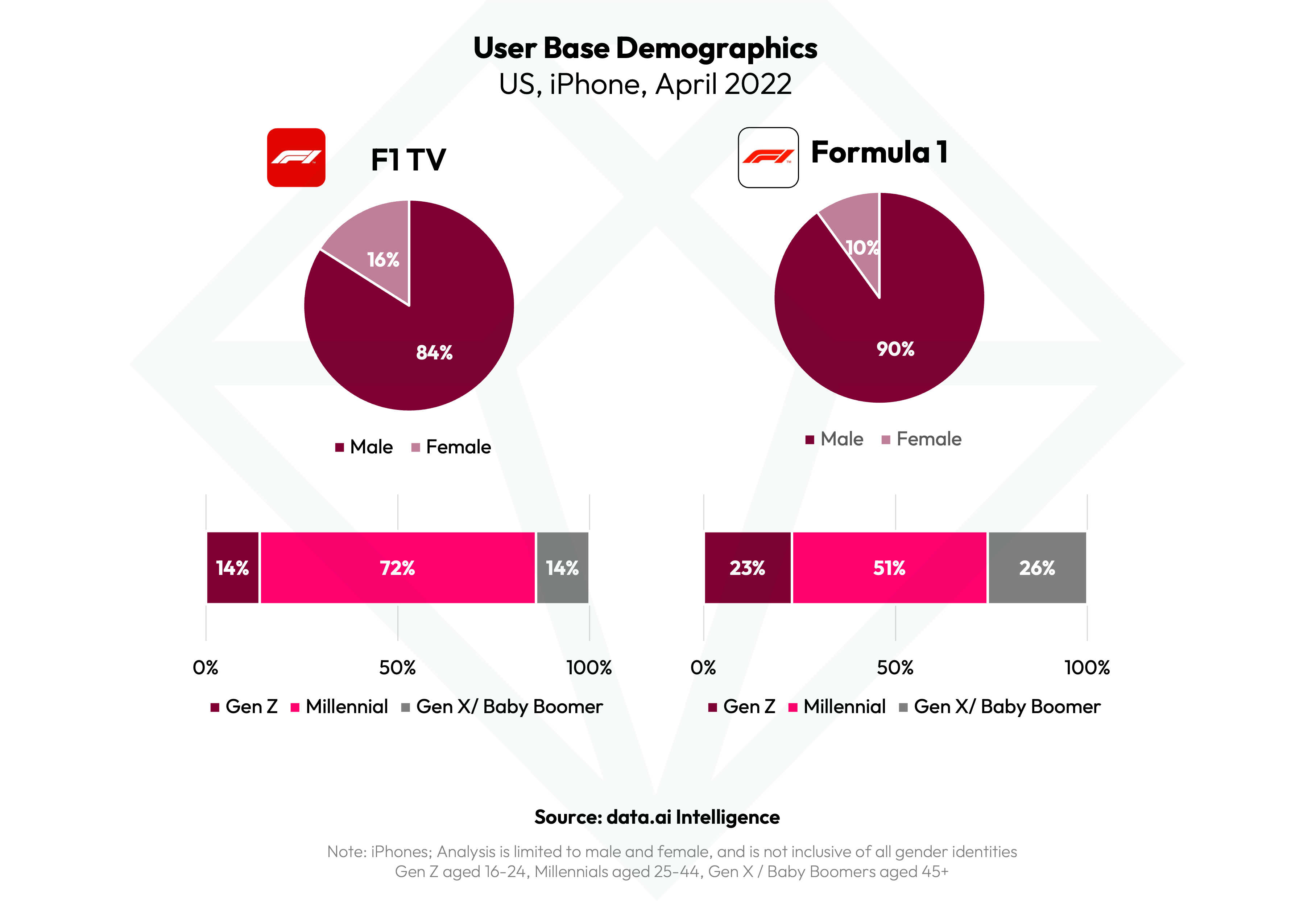 Go Deeper:
While Formula 1 has benefited from global attention to the sport, the newfound interest in the US presents a unique opportunity for companies to engage with a young and fast-growing fanbase. In fact, the Miami Grand Prix was the event to remember in 2022, with the Miami International Autodrome near the Hard Rock Stadium packed with not only fans of the racers themselves, hoping to catch a glimpse of Max Verstappen and Charles Leclerc, but also among them megastars ranging from David Beckham to Dwyane Wade to Serena and Venus Williams – solidifying its status as a must-watch sporting event for American viewers. In fact, just the F1 Miami Grand Prix's Opening Party alone attracted more than 10K spectators. Knowledge of the sport's audience is key to understanding where the opportunities for increased engagement lie and will help publishers target its untapped audience.
Looking for More Mobile Insights?
Sign up here to claim a copy of data.ai's industry-leading State of Mobile report:
Looking to make more of the mobile opportunity? Talk to an expert today.
This post is the latest in a Mobile Minute series that features data.ai's perspective on how mobile is impacting current events and consumer trends. Check in weekly for our take on the latest news cycles and how mobile transformation is shaping industries around the world.
DISCLAIMER: 
data.ai is a mobile market estimate service provider. data.ai is not registered in any investment advisory capacity in any jurisdiction globally, and does not offer any legal, financial, investment or business advice. Nothing contained in this communication, or in any data.ai products, services, communications, or other offerings, should be construed as an offer, recommendation, or solicitation to buy or sell any security or investment, or to make any investment decisions. Any reference to past or potential performance is not, and should not, be construed as a recommendation or as a guarantee of any specific outcome. You should always consult your own professional legal, financial, investment and business advisors. Additionally, by providing the information herein, data.ai does not make any representations or warranties and does not undertake any legal or contractual obligations whatsoever. No liability may accrue to data.ai as a result of providing this information to you.