Facebook Dating leverages platform's existing community and expertise in social connections to help users find their match.
What's Happening: 
Dating apps have expanded their use cases: whether to find love, friends, or even find a job, apps like Bumble, Tinder, and Hinge continue to grow in both practicality and usage. In H1 2019, Tinder was the #1 non-gaming app by global consumer spend. Eager to break into the market and leverage its popularity in social networking, Facebook introduced the Dating feature to its app in September 2019, where users are able to match with other individuals on the platform. Potential matches can include friends of friends, people who "like" similar pages, and people who have attended the same Facebook events as you.   
Why It Matters: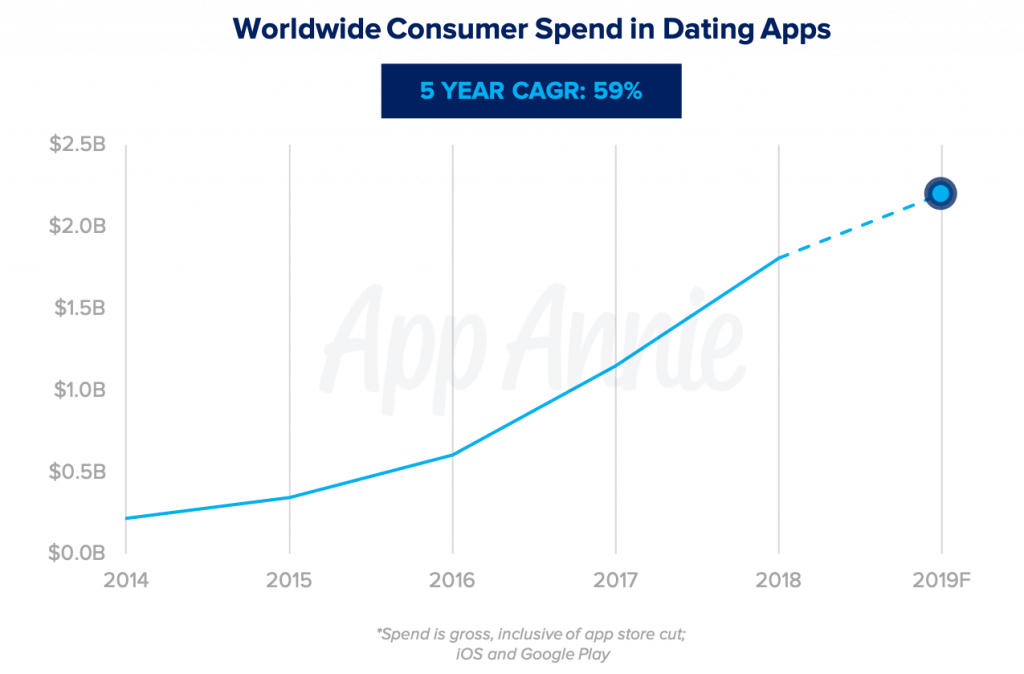 Consumer spend in dating apps is poised to grow 920% from 2014 to 2019, exceeding $2.2 billion annually in 2019. The top 5 dating apps by global consumer spend in H1 2019 were Tinder, Bumble, Badoo, Pairs and Grindr, respectively. Since 2012, 1.7 billion dating apps have been downloaded worldwide across iOS and Google Play. This is particularly impressive as this figure does not include updates or reinstalls. Together, downloads and spend indicate that dating apps provide an in-demand service that consumers are willing to pay for to unlock deeper value. Datings apps are an example of an industry that has largely displaced previous modes to become the de facto dating tool.  
Go Deeper:
Facebook is leveraging its incumbent advantage of a vast digital footprint and robust data on interests, connections and social circles to intelligently match users with prospective dating interests. However, the question remains: will users adopt this new behavior into their normal social networking and browsing routines? We are interested to see how this impacts the dating landscape in the months to come.  
For a deeper dive on increased mobile usage, check out our 2019 State of Mobile Report:
This post is the latest in a Mobile Minute series that features App Annie's perspective on how mobile is impacting current events and consumer trends. Check in weekly for our take on the latest news cycles and how mobile transformation is shaping industries around the world.