Gamification, food partnerships and social media keep fans connected outside the stadium.
What's Happening: 
As European football continues to expand its international footprint, leagues are exploring ways to create expanded fan engagements outside of the arena. English and European clubs presented a 28.9 billion euro market opportunity prior to pandemic shutdowns. Today, mobile presents a valuable opportunity for viewing games, team communications and engaging experiences such as timely promotions and gamified experiences. On the eve of the UEFA Champions League Final on May 29, 2021, we took a look at the top Football clubs by global monthly active user base.

Why It Matters:
As global interest in European football has grown in recent years, individual club apps provide a way for dedicated fans to remain updated on teams' latest updates, scores and more. Many clubs set their sights on international markets in our digitally connected world. Chelsea FC - Fifth Stand and Manchester United have seen significant growth in international downloads in the last 12 months. As of April 2021, Chelsea FC saw 95% overseas downloads and Manchester United saw 86% overseas downloads.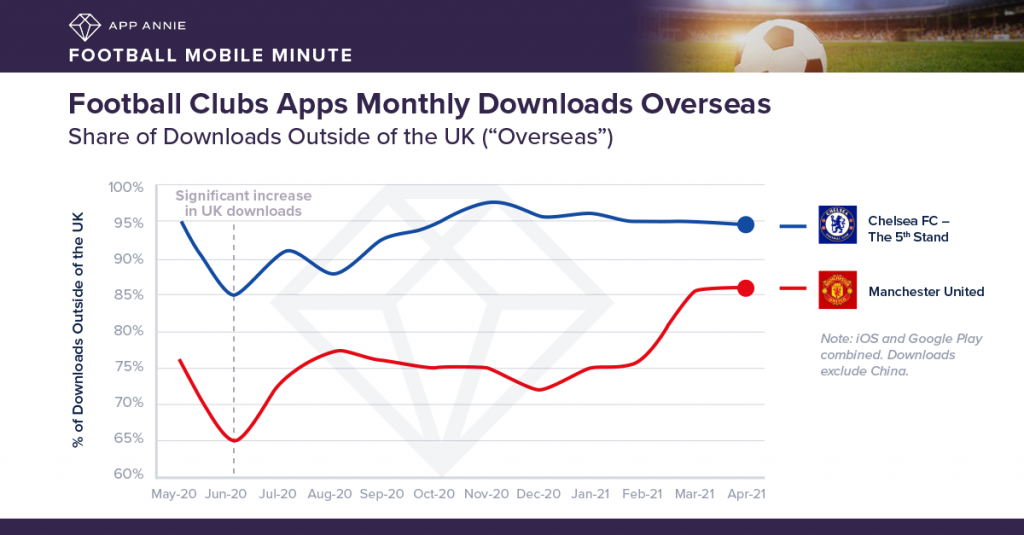 Interactive content and gamification have proven successful in growing mobile engagement through these platforms. For example, Chelsea FC - Fifth Stand includes live chat features, allowing users to connect with other fans during the game as well as play predictors, and Manchester United's app includes trivia and game predictions.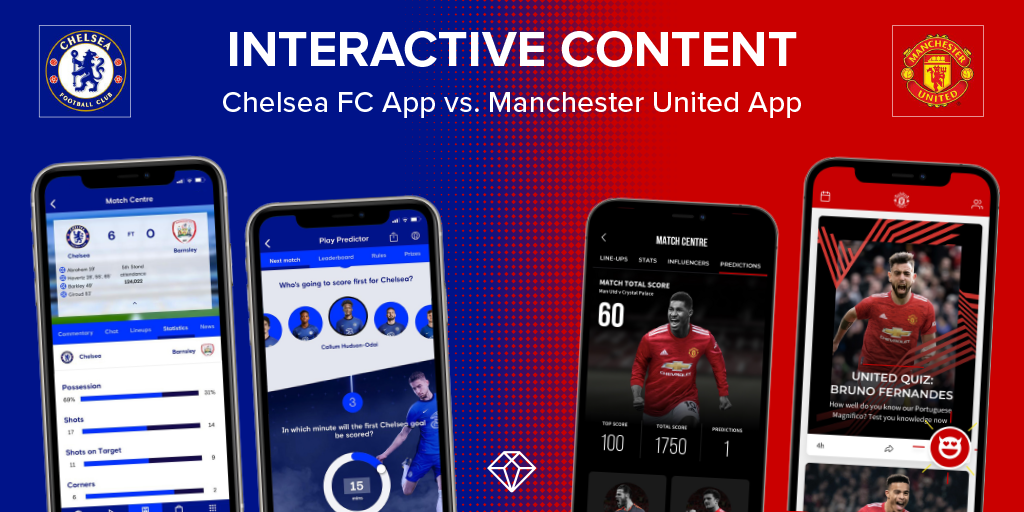 In addition to interactive content, sports leagues have found success in engaging fans through timely sponsorships and game-day deals with food delivery apps that help enhance the at-home game day experience. For example, Deliveroo is an official sponsor of the English Football Association. In April 2020, 8% of Deliveroo users on iPhone and Android Phone were also using the Premier League App in the UK (3.6 percentage points higher than the average of the next three leading food delivery apps).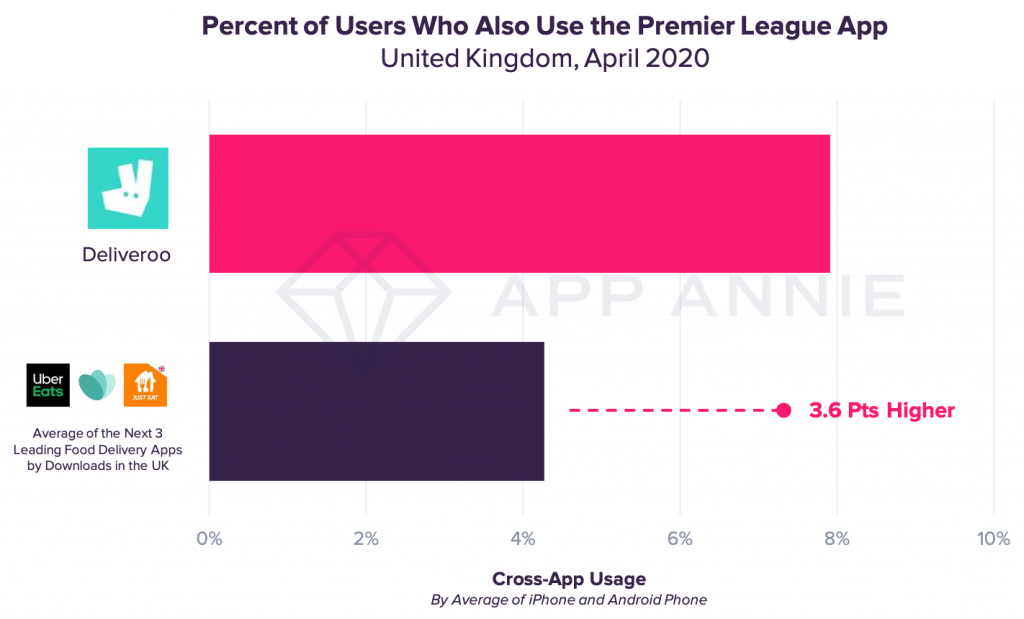 In the United Kingdom, users of the leading football club apps: Arsenal, Chelsea FC - Fifth Stand, Liverpool FC, Manchester United and the Premier League apps, are proven to be more engaged on mobile than many other clubs. Users who downloaded the Premier League app are 2.2x as likely to be engaged on Linkedin and 2.1x more likely to be an active Snapchat user. Chelsea FC - Fifth Stand saw the highest affinity with TikTok, followed by Ajax Official App and Premier League. TikTok is an important app for reaching Gen Z and cultivating deep engagement through user-generated content. Manchester United recently reported going from 0 to 2 million TikTok followers in 6 months — embracing the tidal wave of TikTok. Many users of the top sports apps are more likely than the general public to spend significant time on social media apps, like TikTok or Instagram, which presents an opportunity for sports teams to capitalize on that engagement.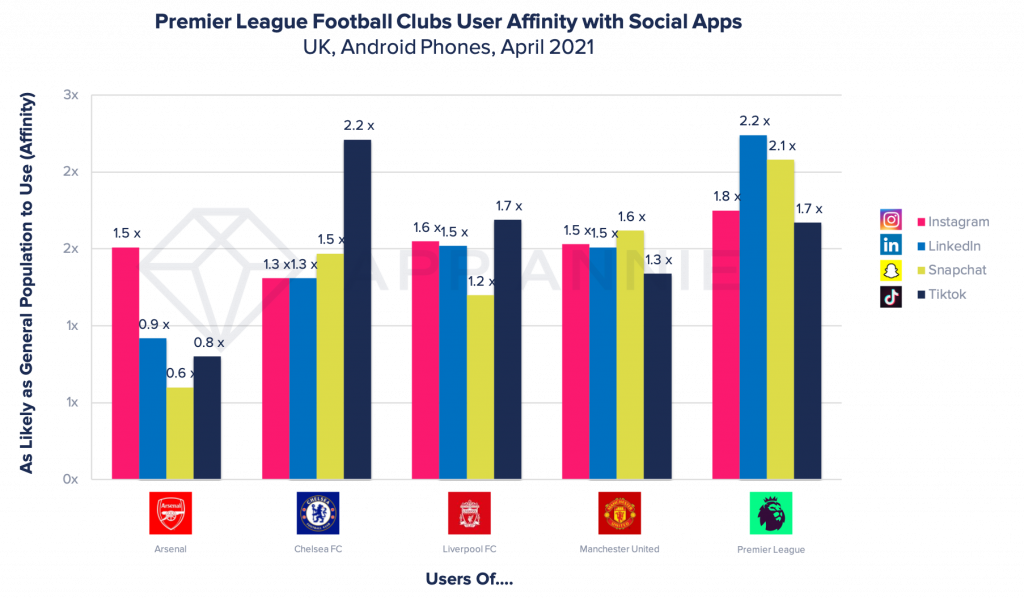 Fan engagement of Premier League is also high among other sports leagues apps in the UK. While Manchester United has the highest cross-app usage among selected sports league apps at 6.6% — there is still a large opportunity for growth. Formula 1 saw higher cross-app usage than the UEFA Champions League app— representing a strong opportunity for partnerships, advertising and marketing potential.  It's also worth noting that users of the Premier League apps have higher cross-app usage with golf apps like The Masters Golf Tournament (2.3%) and PGA Tour (1.5%) than even some football league apps like Liverpool FC, Arsenal and Manchester City.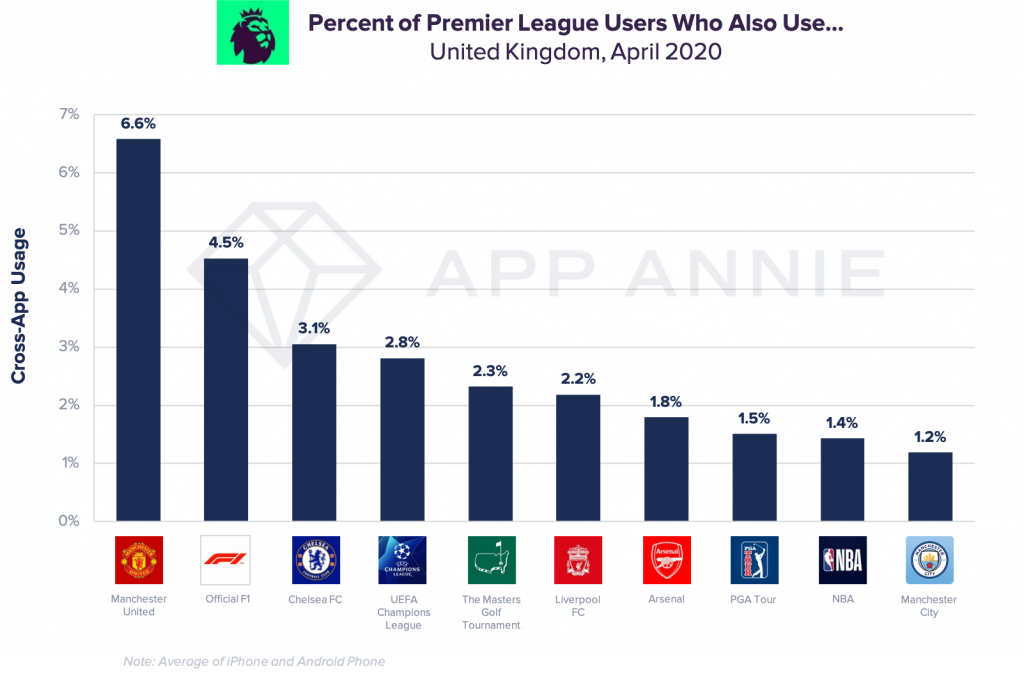 Go Deeper:
As European football continues to expand its global fanbase, fans will be eager for more interactive experiences which will create continued market opportunity. As football clubs embrace partnerships and increase their own mobile capabilities, this will help foster a stronger community.
Looking for more mobile insights? Download App Annie's industry-leading State of Mobile report, covering everything you need to know about how to win on mobile in 2021.

Looking to make more of the mobile opportunity? Talk to an expert today.

This post is the latest in a Mobile Minute series that features App Annie's perspective on how mobile is impacting current events and consumer trends. Check in weekly for our take on the latest news cycles and how mobile transformation is shaping industries around the world.
DISCLAIMER: 
App Annie is a mobile market estimate service provider. App Annie is not registered in any investment advisory capacity in any jurisdiction globally, and does not offer any legal, financial, investment or business advice. Nothing contained in this communication, or in any App Annie products, services, communications, or other offerings, should be construed as an offer, recommendation, or solicitation to buy or sell any security or investment, or to make any investment decisions. Any reference to past or potential performance is not, and should not, be construed as a recommendation or as a guarantee of any specific outcome. You should always consult your own professional legal, financial, investment and business advisors. Additionally, by providing the information herein, App Annie does not make any representations or warranties and does not undertake any legal or contractual obligations whatsoever. No liability may accrue to App Annie as a result of providing this information to you.