Consumer sentiment remains positive for mobile advertising as a form of monetization, yet advertisers need to future-proof their strategies amidst the rise of user privacy and the end of IDFA.
What's Happening: 
Apple's announcement to end user-level data with the iOS 14 roll-out in September has sent the advertising industry into a scramble. We expect over 9 out of every 10 users to decline the opt-in for user tracking, which leaves a stunning void for advertisers. Consumer behavior has shifted to value privacy over convenience, and this is here to stay. With the decline of IDFA tracking, marketers and advertisers need to adapt. For advertisers to succeed in a post-IDFA world, aggregation is the future of advertising measurement. 
Why It Matters: 
For a digital advertiser, one thing is clear: the world has gone mobile. No other device can match the global reach and daily engagement of our smartphone devices. With the average user spending 4 hours and 20 minutes a day on mobile in April 2020, 204 billion app downloads and $120 billion in consumer spend through the app stores in 2019 alone, it is clear that consumers are spending their time on mobile. In 2019 $190 billion were spent on mobile ads, and this is set to grow 26% to $240 billion in 2020. 
It is also clear that mobile ads not only do not harm the user experience but are often a preferred addition, with over 70% of Americans preferring either mobile ads or a hybrid model with in-app purchases, of those with an opinion on monetization. Mobile ads offer a trade-off to shift the burden of cost for using a mobile app from the consumer to the advertisers, and nearly 50% of Americans prefer ads as the sole monetization mechanism in order to receive value from services in mobile apps.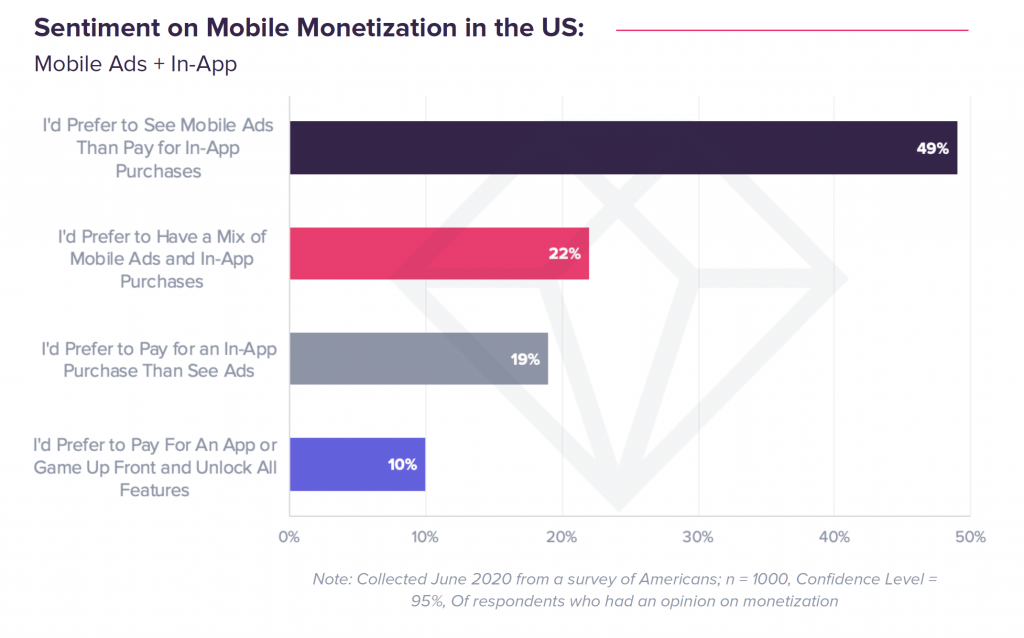 Go Deeper:
Mobile and advertising are the linchpins to our digital experiences. The market has spoken and best in class companies are adjusting to a world without access to user-level tracking. With the roll-out of iOS 14 and the end of user-level data, advertisers need to future-proof their ad measurement strategies, and the answer lies in aggregation. For more on how aggregation is the best solution to filling this void, read our latest blog post: Your Ad Measurement Strategy in a Post-IDFA World. 
To uncover how to unlock your advertising and monetization potential with advertising analytics aggregation download our latest playbook. 
Are you ready to unlock your revenue growth potential? Try App Annie Ascend today. 
This post is the latest in a Mobile Minute series that features App Annie's perspective on how mobile is impacting current events and consumer trends. Check in weekly for our take on the latest news cycles and how mobile transformation is shaping industries around the world.
DISCLAIMER
App Annie is a mobile market estimate service provider. App Annie is not registered in any investment advisory capacity in any jurisdiction globally, and does not offer any legal, financial, investment or business advice. Nothing contained in this communication, or in any App Annie products, services or other offerings, should be construed as an offer, recommendation, or solicitation to buy or sell any security or investment, or to make any investment decisions. Any reference to past or potential performance is not, and should not, be construed as a recommendation or as a guarantee of any specific outcome. You should always consult your own professional legal, financial, investment and business advisors.