With restrictions being lifted, food and grocery delivery app use is still on the rise.
What's Happening: 
As pandemic restrictions loosen and indoor dining reopens at greater capacities, the convenience of food and grocery delivery is expected to remain a key part of consumers' daily lives. Globally, we've seen weekly active users of top food delivery apps increase significantly in the weeks pre-pandemic to our new normal today. It is notable that foodpanda has seen a significant climb in WAU over the last 16 months with strong expansion in its global footprint — particularly in Pakistan, Philippines and Thailand. South Korea's Baedal Minjok and Colombia's Rappi rank on the global stage with engaged user bases in their respective markets of South Korea and LATAM.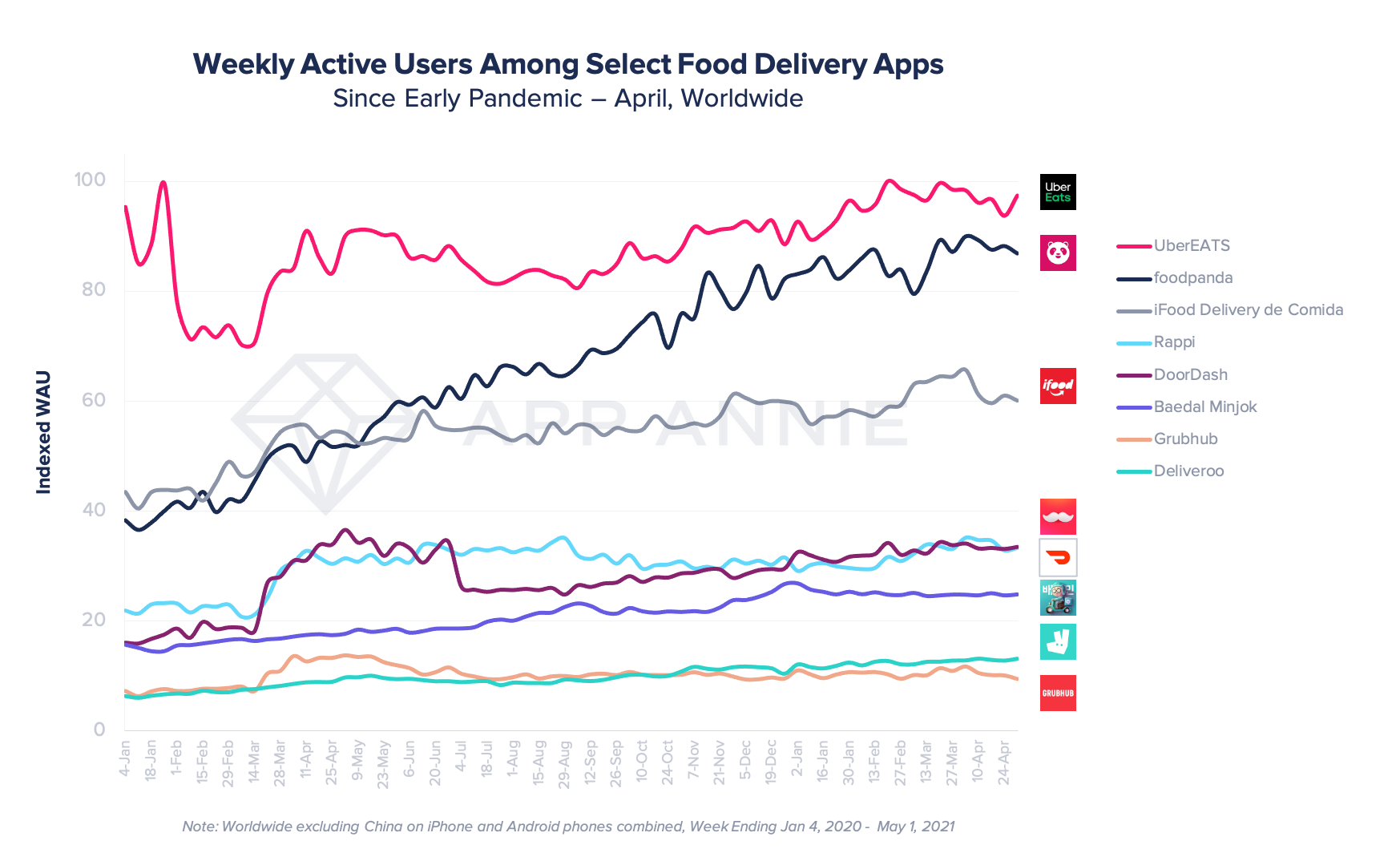 Whether it's expanding regional market availability or new offerings, food and grocery delivery apps are finding ways to stay relevant. Just last week, DoorDash opened new positions in Germany and UberEats said its service will be available soon in Berlin. Additionally, many food delivery services are dedicated to expanding toward a great variety of options. For example, DoorDash recently announced a partnership with Rite Aid to deliver everyday essentials such as groceries and wellness items. 
Why It Matters:
While pandemic reopening has continued, food and grocery delivery apps have seen a consistent spike in downloads and usage supported by new innovations and offerings. For example, DoorDash ranked #1 among food and drink apps in April 2021 in the US and received 2.1 million new downloads, a continuation of their #1 ranking in Q1 2021 by downloads in the US.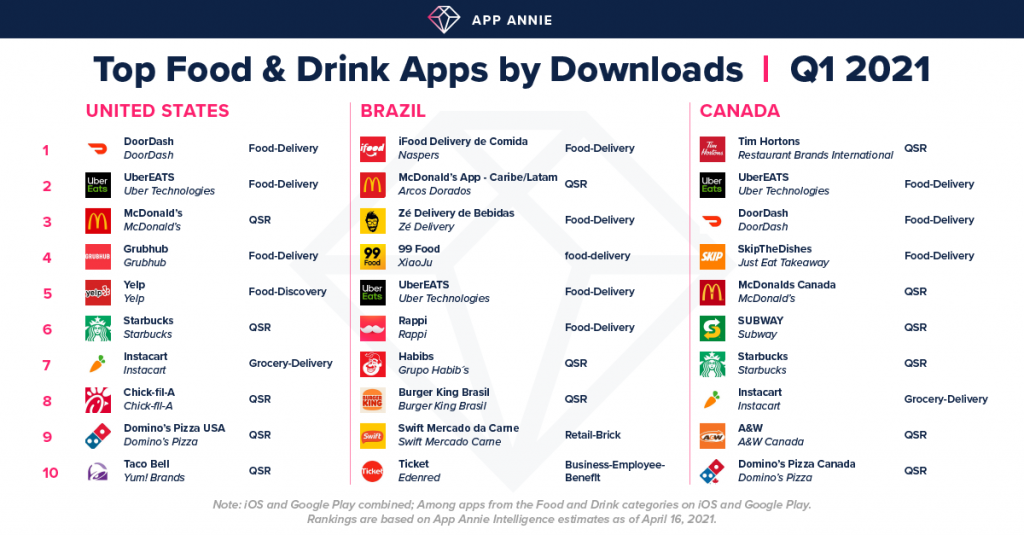 Consumers who enjoy the convenience of a weeknight dinner delivered right to their front doors, also enjoy the efficiency of grocery deliveries. In fact, 10% of US DoorDash users on iPhones also used Instacart: Grocery deliveries in April 2021. Additionally, Walmart InHome Delivery has consistently ranked in the top 200 Food and Drink apps by daily iPhone downloads during the pandemic — despite only being available in Kansas City, (MO and KS); Pittsburgh, PA; Vero Beach and Palm Beach County, FL; and Northwest Arkansas. Walmart InHome Delivery offers consumers a convenient way to not only have groceries delivered, but put away too — and includes access to Walmart+, a bundling of services we are increasingly seeing in mobile and digital offerings.
In the grocery delivery space, Gorillas has also gained traction in Europe. In Q1 2021, the app ranked #13 by downloads among all Food and Drink apps in Germany, while Wolt — another food delivery app on the rise — ranking #20 by downloads. In Germany and France, we see cooking apps are particularly popular, along with Too Good to Go — an app designed to fight against food waste. In Russia, grocery delivery apps claimed 4 of the top 10 downloads ranks in Q1 2021. We also see Morrisons — a popular grocery store in the UK — rank #8 and #10 for its retail and grocery apps, respectively.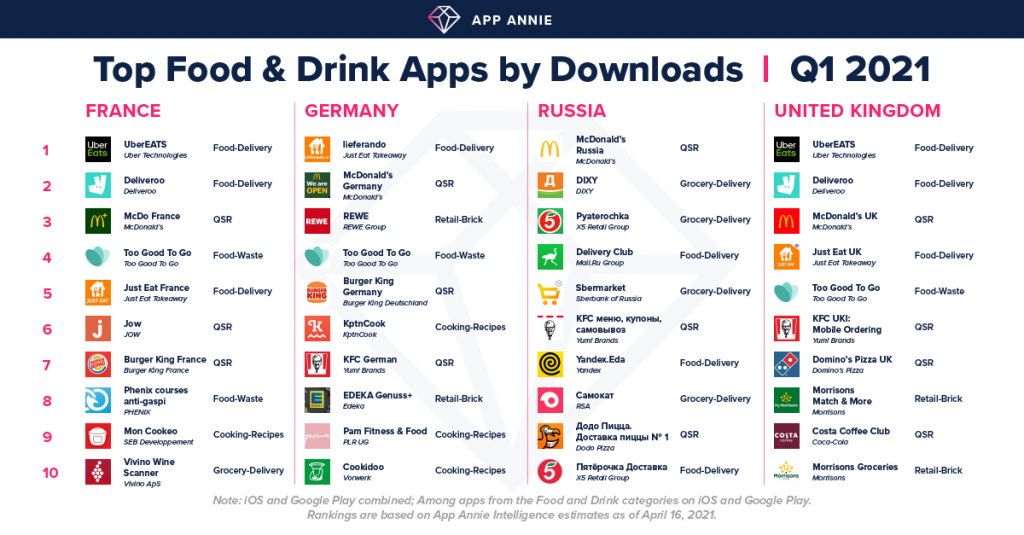 A mix of grocery delivery, food delivery and QSR apps top the downloads charts in China, Japan and South Korea. In Japan, during COVID-19 many people tend to stay home and cook for themselves, leading to retailers seek out partnerships with apps during this time. KURASHIRU, a cooking app ranked #3 by Food and Drink downloads in Japan in Q1 2021, ahead of any fast food app.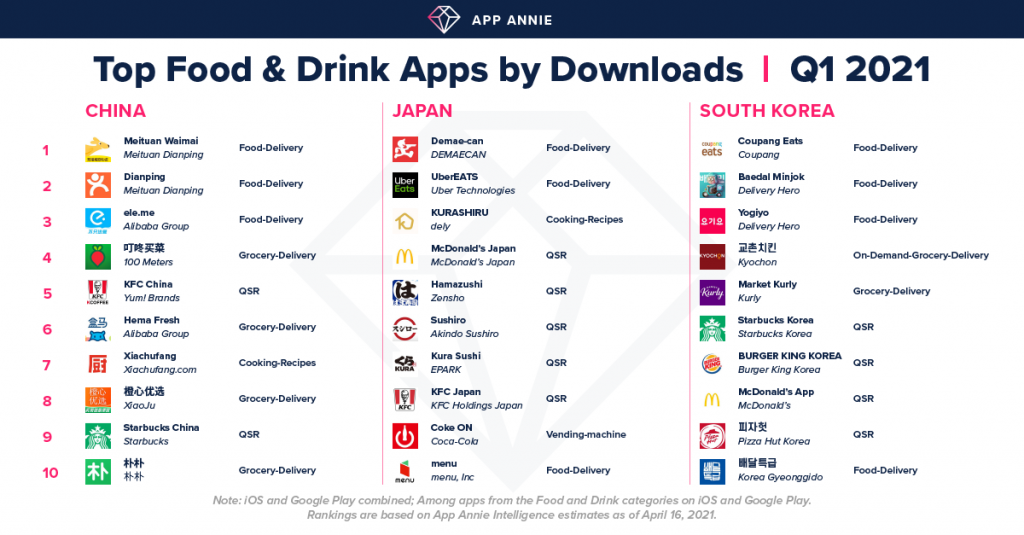 In Australia, food delivery apps occupied 5 of the top 10 downloads ranks in Q1 2021, with 9 of 10 apps offering delivery functionality including fast food chains or liquor stores. mymacca's was the only app not to offer delivery functionality — instead they partner with local delivery apps.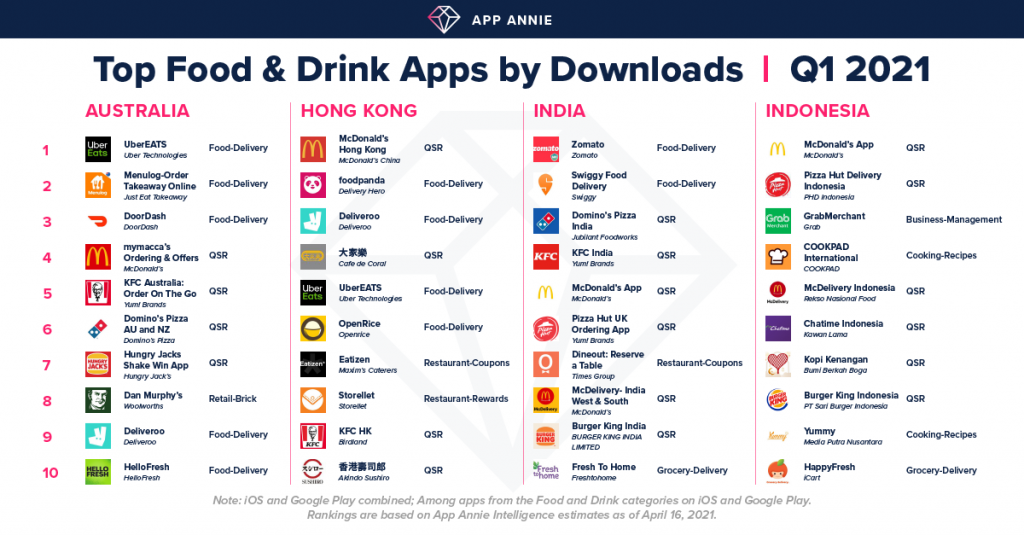 Go Deeper:
Strong growth from DoorDash and other food and grocery providers has proven the food delivery business isn't going anywhere. However, increased demand may not last forever unless each service continues to find new ways to differentiate its offerings. Consumers are all about convenience, but they also want a good deal and quality products — it will be a balance for both food and grocery apps to ensure they can deliver on all fronts.
Looking for more mobile insights? Download App Annie's industry-leading State of Mobile report, covering everything you need to know about how to win on mobile in 2021.
Looking to make more of the mobile opportunity? Talk to an expert today.
This post is the latest in a Mobile Minute series that features App Annie's perspective on how mobile is impacting current events and consumer trends. Check in weekly for our take on the latest news cycles and how mobile transformation is shaping industries around the world.
DISCLAIMER: 
App Annie is a mobile market estimate service provider. App Annie is not registered in any investment advisory capacity in any jurisdiction globally, and does not offer any legal, financial, investment or business advice. Nothing contained in this communication, or in any App Annie products, services, communications, or other offerings, should be construed as an offer, recommendation, or solicitation to buy or sell any security or investment, or to make any investment decisions. Any reference to past or potential performance is not, and should not, be construed as a recommendation or as a guarantee of any specific outcome. You should always consult your own professional legal, financial, investment and business advisors. Additionally, by providing the information herein, App Annie does not make any representations or warranties and does not undertake any legal or contractual obligations whatsoever. No liability may accrue to App Annie as a result of providing this information to you.