Downloads of the top two real estate apps grew 15% compared to 2019 in the US.
What's Happening: 
While COVID-19 impacted so many industries last year, real estate fared quite well. In the United States, home prices hit a record high in 2020 — just above $320,000, while the UK saw their average house price rise 7.6% compared to 2019. By forcing employees across the globe to work from home and students to learn from their bedrooms, many consumers began to flock away from cities and into the suburbs for more space. This led to the top 2 real estate and property apps seeing 1.6 million, 2.1 million and 17.7 million total downloads in 2020 within Australia, the UK and the US— up 5%, 10% and 15% from 2019 respectively.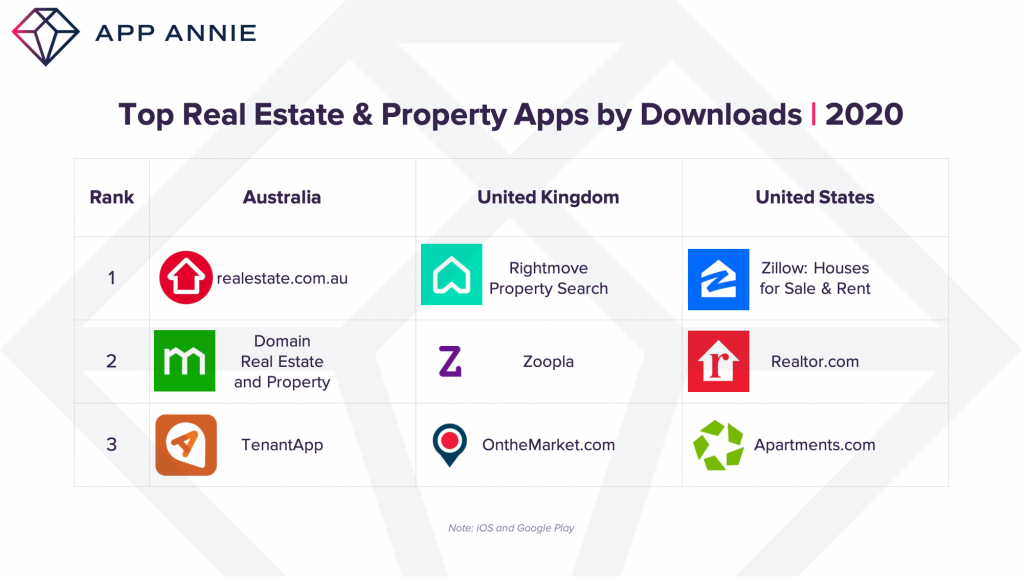 Why It Matters:
More people turned to mobile this year than ever before, and real estate is no exception. According to our 2021 State of Mobile report, consumers spent 3.5 trillion hours on Android phones annually. In order to adapt to COVID's digital demand, many real estate apps began to launch virtual self-tours, allowing consumers to see new homes from the comfort of their home. Some of the leading US apps for consumers by average smartphone monthly active users in 2020 included #1 Zillow, #2 Realtor.com, #3 Real Estate by Redfin, #4 Trulia and #5 Apartments.com. 
As consumers were spending more time at home, not only did it prompt interest in new properties but consumers also turned to mobile to revamp their living spaces — leading to a surge in demand for homewares and home improvement apps. Wayfair saw downloads peak in May 2020 in the US during the first wave of lockdowns, up 175% year over year. Globally, downloads nearly topped 18 million globally for the year, an increase of 10% compared to 2019. Pinterest has reported a 36% in the creation of home decor boards in 2020. Additional data from our 2021 State of Mobile report found that global annual downloads of Pinterest hit 193 million in 2020, up 50% year over year. This has created a unique opportunity for social commerce and live shopping, which is estimated to become a $2 trillion market globally by 2024.
Lowe's Home Improvement and The Home Depot also saw strong demand during the initial lockdowns of Q2 2020, and retained a high level of that demand through January 2021. Lowe's Home Improvement and The Home Depot ranked 760 and 368 ranks higher, respectively, by average daily iPhone downloads among all apps in Jan 2021 to date (Jan 25, 2021) compared to one year prior in Jan 2020.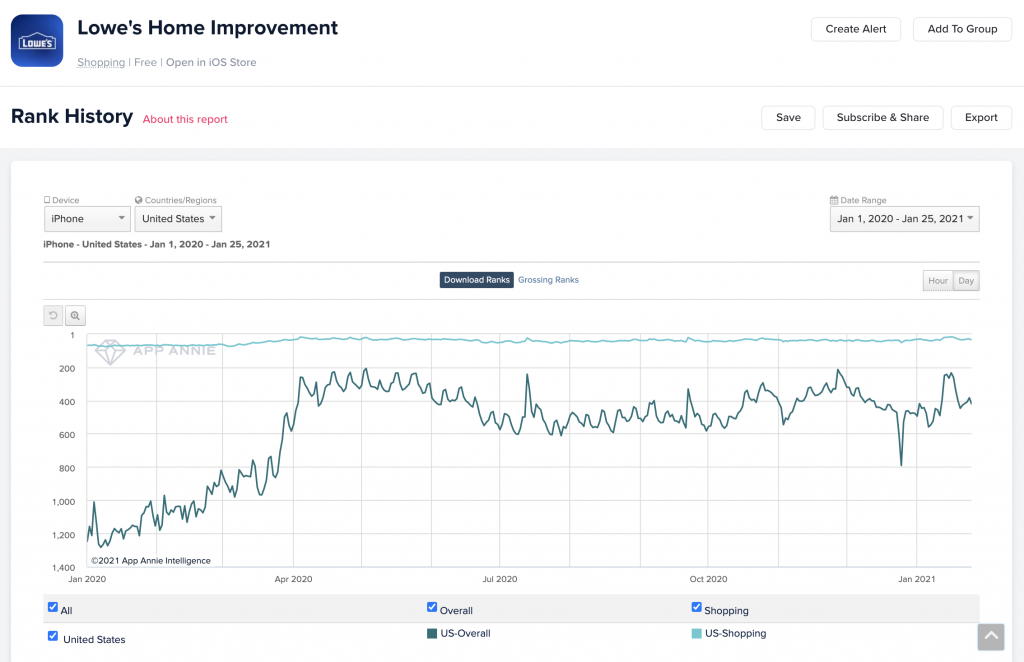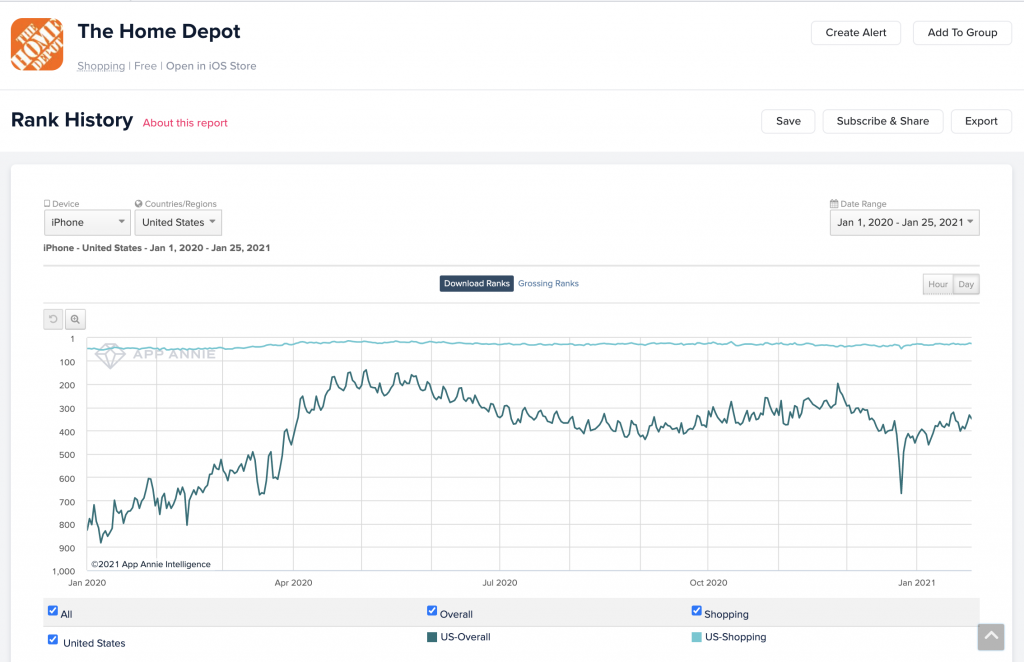 Go Deeper:
The COVID-19 pandemic did not stop millions of people around the globe from renting their next apartment or buying their first home — in fact, the increased time at home spurred new demand for revamping spaces and interest in new properties. Real estate saw an increased demand for digital capabilities that were showcased through the growth of mobile apps. We anticipate that this trend will continue on in 2021 and beyond. 
Looking for more mobile insights heading into 2021? Download App Annie's industry-leading State of Mobile report, covering everything you need to know about how to win on mobile in 2021.
Looking to make more of the mobile opportunity? Talk to an expert today.
This post is the latest in a Mobile Minute series that features App Annie's perspective on how mobile is impacting current events and consumer trends. Check in weekly for our take on the latest news cycles and how mobile transformation is shaping industries around the world.
DISCLAIMER: 
App Annie is a mobile market estimate service provider. App Annie is not registered in any investment advisory capacity in any jurisdiction globally, and does not offer any legal, financial, investment or business advice. Nothing contained in this communication, or in any App Annie products, services, communications, or other offerings, should be construed as an offer, recommendation, or solicitation to buy or sell any security or investment, or to make any investment decisions. Any reference to past or potential performance is not, and should not, be construed as a recommendation or as a guarantee of any specific outcome. You should always consult your own professional legal, financial, investment and business advisors. Additionally, by providing the information herein, App Annie does not make any representations or warranties and does not undertake any legal or contractual obligations whatsoever. No liability may accrue to App Annie as a result of providing this information to you.