data.ai's latest analysis shows the US downloads of AirBnB, Booking.com and Expedia doubled in the first week of May vs the first week of 2022 as consumers plan for summer travels.
What's Happening:
A recent analysis from data.ai shows that the usage of travel and navigation apps has steadily increased since January of this year with app downloads increasing YoY amongst the top 5 travel apps in 3 different app subgenres — highlighting the fact that American consumers are eager to travel regardless of inflation concerns.
In fact, more than 80% of American adults are planning summer travel. In addition, research from the US Travel Association found that Americans spent $95 billion on travel in March of 2022, just 5% less than pre-pandemic levels in 2019, indicating we are on the path to a continued rebound of the sector.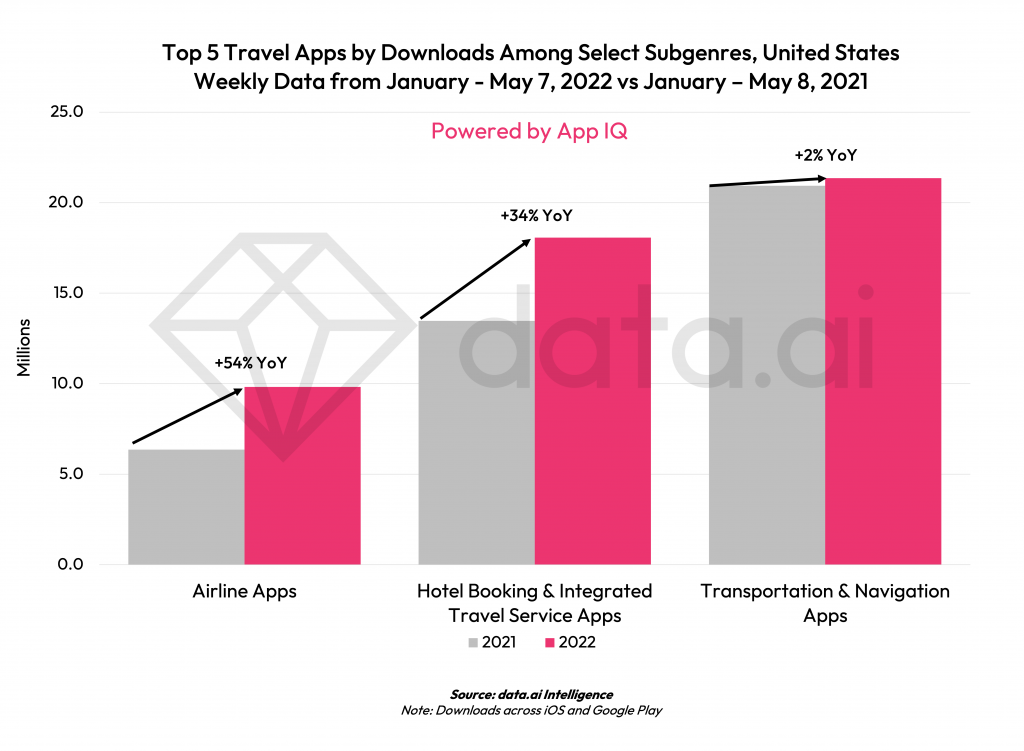 According to data.ai's App IQ, app downloads among the Top 5 Transportation & Navigation apps in the US surpassed 21 million during the first 18 weeks of 2022 versus the first 18 weeks of 2021, a 2% increase despite slight declines from Lyft and Waze. GasBuddy led the pack, tripling its downloads to nearly 2 million to date in 2022, a 190% YoY increase — which can likely be credited largely to consumer reactions to increasing gas prices. Nearly half of GasBuddy's users were aged 45+, showing concern among the Gen X / Baby Boomer group in the US.
Apps in the Airline subgenre saw the largest percent increase YoY (+54%), with the top 5 Airline Apps all seeing substantial increases in app downloads. The #1 ranked Airline app was the United Airlines app which skewed 57% female with 53% of users aged 25-44, or 'millennials'. The top 5 Hotel Booking & Integrated Travel Service apps saw a 34% YoY increase in downloads, with the #1 ranking app in this category being VRBO. Of note, demographic data of iPhone users in the US revealed that VRBO skews largely female  at 76% with 56% aged 25-44. Data such as this helps app publishers determine the demographic of users that are most engaged on an app versus those who may require additional targeting. This is important to factor into a mobile strategy during times of peak seasonal demand.
Why It Matters:
Taking a look at downloads and weekly active users of six select travel and lodging apps (Airbnb, Booking.com, Expedia, Hopper, Hotel Tonight, and Kayak), data.ai found that overall, inflation has not impacted consumers' app activity. In fact, just the opposite: of the selected apps, Booking.com saw the highest increase since the beginning of the year, up 122% in terms of downloads and up 95% in terms of WAU in the week starting May 1, 2022 compared to the week starting January 2, 2022. This indicates that people are in planning mode and gearing up for long awaited summer travel after years of Covid-induced travel interruptions — and they are looking for a good deal while doing so.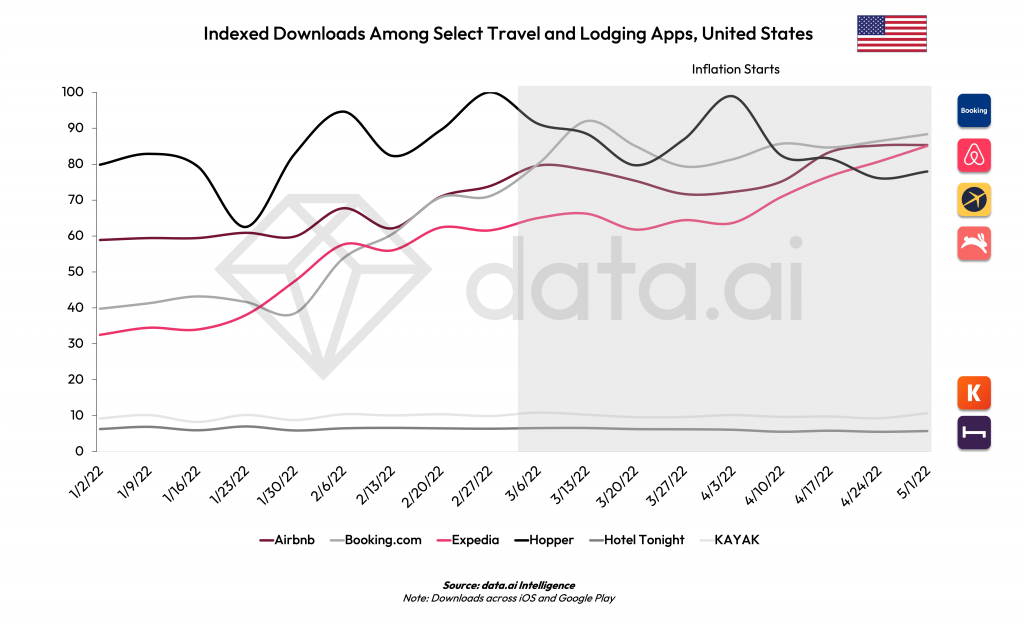 Hopper saw one of the earliest rises in download activity in February 2022, but Airbnb started gaining momentum at the end of January to slightly edge out Expedia during the week starting May 1, 2022. Despite this, Expedia's download growth is remarkable, up 162% during the first week of May 2022 compared to the first week of January 2022. Airbnb has been leveraging a consistent paid download campaign since the start of the year, and its investments have been paying off; more than half of its iOS downloads in the US from January to March 2022 have been from paid sources.
Even with inflation picking up in the spring, weekly active users steadily increased for Expedia, Booking.com and Hopper. This data, highlighting the fact that consumers are seeking travel and adventure despite unstable market conditions, suggests that app publishers should take advantage of reaching consumers during this year's travel season and exercise creativity with advertising to tap into latent travel desires. Demographic data gives travel app publishers an additional level of insight into who their core consumers currently are as well as who they should try to further engage.
Go Deeper:
Looking at weekly data for the same period ending May 8, 2022, data.ai found an increase in total time spent on Android phones on each of the 6 apps as well as an increase in average active days and user retention for 5 of the 6 apps.
Across the board, data.ai's analysis shows that consumers are looking forward to traveling amidst easing of lockdown restrictions despite inflation worries. GasBuddy's large uptick in downloads points to consumers still looking for ways to save money while traveling or commuting (rather than avoiding travel all together), giving app publishers a chance to get creative with how they capture, engage and retain consumers. This is also evidenced by the fact that total time spent in Hopper was up 142% YoY, suggesting that consumers are spending more time looking for ways to save money while continuing to prioritize travel.
Looking for More Mobile Insights?
Sign up here to claim a copy of data.ai's industry-leading State of Mobile report:
Looking to make more of the mobile opportunity? Talk to an expert today.
This post is the latest in a Mobile Minute series that features data.ai's perspective on how mobile is impacting current events and consumer trends. Check in weekly for our take on the latest news cycles and how mobile transformation is shaping industries around the world.
DISCLAIMER: 
data.ai is a mobile market estimate service provider. data.ai is not registered in any investment advisory capacity in any jurisdiction globally, and does not offer any legal, financial, investment or business advice. Nothing contained in this communication, or in any data.ai products, services, communications, or other offerings, should be construed as an offer, recommendation, or solicitation to buy or sell any security or investment, or to make any investment decisions. Any reference to past or potential performance is not, and should not, be construed as a recommendation or as a guarantee of any specific outcome. You should always consult your own professional legal, financial, investment and business advisors. Additionally, by providing the information herein, data.ai does not make any representations or warranties and does not undertake any legal or contractual obligations whatsoever. No liability may accrue to data.ai as a result of providing this information to you.