As in-person dating wanes, apps introduce new offerings to appeal to at-home dating
What's Happening: 
At their core, dating apps have operated with the goal of connecting people with shared interests. With quarantine orders from #COVID-19 limiting social contact, these apps — which raked in $2.2 billion in consumer spend in 2019 — have pivoted to develop new tactics and offerings to keep users engaged at home. Many are getting creative in their updates, and the creativity is changing how users engage with apps like Hinge, Bumble and The League.  Even social media giant Facebook has incorporated a new video-messaging option for users of their Facebook Dating feature. Kippo, an app for gamers, has seen an uptick in daily iPhone download rankings as people seek connections through at-home hobbies such as gaming.
Why It Matters: 
Dating apps have created features based on appealing to underlying consumer tastes and setting themselves apart from the competition. These have included women initiated conversations, a "superlike" option, or a specific time window for connecting. During social distancing policies under the coronavirus pandemic, we have seen dating apps ramp up innovation in order to keep users engaged. For instance, Hinge has introduced a new button that lets users indicate they're ready for a video date, Bumble lets people match with anyone in their country and Tinder has made its Passport offering free to all users. Most recently, Airbnb and Bumble announced they are working together on a campaign to provide virtual first dates to people stuck at home via a series of online experiences.
Bumble reported seeing strong increases in messages and video calls for socially distant dating. In the latter part of March and through April, Bumble saw strong growth in data used per session on Android phones. During the week of April 19-25, 2020 in the US, the average data used per session increased 40% compared to the weekly average during Jan 2020. This could be due to an increase in video calls in the app, features that tend to use more data. 
Dating apps have shown resilience during COVID-19 despite limitations on in-person dating. Part of this is due to swift feature innovation, as well as the gamification nature of dating apps generally. Within dating apps, users can still be active by matching and messaging without actually meeting up in-person. The gamification of "swiping" in dating apps slots into this behavior to find avenues to pass time and entertain — alongside virtual dating features that many top dating apps have adopted in recent weeks. While most of the top 10 dating apps by average smartphone weekly active users worldwide (outside of China) remained a relatively stable level of active users in 2020 through May 16, 2020, Hinge actually saw 20% growth in weekly active users during the week of May 10-16, 2020 compared to the weekly average in Jan 2020.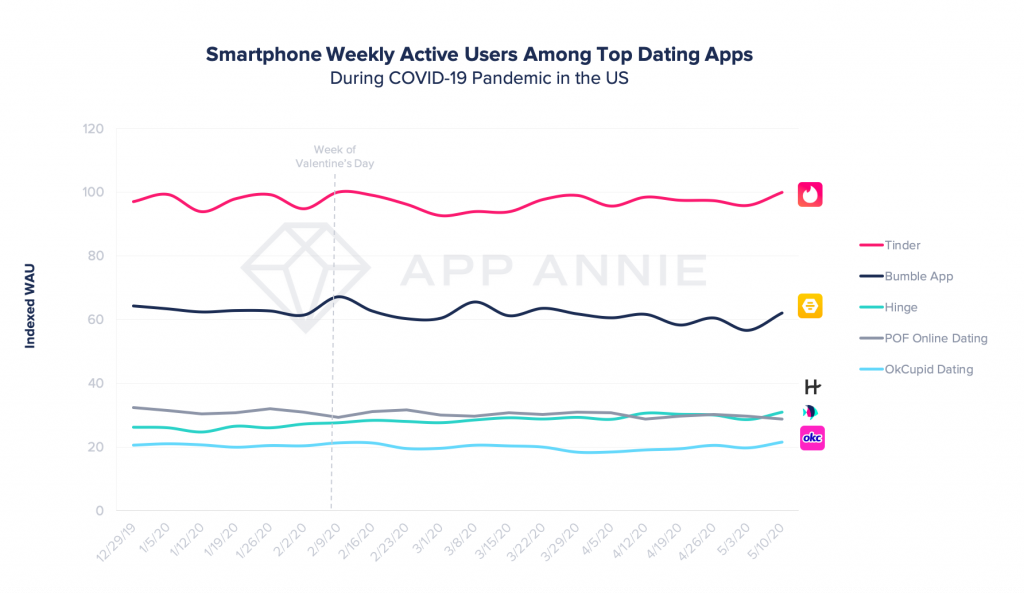 Go Deeper:
Dating apps remain some of the most popular apps available with stable levels of weekly active users, even in times of social and physical distancing. 
For more information on the impact of the coronavirus on the mobile economy, watch our on-demand webinar featuring our panel of mobile experts: 
Ready to take your mobile performance to the next level? Contact us to learn how to win on mobile today.
This post is the latest in a Mobile Minute series that features App Annie's perspective on how mobile is impacting current events and consumer trends. Check in weekly for our take on the latest news cycles and how mobile transformation is shaping industries around the world.
DISCLAIMER
App Annie is a mobile market estimate service provider. App Annie is not registered in any investment advisory capacity in any jurisdiction globally, and does not offer any legal, financial, investment or business advice. Nothing contained in this communication, or in any App Annie products, services or other offerings, should be construed as an offer, recommendation, or solicitation to buy or sell any security or investment, or to make any investment decisions. Any reference to past or potential performance is not, and should not, be construed as a recommendation or as a guarantee of any specific outcome. You should always consult your own professional legal, financial, investment and business advisors.