Consumers spent over $3 billion in dating apps in 2020, up 15% YoY globally.
What's Happening: 
Whether it's a strained pandemic relationship coming to an end or individuals looking for companionship after a long year alone, dating app usage and spend have increased significantly in the past year. Consumers spent over $3 billion on dating apps in 2020, up 15% YoY globally, seeing a total of 560 million dating app downloads.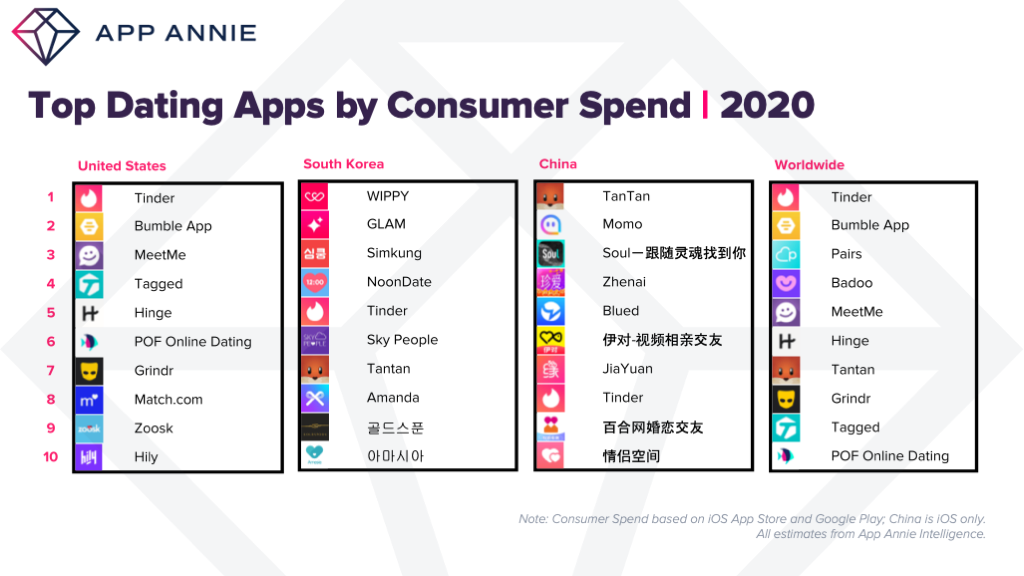 Going into Valentine's Day, we can expect this trend to continue with the most popular dating apps encouraging users to put themselves out there. Tinder remains on top, ranking #1 in the US and #1 worldwide, with the highest annual overall consumer spend among non-gaming apps in 2020. While Tinder ranked in the top 10 in both China (#8) and South Korea (#3) by consumer spend, homegrown favorites remain at the top of the charts. TanTan, from China-HQ'd MoMo Technology, ranked #1 in China for consumer spend, but also has a strong international audience — ranking #7 in South Korea and #7 globally.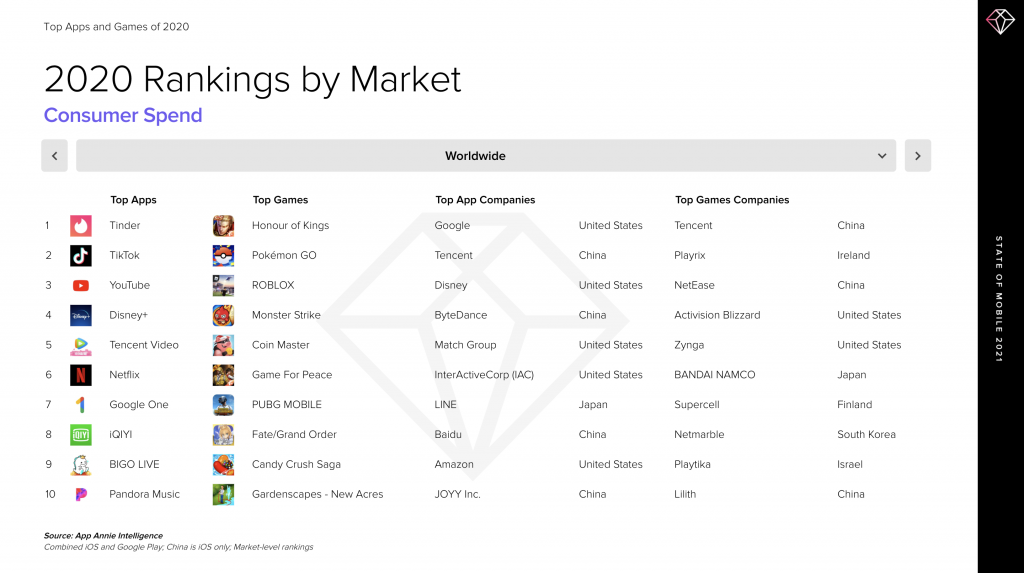 For a full list of top apps by downloads, consumer spend and MAU among 30 key markets, read our State of Mobile 2021 report.
In South Korea, GLAM and NoonDate ranked #2 and #4 by consumer spend in 2020. GLAM emphasizes also using their platform to make friends nearby, as well as leveraging live video chat to connect, a feature they included in their app name in January 2021. NoonDate sends 2 profile cards twice a day at noon and 8 pm to each user to suggest a potential match. NoonDate also includes games to play with video dates and includes a mix of in-app purchases and subscriptions as avenues for monetization. 
In China, YiDui (#6 by consumer spend) and Soul (#3 by consumer spend) are dating apps with a social networking emphasis. Soul has gained traction in throughout 2020 — averaging a daily iPhone downloads rank of #5 among Social Networking apps in China in Jan 2021, up from #14 in Jan 2020. Soul emphasizes appealing to a younger generation of mobile-savvy users by matching based on personality and interests instead of photos.
Why It Matters:
With most mobile apps, user retention is a crucial metric to look at when tracking their success. However, dating apps are unique in that they are meant to be deleted when consumers find their match. Hinge has been especially vocal about how their app is meant to be deleted once a relationship is formed. For this reason, consumer spend can be a particularly useful indicator of success beyond active users, since churn is embedded in the value proposition of matchmaking itself. Consumer spend indicates that users are deriving value from added features such as matching beyond local users, seeing who's liked your profile, and reversing left swipes, among others. In-app subscriptions are the most popular monetization method among dating apps, but many also have one-off in-app purchases as well.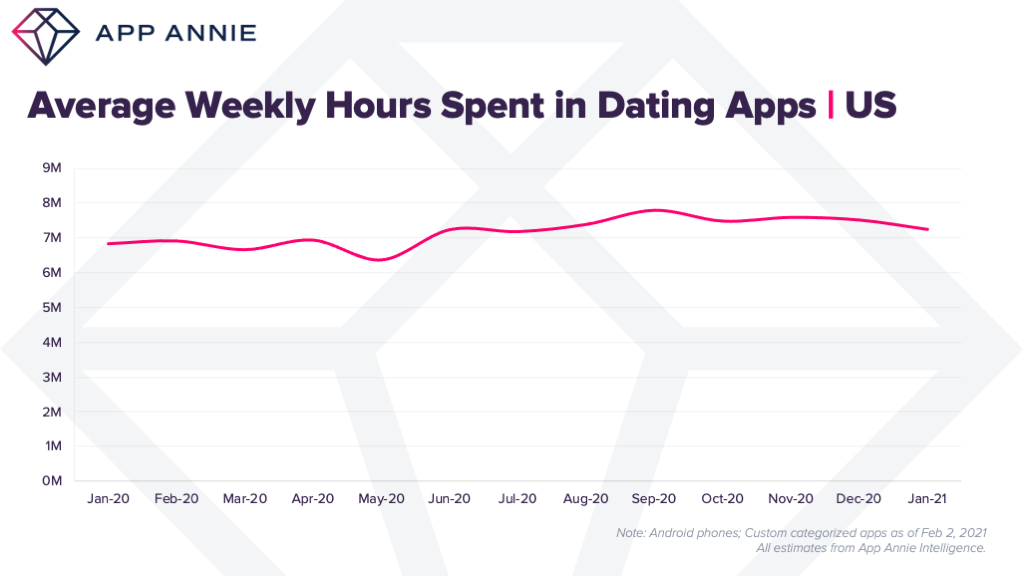 Dating apps usually see a spike in usage and spend ahead of each Valentine's Day, but in 2020, activity remained consistent after the holiday passed. In terms of time spent, we actually saw aggregate weekly time spent in dating apps in the US stay consistent throughout 2020, and even see a slight uptick in September, despite COVID-induced social distancing. This continued engagement could be attributed to consumers looking to these apps for a way to socialize and stay engaged in the dating scene during the pandemic, proving that dating apps were relatively resilient to limitations on in-person meetups. This is likely due to a combination of the 'gamified' nature of swiping, the social features to pass the time and added features like video dating and the ability to match with users outside of your local area. With lockdowns continuing across the world, we can expect similar behavior this year.
Go Deeper:
Bumble ranked #8 in the US, and #2 for dating apps in terms of annual overall consumer spend among non-gaming apps in 2020. With the company's recent Valentine's Day campaign and upcoming IPO, the app is positioning its platform to be more than a place to find a quick virtual date. Like many dating apps, Bumble is differentiating itself and the community it targets. With a women-first mentality and campaigns to match, it's letting users know there is a unique social aspect to its offerings that can help with more than your love life. With Bumble Bizz (professional networking) and Bumble BFF (friend-matching), this community is growing and creating more opportunities to innovate and monetize.

Tinder is the #1 app worldwide when looking at global average monthly active users (MAU), followed by Badoo and Bumble. However, Bumble is second only to Tinder when looking at MAU in the US. In South Korea and Germany, Tinder also tops the charts for active users, however homegrown apps remain a favorite. GLAM and NoonDate ranked #2 and #3 in South Korea, and homegrown LOVOO ranked #2 in Germany.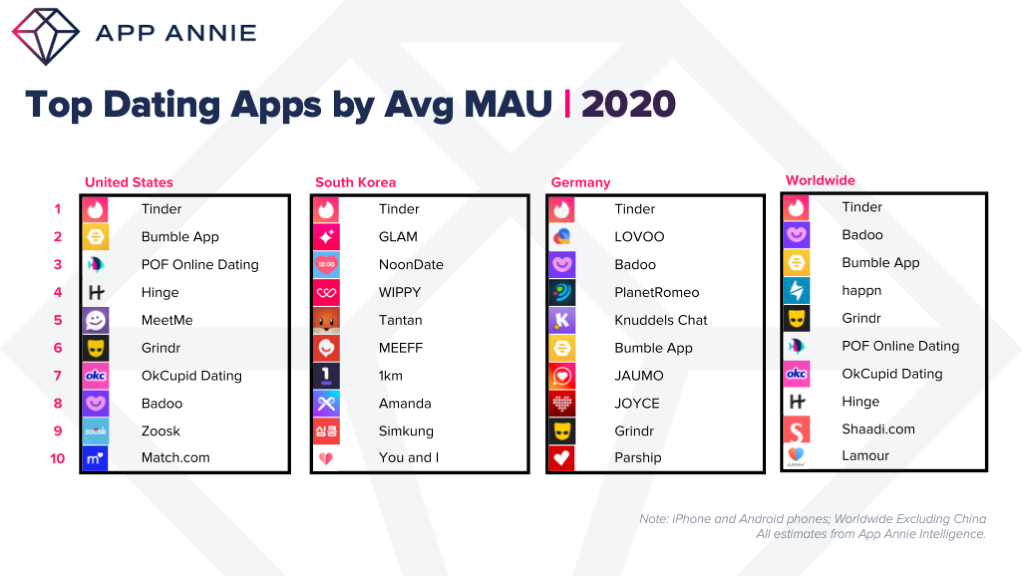 Looking for more mobile insights? Download App Annie's industry-leading State of Mobile report, covering everything you need to know about how to win on mobile in 2021.
Looking to make more of the mobile opportunity? Talk to an expert today.
This post is the latest in a Mobile Minute series that features App Annie's perspective on how mobile is impacting current events and consumer trends. Check back weekly for our take on the latest mobile trends, news, and how mobile transformation is shaping industries around the world.
DISCLAIMER: 
App Annie is a mobile market estimate service provider. App Annie is not registered in any investment advisory capacity in any jurisdiction globally, and does not offer any legal, financial, investment or business advice. Nothing contained in this communication, or in any App Annie products, services, communications, or other offerings, should be construed as an offer, recommendation, or solicitation to buy or sell any security or investment, or to make any investment decisions. Any reference to past or potential performance is not, and should not, be construed as a recommendation or as a guarantee of any specific outcome. You should always consult your own professional legal, financial, investment and business advisors. Additionally, by providing the information herein, App Annie does not make any representations or warranties and does not undertake any legal or contractual obligations whatsoever. No liability may accrue to App Annie as a result of providing this information to you.