Top 5 Worldwide Crypto Apps Drove a Combined 46M Downloads in Q3 2021
What's Happening:
As cryptocurrency has continued to rise in popularity, there's been an acceleration of new and growing apps with capabilities to buy, store and sell crypto. This has also led to larger fintech providers adding crypto capabilities. For example, PayPal launched its super app last month with new features to buy and sell crypto. Additionally, Robinhood recently piloted a crypto wallet this month - which already has a waitlist of one million customers - as bitcoin becomes a larger part of its core business.
Why It Matters:
In Q3 2021, worldwide downloads of the top 5 cryptocurrency apps reached a total of 46M downloads on iOS and Google Play (an increase of 75% year-over-year), highlighting growing consumer interest. Nearly half of the total global downloads among the top 5 apps came from PayPal alone in Q3 2021. In fact, based on an analysis of fourteen global regions, PayPal held the #1 spot in worldwide downloads in all regions except for India, Russia, and South Korea.
Although PayPal offers traditional payment features, what makes it attractive is its ability to allow users to explore curated deals and buy, sell, and even check out with cryptocurrency such as Bitcoin (which recently reached record highs) without leaving the app. MetaMask, a web browser and crypto wallet serving as a gateway to blockchain apps, also saw monumental growth in the last year, reaching 4 million global downloads in Q3 2021. This marks a year-over-year growth of 3,710%, accelerated by MetaMask's iOS launch in September 2020. It is worth noting that, although certain regions tend to see their own cryptocurrency apps among the top most downloaded apps (such as Canada's Wealthsimple Trade, Japan's Coincheck, and India's CoinSwitch), PayPal and Binance are two apps that have taken a strong foothold globally.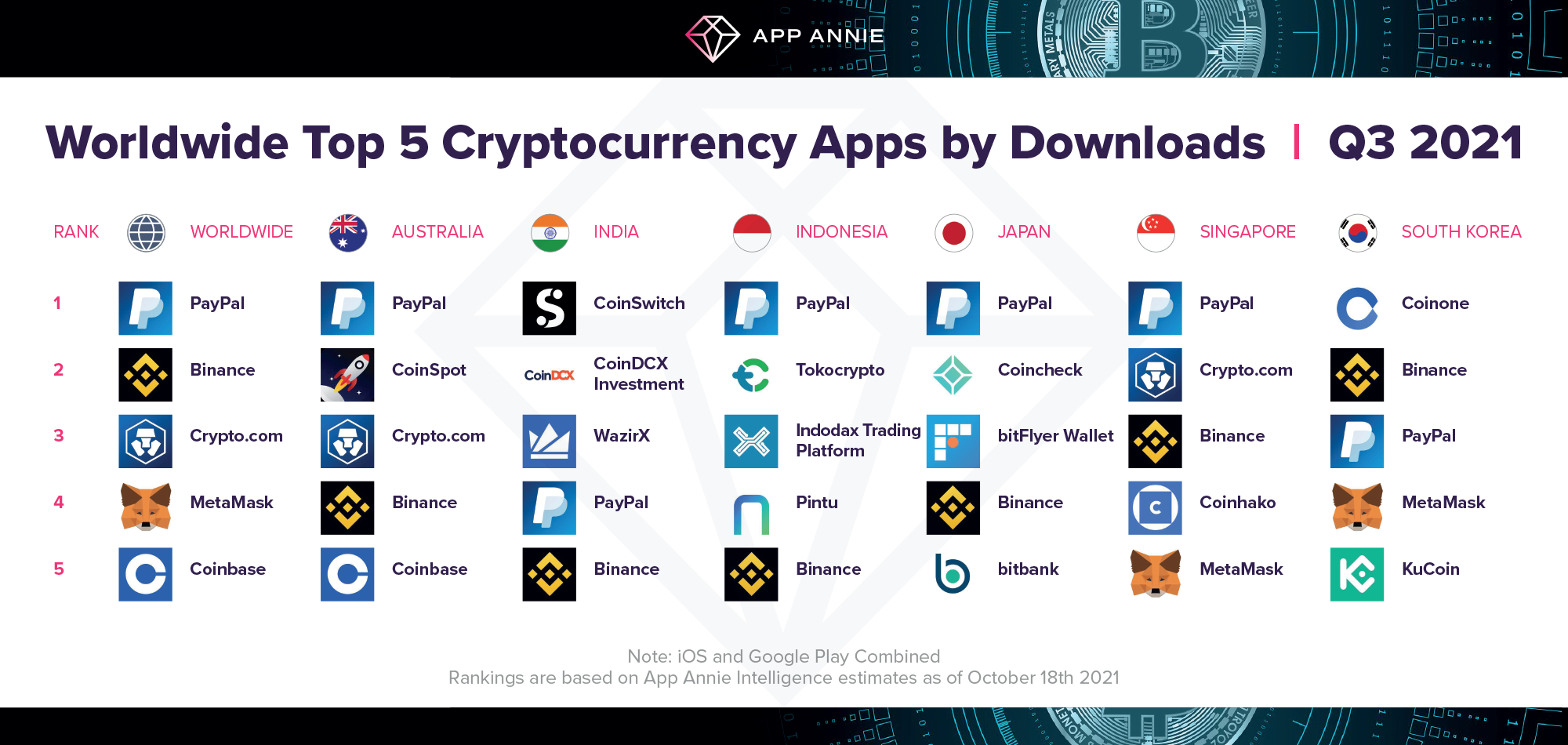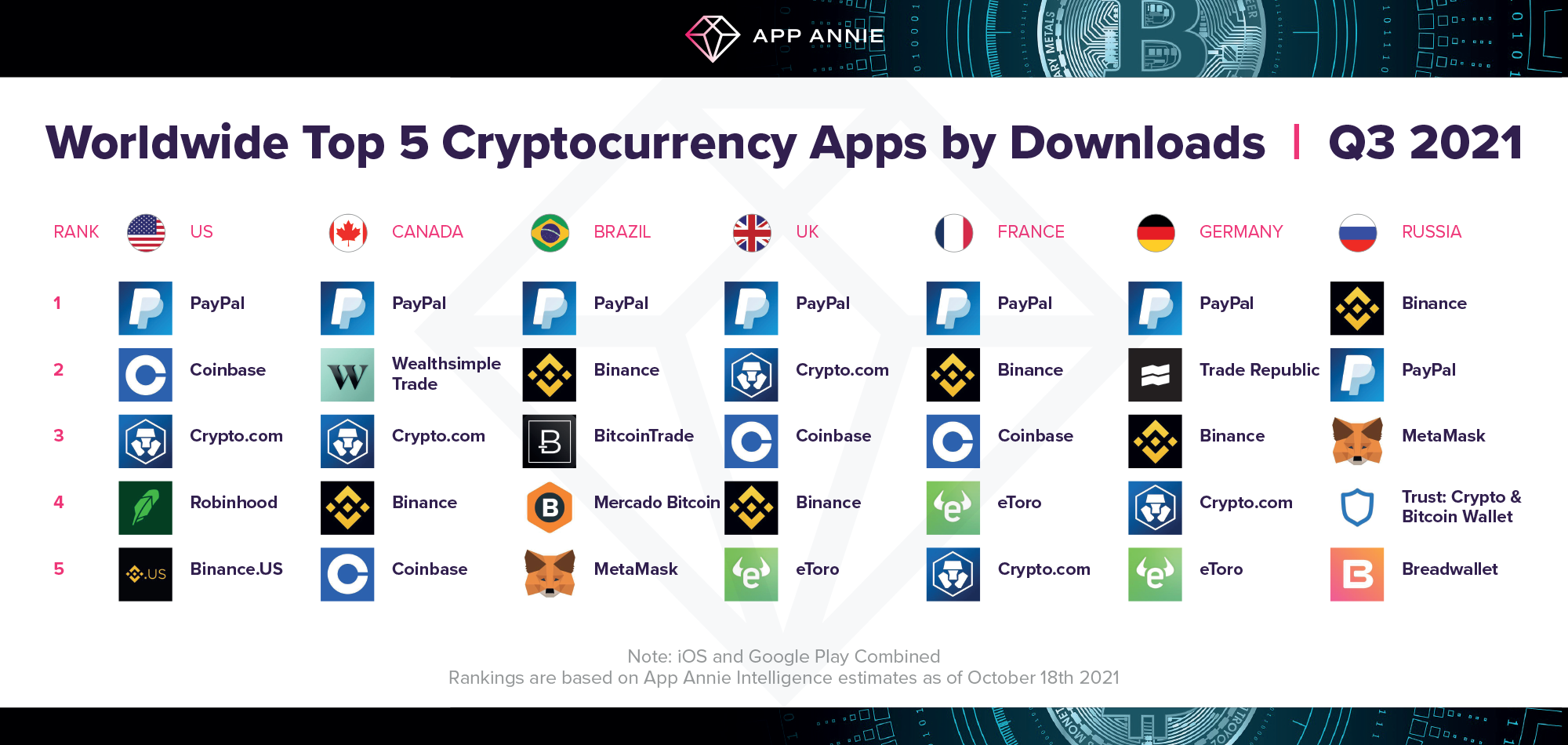 As digital currencies increase in value, we have also seen greater interest in buying and selling accentuated by the growth of digital exchanges highlighted by increasing time spent in-app. Binance, the world's number one cryptocurrency exchange by trading volume, saw a 25% growth in average total time spent per user year-over-year in Q3 2021, while DMM Bitcoin, an APAC cryptocurrency exchange, saw a 280% growth over the same time period.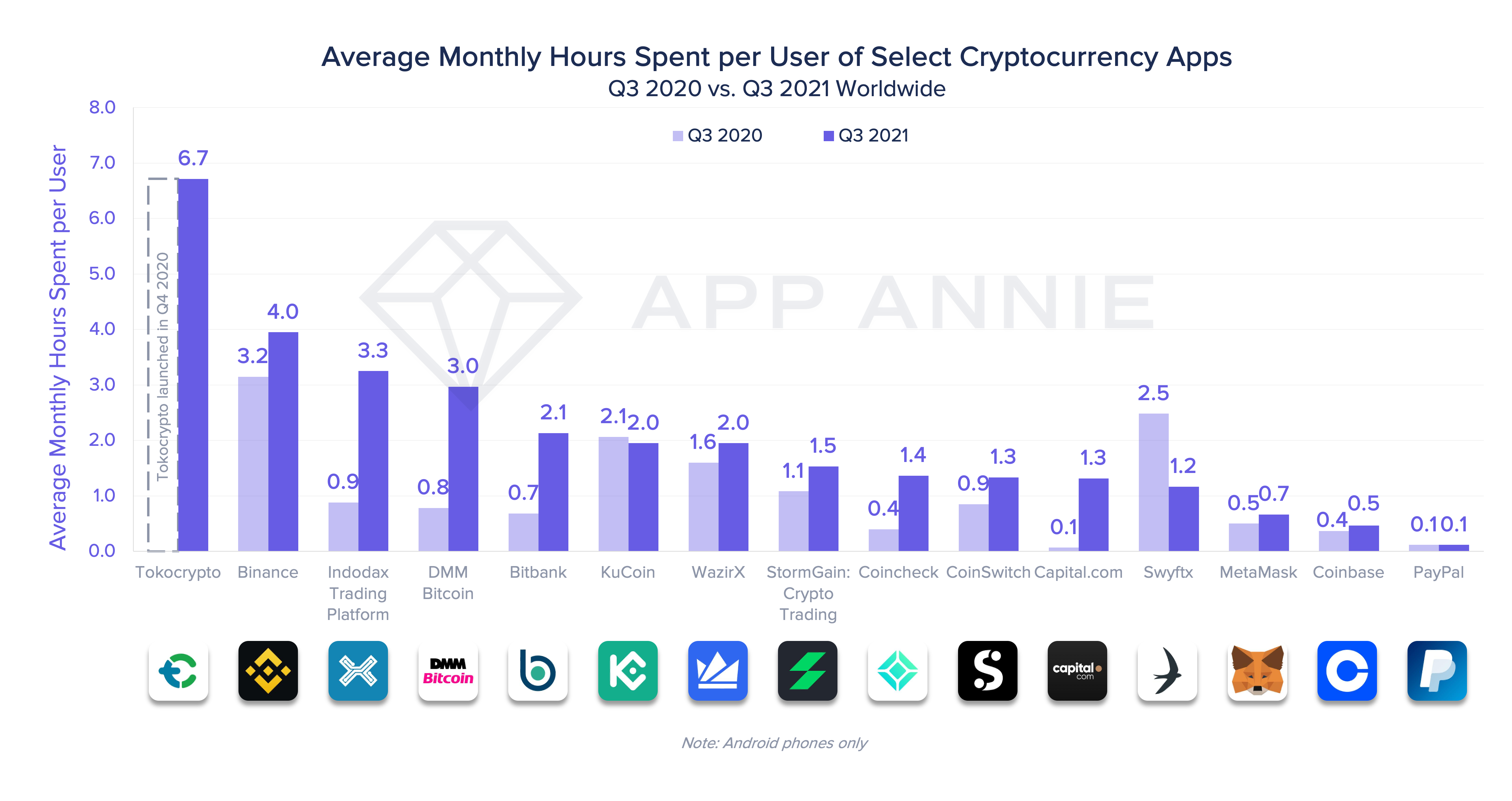 From a U.S. perspective, several cryptocurrency apps saw ​​increases in average monthly hours spent per user year-over-year. For instance, KuCoin, a crypto exchange, reached 2.3 hours of average monthly hours spent per user in Q3 2021, which was a 220% growth YoY.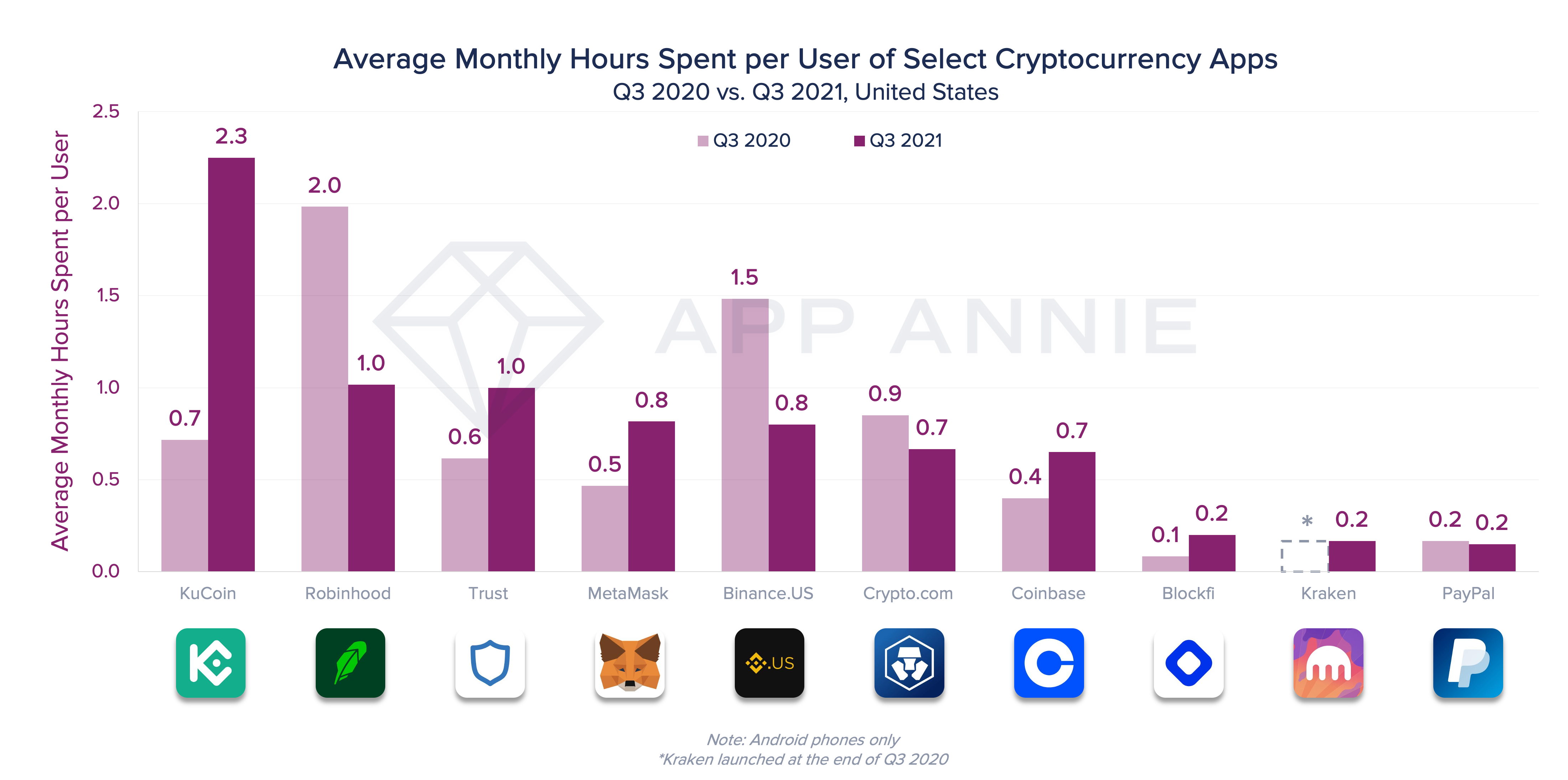 Go Deeper:
As crypto currency becomes more mainstream, we'll likely see more fintech apps tap into crypto capabilities to compete on mobile.
Looking for more mobile insights? Download App Annie's industry-leading State of Mobile report, covering everything you need to know about how to win on mobile in 2021.
Looking to make more of the mobile opportunity? Talk to an expert today.
This post is the latest in a Mobile Minute series that features App Annie's perspective on how mobile is impacting current events and consumer trends. Check in weekly for our take on the latest news cycles and how mobile transformation is shaping industries around the world.
DISCLAIMER: 
App Annie is a mobile market estimate service provider. App Annie is not registered in any investment advisory capacity in any jurisdiction globally, and does not offer any legal, financial, investment or business advice. Nothing contained in this communication, or in any App Annie products, services, communications, or other offerings, should be construed as an offer, recommendation, or solicitation to buy or sell any security or investment, or to make any investment decisions. Any reference to past or potential performance is not, and should not, be construed as a recommendation or as a guarantee of any specific outcome. You should always consult your own professional legal, financial, investment and business advisors. Additionally, by providing the information herein, App Annie does not make any representations or warranties and does not undertake any legal or contractual obligations whatsoever. No liability may accrue to App Annie as a result of providing this information to you.