Household names including Sonic, Mario Kart and Scrabble aim to capitalize on the $100B market.
What's Happening: 
On Feb 14, 2020, Sonic the Hedgehog took the big screen — raking in $101 million worldwide on its premiere weekend — showcasing fan loyalties and illustrating the size and influence of established video game brands. Beyond box office movies and merchandise, another trend we've seen is classic games moving content from both console and traditional board games to mobile in order to capitalize on the enormous market expected to reach $100 billion this year. Notably, Scrabble GO is making its official debut on mobile in 2020, slotting into the existing consumer appetite for casual games. 
Why It Matters: 
Leveraging the power of an established fan base and making games more accessible through mobile markets has proven to pay off for these game brands. For example, Mario Kart Tour quickly soared following its launch late last year to reach the #2 spot by US gaming downloads for all of 2019. 
Sonic Dash saw a strong boost in the downloads rankings among Action Games leading up to the February 14, 2020 Sonic the Hedgehog movie debut, particularly in France, Germany and the UK. As of Feb 17, 2020 Sonic Dash ranked #8, #4, #2 and #11 in France, Germany, the UK and the US by daily iPhone downloads among Action Games, up 95, 88, 60 and 56 ranks from four weeks prior, respectively.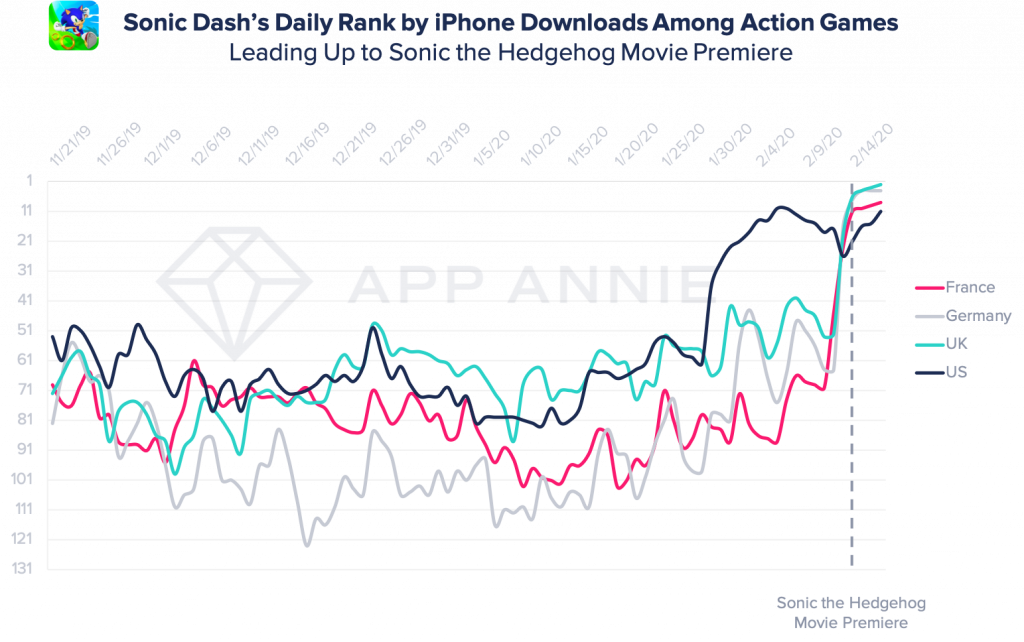 We have seen similar trends surface in Angry Birds 2 surrounding the movie premiere of The Angry Birds Movie 2 on August 2, 2019.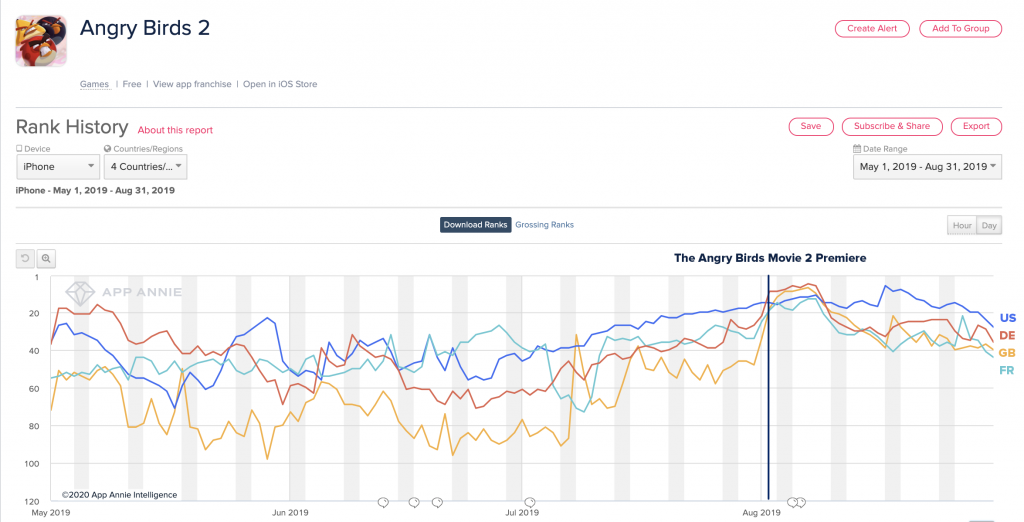 View daily Angry Birds 2's — and other trending games and apps — daily rankings with a free account on App Annie.
Go Deeper:
Given consumers spend an average of 3 hours and 40 minutes on mobile daily, mobile allows classic game brands to increase accessibility and remain top of mind for players. Mobile's form factor allows consumers to have a portable gaming console in their pockets at all times, and the powerful hardware specs of mobile devices allows for hardcore games — and often those played traditionally on a PC/Mac or home console — to be played seamlessly on mobile. Together these enable mobile to continue to take over market share from traditional gaming — a trend poised for growth in 2020. 
To uncover more mobile gaming insights, download our annual industry-leading 2020 State of Mobile Report:
This post is the latest in a Mobile Minute series that features App Annie's perspective on how mobile is impacting current events and consumer trends. Check in weekly for our take on the latest news cycles and how mobile transformation is shaping industries around the world.