With consumers spending increased time on mobile, hyper-casual games see immense popularity
What's Happening: 
Mobile has turned more people than ever before into 'gamers' as mobile gaming has captured the world's attention. Mobile put a console in the hands of every smartphone owner — and quarantined consumers are playing more games than ever before. Consumers spent over $19 billion on mobile games in Q2 2020 — the largest quarter yet. From action to multiplayer, the entire industry is seeing growth, but casual gaming is a category worth watching — seeing global download growth of 45% year over year in H1 2020. Understanding nuances in gaming categories and 'gamer' mindsets is critical for game publishers to uncover new market opportunities and expand their product portfolio.   
Why It Matters: 
Even with easy access to consoles and computers at home, consumers are still turning to mobile to play games — due to their convenience and the strength and breadth of their offerings — whether hyper-casual or core gaming. In the US, the average user increased the mobile games they played each month by 13% during the peak month of H1 2020, compared to the average of 2019. In India, this was as high as 35%. Similar to core games that have migrated from console to mobile, in-person board games are even seeing a resurgence with mobile gamers. Scrabble GO saw a 455% and 375% increase in time spent quarter over quarter in Q2 2020 on Android phones in France and Canada, respectively. Mobile gaming is the world's most popular form of gaming. Understanding the nuances and diversity of mobile gaming can help marketers size the market, uncover leaders and stragglers and discover the top performers. 
Other highlights in the category include: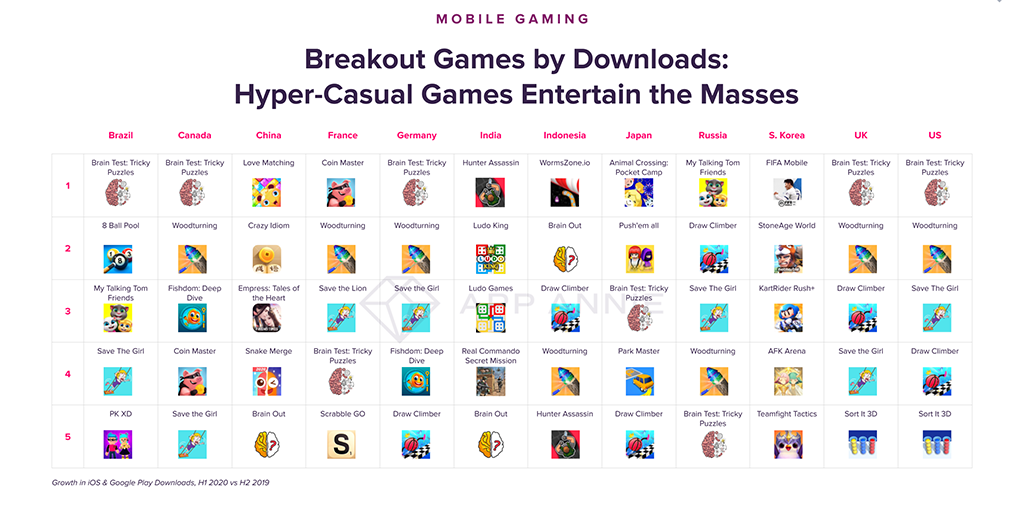 Go Deeper:
Casual games have been instrumental in turning 'non-gamers' into 'gamers. With simple, intuitive gameplay and user experience, casual mobile games have the ability to engage the masses and help those stuck in lockdowns to stay entertained, without the need to have a separate gaming device. As many countries continue to flesh out their reopening plans from COVID-19, casual games will remain a way for people to connect online and pass the time in a simple, easy to use fashion. 
By the end of 2020, mobile game spending is set to lead over desktop and home console gaming to more than 2.8x and 3.1x, respectively — solidifying that mobile gaming is in a league of its own.
For more information on the impact of the virus on the mobile economy, please read our latest report: How COVID-19 Has Changed Consumer Behavior on Mobile Forever. 
To hear more from our panel of mobile experts on the impact of coronavirus on the mobile economy, view our webinar on-demand. 
Looking to make more of the mobile opportunity? Talk to an expert today.
This post is the latest in a Mobile Minute series that features App Annie's perspective on how mobile is impacting current events and consumer trends. Check in weekly for our take on the latest news cycles and how mobile transformation is shaping industries around the world.
DISCLAIMER
App Annie is a mobile market estimate service provider. App Annie is not registered in any investment advisory capacity in any jurisdiction globally, and does not offer any legal, financial, investment or business advice. Nothing contained in this communication, or in any App Annie products, services or other offerings, should be construed as an offer, recommendation, or solicitation to buy or sell any security or investment, or to make any investment decisions. Any reference to past or potential performance is not, and should not, be construed as a recommendation or as a guarantee of any specific outcome. You should always consult your own professional legal, financial, investment and business advisors.