As Gen Z prepares for their first presidential election, candidates target voters through social media.
What's Happening: 
As Generation Z becomes the largest generation and we approach the most critical months leading into the US 2020 presidential election, politicians and their campaign staff are harnessing the importance of mobile to reach the newest voting demographic: Gen Z. As presidential candidates look to win the support of this young generation, we've recently seen some leveraging popular social media platforms — from Instagram, to Snapchat, to TikTok, — to foster support in a way that appeals to the first digitally-native generation. 
Why It Matters: 
With 50% of time spent on mobile spent in social and comms apps, candidates are aiming to reach this new demographic of voters through these channels. We took a look at select Democratic presidential primary candidate's social media and mobile presence.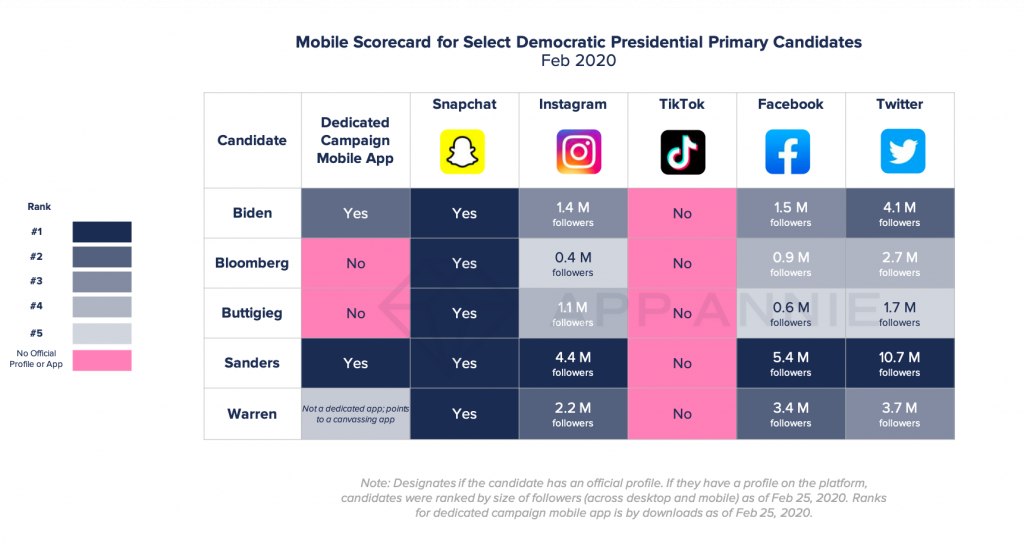 Bernie Sanders came out on top, among the candidates analyzed, ranking #1 for followers on Instagram (mobile-only), Facebook and Twitter, and having an official profile on Snapchat as well as the most downloaded dedicated campaign app: BERN: Official Bernie 2020 App. With Snapchat, Instagram and Tiktok ranking as the most used social apps by Gen Z on iPhone devices in the US, it is clear that candidates are prioritizing reaching younger demographics. Among the selected primary candidates we analyzed, none had an official TikTok presence. It is important to note we did not analyze ad spending across these platforms.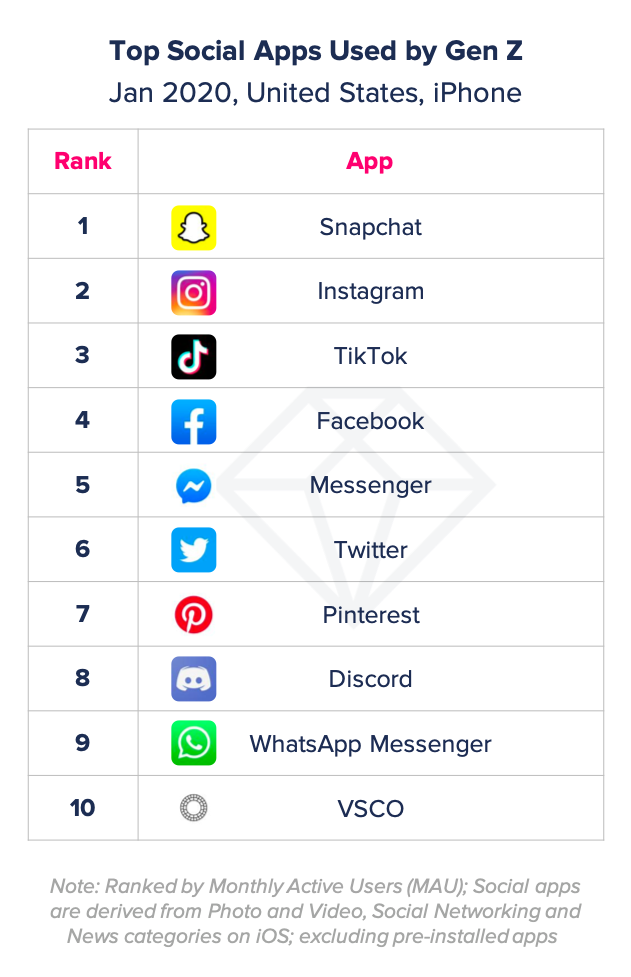 Gen Z has made clear that they prefer content that is entertaining and unobtrusive and candidates are leveraging mobile apps to create informative and entertaining content. In 2020 we've begun to see candidates using social media in a way never seen before — from Mike Bloomberg's Meme 2020 sponsorship, to Elizabeth Warren's selfies shared across multiple social media apps, or Cory Booker, Julian Castro and Andrew Yang's appearances on the Washington Post TikTok account, candidates are quickly learning that they must develop a mobile strategy in order to reach the country's largest generation in their comfort zone: mobile. 
Go Deeper:
With the exponential growth of mobile across verticals, politics is the latest example of an industry harnessing mobile's potential. As we get closer to the general election in November 2020, candidates will continue to tap into the mobile market in various ways- may it be donation sourcing, partnerships with popular social media influencers, or sticker packs for Instagram content. Together, these initiatives place mobile front and center for how candidates will break through to Gen Z over the course of the next nine months.
To uncover more mobile insights, download our annual industry-leading 2020 State of Mobile Report:
This post is the latest in a Mobile Minute series that features App Annie's perspective on how mobile is impacting current events and consumer trends. Check in weekly for our take on the latest news cycles and how mobile transformation is shaping industries around the world.