Are subscriptions the answer to breakfast loyalty? Panera's recent unlimited coffee subscription service drives 35% increase in weekly app downloads.
The breakfast wars heated up on March 2 when Wendy's officially entered the market. They celebrated the launch by rewarding anyone who made a purchase through the app with a free breakfast chicken sandwich. On that same day, McDonald's declared March 2nd National Egg McMuffin Day. If they ordered through the app, mobile users could receive a free Egg McMuffin.
Just a week before on Feb 27, 2020, Panera launched a coffee subscription service, where users can pay $9 per month for unlimited coffee and tea. The unlimited access is available through mobile orders, at all hours and for any size cup.
Why It Matters: 
While each of these restaurants prioritizes mobile, McDonald's and Wendy's limit their breakfast freebie offerings to one per day. Panera, on the other hand, is one of the only quick-serve restaurants (QSR) with a subscription option. This gives them the chance to increase foot traffic and drive additional purchases. Panera's CEO reported that in test markets, they saw subscribers increase their monthly Panera visits from 4 to over 10 and food sales grew 70%. They also reported that nearly 1 of every 4 subscribers were new to Panera's loyalty program. Loyalty program's on mobile can be a major drawcard in driving in-store traffic, and fostering positive relationships with customers.
The week of Panera's coffee subscription announcement, saw 20% more app downloads than the average of 10 weeks prior. This was even higher the week after, with Panera Bread downloads seeing a 35% boost in downloads.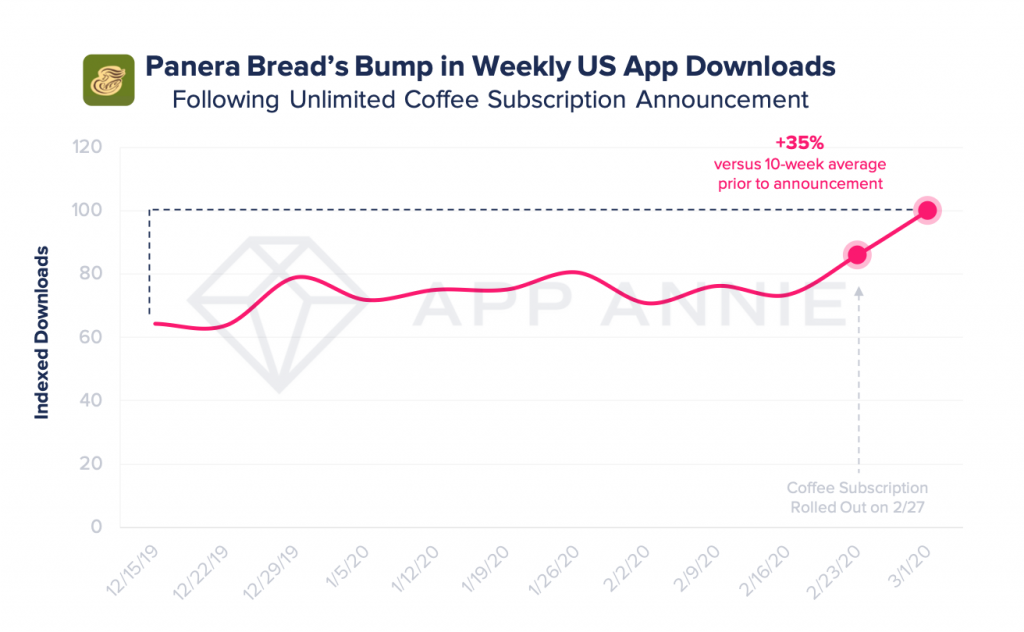 Go Deeper:
Coupled with the App Store's recent announcement of opening up push notifications to allow for ads and marketing promotions, loyalty programs and strategic subscriptions could could drive significant, recurring traffic to Quick Service Restaurants (QSR). This could in turn foster new breakfast habits for consumers. These habits leverage the power and accessibility of mobile at each point in the customer journey: promotion, redemption and loyalty. Subscription models go "one tap" beyond loyalty programs, ensuring customers keep coming back for more. As mobile becomes more centric to QSR's business models, we expect additional QSRs to adopt similar subscription models to secure loyalty. 
To uncover more mobile insights, download our annual industry-leading 2020 State of Mobile Report:
This post is the latest in a Mobile Minute series that features App Annie's perspective on how mobile is impacting current events and consumer trends. Check in weekly for our take on the latest news cycles. Uncover how mobile transformation is shaping industries around the world.