The evolving sophistication of education apps help teachers, students and parents prepare to head back to school and offer vital resources for enhancing studying, organization, productivity and more.
What's Happening: 
Teachers, students and parents alike have taken advantage of mobile apps to completely transform their relationships with education. Mobile apps no longer just complement educational experiences, but completely overhaul systemic classroom processes to enable streamlined and simplified student participation and communication and enhanced studying, organization, planning and productivity. Mobile in particular has had such a profound impact in and out of the classroom because it seamlessly bridges communication and participation between teachers, students and parents enabling on-the-go classroom access and information in a mobile format that fits into the lives of users. 
Why it Matters: 
US Education app downloads grew 85% during the week commencing August 18, 2019 from 10 weeks prior as American students began to return back to school. Topping the downloads charts are Remind: Safe Classroom Communication, ClassDojo, Google Classroom and PhotoMath for classroom related activities such as checking grades, taking quizzes, submitting essays and receiving help on assignments.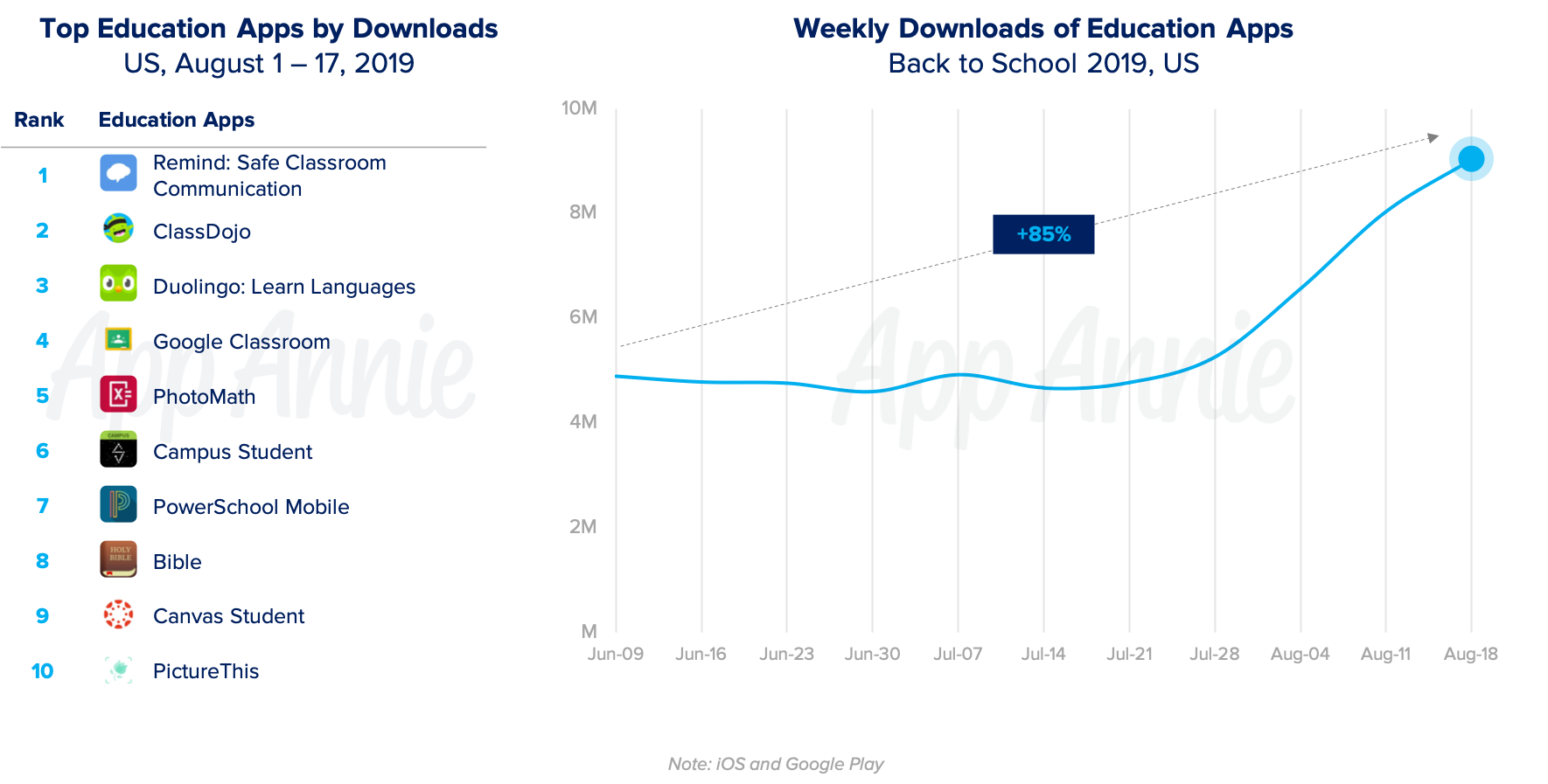 This demonstrates the increasing importance of mobile apps to the educational ecosystem. Students and teachers increasingly depend on these apps to complete routine activities that were once performed through other channels — such as paper printouts, out-dated online portals and limited communication outside the physical classroom — which lacked the same access points and streamlined efficiency as mobile provides. 
Go Deeper:
The increase in demand for Education apps as students head back to school is another proof point of how mobile is considered standard for Gen Z and Generation Alpha. We found Gen Z engages 30% more with apps than older generations, and the demand for mobile at the center of their student experience is a testament to mobile's transformation of virtually all industries. For Gen Z and future generations, mobile is the baseline for engagement. 
For a deeper dive on increased mobile usage, check out our latest 2019 State of Mobile Report: 
This post is the latest in a Mobile Minute series that features App Annie's perspective on how mobile is impacting current events and consumer trends. Check in weekly for our take on the latest news cycles and how mobile transformation is shaping industries around the world.