iOS App Store surpassed record $28.7 Billion in consumer spend in H1 2019 — 20% year-over-year growth emphasizes acceleration in mobile centricity
What's Happening: 
Apple hosted its September 2019 keynote in Cupertino with CEO Tim Cook unveiling the latest innovations in Apple's line including new hardware such as the iPhone 11, software updates to the iOS system and Apple Watch, as well as plans for the Apple TV+ streaming service and Apple Arcade gaming subscription. Within the latest innovations, Apple's increasing focus on user experience and streamlined services highlights the continued proliferation of mobile in consumers' daily lives across verticals including communication and social networking, video streaming and health and wellness.
Why It Matters: 
As mobile consumer spend continues to skyrocket, Apple has increased its efforts to maintain leadership across mobile platforms including smartphones, wearables and streaming through over the top television. During H1 2019, the iOS App Store surpassed $28.7 billion in consumer spend and experienced 20% year-over-year growth in worldwide consumer spend. This also provided a competitive 80% lead in global consumer spend against Google Play.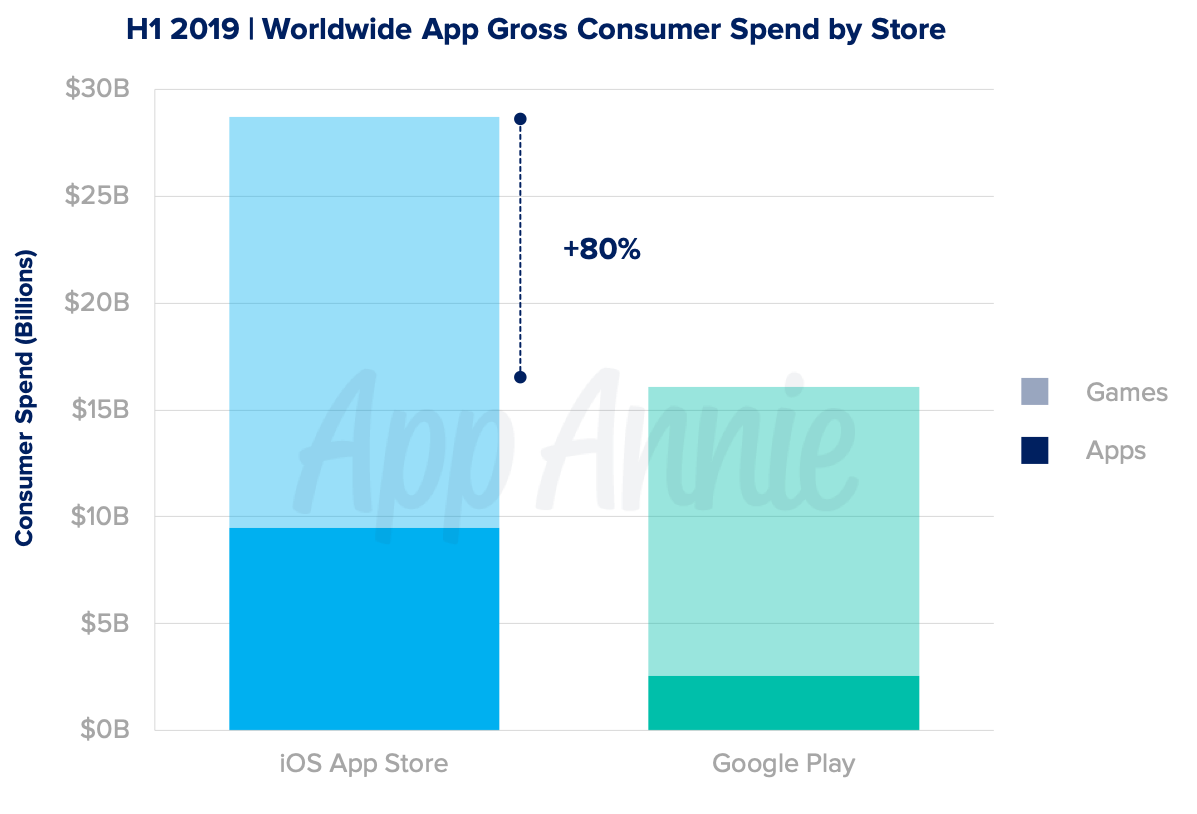 Globally, gaming continued to command the lions' share of iOS consumer spend. Apple Arcade offers a pathway for expanding this market. With nearly two-thirds of spend in the App Store going to games, and mobile outsizing all other game platform spend by 20%, this is an important category to prioritize. While subscription gaming is new, consumers are increasingly subscribing to services via mobile and such an offering can expand the gamer population and base of paying mobile gamers. Family pricing of $4.99 per month and a 1 month free trial position Apple to attract users and adding new games each month offers a pathway for cultivating retention and engagement. 
Beyond gaming, Entertainment, Social Networking and Photo and Video were the largest categories by iOS consumer spend in H1 2019. Photo and Video apps had a standout 6 months, seeing over 80% year-over-year growth in consumer spend. During this time YouTube, Kwai(快手) and Tik Tok, respectively, topped the global iOS consumer spend charts for Photo and Video apps underlining the importance of video streaming on mobile. The new iPhone 11 camera — with an emphasis on new video tools such as smooth zoom out, high quality video, 4K resolution and slow motion video on front camera for "slofies" — slots in with existing consumer demand and mobile habits.
Go Deeper:
For non-gaming apps on iOS in Q2 2019, Photo and Video, Entertainment and Music were the largest contributors to year-over-year growth in consumer spend fueled by in-app subscriptions. Apple's latest announcements emphasize the company's dedication to streamlining mobile experiences for users and eagerness to gain mindshare in high-growth mobile markets including entertainment and video streaming. 
For a deeper dive on increased mobile usage, check out our 2019 State of Mobile Report: 
This post is the latest in a Mobile Minute series that features App Annie's perspective on how mobile is impacting current events and consumer trends. Check in weekly for our take on the latest news cycles and how mobile transformation is shaping industries around the world.