Streaming apps with rights to the Olympics saw up to a 13x bump in downloads during the first week of the Games
What's Happening: 
The 2020 Tokyo Olympics are games like no other. With Covid restrictions in place and fans barred from the stadiums, the need for mobile apps to stay connected with favorite athletes and watch competitions has skyrocketed. Since the opening ceremony on July 23, Olympic-related apps have seen significant bumps in downloads as fans from around the world tune in to cheer on their home country.
Why It Matters:
The Olympics have traditionally drawn large crowds of spectators. The 2016 Games in Rio de Janeiro drew over 500,000 in-person spectators and an average of 27.5 million primetime viewers in the United States alone. Since no fans are allowed in the stadiums this year, we expect usage on Olympic-related apps, like the official IOC Olympics app and Peacock (with exclusive streaming rights in the U.S.) to be on the rise. 
Which fans were the most enthusiastic during the first 3 days of the 2020 Olympics? We took a look at the percentage growth in downloads during these first few days compared to the lead up to the event. Gold goes to China, with a growth of 2270% in downloads, followed by South Korea for Silver and India for Bronze.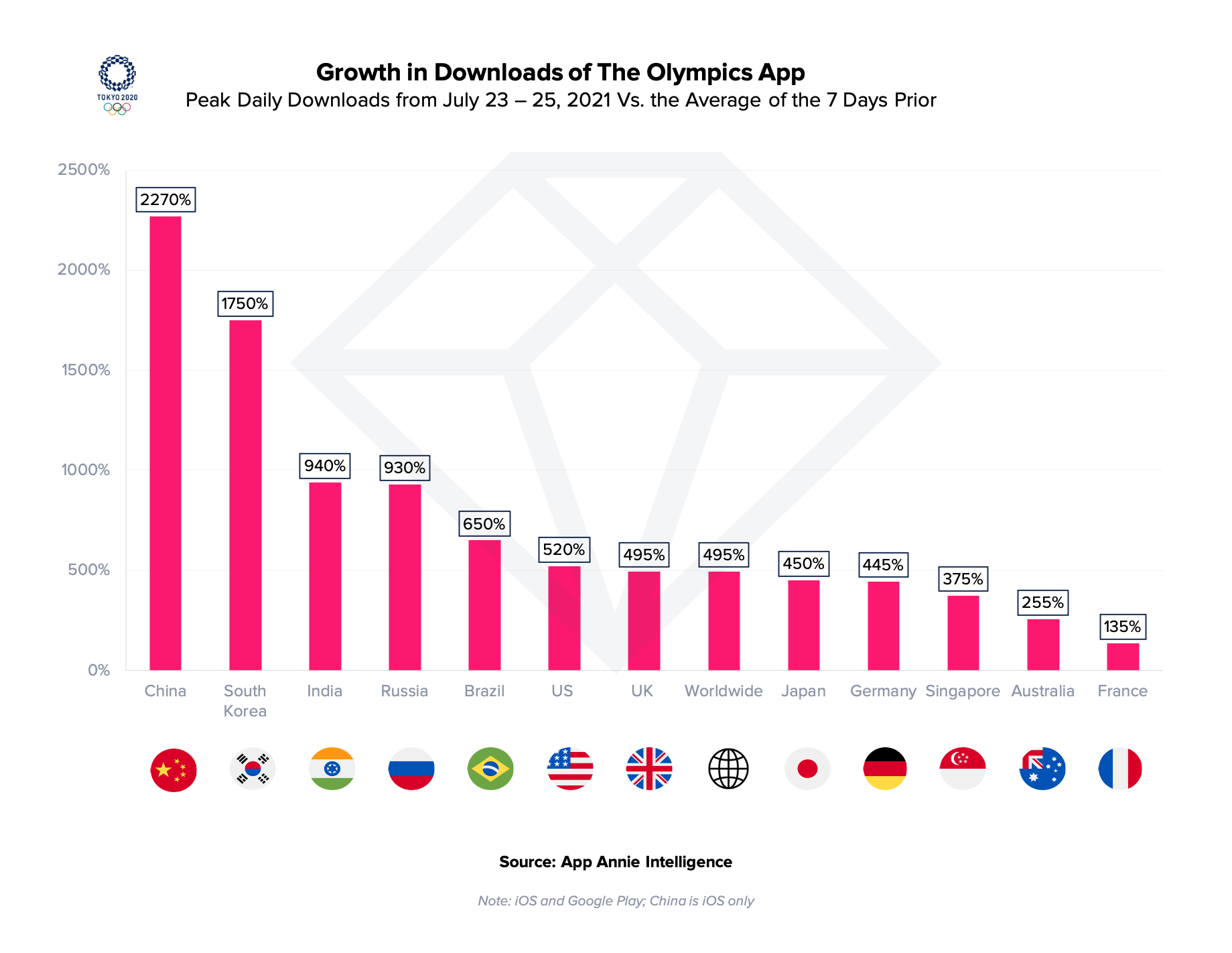 Over the last 2 months, the IOC 2020 Olympics app has seen a steady rise up the downloads rankings as the world gears up for the games, with the biggest surge to date on Sunday July 25, 2021 at 325,000 daily downloads.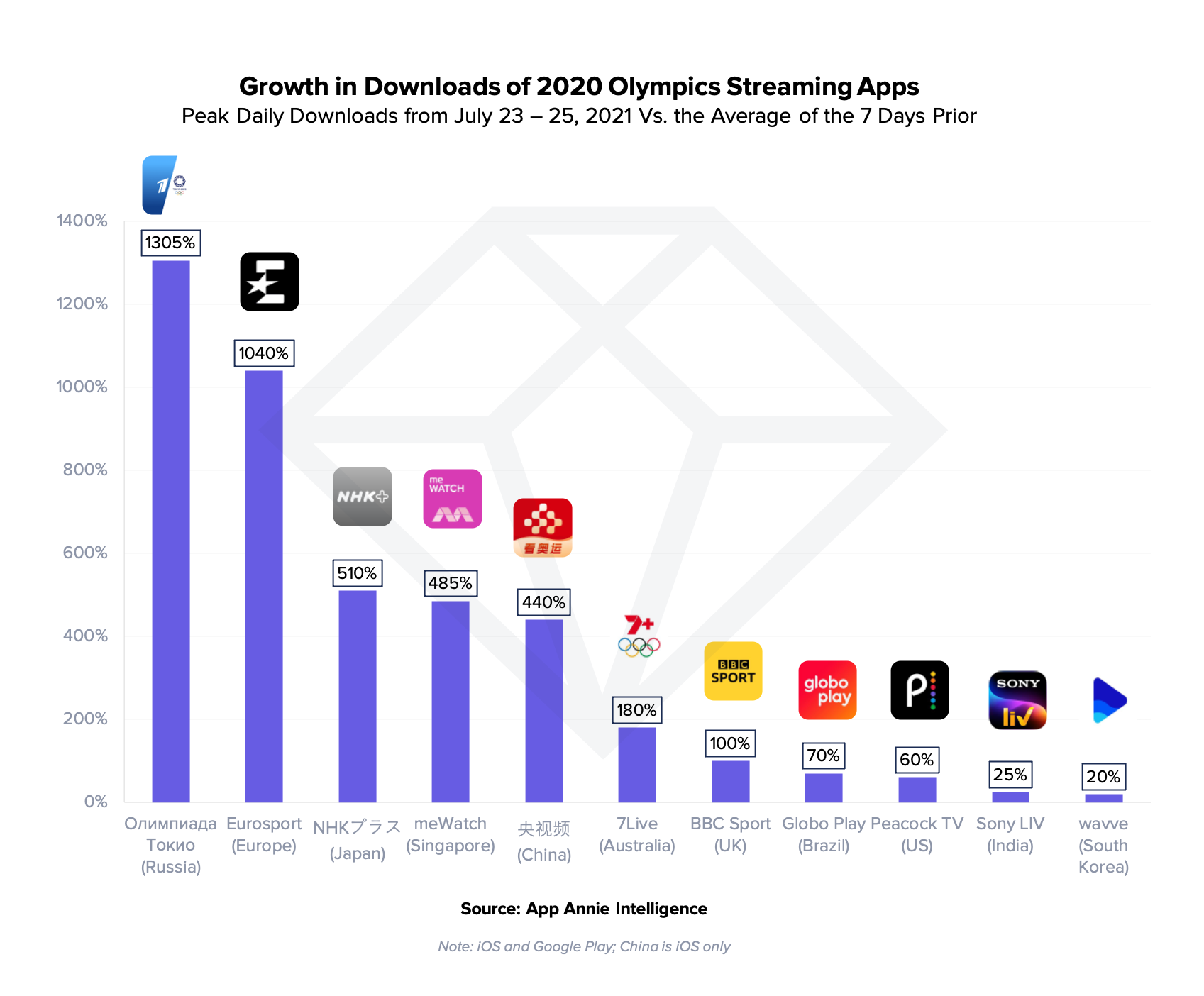 On a global scale, streaming apps with exclusive rights to the Olympics have seen significant traction during the Games' first week. Sony LIV in India saw the most downloads followed by Peacock TV in the US.
Since the opening ceremony, downloads of the Eurosport app in Europe increased 1040%, while in the United Kingdom, the BBC Sport saw a 100% jump in new downloads. In Russia, downloads of Олимпиада Токио launched on July 16, 2021 and peak daily downloads from July 23 - 25, 2021 grew 1305% compared to the daily average of its first week on the app stores. In Japan, where the Games are hosted, the NHKプラス app ranked #11 on the most downloaded apps during July 23 - 25, 2021, up 79 ranks from the aggregate of 3 days prior
Go Deeper:
With mobile apps at the center of the Olympic Games this year, broadcasters with exclusive streaming rights have seen their apps rise to the top of the downloads list in their respective countries. With the increased engagement on these apps tied to a live event, broadcasters will need to focus on keeping users engaged on their platform and building brand loyalty to retain users long after the closing ceremony.
Looking for more mobile insights? Download App Annie's industry-leading State of Mobile report, covering everything you need to know about how to win on mobile in 2021.
Looking to make more of the mobile opportunity? Talk to an expert today.
This post is the latest in a Mobile Minute series that features App Annie's perspective on how mobile is impacting current events and consumer trends. Check in weekly for our take on the latest news cycles and how mobile transformation is shaping industries around the world.
DISCLAIMER: 
App Annie is a mobile market estimate service provider. App Annie is not registered in any investment advisory capacity in any jurisdiction globally, and does not offer any legal, financial, investment or business advice. Nothing contained in this communication, or in any App Annie products, services, communications, or other offerings, should be construed as an offer, recommendation, or solicitation to buy or sell any security or investment, or to make any investment decisions. Any reference to past or potential performance is not, and should not, be construed as a recommendation or as a guarantee of any specific outcome. You should always consult your own professional legal, financial, investment and business advisors. Additionally, by providing the information herein, App Annie does not make any representations or warranties and does not undertake any legal or contractual obligations whatsoever. No liability may accrue to App Annie as a result of providing this information to you.