App Annie predicts the biggest Q4 holiday shopping season on mobile yet — nearly 1 Billion hours to be spent on Android devices in the US, up 50% YoY
2020 is a year like no other — with global economies sent reeling from a once-in-a-century pandemic, this year's holiday season is poised to be different to years' past. At the crux of these changes are the overwhelming shift to mobile — in retail, this is registered as the boom in couch commerce, or shopping from the (socially distant) comfort of home on your smartphone.  
At App Annie, we are committed to helping businesses win on mobile. Part of this is knowing what to expect, in a year full of the unexpected. So we've put our industry expertise and mobile data to work to provide companies with three forecasts on this year's holiday shopping season, so you can prepare to succeed on mobile.
1. Growth in Mobile Shopping Will Be Spread Throughout Q4 2020 and Less Concentrated in the Weeks of Black Friday and Cyber Monday
We expect a longer, drawn-out shopping season this year, due to two main factors: Amazon's Prime Day being delayed July to October 2020, as well as a contraction in the US economy. Heading into Q3 2020, unemployment rates in the US were still higher than the highest during the Great Financial Crisis and more than 2x pre-COVID rates. We see this manifest in lower disposable incomes and greater price sensitivity for many Americans. In this climate, we expect consumers seeking deals and promotions for longer throughout the leadup to the holidays.   
While retail sales dipped in Q2 to -19.9% YoY in April 2020, they are expected to outpace the economy overall and be back up to 2.2% YoY growth in Q3 2020. We tend to see peaks in time spent in Shopping apps surrounding Prime Day, Black Friday and Cyber Monday each year in July and November, respectively. With Prime Day taking place much closer to Black Friday and Cyber Monday, and Amazon consistently ranking #1 by monthly active users (MAU) among Shopping apps in the US and commanding a strong cross-app usage with other top apps, it is likely Prime Day steals a bit of thunder from the November shopping days.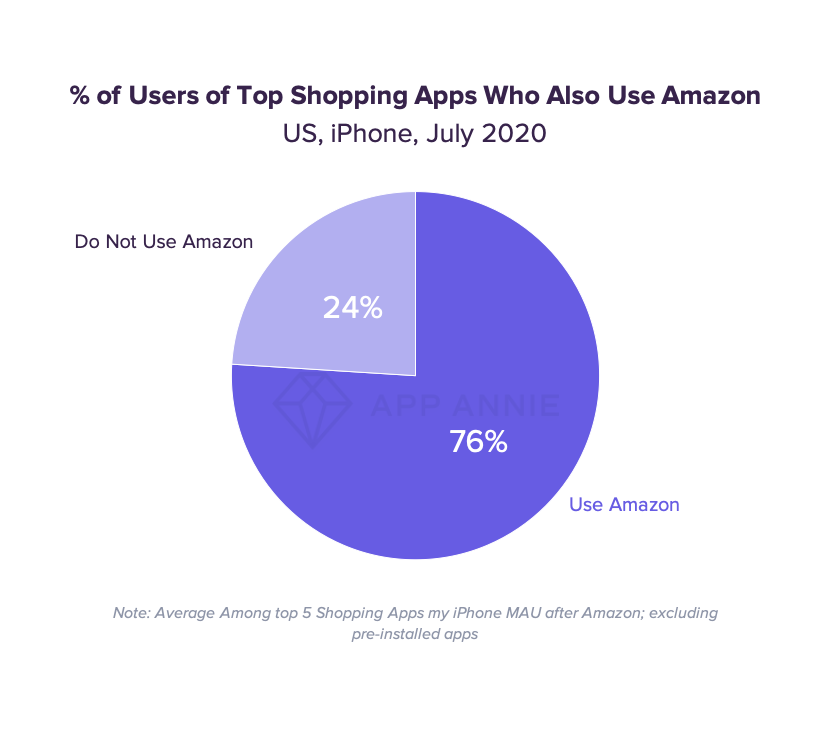 Time To Act: Retailers should consider timing promotions alongside Prime Day in addition to Black Friday and Cyber Monday, leveraging exclusive and unique deals, promotions and giveaways across each day to keep customers engaged throughout Q4. With retailers such as Walmart, Target and Kohl's closing their stores on Thanksgiving Day, thereby limiting early bird in-person Black Friday sales, retailers will lean more heavily on e-commerce for early sales.
2. 1 Billion Hours To Be Spent in Shopping Apps in US in Q4 2020, Up 50% YoY
With the elongated shopping season and increase in e-commerce, we expect Q4 2020 to be the biggest mobile shopping season to date — surpassing 1 billion hours on Android devices alone, a 50% increase from Q4 2019.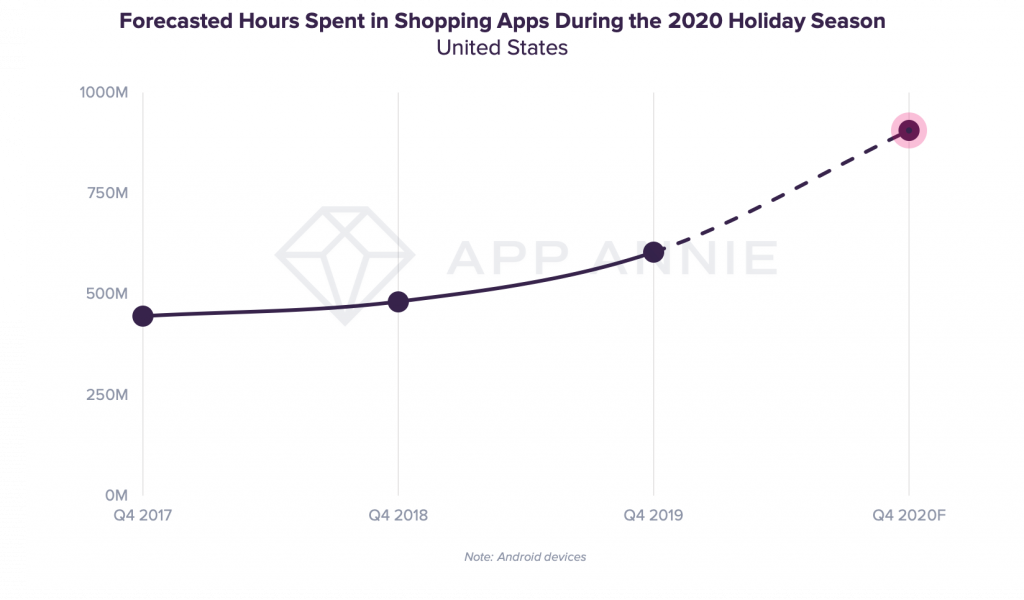 Driven by the need for essentials while maintaining home lockdowns, e-commerce boomed in H1 2020, achieving growth that normally would have taken between 4 and 6 years — and mobile was central to this growth. In the US and UK, total weekly sessions — a proxy for foot traffic — in Shopping apps during peak weeks in the busy holiday season of Q4 2019 by as much as 25% and 15% respectively.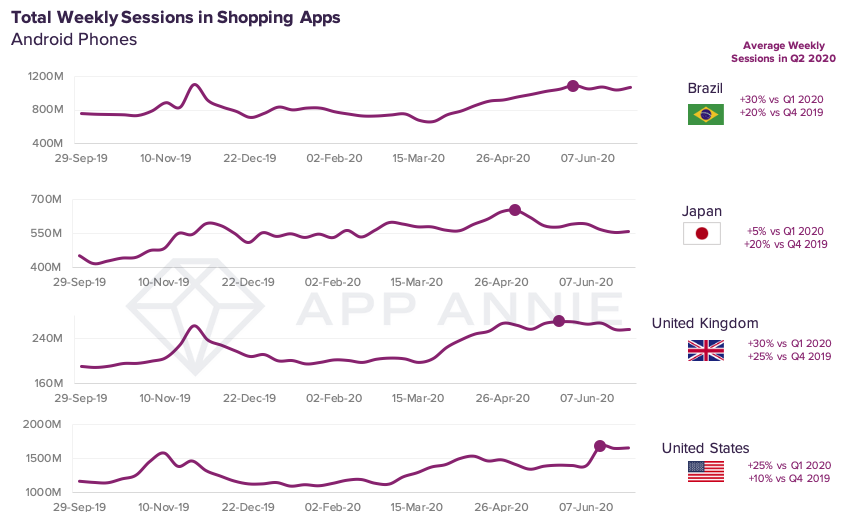 E-commerce on mobile has boomed under COVID lockdowns and social distancing policies. And this behavior is here to stay, as this is building on existing consumer behavior. We've seen m-commerce steadily growing in influence every year in Western markets, which has lagged behind Eastern markets. 
A few categories we expect to see growth this holiday season include: 
Payments

:

PayPal

— who also owns

Venmo

—

reported its best quarter ever

, with total payment volume increasing 29% year over year. Part of this success is due to prioritizing mobile features that meet consumers' needs during COVID-19, including QR codes and contactless payments.

Grocery

:

Driven by demand for mobile ordering of groceries

, weekly sessions in Shopping apps remained elevated in Q2 2020, notably in Brazil and the US. In the leadup to Thanksgiving Day in the US, mobile grocery app usage will remain high as shoppers leverage apps for evaluating inventory, self-checkout, delivery and Buy Online Pickup In Store (BOPIS) fulfillment options to abide by COVID policies and health guidelines.
Time To Act: It is primetime for User Acquisition (UA). Every interaction with your brand is an opportunity to delight, so prioritizing mobile-first features to cultivate customer satisfaction and loyalty on mobile can go a long way in the weeks after Prime Day, Black Friday and Cyber Monday, when engagement is high. 
3. Singles Day 2020 to Bring In Over 310 Billion CNY (over $45 billion USD) — Marking the Biggest Shopping Day Ever
Alibaba's Singles' Day — also referred to as 11.11 — shattered records in 2019, surpassing $38 billion in sales. This year, we expect Alibaba's Singles Day to reach new heights, bringing in $45 billion in 24 hours — with the lion's share fueled by mobile commerce. Despite economic headwinds in China, retail looks to be making a faster comeback than GDP overall (forecasted to see 3.2% year-over-year growth in Q3 2020). While retail sales in China were down 9.9% in H1 2020, Q3 2020 is forecasted to see 4.8% year-over-year growth. These growth rates still fall short of levels seen in 2019, but with the boom in e-commerce and early COVID containment in China, we can expect mobile to play a major role in retail's overall rebound and record-setting Singles' Day.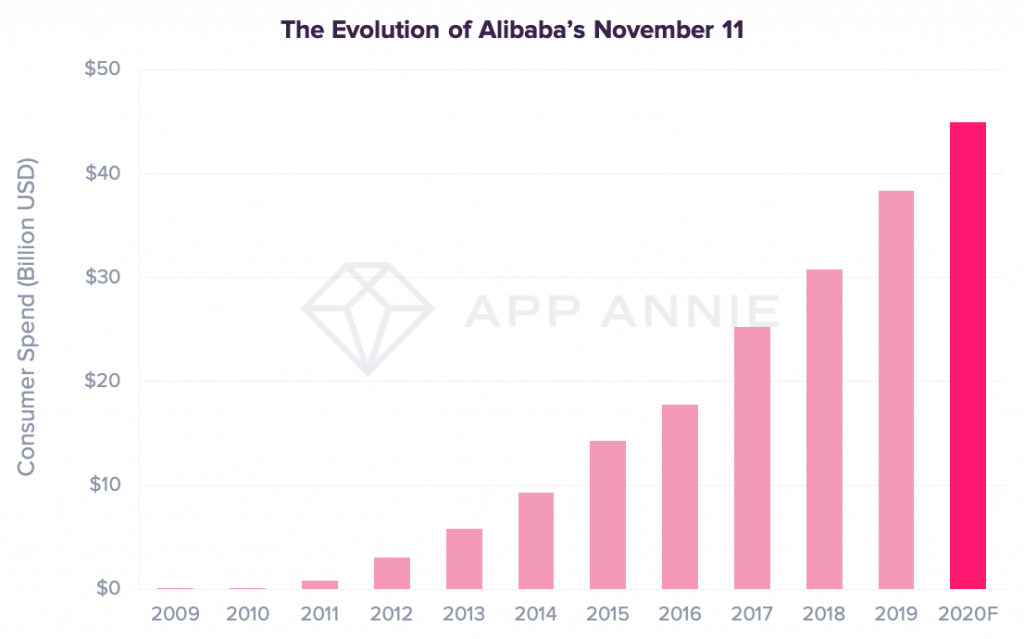 How to Prepare for the Q4 2020 Holiday Season on Mobile
To capitalize on this busy time, companies should prioritize mobile advertising and take stock of their App Store Optimization (ASO) strategy to maximize organic traffic and prioritize mobile features to delight users. Retailers should take note of how they stack up to the competition and what companies grew in last year's holiday season to better prepare an offensive mobile strategy this year. We are here to help: 
Mobile shopping correlates strongly with consumer spend in retail — both through e-commerce and physical stores. With COVID-19 lockdowns and social distancing policies accelerating mobile shopping, mobile is mission-critical to reaching consumers this holiday season. 
Looking to make more of the mobile opportunity? 
This post is the latest in a Mobile Minute series that features App Annie's perspective on how mobile is impacting current events and consumer trends. Check in weekly for our take on the latest news cycles and how mobile transformation is shaping industries around the world.
DISCLAIMER
App Annie is a mobile market estimate service provider. App Annie is not registered in any investment advisory capacity in any jurisdiction globally, and does not offer any legal, financial, investment or business advice. Nothing contained in this communication, or in any App Annie products, services or other offerings, should be construed as an offer, recommendation, or solicitation to buy or sell any security or investment, or to make any investment decisions. Any reference to past or potential performance is not, and should not, be construed as a recommendation or as a guarantee of any specific outcome. You should always consult your own professional legal, financial, investment and business advisors.