Super Mario Run made over $4 million worldwide in consumer spend its first day. Learn more about its day-one performance.
Super Mario Run, Nintendo's first real move into the world of mobile gaming, launched in 151 countries yesterday on the iOS App Store. The game was heavily featured on the App Store months before it released, racking up more than 20 million pre-registrations.
Given its visibility, it should come as no surprise that it became the top ranked game by downloads across 60 countries immediately after launch. Based on preliminary estimates, this includes over 10 million downloads and over $4 million in consumer spend worldwide on December 15.
Its early visibility also helped attract hardcore fans — in other words, players who were more likely to pay the $9.99 fee to unlock the full game. This led to Super Mario Run becoming the highest grossing game in 11 countries a few hours after its release.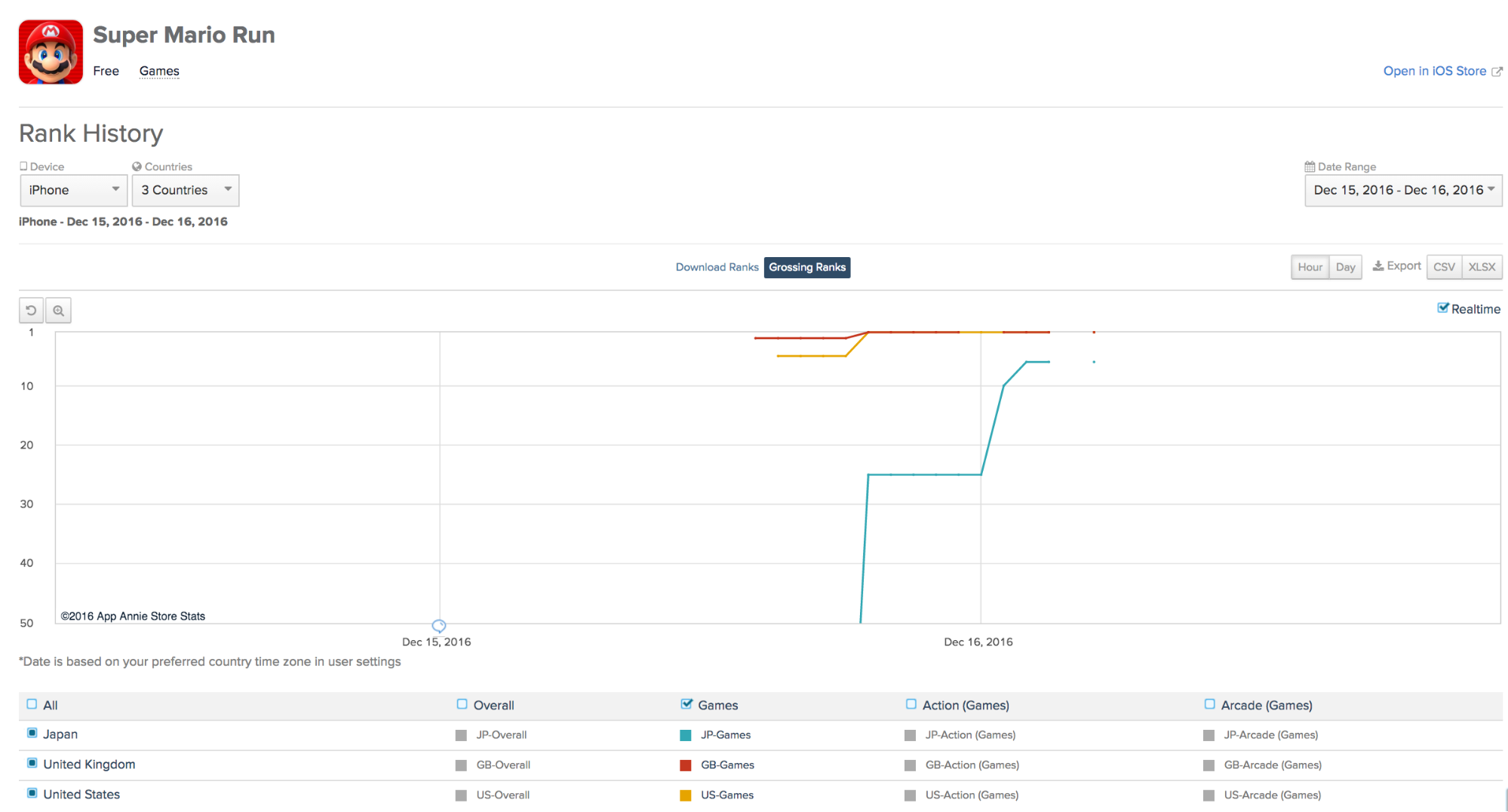 As of 5 AM PST on December 16, Super Mario Run was the highest grossing game in the United States and UK, while it ranked #6 in Japan.
That said, it is important to bear in mind that Super Mario Run and Pokémon GO aren't truly comparable. Pokémon GO follows a freemium model with optional in-app purchases to generate revenue. Its iOS revenue continued to grow in the following weeks as user engagement increased. Super Mario Run, on the other hand, offers a single $9.99 in-app purchase to unlock the full game. As a result, payments precede extended gameplay and, therefore, revenue is more likely to be concentrated early on in the game's lifecycle.
It will be interesting to watch Super Mario Run's progress over the next few weeks. During this period, the bulk of downloads is likely to shift away from pre-registered users (more likely to be hardcore fans) and toward more mainstream users. The ability to convert a meaningful percentage of these mainstream users into paying customers will be critical to Nintendo's mobile ambitions.
Build a Better App Business
Subscribe to our weekly digest to see more app industry reports, conference updates and guides.
Want to take your app business to the next level? Track the performance of millions of apps across the world with download, revenue, demographic and usage estimates from App Annie Intelligence. Request a demo today.
Notes:
The data used in this post is preliminary and subject to change.
App Annie Intelligence is currently available for the iOS App Store and Google Play. It does not currently provide estimates for other app stores, such as the Amazon Appstore. While iOS and Google Play represent a significant portion of the app market in many countries, that is not the case for some countries. For example, China has a number of sizable third-party Android app stores.
App Annie Usage Intelligence data for smartphones and tablets were derived from mobile usage data collected from a large sample of real-world users, combined with additional proprietary data sets.
App Annie tracks usage at the device level using a privacy-protective hashed device ID. Data is only reported to third parties in aggregated format.
Certain trademarks and/or images used in this report may belong to third parties and are the property of their respective owners. App Annie claims no rights to such trademarks or images.