The much-anticipated game has finally arrived. How was its debut?
Super Mario Run, Nintendo's highly anticipated foray into mobile gaming, is now available across 151 countries.
The endless runner-style game hit the App Store following a prolonged and widely praised marketing campaign, featuring a first for Apple: launch notifications. As of October, more than 20 million users had registered for launch notifications, and that number has surely increased due to Apple's heavy featuring of the game.
There's been a hotbed of discussion surrounding the game, including:
How will

Super Mario Run

stack up against other top games?

How will Nintendo push users to monetize?

Is $9.99 too high a price point?
Let's take a look.
1. How Will Super Mario Run Stack Up Against Other Top Games?
It's only been a few hours since Super Mario Run has been available in the United States, but it's already climbed the ranks to #1 across several categories. In fact, within five hours it claimed the top spot for overall downloads — no easy feat.
Our previous analysis compared Super Mario Run to Clash Royale and Pokémon GO, so let's continue to look at their relative performance. It took Supercell app Clash Royale 10 hours to hit the same milestone.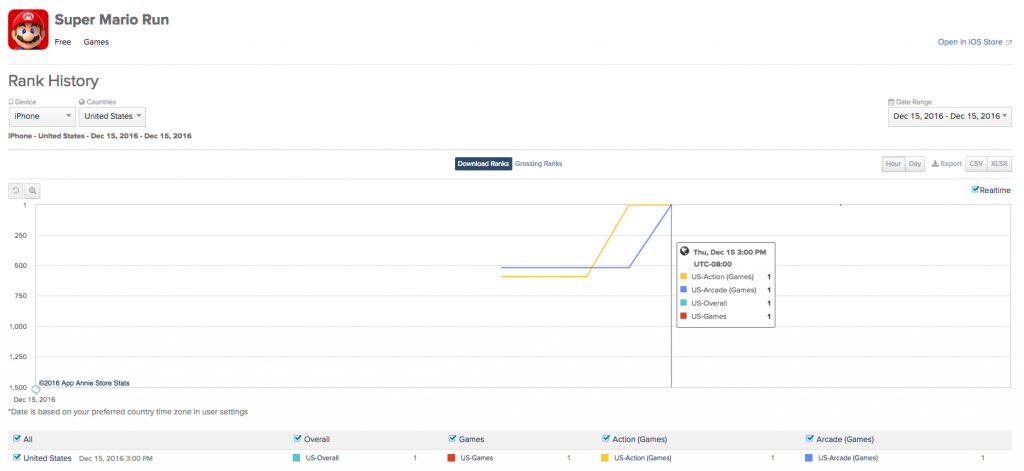 Within five hours, Super Mario Run reached the #1 spot for Overall, Games, Arcade and Action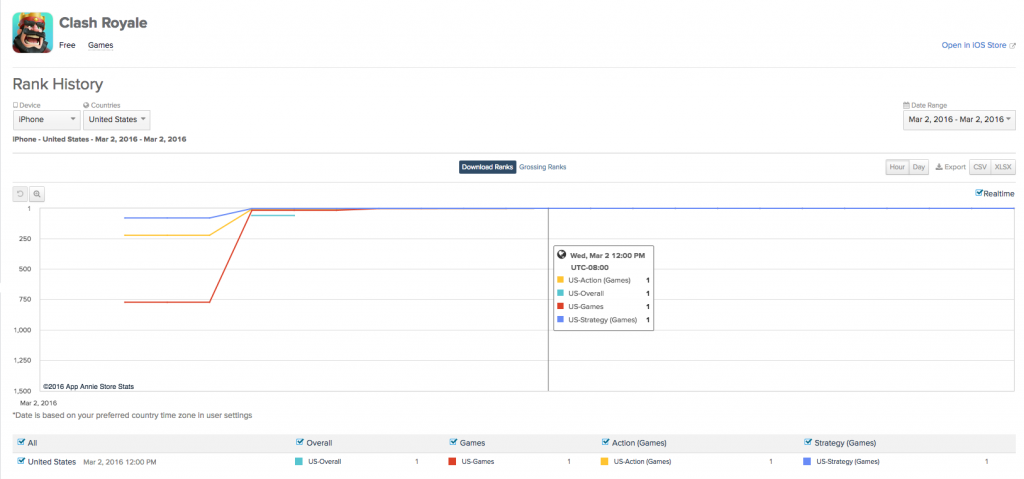 Clash Royale launched in the US at 2 AM Pacific Time and didn't claim the #1 position across its respective categories until 12 PM Pacific Time
We'll see how long it will stay in the top ranks. Another factor to consider is initial user reception. For instance, while Pokémon GO claimed the top download and grossing ranks right away, server instability resulted in an influx of negative reviews. (In fact, even though the game has been — by every measure — a financial success, it currently has a three-star rating in the App Store for all versions.)
So far, it looks like Super Mario Run is heading in the right direction. As of the time of writing, the game has a four-star rating in the App Store. In a few days we'll get a better sense of what users love and what Nintendo may want to focus on improving.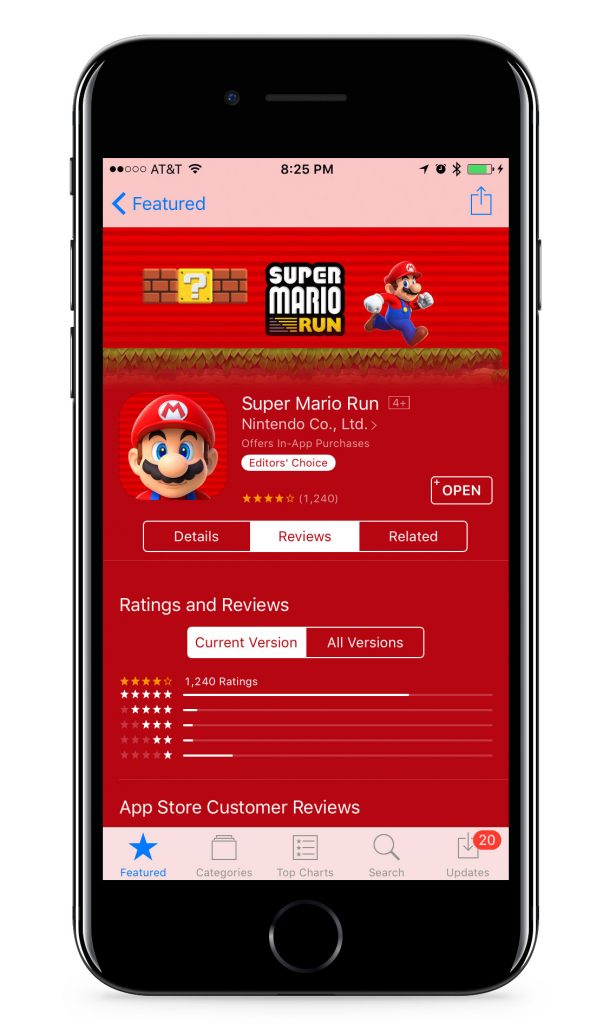 2. How Will Nintendo Push Users to Monetize?
When Nintendo first announced that the $9.99 payment would be an in-app purchase, and not an upfront payment, many had questions about how engaging the free levels might be — which is to say how long could users have a fun and meaningful experience before being compelled to monetize.
Overall, we've found that the game has a lot to offer for free users. Even though free users will have only a few stops on their run of World Tour — one of the three modes available within the game — they're offered the opportunity to perfect each level, with gameplay increasing in difficulty as the user advances. Naturally, as the user approaches the pay wall (which in World Tour comes at World 1-4), a pop-up appears offering a limited timed trial of the next course, or the opportunity to make a one-time purchase of $9.99.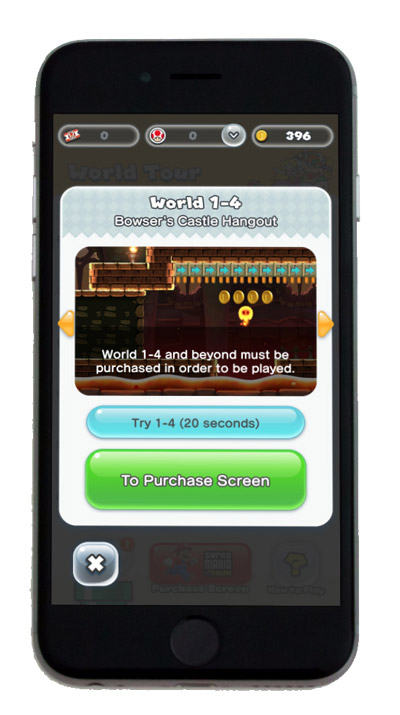 However, some of the game's best-kept secrets for free users might be a little too secretive. The App Annie team has spent the past few hours exploring all aspects of both the free and unlocked versions of the game. There's a lot to love about the free version, but casual players may have a hard time discovering it on their own. As of right now the onboarding experience is a little on the shorter side, which could discourage new users from digging deeper to understand the game's various features. We're curious to see how Nintendo plans to roll out its player engagement and re-engagement strategies — either through social discovery and sharing, push notifications, daily bonuses or time-sensitive, in-game events (many of which seem to have worked for Pokémon GO).
3. Is $9.99 Too High a Price Point?
We've already provided a high-level overview on why $9.99 may actually be a reasonable price point for Super Mario Run. At this point, only time will tell if Nintendo's pricing strategy has paid off. Our research team is watching App Annie Intelligence data closely to see where Super Mario Run's major users are and what we can learn about their behavior. Watch this space.

Want to see how we perform our analyses? Learn more about App Annie Intelligence.