In many ways, Super Mario Run's launch hasn't followed the same path as Pokémon GO. We put key stats and figures into perspective by looking at the new game's performance on the global stage.
For over a month, Super Mario Run has been the favorite subject of debate and discussion in the mobile gaming space. The game's $9.99 price tag, combined with its unrivaled IP and pedigree, gave analysts a unique situation to ponder (as we did on two occasions leading up to the game's launch).
Now that the game is out, what does the data say?
The game's first three days (December 15–December 17) generated roughly $14 million in worldwide consumer spend, which translates to over one million paying customers. The total number of downloads during these three days was roughly 37 million, suggesting a conversion rate of about 4% worldwide. To put this number into perspective, it is important to keep in mind that the game's pre-launch publicity was unprecedented, casting an unusually wide net. This means that all types of users, including those who were extremely unlikely to pay, were targeted.
To get a better idea of the game's performance, we examined three major gaming markets: the United States, the United Kingdom and Japan. By all accounts, the game performed strongest in the US, where it achieved over a 7% conversion rate. Users in the US spent about $8 million, or over 55% of worldwide consumer spend. This level of performance is disproportionate to the country's market-level representation. From January to November 2016, the US accounted for less than 25% of worldwide iOS Games spend.
Super Mario Run's strong performance in the US was also reflected in its usage data. By day three, the game had roughly three million daily active users (DAU) in the US. This puts it among the very top of the iOS Games heap.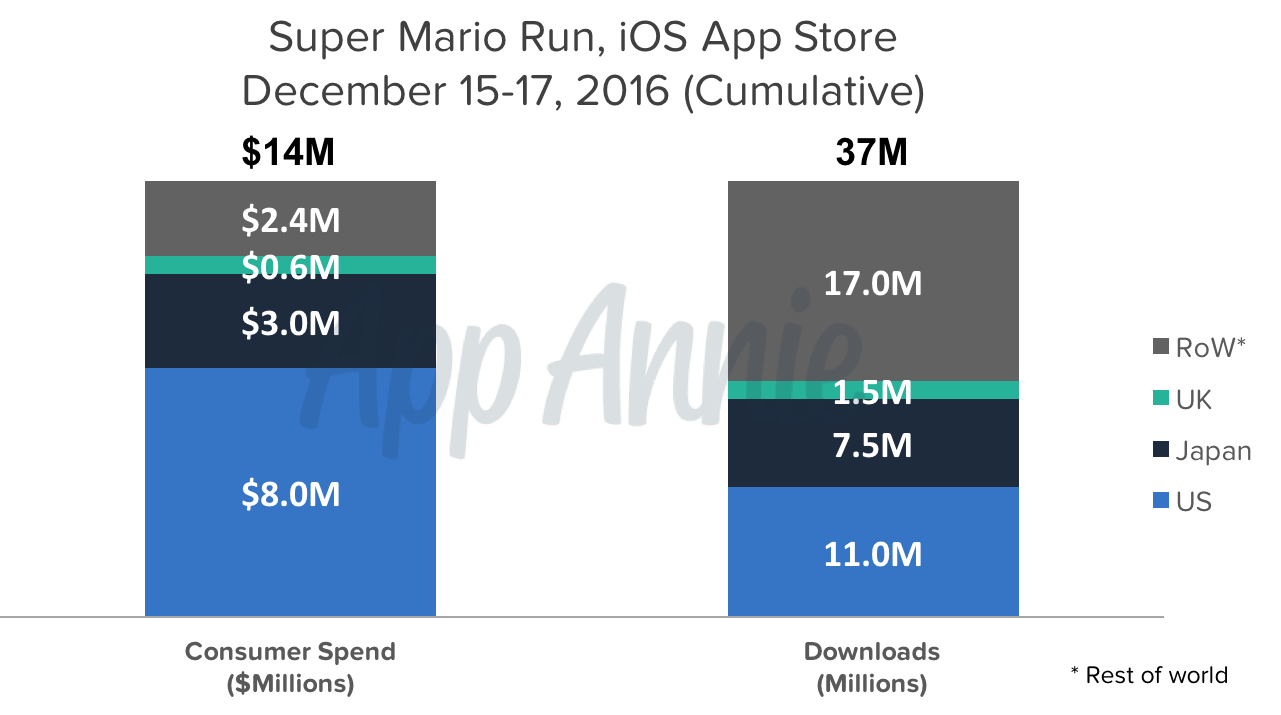 Similar to the US, the UK spent more than is usually expected, accounting for 4% of worldwide Super Mario Run consumer spend. This is higher than the UK's 2% share of worldwide iOS Games spend overall. Japan, on the other hand, generated roughly what would be expected from its market-level data, which was 20%. The game's conversion rate in these two countries was approximately the same as the worldwide 4% figure.
While we now have an idea of the game's initial success, the story isn't quite over. As we mentioned previously, the next few weeks will see more mainstream users (and fewer of the users who pre-registered to download) acquiring the game. These users might be expected to convert at lower rates, but there are other factors to consider. For instance, how will the holiday season treat the game? Will new iPhone users flock to Super Mario Run, eager to purchase something fun in the App Store? Could iTunes Gift Cards give the game a boost? We will be answering these questions (and more), so check back for the latest Super Mario Run insights.
The data used in this post is preliminary and subject to change.
App Annie Intelligence is currently available for the iOS App Store and Google Play. It does not currently provide estimates for other app stores, such as the Amazon Appstore. While iOS and Google Play represent a significant portion of the app market in many countries, that is not the case for some countries. For example, China has a number of sizable third-party Android app stores.
App Annie Usage Intelligence data for smartphones and tablets were derived from mobile usage data collected from a large sample of real-world users, combined with additional proprietary data sets.
App Annie tracks usage at the device level using a privacy-protective hashed device ID. Data is only reported to third parties in aggregated format.
Certain trademarks and/or images used in this report may belong to third parties and are the property of their respective owners. App Annie claims no rights to such trademarks or images.