Super Mario Run nets 43 million downloads in five days — now Nintendo needs to focus on how to keep users engaged.
Since its launch less than a week ago, Super Mario Run has received a tremendous amount of attention. This was to be expected given that it's Nintendo's first real move into mobile gaming. It showcases one of the most recognized and beloved gaming characters in history and its run-up before launch was unprecedented. The game has generated a record-breaking 40 million downloads worldwide in its first four days, according to Nintendo. This is very close to the estimates that we have been releasing.  
Five days into Mario's mobile run, many have been asking how its performance stacks up to 2016's other big hits: Pokémon GO and Clash Royale. In the United States, Super Mario Run's cumulative downloads on the iOS App Store during its first five days trailed those generated by Pokémon GO right after its launch. However, both of those games far exceeded the downloads Clash Royale saw over its first five days.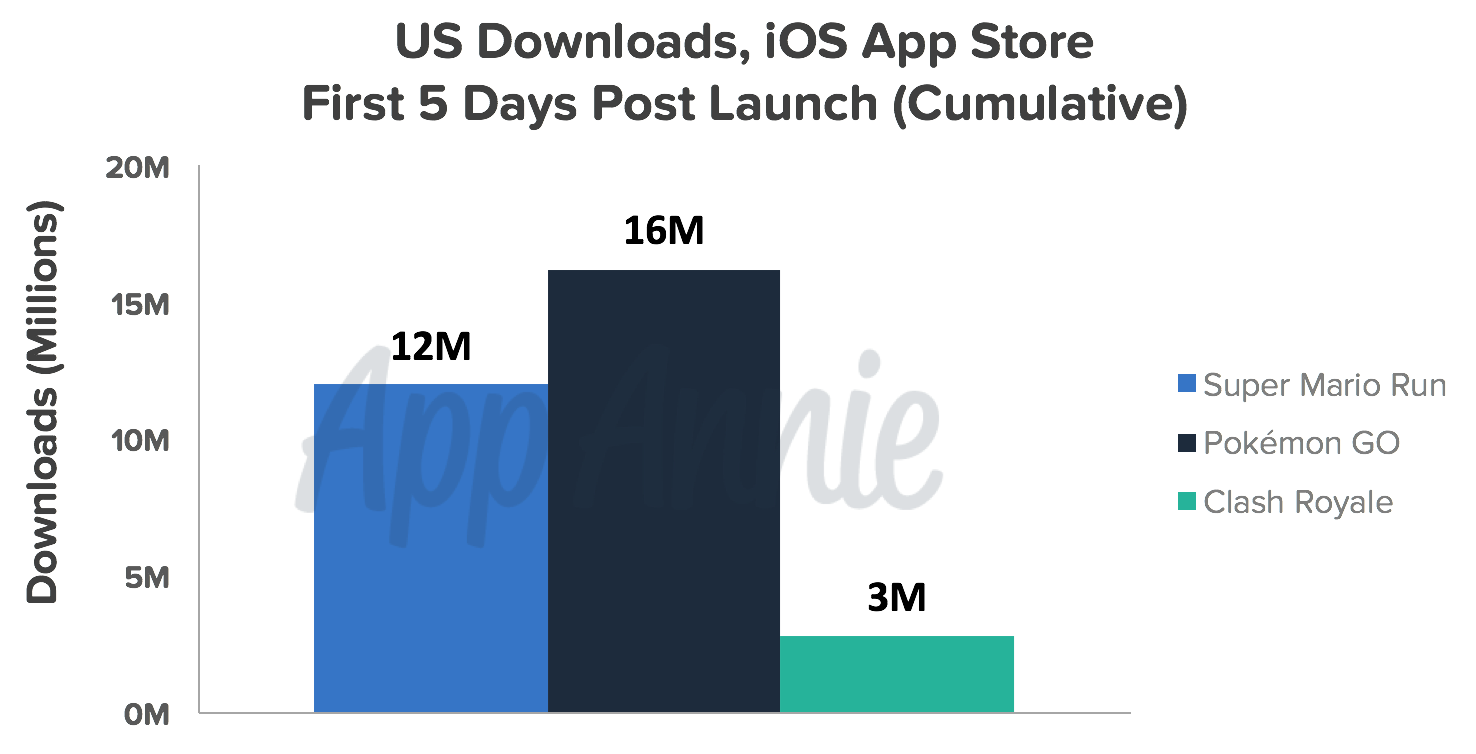 On a worldwide basis, Super Mario Run has earned approximately 43 million downloads and $19 million in consumer spend from December 15–19. Its worldwide daily active users (DAU) exceeded eight million on December 19. We look forward to seeing how these numbers trend as people begin to take time off for the holidays.
Super Mario Run Has Room to Grow Paying Gamers
Users who spend time getting to know the game will find there is a lot to love about Super Mario Run. It has a fair amount of replay value hidden under the hood, based on unlockable characters, achievements and competing against friends for high scores and bragging rights. In addition, each course can be played multiple times as users are challenged to collect a set of five colored coins in a single run. There are three successively unlocked colors — pink, purple and black — that make levels progressively more difficult by changing both the location of the special coins and the layout of the level.
As we and others have noticed, Super Mario Run could improve how it communicates its full scope and value to users, especially during the crucial first-use and onboarding process. Its monetization model is not typical of most mobile games. We have noticed that its rating on the iOS App Store is impacted by gamers who might not understand the gameplay and how it progresses.
Critiques appear to be based on its payment model rather than the breadth of its game mechanics. From December 15–20, Super Mario Run's worldwide rating — based on more than 135,000 reviews — was 2.1. A deeper look at the reviews from the US shows that many critical (i.e., one or two star) reviews mention the phrase "3 levels." This could indicate that many reviewers did not see the full value of the game after finishing the free levels. This presents Nintendo with an opportunity to offer free gamers a deeper look into Super Mario Run by offering more in-game notifications to showcase the game's full value, offering another level of free play, and/or editing the game's description.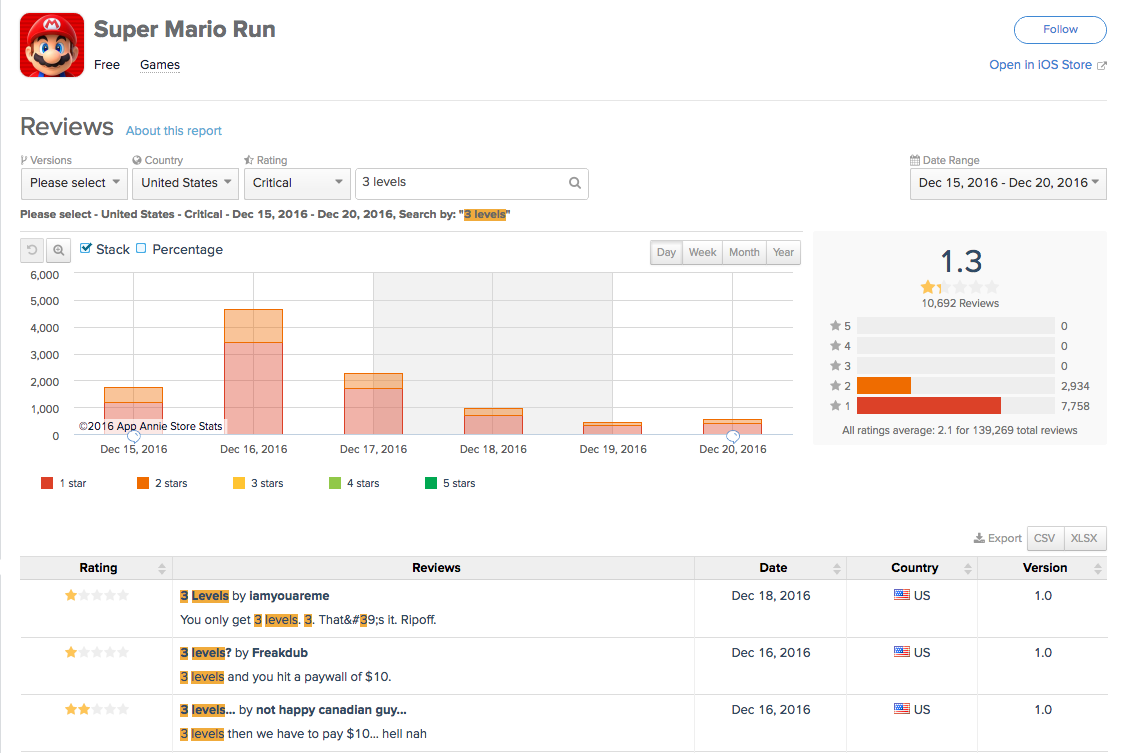 As of December 20, of the more than 40,000 total reviews that Super Mario Run has received in the United States, more than 25% are critical reviews that mention "3 levels."
What Super Mario Run Can do to Re-engage Users
Fortunately for Nintendo, it still has an opportunity to course correct and win over existing and future users. For example, it could strategically use notifications to make players more aware of key aspects of Super Mario Run that they may have missed, as well as improve the game's first-use and onboarding experience. Nintendo has already introduced limited-time items — like Christmas trees, snow globes and poinsettias — and a new game mode called "Friendly Run" that provides another way for players to compete with their friends. However, there is potentially more that it can do to make future updates even more impactful. For example, Pokémon GO's Halloween event provided users with enhanced gameplay that boosted its revenue and engagement.
Nintendo has a lot riding on the fortunes of Super Mario Run and we are interested to see the steps it takes to better communicate its value and engage users. While many will continue to compare this game's performance to Pokémon GO, the reality is they are very different games and Super Mario Run has seen exceptional success in its first days. Nintendo is a gaming company that is growing into mobile from its console roots and has a large opportunity to continue to capitalize on mobile. Continue to check back on our blog — or subscribe to our weekly digest — for the coverage of latest developments.
Want to see how we perform our analyses? Learn more about App Annie Intelligence.
Notes:
The data used in this post is preliminary and subject to change.

App Annie Intelligence is currently available for the iOS App Store and Google Play. It does not currently provide estimates for other app stores, such as the Amazon Appstore. While iOS and Google Play represent a significant portion of the app market in many countries, that is not the case for some countries. For example, China has a number of sizable third-party Android app stores.

App Annie Usage Intelligence data for smartphones and tablets were derived from mobile usage data collected from a large sample of real-world users, combined with additional proprietary data sets.

App Annie tracks usage at the device level using a privacy-protective hashed device ID. Data is only reported to third parties in aggregated format.

Certain trademarks and/or images used in this report may belong to third parties and are the property of their respective owners. App Annie claims no rights to such trademarks or images.