An analysis of how Scopely strategically used partnerships in Stumble Guys to out-pace competitors in the mobile party royale gaming market. 
A guest post by Liquid and Grit, the market-leading product insights firm in mobile gaming. The opinions and views expressed in this blog article are Liquid & Grit's own.
Since announcing the acquisition of Stumble Guys in September 2022, Scopely has used big-name celebrity and brand partnerships to cement its hold on the mobile party royale market. They appear to be using their latest partnership, a collaboration with YouTube superstar MrBeast, to defend against cross-platform competitors seeking to enter Western mobile markets — and to pave the way for Stumble Guys to launch on consoles. Scopely announced the Xbox version of Stumble Guys just two days before announcing the MrBeast partnership and has made it clear that the MrBeast content will be available on Xbox.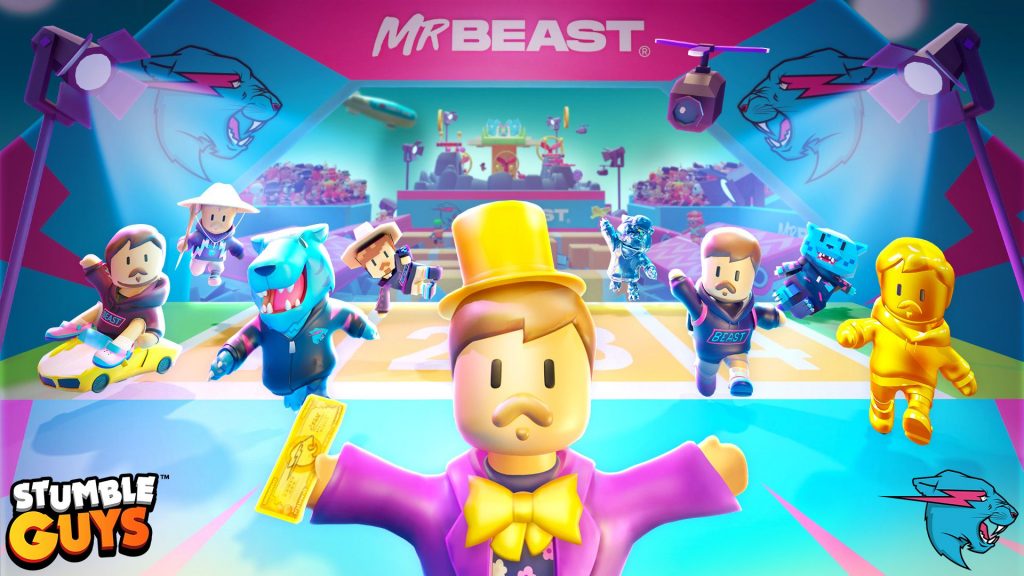 Stumble Guys' heavy use of partnerships reflects their larger strategy of moving aggressively into areas unoccupied by their competitors. In 2020, Stumble Guys got its start by fast-following Fall Guys and releasing on mobile and PC rather than on console and PC. Now, Stumble Guys faces competition from the impending worldwide release of NetEase's Eggy Party (which is currently only released in China but is in beta in several other geos) and the inevitable mobile release of Fall Guys (though the timing of Fall Guys' mobile version may depend on Epic's lawsuit with Apple). However, neither of these competitor apps has deep partnerships with major IPs to match Stumble Guys' collaborations. 
Scopely's strategy of using partnerships to box out competitors is a good fit for games in niche genres with relatively few competitors, especially if those genres only have enough players to support one major title. Even if Scopely is spending a lot on partnerships in the short term, it will pay off if it can capture a large enough audience to make the market inhospitable for competitors. This is a particularly good strategy for major studios that acquire indie titles in new genres, which is what happened with Stumble Guys.
Stumble Guys' Partnerships Go Deeper Than Skins and Ads
Stumble Guys has delivered five major partnerships in the past eight months, corresponding with a period of sustained revenue growth. Beginning in December 2022, these partnerships appear to have been a major factor in reversing a period of decline in revenue, DAU and downloads.
Stumble Guys US iOS Revenue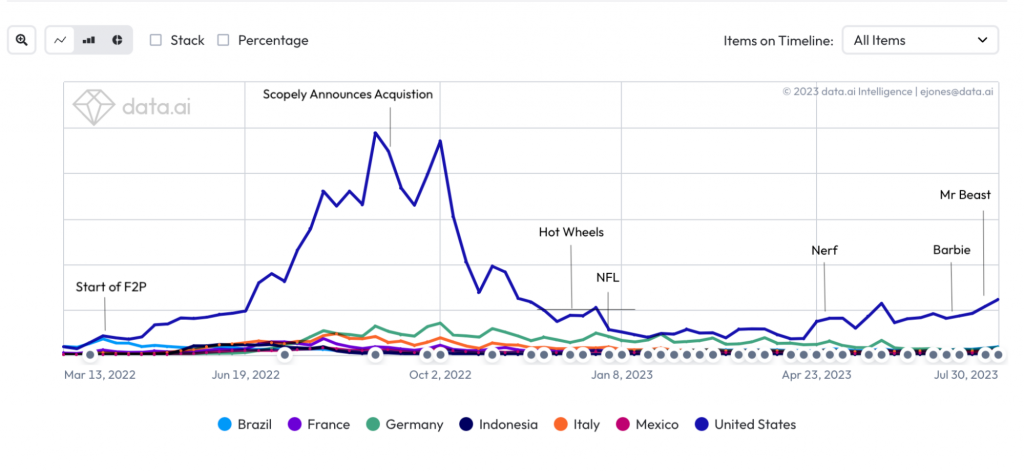 View a performance over time to track the impact of partnerships across competitors and industry leaders like Stumble Guys. Sign up for a free data.ai account today.
Scopely has built Stumble Guys' live ops calendar and new game modes around IP collaborations. In December 2022, a vehicle racing mode was added for a Hot Wheels partnership. 
In April 2023, a First-Person Shooter (FPS) mode was added for a Nerf partnership. And in July 2023, a new Delivery mode was added for a Barbie partnership, where players bring items to Barbies and Kens at a beach party.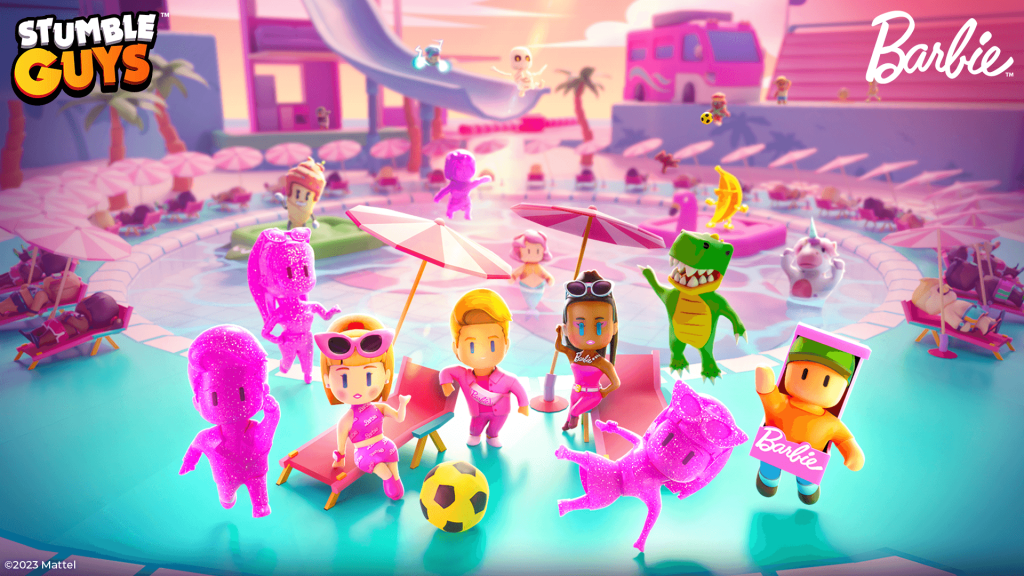 Stumble Guys capitalized on Barbie fervor surrounding the July 20, 2023 release with a new delivery mode in the Barbie Dream Dash course. 
In contrast, a February 2023 partnership with the NFL saw a Super Bowl LVII-themed level that was mostly a reskin of the existing Canon Climb map.
The latest partnership with MrBeast is being marketed as their most collaborative yet. The partnership was announced on July 13, 2023, and went live a few weeks later. It features multiple in-game levels, characters, interactive features, emotes, animations, and more, though as of this writing, only one level and a portion of the other content have been released. Scopely stated that MrBeast played a role in creating the levels; however, it's unclear how much he actually contributed. Either way, it's great PR.
Stumble Guys even changed their app icon to reflect that Mr Beast is now featured in the game.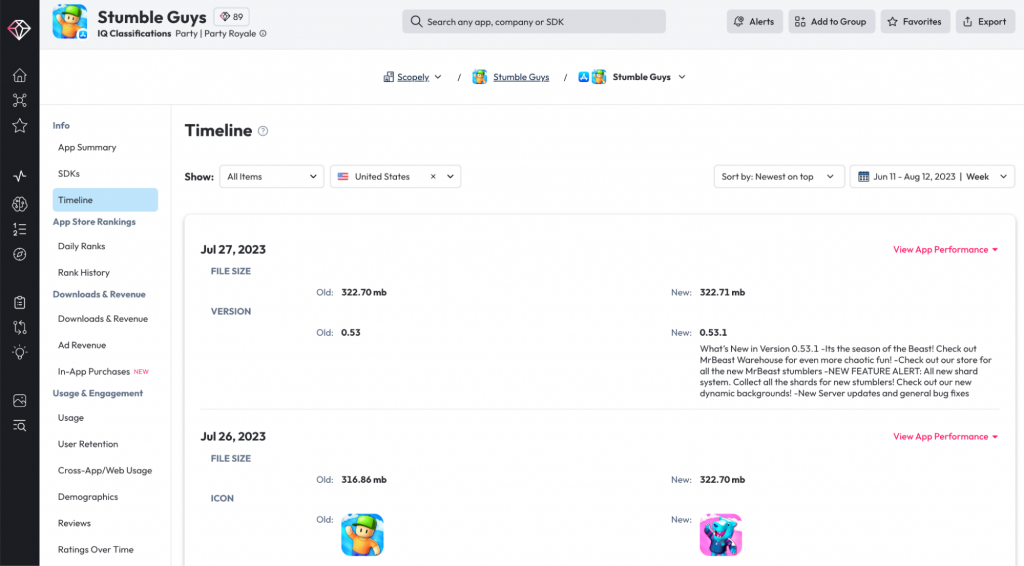 View Timeline Mode to track the latest App Store Optimization (ASO) updates of key titles like Stumble Guys. Sign up for a free data.ai account today.
The MrBeast partnership features its own currency called Beast Bucks. Beast Bucks can be bought directly through the in-app store or for a discount on Scopely's webstore. They can also be obtained through events, tournaments, missions, prize wheels, special offers, and as part of battle pass rewards.
IAP Items for Stumble Guys, iPhone, Week of July 30th - Aug 5th 2023, United States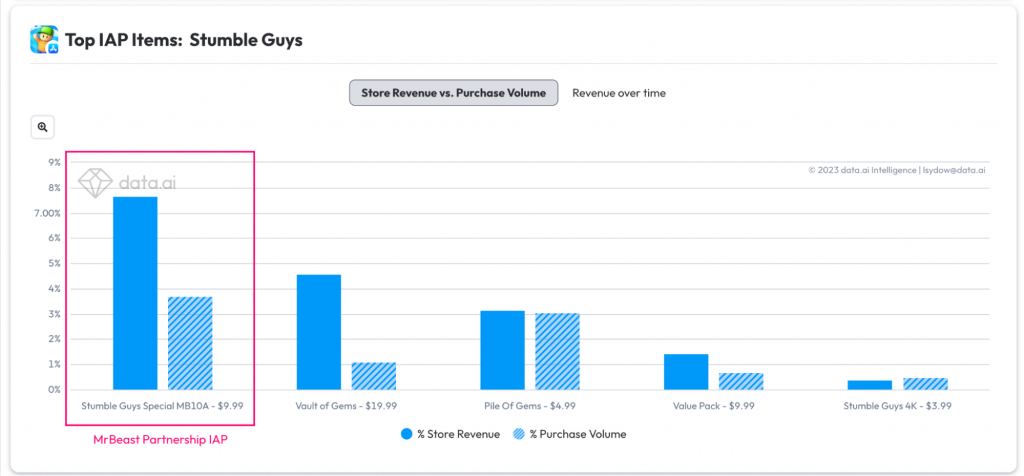 MrBeast Partnership IAP captured nearly 4% of total purchase volume for Stumble Guys of IAP items and nearly 8% of total revenue during the week of July 30 - Aug 5 on iOS in the US. Download our 2023 State of App Revenue Report for more In-App Purchase trends.
Scopely also used the MrBeast partnership to introduce their new shard system. In order to unlock MrBeast skins, players need to collect enough skin shards. Shards can be obtained in the battle pass and by spinning the Beast Wheel, which requires Beast Bucks to spin. It appears Scopely plans to roll this out to other skins and make shards available as mission, tournament, and event rewards.
So Far, Stumble Guys' Partnerships Increased Revenue But Not DAUs
Stumble Guys' early success came from fast-following the console and PC-exclusive Fall Guys by releasing on mobile, where Stumble Guys had no competition. Kitka Games released Stumble Guys on Android in September 2020, a month after Fall Guys debuted on PS4 and PC. Stumble Guys came to iOS and PC soon after. In April 2022, Stumble Guys became F2P, which kicked off a period of major growth. Right as this growth peaked in September 2022, Scopely announced their acquisition of Stumble Guys. 
Stumble Guys Weekly US iOS Active Users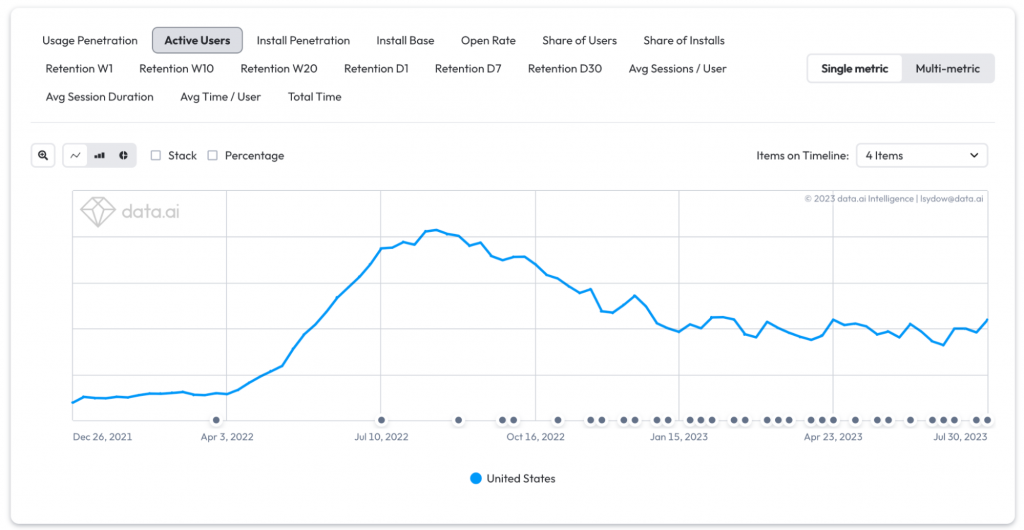 View usage data to track the changes in active users of key titles like Stumble Guys. Sign up for a free data.ai account today.
As Stumble Guys' downloads and revenue lagged in the wake of this growth period, Scopely launched a string of big-name brand partnerships to bolster their name recognition and provide the foundation for their live-ops calendar. The first two partnerships were Hot Wheels on December 15, 2022, and the NFL on February 1, 2023. The Hot Wheels partnership included a new level and vehicle racing mode, while the NFL partnership included new skins, emotes, and a reskinned level of an existing map.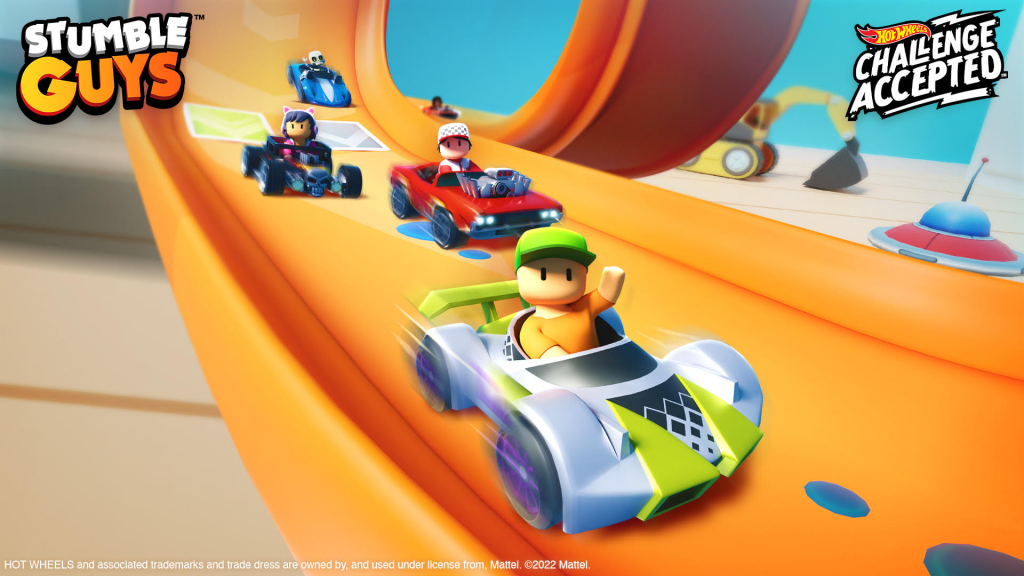 It's hard to fully assess the impacts of these first two partnerships as they were launched while DAU and revenue were softening after a major peak. However, there was a brief spike in revenue following the Hot Wheels release. It's also worth noting that the larger decline in DAU and revenue stabilized shortly after these partnerships rolled out.
Stumble Guys' last three partnerships have corresponded with revenue growth despite DAU and new downloads remaining flat. The Nerf partnership went live on April 25, 2023, bringing with it a new FPS battle royale mode and a 60% month-over-month increase in revenue. Scopely followed up this partnership with two original maps and an additional FPS Nerf map in June 2023.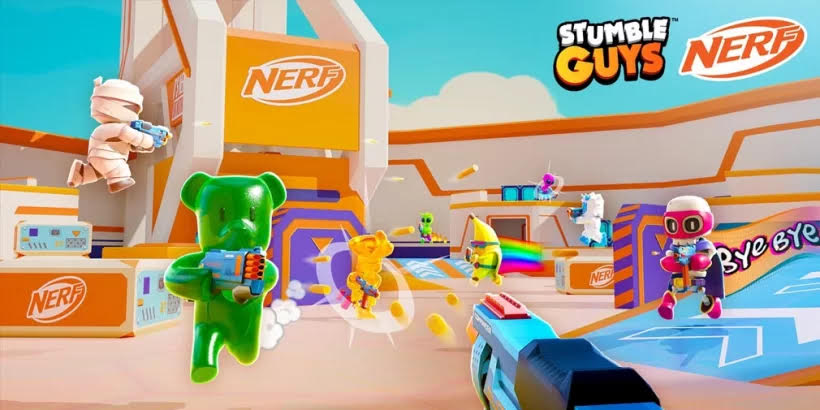 On July 13, 2023, Scopely released a Barbie-themed map with a new delivery gameplay mode and announced their partnership with MrBeast. Two weeks later, the first MrBeast content went live. It's too soon to tell the full results of these partnerships, but so far they are looking positive for revenue. 
However, if DAUs remain flat after Stumble Guys' expansion onto Xbox, they may need a new strategy. An uptick in revenue with flat DAU and downloads means they are spending a lot of money on partnerships just to monetize their players better. If Stumble Guys can't crowd Fall Guys and Eggy Party out of Western markets, they may need to focus on more effective User Acquisition (UA). On the other hand, if the partnerships and console expansion ends up working, we won't be surprised to see Scopely employ similar tactics with Monopoly GO! — another title in a niche market with few competitors.
MrBeast Is a Great Match for Stumble Guys
MrBeast is known for viral YouTube videos featuring over-the-top challenges and competitions — a great match for Stumble Guys' goofy yet competitive gameplay. The streamer even posted a custom challenge video on TikTok to promote the collaboration. 

MrBeast's Stumble Guys partnership announcement video on TikTok.
The video has received 10.2 million views in just over a week, though it likely would've gotten more if posted to YouTube where he has 174 million subscribers rather than TikTok where he has 86 million. MrBeast also appeared in a couple of video ads and one static ad promoting the partnership.
There are also many videos on YouTube and TikTok of players unlocking the skins, many of which have over 1 million views. 
MrBeast is also a good fit because he's well known in the gaming community, making the partnership feel authentic. He started his career with Let's Play videos and has hosted gaming tournaments, invested in controller company Backbone, created his own game called Finger on the App, and still creates frequent gaming content under his sister channel MrBeast Gaming. In 2021, he partnered with Brawl Stars to give away free in-game currency. The offer was promoted in MrBeast's Squid Games video, which was viewed 475 million times. This corresponded with a 327% week-over-week increase in US iOS downloads for Brawl Stars. Late last year, he partnered with Fortnite, which resulted in a custom MrBeast-themed tournament and a grand prize of $1 million given to the winning player.
It's also important to note that Stumble Guys' competitor Fall Guys sold a MrBeast skin in 2020 and that MrBeast made two Fall Guys YouTube videos the same year. The videos received 49 Million and 46 Million views, respectively. The fact that MrBeast chose to work with Stumble Guys after his history with their competitor Fall Guys makes the Stumble Guys endorsement feel even stronger — and crucially, likely prevents MrBeast from doing another Fall Guys partnership in the near future.
Looking for More Mobile Gaming Insights?
Download data.ai's State of Mobile Gaming Report to get a clear view of the state of play in 2023.