And it won't stop there. We estimate consumers will spend $120 billion on mobile gaming in 2021 – dwarfing the revenue for all other games formats.
The State of Mobile Gaming 2021 data proves that, yet again, games dominate the mobile app business. This is especially true when it comes to revenue. Consumers spent $143 billion on apps in 2020. Of that, $100 billion went on games. In other words, for every dollar spent on iOS and Google Play, games took 70 cents. 
Gaming also dominated the market in terms of downloads, although not to the same extent. 36% of all mobile app downloads in 2020 were games – that's 80 billion downloads out of 218 billion overall.
In 2020, users spent 296 billion hours playing mobile games, a 35% increase on 2019's 222 billion hours.
Overall, the figures attest to the remarkable rise of mobile gaming as a platform. This is a market that is barely a decade old, and one whose products are either free or supported by in-app purchases. 
And yet we estimate that more than $120 billion will be spent on mobile gaming this year (up 20% from 2020). That's 50% bigger than the console, PC, Mac, and handheld sectors combined.
A Market of Two Halves – Core vs Casual
The mobile games market is home to two quite distinct genres of game. On the one hand are the casual titles, which tend to be largely free to download and monetize through ads. These games are 'snacked on' by a vast user base of casual players. 
Then there are the 'Core' games. They are far more likely to monetize through in-app purchases as part of the core gameplay loop. They attract a more committed user base, typically playing for much longer session times.
These differences are clearly reflected in the State of Mobile Gaming 2021 metrics. Casual games led the way in terms of downloads. They comprise 78% of all game downloads, against 20% for 'core' games and 2% for Casino.
A selection from the full State of Mobile Gaming 2021 Report — available for free here. 
Conversely, core gamers generate 66% of total revenue. That is two thirds of revenue from titles that accounted for just a fifth of all downloads. This compares to 23% of revenue from casual games and 11% from casino games.
 Core players also contribute 55% of all time spent on mobile games.
Consumer Spend in Game Events More than Doubles to $53 billion 
The freemium model of monetization dominates mobile gaming. In other words, most titles are free to download and either monetize through in-app ads or in-app purchases. Within in-app purchases, one of the most popular techniques to leverage is the in-game event. Typically, in-game events showcase new content or challenges. They can be recurrent or time-based. Some offer rewards that let players gain advantages or to access higher levels within the game.
Our report reveals that events drove the most gaming Average Revenue Per User (ARPU) in 2020.  The other major monetization models were customization — such as customizing avatars — and leaderboards.
A Remarkable Year for 2020's Top Casual Game, Among US
Without a doubt, the standout game of 2020 was Among Us. It was the #1 casual title of 2020 by downloads and #3 by average monthly active users.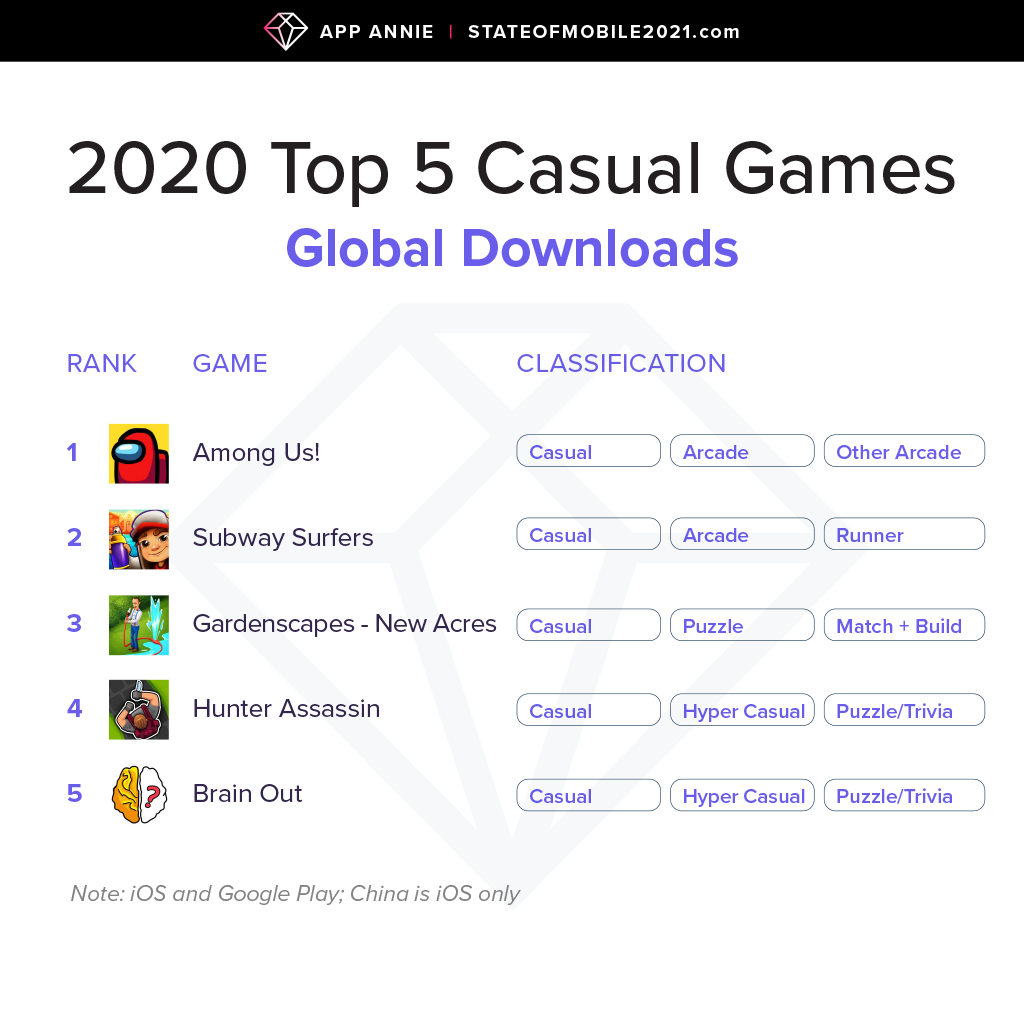 Its success came suddenly and almost without warning. Among Us had been released by indie studio InnerSloth in 2018 to little fanfare. Its action takes place in a spaceship in which crew mates have to identify the imposters before they are eliminated. 
Among Us performed modestly until it was adopted by key influencers on the gaming TV channel Twitch in July 2020. Shortly after, the game enjoyed a huge spike. According to our metrics, it had about 295 million monthly active users in October 2020.
As a result, Among Us dominated our breakout games chart in 2020. By downloads, it was the #1 game by year-over-year growth in downloads in Argentina, Canada, US, Mexico, Australia, South Korea and the UK.
Honour of Kings and Pokémon GO Led the Way in Core Gaming
The #1 title in the core gaming market for consumer spend was Honour of Kings, a multiplayer online battle arena (MOBA) title made by China's Tencent. As a core game, it leverages strategic gameplay mechanics like leaderboards and social assets and monetization features like battle pass and consumables to drive stickiness, and ultimately revenue.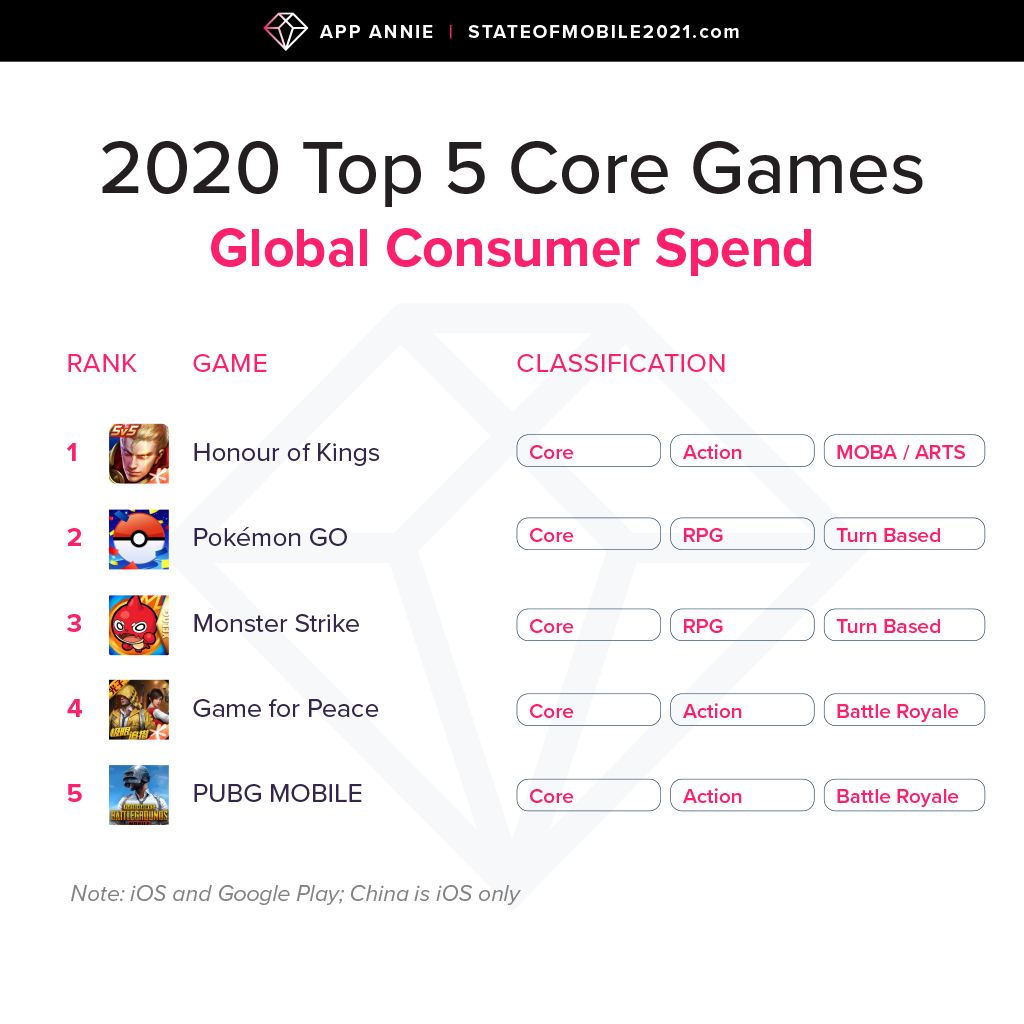 Pokémon GO also had an excellent year, finishing second by consumer spend in the core games chart. This was quite an achievement given that the game is typically played by walking around outside — not easy in a year of lockdowns. However, US developer Niantic moved quickly to give players ways to collect Pokémon without having to travel.
Breakout Game of the Year for Hours Played – ROBLOX
Another outstanding game performer in terms of time spent was ROBLOX. It topped our 'breakout games' chart for playing hours in Germany, Russia, UK, South Korea, Brazil, Canada, Mexico and US.
This makes sense when you consider the kind of game it is. ROBLOX is more like a platform than a single game. Players can meet and socialise and then choose to play a vast range of games-within-a-game. They can also create their own games – using the creation engine Roblox Studio – and receive a cut of any profits. In fact, Roblox estimated that players earned a collective $250 million in 2020.The company is now preparing for an IPO with a valuation of up to $30 billion.
This analysis of the mobile gaming market is drawn from App Annie's State of Mobile Gaming 2021 report. For more insights on the industry as a whole and other app categories, sign up for the full report:
DISCLAIMER
App Annie is a mobile market estimate service provider. App Annie is not registered in any investment advisory capacity in any jurisdiction globally, and does not offer any legal, financial, investment or business advice. Nothing contained in this communication, or in any App Annie products, services, communications, or other offerings, should be construed as an offer, recommendation, or solicitation to buy or sell any security or investment, or to make any investment decisions. Any reference to past or potential performance is not, and should not, be construed as a recommendation or as a guarantee of any specific outcome. You should always consult your own professional legal, financial, investment and business advisors. Additionally, by providing the information herein, App Annie does not make any representations or warranties and does not undertake any legal or contractual obligations whatsoever. No liability may accrue to App Annie as a result of providing this information to you.