As people look to stay entertained and connected with friends while social distancing, multiplayer mobile games are in high demand amidst record mobile game downloads.
What's Happening: 
As people continue to practice social distancing and global regions are urged to stay home amidst the COVID-19 pandemic, mobile gaming has provided a channel for not only entertainment but also social connection. During March 2020, we've seen significant demand for multiplayer gaming apps such as Words With Friends 2, ROBLOX, Call of Duty: Mobile, Magic Tiles 3 and Mario Kart Tour — helping fuel a 50% increase in worldwide weekly downloads of games overall from March 22-28, 2020 versus the average weekly level for Q4 2019. In fact, the week of March 22, 2020 was the biggest week for mobile game downloads ever at a record 1.2 billion downloads. This significant increase in demand was fueled by social distancing and lockdown measures undertaken throughout the world to combat the spread of the coronavirus pandemic.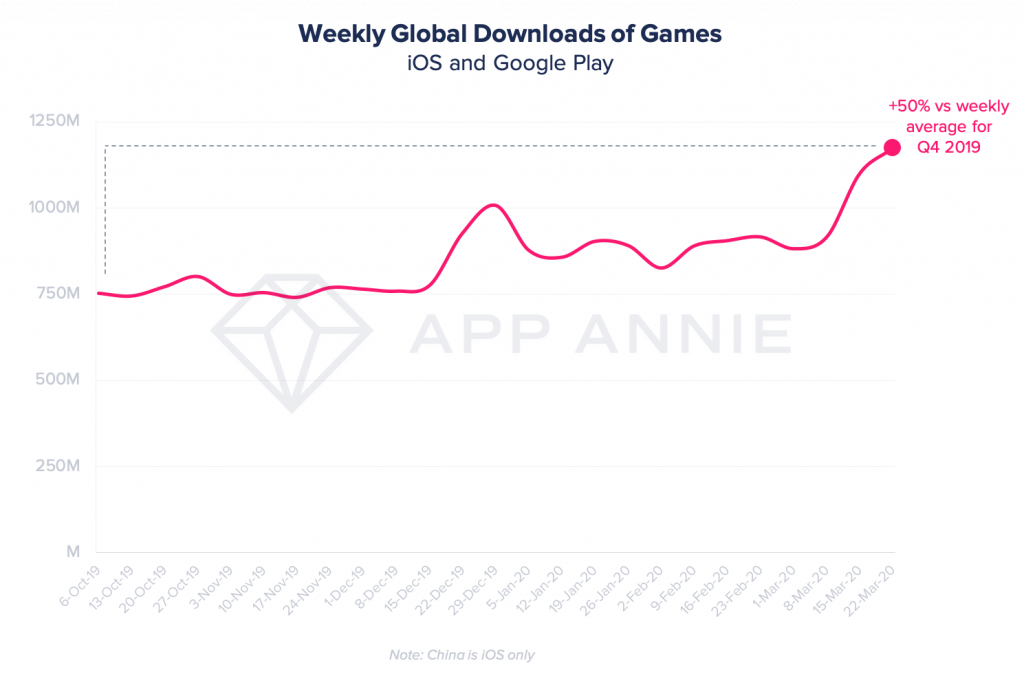 Why It Matters: 
We started off the year with a strong surge in downloads of games, which is in-line with the seasonality we'd expect from games overall as downloads generally uptick following the holiday season. What is particularly impressive was the dramatic growth in demand we saw in the last week of March for mobile games, up 30% from the average of the weeks prior in 2020. An important sector within this is multiplayer games that connect players as well as entertain. We took a look at the top multiplayer games across key markets and saw these games span across casual, core and casino genres — indicating the appetite for connection and a social experience across the gaming spectrum. 
In the UK, the top five multiplayer games in the UK were all casual games, whereas most markets analyzed saw a mix of casual and core games. France and the US were the only markets to feature a casino game (Coin Master) in their top five rankings. In China, we typically see that the most popular games are homegrown from China-headquartered publishers. However, of the top five multiplayer games, two are from US-headquartered companies: Minecraft Pocket Edition and Plants vs. Zombies 2 from Microsoft and Electronic Arts, respectively.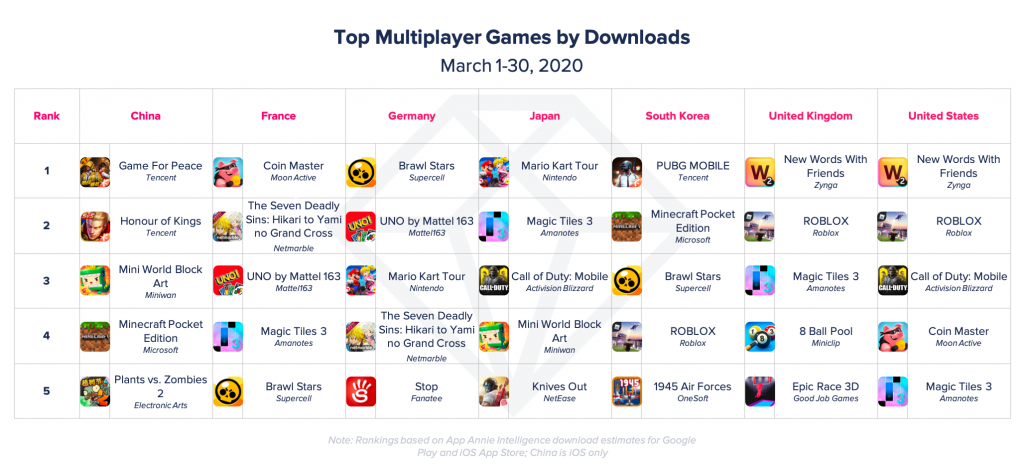 Notably, Words with Friends 2 has risen dramatically in the rankings over February and March 2020, sitting comfortably in the top 10 games by daily iPhone downloads as of March 30, 2020 in Canada, the US and the UK. With the spread of coronavirus reaching new levels in the US and Europe, it is clear consumers are turning to mobile, and they are doing so to play mobile games with friends as a form of connection, as well as for solo entertainment.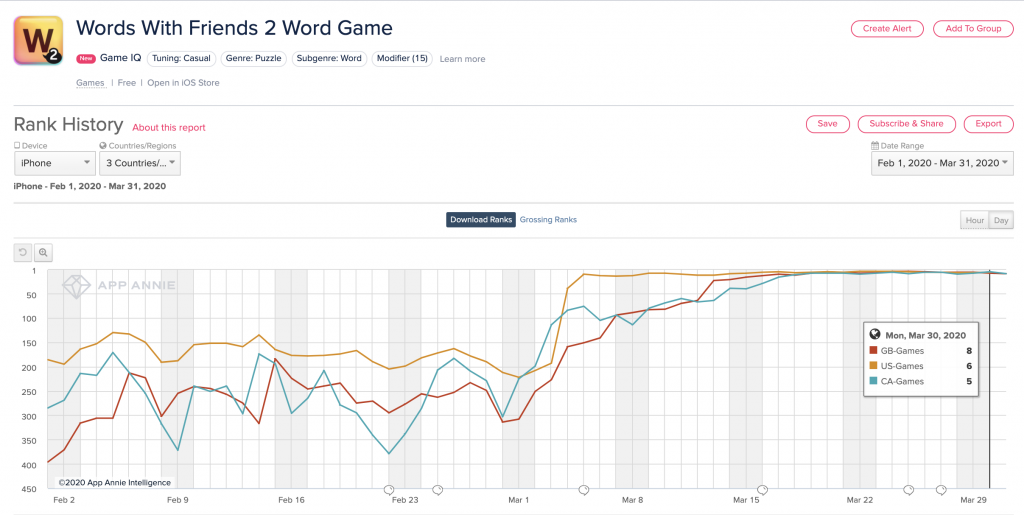 To follow the daily rankings of top games and apps such as Words With Friends 2, create a free App Annie account.
Go Deeper:
Based on App Annie's 2020 State of Mobile report, mobile already holds the largest market share in consumer spend among all forms of gaming — specifically, it is 2.4x PC/Mac gaming and 2.9x home game consoles in 2019 — and is expected to reach $100 billion in revenue globally this year. As consumers are spending more time at home and finding new ways to connect with others, we expect multiplayer gaming apps will continue to see an acceleration due to the accessibility of mobile — allowing for a game console to be in the pocket of every smartphone owner at a scale never before seen.  
For more information on the impact of the virus on the mobile economy, please see our blog post here: The Impact of Coronavirus on the Mobile Economy.
To uncover more on mobile gaming and the impact the coronavirus is having on the mobile economy, register for our live webinar on April 8th at 11 am PT/ 2 pm ET:  
Or for our readers in Europe, please join us for an alternate time of  2pm BST / 3 pm CET on April 8th:
This post is the latest in a Mobile Minute series that features App Annie's perspective on how mobile is impacting current events and consumer trends. Check in weekly for our take on the latest news cycles and how mobile transformation is shaping industries around the world.