The vehicular soccer smashdown hit became the #1 downloaded Sports game across 62 markets in December 2021
Rocket League Sideswipe, a new take on the classic Rocket League, features multiplayer matches in the soccer arena with cars. The mobile game launched on November 29, 2021 across iOS and Google Play stores — quickly topping the Sports Games downloads chart the following month, according to App Annie's Game IQ taxonomy.
Rocket League Sideswipe Topped the Mobile Game Download Chart in the UK and US in December 2021
Rocket League was first launched and published by Psyonix for Microsoft Windows and PlayStation 4 in July 2015 and made its way to Xbox One, Linux, and macOS the following year with an eventual release on Nintendo Switch in 2017. Epic Games acquired Psyonix in May 2019, bringing another cross-platform title under its belt. This latest hit showcases the power of mobile gaming to provide console hits with new and innovative experiences, while remaining faithful to the original game.
Moving into mobile gives Rocket League the opportunity to reach a new, more casual-gaming demographic — providing consumers with their characteristic vehicular-riding, soccer-loving adrenaline rush! While Rocket League Sideswipe doesn't facilitate true cross-platform play with console/PC (allowing the user to continue gameplay across devices or play against players on other devices) like other popular titles such as ROBLOX and Genshin Impact, the two games do complement each other. When existing console or PC players with an Epic Games account log in to Rocket League Sideswipe, they will be rewarded with exclusive items in the main console/ PC game and in the mobile version during a special Rocket League Crossover Event until January 25, 2022.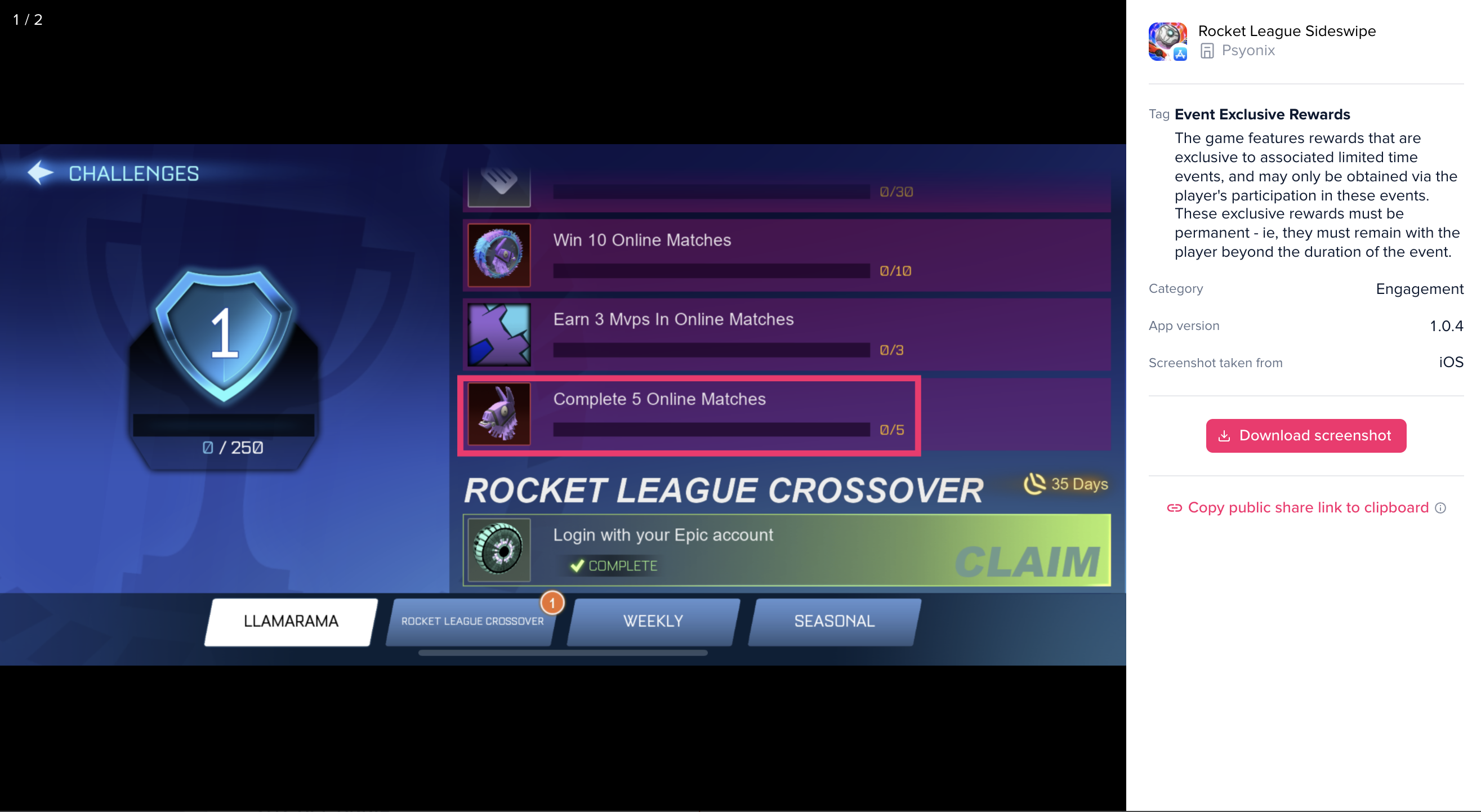 App Annie's Game IQ Feature Tags show Event Exclusive Rewards such as the 'Rocket League Crossover Event'.
Rocket League Sideswipe Encourages Cooperation Across Teammates in Competitive Matches and Features Daily Rewards for Returning Players
In the game, players battle it out with their cars to maneuver and land the ball into their opponent's net (or hoop in Hoops Mode) in a soccer-field arena in 1v1 or 2v2 style, two-minute matches. They can compete privately with their friends or join competitive matches against players around the world and earn titles based on their current rank in each Rocket Pass Season. Additionally, players can unlock seasonal items, gifts, and exclusive items through the Rocket Pass just by playing to deck out their rides for free at the moment. Customization and premium items collection will pave the way for future in-app-purchase monetization.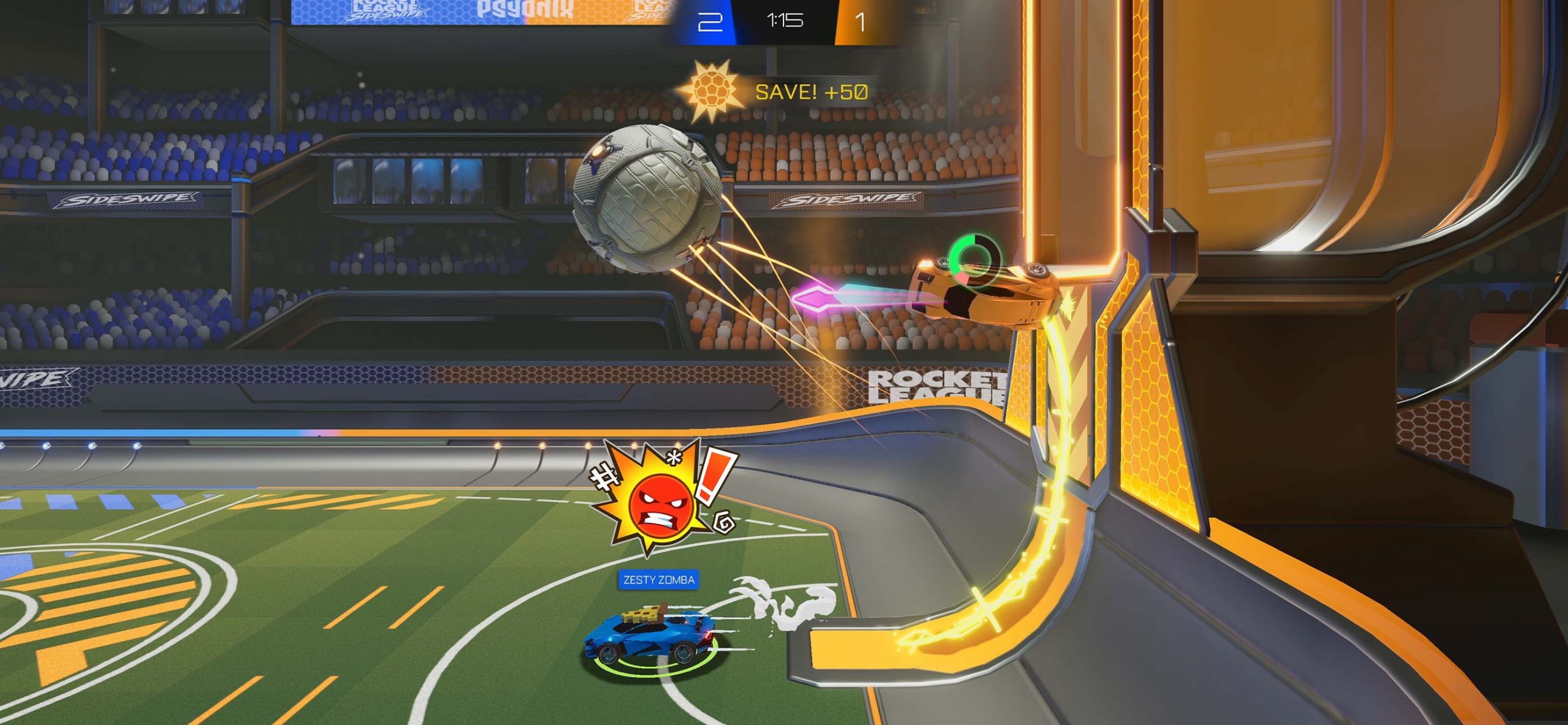 To cultivate ongoing engagement, the original Rocket League hosts a number of events such as Frosty Fest, its annual winter event which occurred on December 16, 2021. Although not available on Rocket League Sideswipe yet, in the first seven days of Frosty Fest, the game still saw 2.8M downloads globally on the Google Play store, a 13% increase in downloads from December 16 - 22 compared to the week prior. In fact, total Android app downloads worldwide peaked on Sunday, December 19, 2021 ahead of the holidays, driven primarily by India, the US, Brazil, Mexico, and Indonesia. This illustrates how 'all ships — or titles across devices — rise with the tide' and is also true of IP's following movie premieres or new game releases within the same IP, which can be an important strategy to factor into your marketing roadmap. This can be monitored over time in App Annie Intelligence.
With its surge in popularity fresh off its launch, Rocket League Sideswipe combines the best of Rocket League with the convenience and simplicity of mobile — positioning it to become a fan favorite for new and returning players alike!
Looking for more mobile insights? Download App Annie's industry-leading State of Mobile report, covering everything you need to know about how to win on mobile in 2022.
Looking to make more of the mobile opportunity? Talk to an expert today.
DISCLAIMER: 
App Annie is a mobile market estimate service provider. App Annie is not registered in any investment advisory capacity in any jurisdiction globally, and does not offer any legal, financial, investment or business advice. Nothing contained in this communication, or in any App Annie products, services, communications, or other offerings, should be construed as an offer, recommendation, or solicitation to buy or sell any security or investment, or to make any investment decisions. Any reference to past or potential performance is not, and should not, be construed as a recommendation or as a guarantee of any specific outcome. You should always consult your own professional legal, financial, investment and business advisors. Additionally, by providing the information herein, App Annie does not make any representations or warranties and does not undertake any legal or contractual obligations whatsoever. No liability may accrue to App Annie as a result of providing this information to you.