Mobile consumers are set to download more than 13.5 billion games and spend more than $21.4 billion in the quarter to maintain the sector's COVID-fuelled boom.
A few weeks ago, data.ai unveiled research confirming that mobile is now the leading force in gaming. Thanks to its wide demographic reach and gameplay range, it now generates 60% of global gaming spend. This is 3.2x more than the revenue of the next largest form factor: home consoles.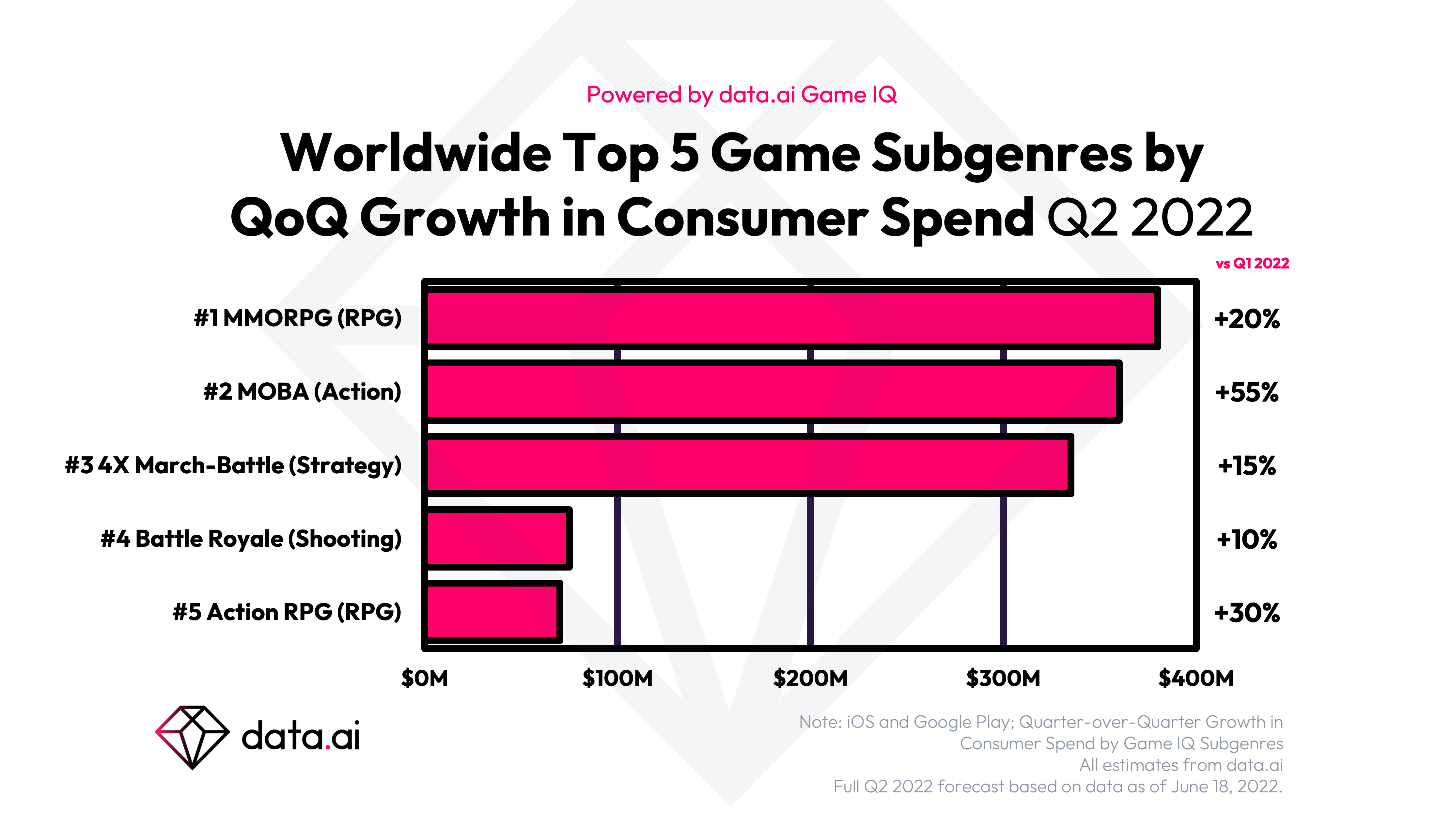 We concluded that mobile gaming is on target to surpass $136 billion in 2022. And our latest Q2 2022 market data certainly justifies our confidence. The new numbers confirm that mobile gaming generated 30% more revenue in the quarter than it did in the pre-pandemic quarter of Q2 2019. According to data.ai Game IQ, the highest growth subgenres quarter over quarter are poised to be: #1 MMORPG (RPG) Games, #2 MOBA (Action) and #3 4X March-Battle (Strategy). MMORPG (RPG) alone is set to generate an additional $380 million in consumer spend over Q1 2022, bringing the Q2 total to over $2.4 billion — up 20% QoQ.
For an exclusive look at the mobile games market in Q2 2022, fill out the form below. Those who log-in will be able to see new insights and key performers immediately below.
DISCLAIMER: 
data.ai is a mobile market estimate service provider. data.ai is not registered in any investment advisory capacity in any jurisdiction globally, and does not offer any legal, financial, investment or business advice. Nothing contained in this communication, or in any data.ai products, services, communications, or other offerings, should be construed as an offer, recommendation, or solicitation to buy or sell any security or investment, or to make any investment decisions. Any reference to past or potential performance is not, and should not, be construed as a recommendation or as a guarantee of any specific outcome. You should always consult your own professional legal, financial, investment and business advisors. Additionally, by providing the information herein, data.ai does not make any representations or warranties and does not undertake any legal or contractual obligations whatsoever. No liability may accrue to data.ai as a result of providing this information to you.