Following PUBG's mobile release in China, we take a look at the game's background and why it's going to be a big deal in mobile markets this year.
The February 9, 2018 mobile release of PUBG: Exhilarating Battlefield and PUBG: Army Attack on the iOS App Store in China caused a significant stir among gamers. PlayerUnknown's Battlegrounds (PUBG) is currently one of the most popular games in the world, but until this release it has only been available on PC and Xbox One.
Tencent secured the Chinese publishing rights to PUBG in November 2017 — announcing a localised version of the PC game as well as two mobile versions.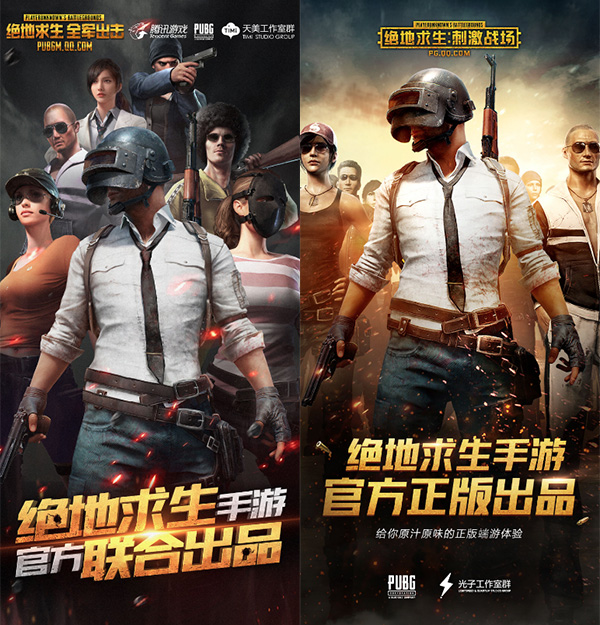 Developed by separate Tencent owned studios; Exhilarating Battlefield offers an experience authentic to the original PUBG, whereas Army Attack introduces new gameplay elements with a greater emphasis on sea and air combat
The mobile games have already proved extremely popular. On the two days immediately following their release, PUBG: Exhilarating Battlefield and PUBG: Army Attack were the two most downloaded apps worldwide on the iOS App Store, despite only being available in China.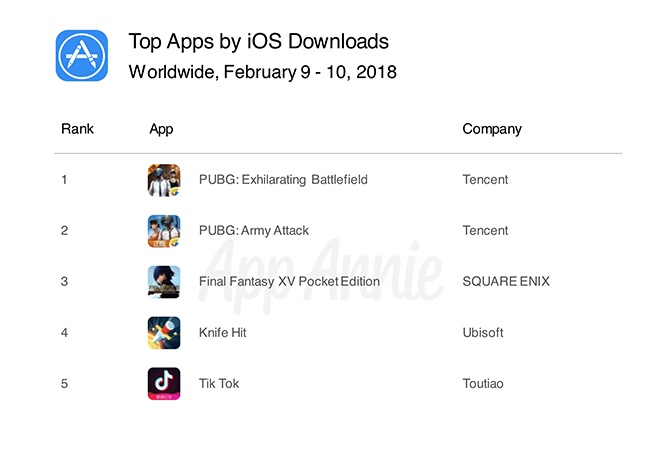 What Is PUBG and Why Is This a Big Deal?
PUBG, and its director Brendan Greene (AKA PlayerUnknown), has widely popularised a gaming genre that got its start with games like DayZ and H1Z1 — Battle Royale. Battle Royale games are "last-person-standing" multiplayer shooters that pit often up to 100 players against one another. Matches take place in game maps that begin as enormous fields of play, with dozens of villages and towns to explore, whose playable areas shrink over time. The continually shrinking map, and players' constant search for new and better equipment, forces players into fights with one another, until one player (or team) is left as the winner.
Having originally created Battle Royale mods for PC military shooters ARMA 2 and ARMA 3, as well as consulting on Sony's survival game H1Z1, Greene began standalone development of PUBG under South Korean publisher Bluehole in 2016.
The game first launched on PC through Steam's Early Access program in March 2017, and saw a full release on PC and Xbox One in December 2017. In the short time since the game's release, it's been incredibly successful. In January, the desktop version had over 30 million owners globally and nearly 3 million daily active users on Steam alone.
This popularity hasn't escaped other publishers — we've seen a number of successful Battle Royale games enter the market (including the recent meteoric rise of Fortnite on PC, PS4 and Xbox One). Alongside this, the genre's been making significant headway on mobile over the last few months.
PUBG's Massive Impact on Mobile
Even before PUBG's app releases, its launch on PC inspired the growth of an especially healthy market for Battle Royale games on mobile. As of Feb 8, the day before PUBG's mobile release, Battle Royale games had been downloaded more than 150M times worldwide on Google Play and the iOS App Store combined.
"Even before PUBG's app releases, Battle Royale games have been downloaded more than 150M times on Google Play and the iOS App Store combined worldwide."
A number of highly popular games have emerged, including Rules of Survival and Knives Out from Netease and Free Fire from Garena Online. We've seen user numbers in these games climb rapidly over the last few months.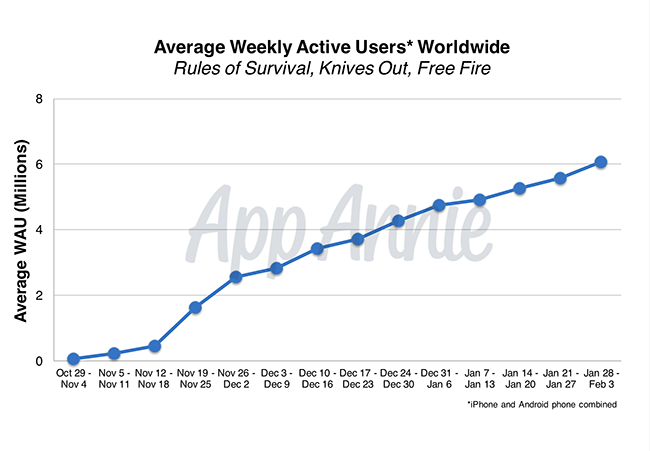 Perhaps most interestingly, Battle Royale games have demonstrated just how compelling a core gaming experience can be on mobile. Users are spending a significant amount of time playing. The average session duration globally in January, across Rules of Survival, Knives Out and Free Fire, was more than 10 minutes on Android phones. Users played for more than 3 hours a week on average. Smartphones are unparalleled for capitalizing on micro-moments, or time between tasks. Spending 10 minutes per session on average in a game indicates significant dwell time far beyond micro-moments — highlighting the increasing trend of core gaming mechanics transitioning onto mobile.
We expect this to be particularly impactful in emerging markets, where mobile devices are prevalent, but the costs of owning a high spec gaming PC or console will have prevented many from playing the original game.
The Future is Bright for PUBG on Mobile
PUBG is likely to have a strong future on mobile. Demand in China alone is huge, with some regional analysts suggesting there were more than 75 million pre-registrations for Tencent's mobile versions. No announcements have been made yet regarding global app releases, but they seem inevitable and we expect them to make big splash.
App Annie is carefully monitoring the release of PUBG in China, and will be releasing the results of our initial analysis over the next few weeks. If you're interested in hearing App Annie's follow-up insights about PUBG and the mobile app economy, or are interested in looking into some of the data behind the app market yourself, sign up for our free product here.