Capturing a budding new genre of games, App Annie adds "Play-to-Earn" (P2E) tagging to its robust Game IQ categorization.
Interest in mobile gaming, cryptocurrency and user-generated content reached a new high in 2021, laying the bedrock for the Play-to-Earn industry.
A record 

3.8 trillion hours were spent on mobile devices in 2021

, with the average user spending 4.8 hours per day on mobile. Mobile gaming was in high demand — to the tune of 83 billion downloads, an increase off the back of an already record-breaking 2020.

Cryptocurrency apps 

Coinbase

, 

Crypto.com

 and 

Binance

 dominated the breakout Finance apps charts around the world — helping to fuel 28% growth in Finance app downloads to nearly 6 billion. This indicates the popularity of blockchain technology.

User-generated experiences captured audiences as time spent in TikTok nearly doubled globally outside of China. ROBLOX ranked #1 for consumer spend and #3 by downloads among all mobile games worldwide as interest in metaverses reached new highs. Metaverses allow players to participate in a virtual economy as both creators and consumers. Given the reach of ROBLOX it is clear that consumer behavior on mobile is shifting toward engagement models where developers give power to the players, players actively participate, and are rewarded for participation — similar to the foundational concepts of P2E.
First on the Mobile Trend — App Annie Captures Budding "Play-to-Earn" Mobile Games
Axie Infinity is one of the most well-known Play-to-Earn games on the market today. While it is not available across the iOS and Google Play stores, we are seeing nascent indications of mobile publishers beginning to leverage similar P2E features on mobile. Released in November 2021, Thetan Arena, an Action > Brawl game includes Play-to-Earn features amidst Multiplayer Online Battle Arena (MOBA) gameplay. In less than 3 months, the game has amassed 10 million downloads worldwide.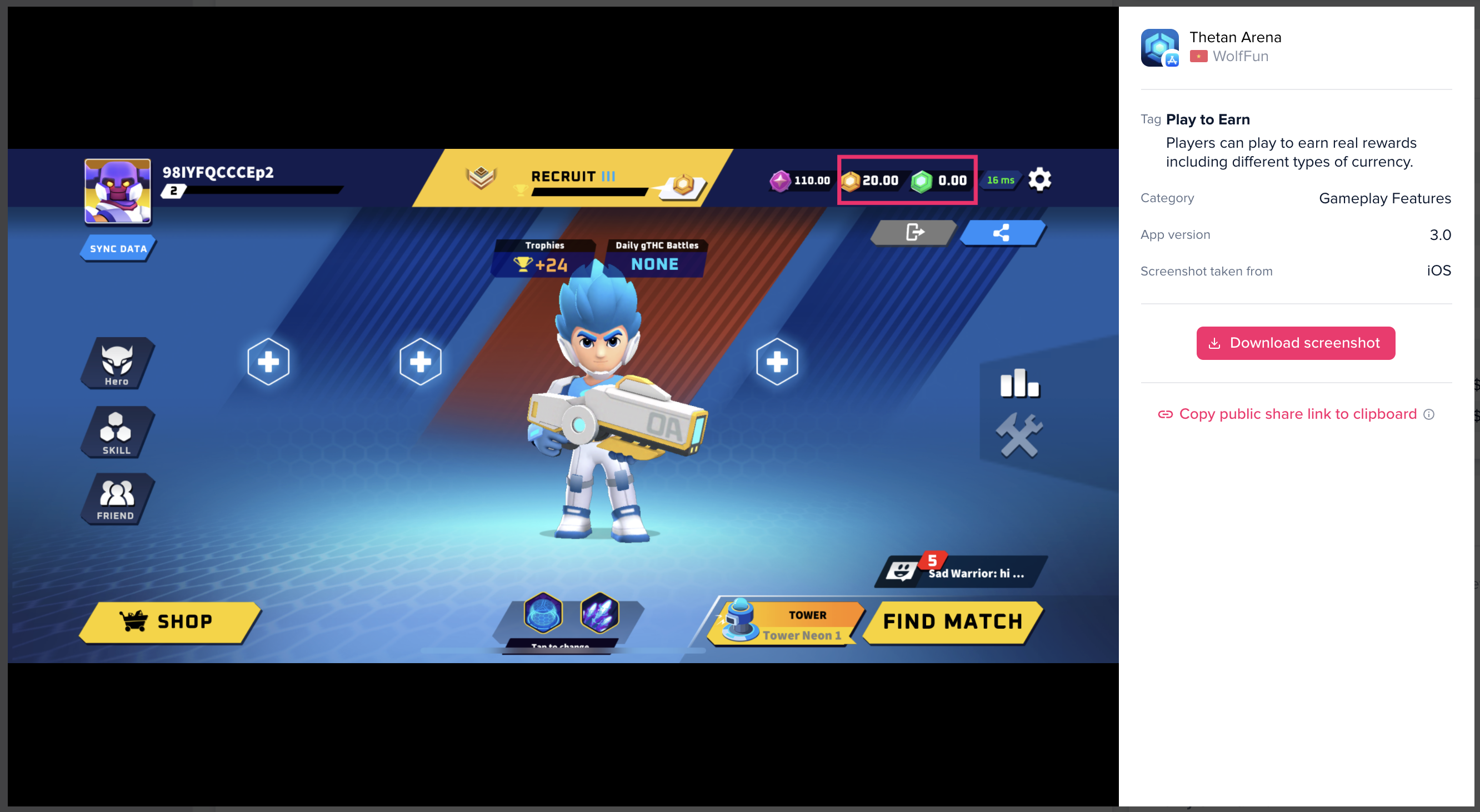 App Annie's Game IQ Feature Tags show Play-to-Earn gameplay features in the emerging P2E mobile gaming sector.
In December 2021, Thetan Arena was the #1 Action > Brawl game in December 2021, according to App Annie's Game IQ with downloads driven by popularity in Brazil, the Philippines and Indonesia.
View top Brawl (Action) Games rankings in App Annie's Game IQ across a number of key performance metrics, including downloads, consumer spend, time spent, active users and more
Initial Indications of Mobile Traction of Play-to-Earn Gameplay Show Key Gameplay Features Emerge
Using App Annie's Game IQ, we've captured four main gameplay elements of mobile games incorporating P2E functionality, whether directly or indirectly in the game:
Play to Earn:

 One of the most common barriers of entry within this space is the complexity involved in merging Play-to-Earn mechanics and the game's core mechanics. Current implementations tend to exist in the space outside of the game itself.  For example, players compete with a wager of the game's soft currency by default or can purchase cryptocurrencies or Non-Fungible Tokens (NFT) from the developer's website. The NFTs enable the user to enter a different battle arena to earn cryptocurrency instead of the game's soft currency. The cryptocurrency can also be withdrawn, and traded in cryptocurrency exchanges to realize the gains from playing. However, with emerging examples like 

Thetan Arena

, P2E features are overtly incorporated within the mobile game itself, which could fuel wider adoption in the long run.

NFTs: Apes vs Mutants, a role-playing mobile game based on the Bored Ape Yacht Club (BAYC) and Mutant Ape Yacht Club (MAYC) IP soft-launched on Jan 21, 2021. Among NFTs, this is one of the most popular IP's, which could present a large drawcard to the game. The Bored Ape Yacht Club has over 551,000 followers on Twitter. While the game offers exclusive competitions for owners of BAYC/MAYC NFTs, gameplay is still accessible to those who don't own a BAYC/MAYC NFT. The P2E component is accessible outside of the gameplay itself via a website. Upland is a virtual property trading game that allows users to buy, sell and trade properties, backed by their in-game currency "UPX." You can also purchase NTFs in the form of a Game Pack made of a jersey, cap or game ball based on top players. The NFTs' ownership is tracked through blockchains. As an extension of NFTs, we have seen indications of virtual representations of physical objects within blockchain metaverse games. Although there are currently limited users playing these new blockchain metaverse games, there is already a significant volume of virtual land purchases within them.
Play to Earn — Cryptocurrency: Merge Cats is an example of a play-to-earn game where the main draw card is to play games to earn cryptocurrency. The user is incentivized to reach new levels to increase their budget. There are also opportunistic games that utilize P2E and crypto keywords in their title or descriptions to draw downloads through App Store Optimization (ASO). Some of these games reward user playtime with small amounts of Bitcoin or other mainstream cryptocurrencies, and while these are not P2E games in the truest sense, they are important illustrations of a budding interest in this type of mobile gaming — from developers and players alike.
Play to Earn – Traditional Currency: Games such as Bingo Cash and Dice Kings allow players to cash out their virtual currencies that can be earned through tournaments or skill-based competition. The increased engagement offers numerous opportunities for both in-app-purchase and ad-monetization.
These categorizations represent important nuances emerging in the P2E Space, and App Annie's Game IQ feature tags help identify what would otherwise be a tricky and time consuming process for an emerging style of gameplay. Given the mobile P2E gaming industry is still in its infancy, we will continue to monitor the evolution of the space.
Stay Ahead of the Curve in the Quickly Evolving Gaming Space with Game IQ
Mobile gaming is a rapidly evolving industry. App Annie is a first-mover on the latest trends to give you the insights you need to stay ahead of the game. Interested in being the first to track P2E games as they emerge on mobile? 
DISCLAIMER: 
App Annie is a mobile market estimate service provider. App Annie is not registered in any investment advisory capacity in any jurisdiction globally, and does not offer any legal, financial, investment or business advice. Nothing contained in this communication, or in any App Annie products, services, communications, or other offerings, should be construed as an offer, recommendation, or solicitation to buy or sell any security or investment, or to make any investment decisions. Any reference to past or potential performance is not, and should not, be construed as a recommendation or as a guarantee of any specific outcome. You should always consult your own professional legal, financial, investment and business advisors. Additionally, by providing the information herein, App Annie does not make any representations or warranties and does not undertake any legal or contractual obligations whatsoever. No liability may accrue to App Annie as a result of providing this information to you.