An analysis of how Scopely diversified User Acquisition (UA) to carve out significant traction for its global launch.
A guest post by Liquid and Grit, the market-leading product insights firm in mobile gaming. The opinions and views expressed in this blog article are Liquid & Grit's own.
Monopoly GO! achieved one of the most successful app launches of the year by deploying a wide range of ad creatives, using influencer partnerships to kickstart organic content on TikTok, and spending an enormous amount of money.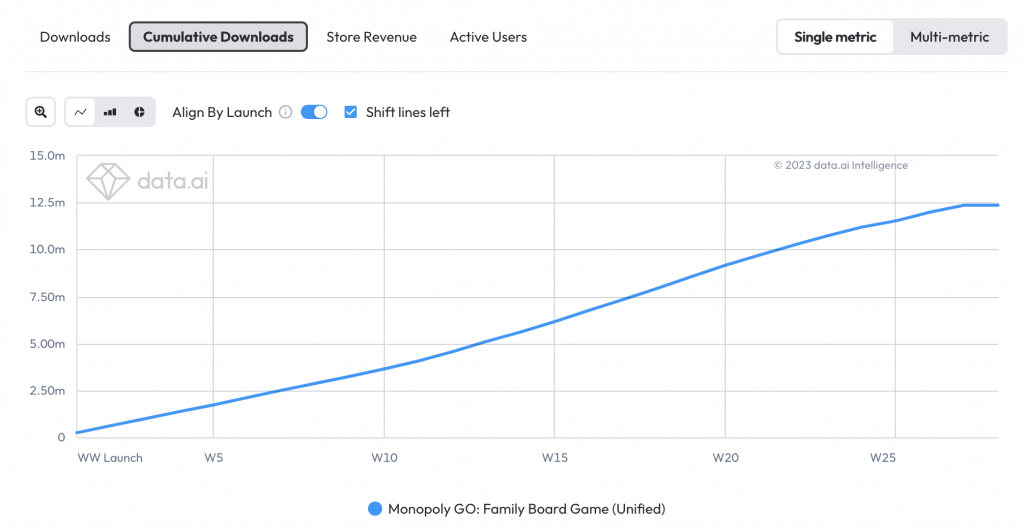 Monopoly GO! saw standout UA performance out the gate. With the 'Align by Launch' feature you can compare launches across top players in a subgenre, regardless of launch date. 
Monopoly GO! racked up 11.5 million US iOS downloads in just the first 25 weeks.
Scopely's estimated spend of over $1M per day isn't an option for most apps, but other parts of Monopoly GO!'s UA strategy can be replicated with a smaller budget:
Testing a large number of ad creatives

Dividing ad creatives into buckets that portray distinct aspects of gameplay

Using interactive ads to demonstrate real gameplay

Using sponsored social media content to kickstart organic posts 

Starting with big ad services and ramping up to include smaller services over time

Integrating with gaming platforms outside iOS and Android

Localizing ads early
Designing Ads for Distinct Types of Experiences
Monopoly GO! Has a massive number of ad creatives for a new app, and the number continues to grow. Among leading casual and casino apps, Monopoly GO! is second only to fellow UA powerhouse Royal Match in number of ad creatives shown for 
Number of Ad Creatives US iOS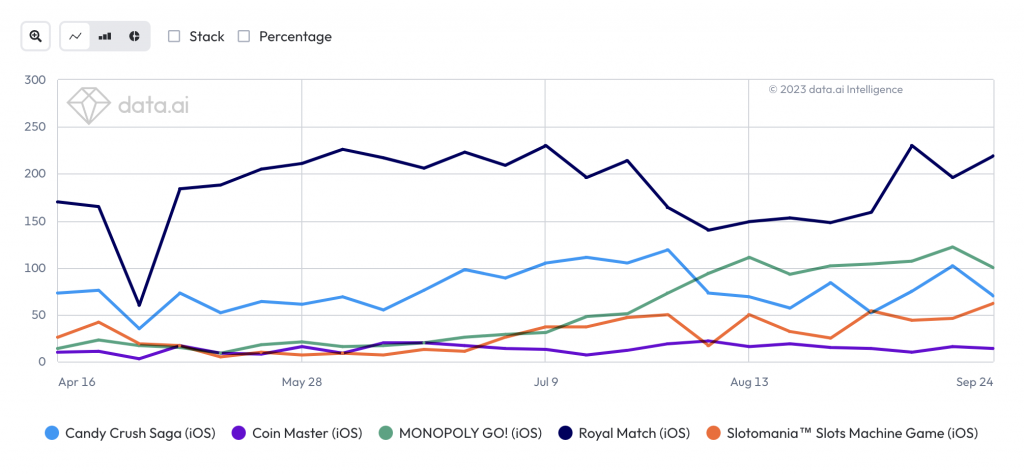 By focusing on one aspect of gameplay at a time, each of Monopoly GO!'s ads targets a specific audience. Monopoly GO!'s ads come in three distinct flavors: 
ads that highlight the IP, 

ads that highlight the accumulation of wealth and upgrades, and 

ads that highlight social interactions. 
As a result of these multiple types of ad creatives, Monopoly GO! can create a wide funnel that still targets specific players.
Ads based on IP emphasize the app's connection to classic Monopoly by focusing on the game board, mascot, game pieces and dice rolls. These ads appeal to fans of the Monopoly IP by presenting the app as something with which they're already familiar.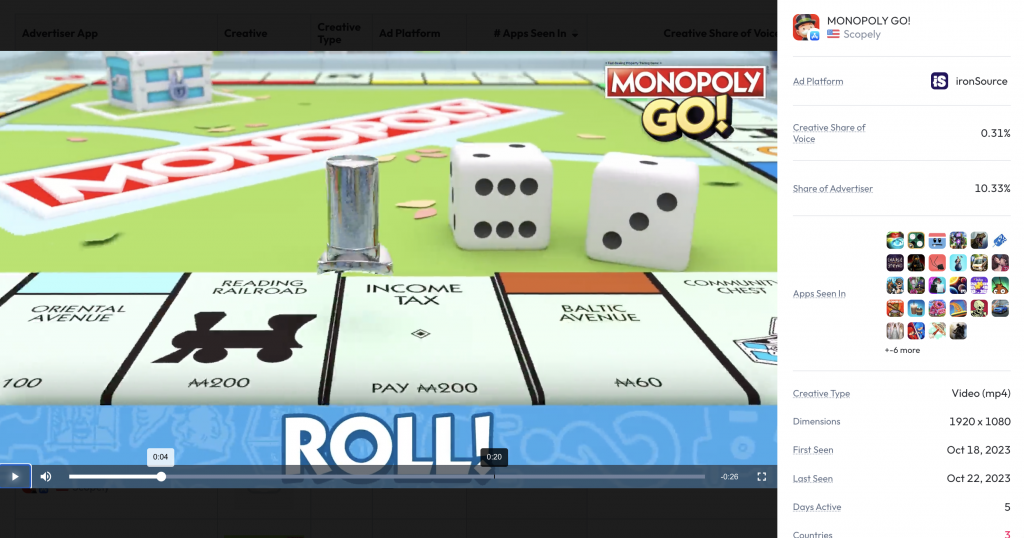 Using data.ai's Creative Gallery, we see differing creative approaches to emphasize the main gameplay mechanics. In this video ad, Scopely emphasizes the classic gameboard play — rolling die and advancing along the board.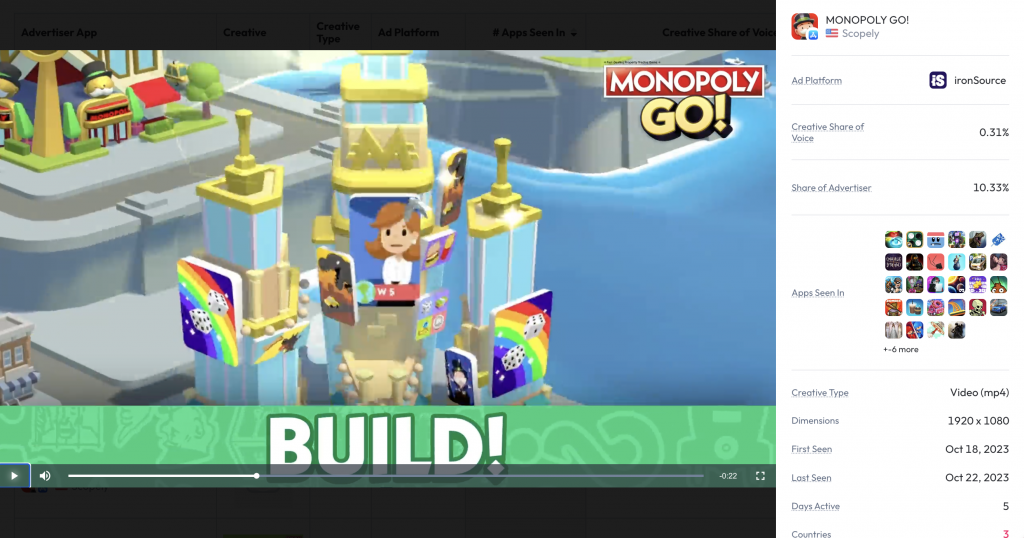 They also emphasize the world building and exploratory nature of the game — an immersive element unique to the mobile adaptation. Get in touch to see Creative Gallery in action and get access to a repository of ad creatives and their performance metrics. 
Ads based on wealth and upgrades show the profit that players can earn and the buildings they can upgrade. These ads appeal to players who are primarily interested in profit and progression.
Ads based on social interactions focus on the competitive and collaborative mechanics of the game, specifically the ability to steal from other players and destroy their buildings. These ads appeal to socially motivated players and have played a big role in generating organic content on TikTok, which we examine later.
For more examples of Monopoly GO!'s ads, refer to this YouTube supercut.
Interactive ads are engaging, memorable, and surprisingly cost effective. In addition to traditional video ads, Monopoly GO! makes unusually frequent use of interactive ads. These ads typically have players press a button to roll dice, pick a target for a competitive interaction, or participate in casein-style bonuses. Monopoly GO!'s interactive ads tend to focus on real (or nearly real) gameplay, and in general, the app avoids the deceptive ad practices that sometimes appear in the casual market. Viewers of these ads can roll the dice, move around the Monopoly board, and collect money.
Although these kinds of interactive ads can be more expensive to develop than normal ads, they have the lowest CPI of any mobile game ad format. This low CPI makes them a surprisingly cost-effective choice, particularly for developers with the resources to develop them in-house, instead of relying on outsourcing.
Early localization helps apps grow in top geographies' and emerging markets. Monopoly GO! is available in 10 languages and Scopely has been running localized versions of its trailers in Arabic, Turkish, Portuguese, Spanish, and other languages. 
Some notable gaps in this coverage include Hindi and Urdu localization for players in India and Pakistan. India is currently first in mobile game downloads and Pakistan is among the top 15, making this a missed opportunity to engage even more players in two important emerging markets.
For insights on how to target emerging markets with localization, see Liquid & Grit's take on how Free Fire became the number one shooter in Brazil, India, Pakistan, and Indonesia.
Astroturfing Social Media Content: TikTok
Paid TikTok partnerships focused on memeable aspects of gameplay can help jumpstart user-generated content. Monopoly GO! sponsored TikTok content from influencers that focused on competitive social interactions, such as stealing money from other players, developing rivalries, and getting revenge. A second common type of TikTok posts emphasized how much time or money the creator spent on the game. Although it's less clear whether this second type was sponsored by Scopely, these videos helped normalize high engagement and spend among viewers. 
These two types of videos helped kick off a flood of user-generated content on TikTok. A search for #monopolygo yields a huge number of videos, which appear to be a mix of paid influencer promotions and user-generated content. Many of these have hundreds of thousands to millions of views. By comparison, #coinmaster, the lifetime leader for downloads in the Party > Luck Battle subgenre according to data.ai's Game IQ Taxonomy, has far fewer user-generated videos, and almost none that break 100,000 views.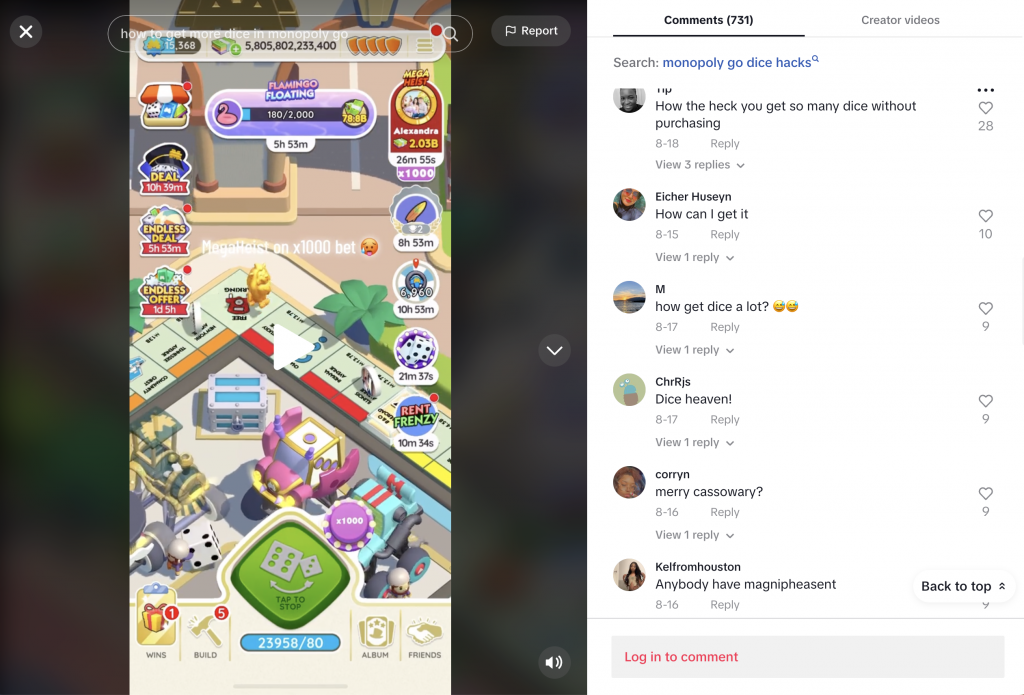 Monopoly GO! tips, tricks and 'cheats' are commonly searched topics on TikTok. A top post (above) has 19.6k+ likes, 700+ comments and 1300+ saves — creating an invaluable organic community experience for the title.
Paid content on TikTok is more likely to lead to organic content than paid content on other platforms. A study commissioned by TikTok found that TikTok is 1.7x more likely to be the source of a product discovery than other social media platforms. According to the study, TikTok users are 1.4x more likely to buy a product they've seen on the app, and 1.5x more likely to convince a friend or family member to buy a product they've seen on the app. And once users find a product on TikTok, they are 2.4x more likely to create their own post about that product than users on other social media platforms.
Monopoly GO! has a larger share of young players than Coin Master, likely due in part to Monopoly GO!'s success on TikTok. Players in the 18–34 age range make up roughly 17% of Monopoly GO!'s audience, while that same demographic only makes up 11% of Coin Master's.
Monopoly GO! US Demographics August 2023, Android phones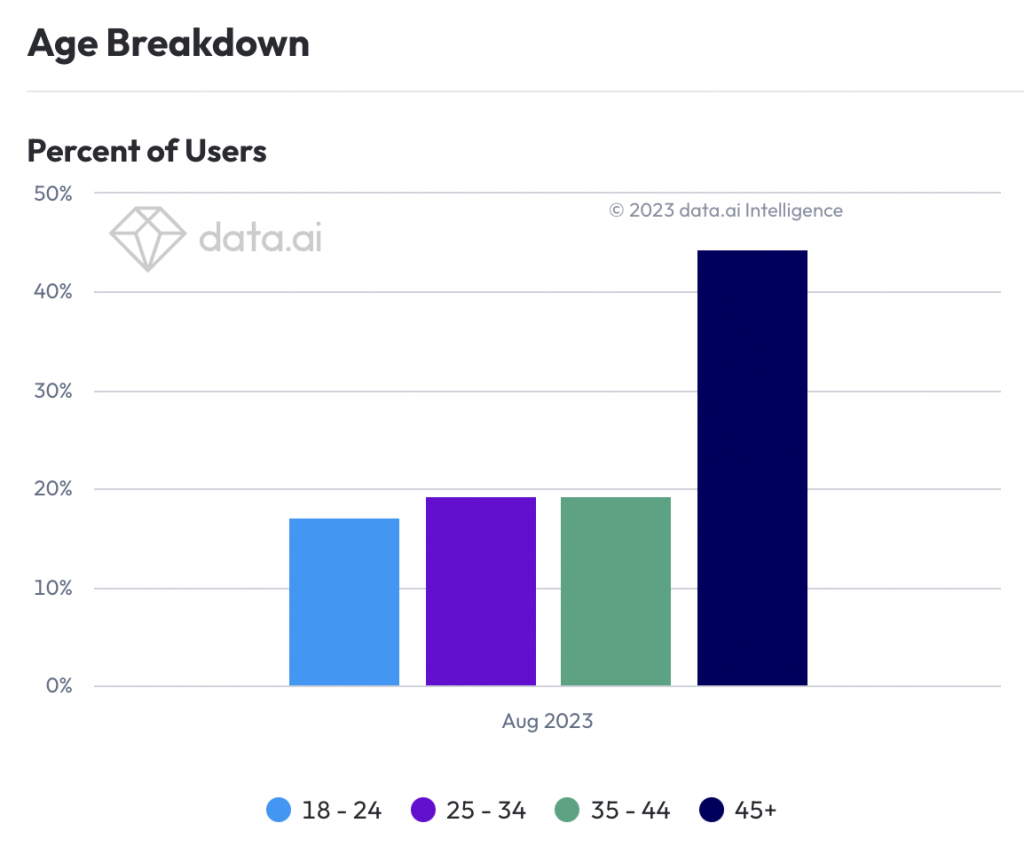 You can view the demographic breakdown of Monopoly GO and Coin Master by gender and age in data.ai here. Or get in touch if you'd like to see this in action.
Coin Master US Demographics August 2023, Android phones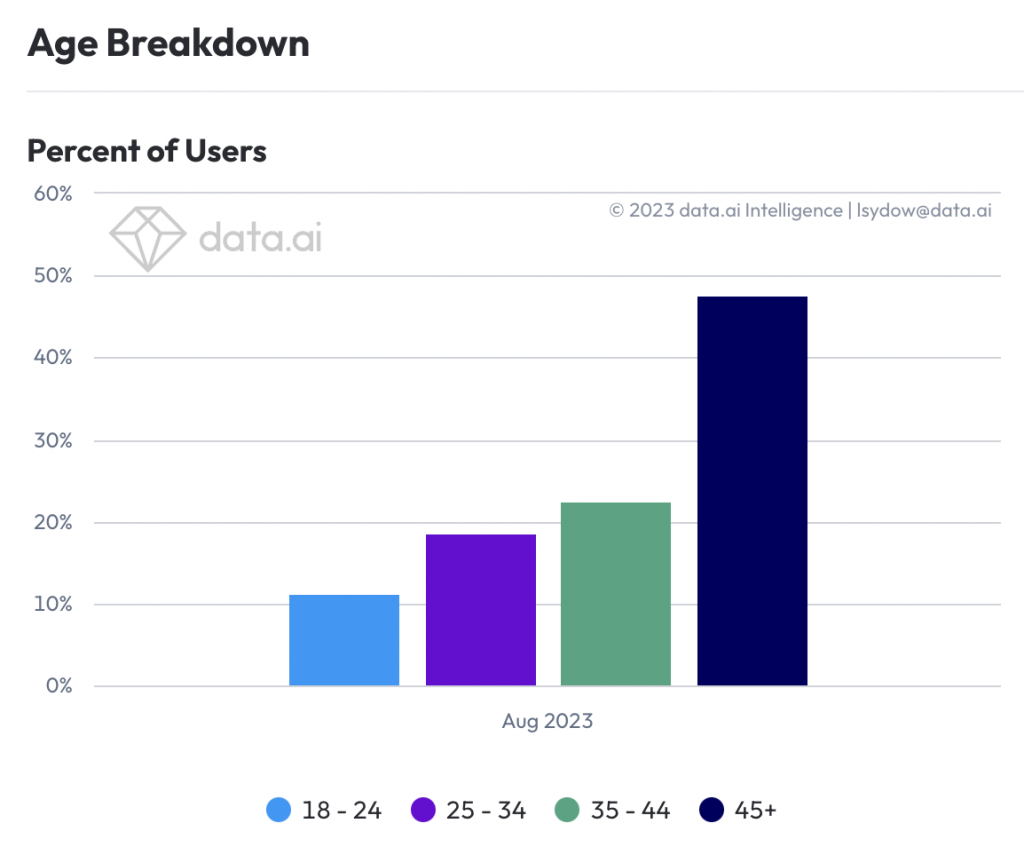 Celebrity partnerships are a secondary strategy at best. Monopoly GO! launched without any celebrity partnerships but has quietly added a few to its most recent campaigns. These appear to be targeted at older demographics and use fairly niche (and likely less expensive) celebrities, including celebrity chef and former host of the TV show Bizarre Foods, Andrew Zimmern, two of the hosts of the reality TV show Selling Sunset, and a contestant from the Great British Bake Off. Each of these videos has between 100K–250K views — respectable, but likely not enough to justify major spend on these partnerships.
For more information on the waning value of celebrity partnerships, see Liquid & Grit's analysis of Candy Crush Saga's move away from celebrities.
Alternative Ad and Gaming Platforms
Ramping up advertising channels and creatives over time allows apps to steadily increase their profile and determine which channels are most effective. To promote Monopoly GO!, Scopely gradually invested in almost every conceivable advertising channel, including YouTube, TV, TikTok, and Google Ads. By July 2023, they had roughly doubled their number of ad platforms and creatives, leading to a 17% month-over-month increase in global downloads according to data.ai Intelligence. This was even higher in strategic markets like the US at 44%. 
This strategy allowed them to see which platforms were most effective and adjust their investments accordingly. Currently, there are over 90 creative ads currently on YouTube and a large number of user-generated TikTok videos with high view counts, which suggests that these were some of their most successful ad channels.
Number of Ad Platforms US iOS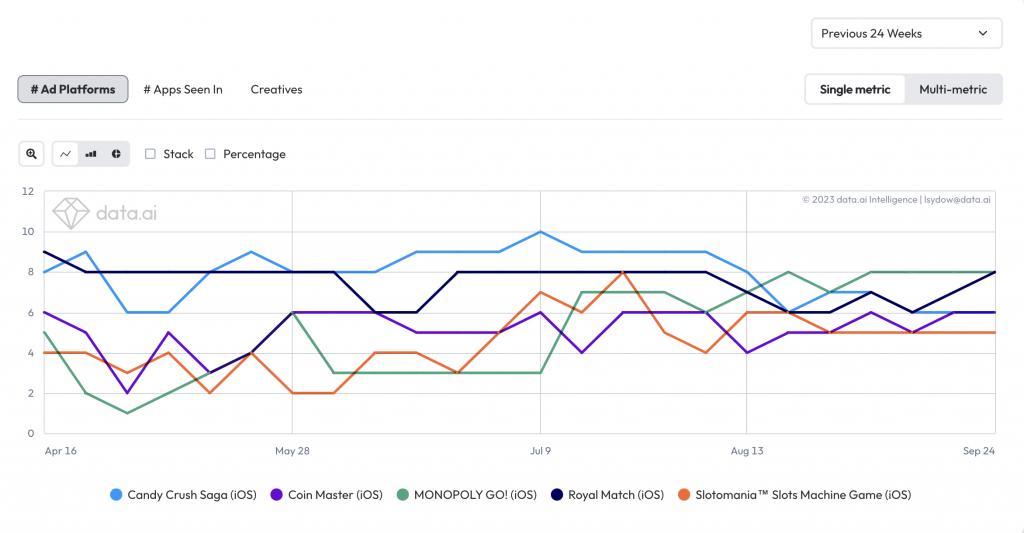 View which ad platforms are being used by your competitive set with data.ai Intelligence. 
Allowing players to connect their Facebook accounts can build on an app's social mechanics and extend its reach to older demographics. In addition to running Facebook ads, Monopoly GO! allows players to link their Facebook accounts and invite their friends to play the game. Scopely has also set up a Facebook group for trading in-game card sets, which currently gets over 10,000 posts per day from its 5.1 million members.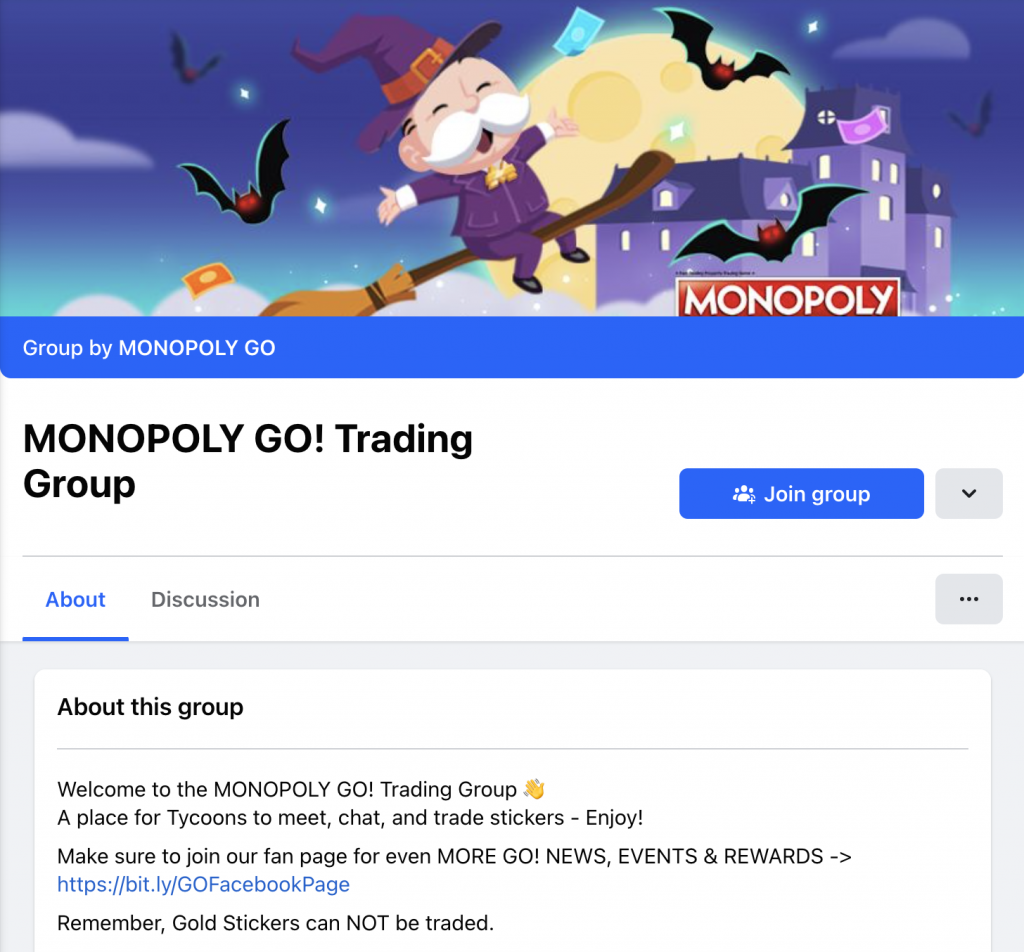 Because Facebook is popular with Millennials and older users, it's an effective complement to TikTok promotions targeted at younger players.
Gaming platforms outside of Google and Apple, such as the Amazon Appstore, offer wider audiences, less crowded marketplaces, and better discoverability. In August 2023, Scopely extended its long-term partnership with Flexion to bring Monopoly GO! to the Amazon Appstore, Samsung Galaxy Store, ONE Store, Huawei AppGallery, and Xiaomi GetApps. This multi-platform approach has been part of Scopely's UA strategy since 2015 and includes games like Star Trek Fleet Command and Yahtzee with Buddies. 
These additional platforms can maximize apps' potential audiences and improve discoverability because they offer a smaller selection of apps. According to Flexion, Evony: The King's Return quadrupled its audience after launching on alternative platforms.
Looking for More Mobile Gaming Insights?
Download data.ai's Gaming Spotlight Report to get a clear view of the state of play in 2023. The information contained in this analysis and reports is compiled from data.ai, the leading market intelligence solution for the app store economy. To see how our app store download, revenue, demographic and usage estimates can help guide your critical business decisions, request a demo today.