App Annie's mobile gaming analysts discuss what's in store for 2019.
In our 2019 mobile predictions post, we identified that mobile gaming will reach 60% market share of consumer spend in 2019. Our team of mobile experts discussed their views of the gaming market and the key drivers of growth for the sector.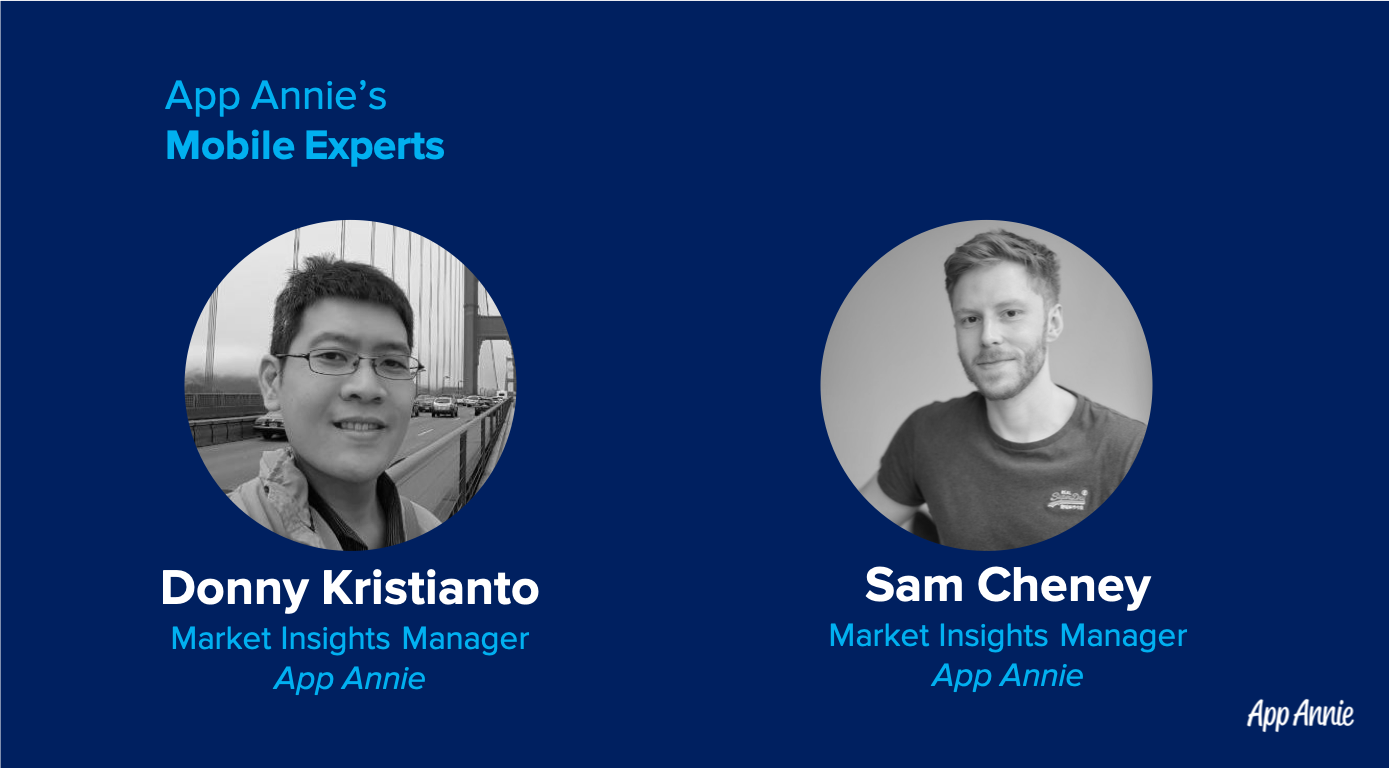 Will Cross-Platform Play Lead Mobile Gaming's Growth in 2019?
Sam: I'm not sure cross-platform play with consoles will be the dominant growth driver — off the top of my head there are still only a handful of games, such as Fortnite, Minecraft and Roblox, that offer true cross-platform play between consoles and mobile.
I would argue it's more a case that console-quality gaming is moving onto mobile, so the platform is able to hit more of gamers' needs than ever before (i.e., we're way past just casual games). Along with the continued rise of hyper-casual companies like Voodoo, we're really seeing the casual and hardcore ends of the gameplay spectrum expand.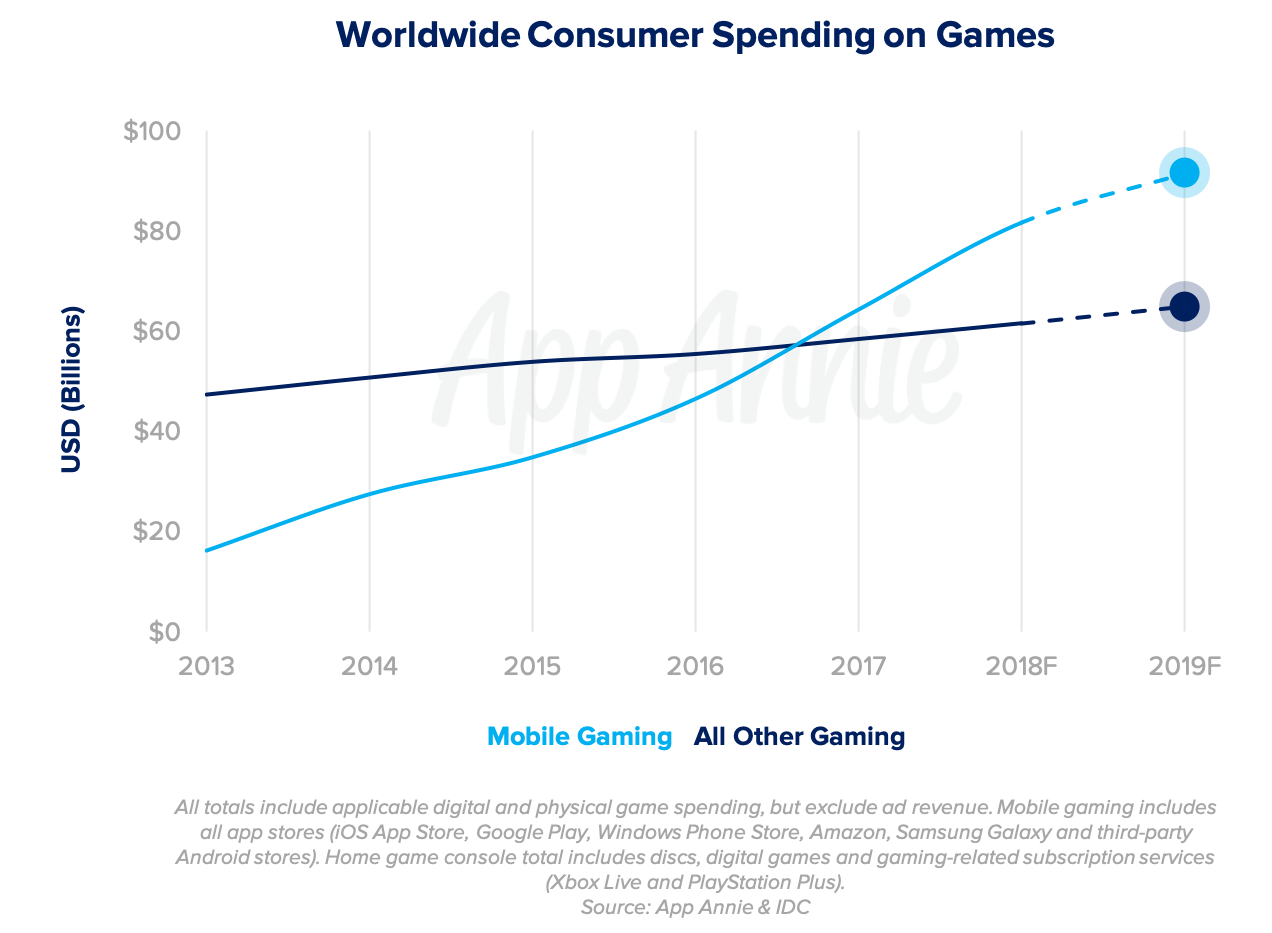 Mobile gaming is more appealing than ever before. Consumer spend on mobile games is larger than all other gaming formats combined — PC/Mac, console and handheld gaming.
Donny: I'm with you on this, Sam. Multiplayer games and hyper-casuals are definitely big draws on mobile, so would expect to see growth more driven by multiplayer / connected games and a new wave of hyper-casual games.
While cross-platform is a key part of the future, it's likely not the primary driver of growth itself. It's interesting that multiplayer used to be an afterthought and now it's driving the most engagement.
Is Multiplayer the New Gaming Trend of 2019?
Sam: I'm not sold on multiplayer being an entirely new trend. Games with multiplayer elements (e.g., Clash of Clans, Clash Royale, Golf Clash, Pokémon GO, Honour of Kings, Summoners War, Monster Strike) have been making stacks of money for years.
I do think there's something here about console-quality multiplayer being new though. Maybe it's a terminology thing I was getting hung up on originally? E.g., not cross-platform play (mobile players actively playing with PC/console players), and more about the mobile gaming experience maturing and catching up with the other platforms? 2018 was the year where it really became obvious that mobile was a sophisticated gaming platform in its own right, offering experiences (e.g., Fortnite and PUBG) that can match consoles. We expect this to continue into 2019.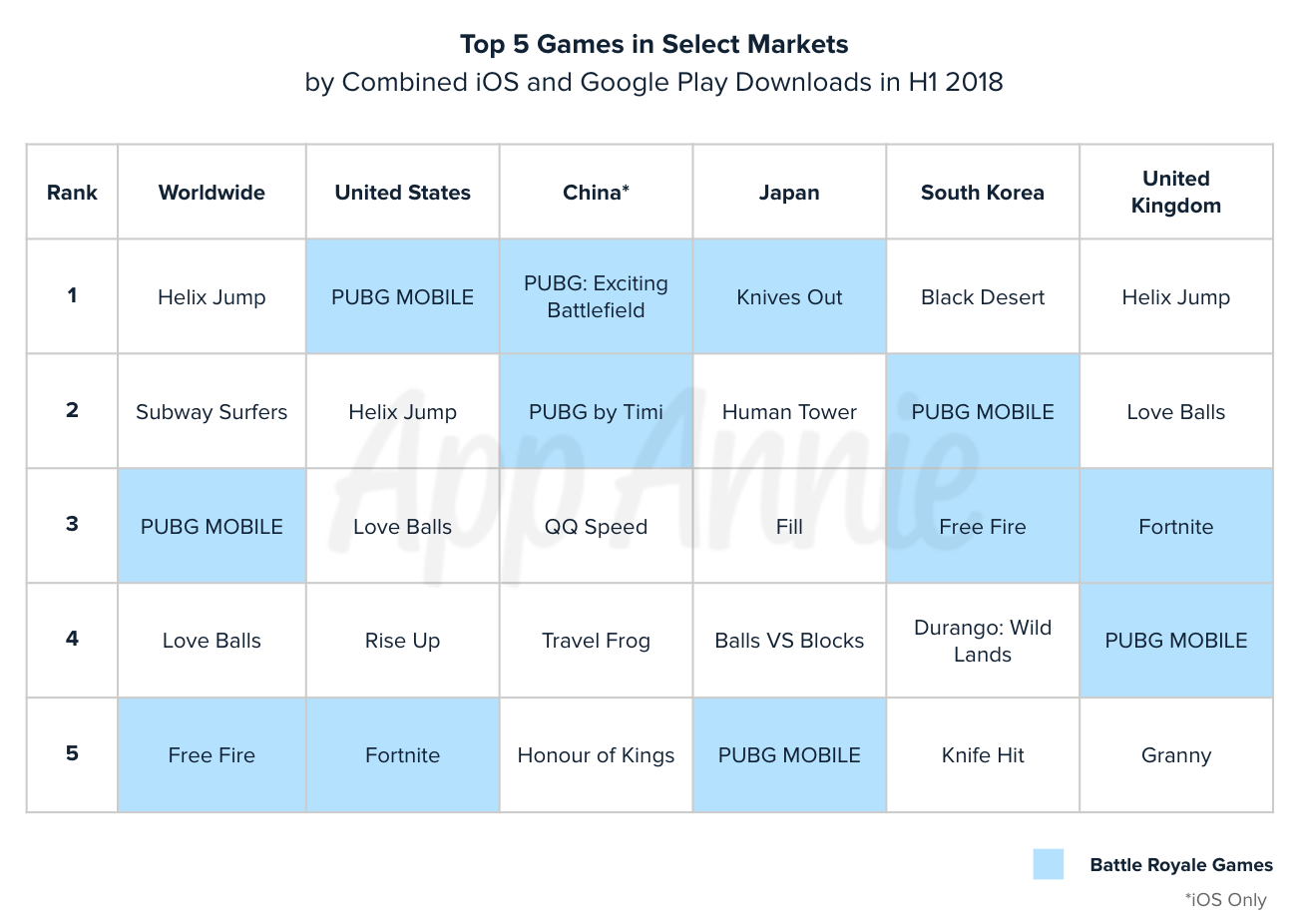 Battle Royale games — including Fortnite and PUBG — were top downloaded mobile games in H1 2018.
Donny: There is clear shift in terms of multiplayer features found in recent mobile games. Previously, they were limited to really simple (sometimes turn-based/ passive/ simulated) mechanics that just give the feeling that you're playing against another human being, and developers were quick to figure out simple ways to take advantage of the potential of social networks to create high engagement. Key motivations were tied to their social-sharing mechanics: focusing on comparing leaderboards or helping each other by sending game items. However, recently, publishers have increasingly incorporated competitive real-time play (as opposed to simple social-sharing features) and massively multiplayer sessions (as opposed to a smaller numbers of players) on mobile that put them on par with PC/console platforms (first with MoBA games like Honor of Kings, then with battle royale). They have shown that there's room for core mechanics like real-time action, strategy and shooters to be compelling on mobile — to complement and co-exist with conventional gaming habits. Also, of course, this is fueled by the fact that the base level of recent smartphone specs are able to support these games.
How Would You Explain Mobile Overtaking Traditional Platforms?
Sam: I think you nailed it, Donny. Core gameplay features have been increasingly showing up on mobile, but this year we've actually started seeing core multiplayer experiences appear. This level of multiplayer experience really stood out, as a lot of us thought it was a long way off. I remember a lot of the coverage of the various battle royale games expressed surprise at how good the experience was, and how close it was to the PC/console versions. It really felt like a step change. A real "I'm living in the future" moment.
It's highlighted how capable smartphones have become, and how these core experiences will become increasingly prominent on mobile.
This helps to explain why mobile is overtaking traditional platforms. If we assume gameplay experiences run on a spectrum from casual to hardcore:

Mobile games previously existed towards the casual end of the spectrum. PC/consoles are more in the Core block to the right (drifting a little into casual).
PC/consoles haven't really changed their scope — if anything they've become a little more 'hardcore' with the growing focus on 'games as a service' from the big publishers. In contrast, mobile has spread into the hardcore end of the spectrum, and further extended into the casual end with hyper-casual experiences. The platform's target market has grown to cover more of the total addressable gaming market — further amplified by the fact nearly everyone owns a smartphone.
Could I throw out a slightly random long shot prediction? I think we'll also see companies start to experiment with streaming games onto mobile this year. Google's recent trial of Project Stream — streaming the latest Assassin's Creed game through Chrome browsers on laptop/desktop — is a great example. This sort of service allows performance-intensive games to be processed in the cloud, with the output then streamed to users' devices. Users won't need expensive, powerful hardware to play these games, just a fast internet connection to see the output. If and when this reaches mobile, it will allow near identical experiences across platforms. Mobile could extend its reach even further into the hardcore end of the spectrum.
What's Next for Mobile in 2019?
2019 is set to be a blockbuster year for mobile gaming and mobile overall — including record levels of apps global mobile ad spend, video streaming on mobile devices and consumer spend across the app stores. For a deeper dive on our key mobile predictions, view our 2019 in Mobile: 5 Things You Need to Know Webinar: