When you're a company like Marvel, a brand that's been going strong since the 1940s and touting iconic characters like Captain America and The Hulk, you probably want to expand to new channels. Just because you have a brand name doesn't guarantee success – and anyone in gaming can tell you expansion to new platforms isn't easy.
Well, that's not the case for Marvel, a company that's been taking its brand to mobile in a big way. Its keen ability to find key partners and strong mobile strategy helped create an app portfolio full of successes.
Curious how Marvel's doing it (and, more importantly, doing it so well)? We dive into the nitty-gritty below.
Marvel's App Store Heavy Hitters
Marvel has already proven itself against other apps. In our Worldwide Index for Games May 2015, Marvel Future Fight was #6 by overall downloads and rode just behind juggernauts like Clash of Clans. Likewise, back in September 2014, Spider-Man Unlimited reached #2 by overall downloads, placing it between Candy Crush Saga and Subway Surfers. While these two apps have been previously highlighted, there are many more hidden gems in the Marvel brand.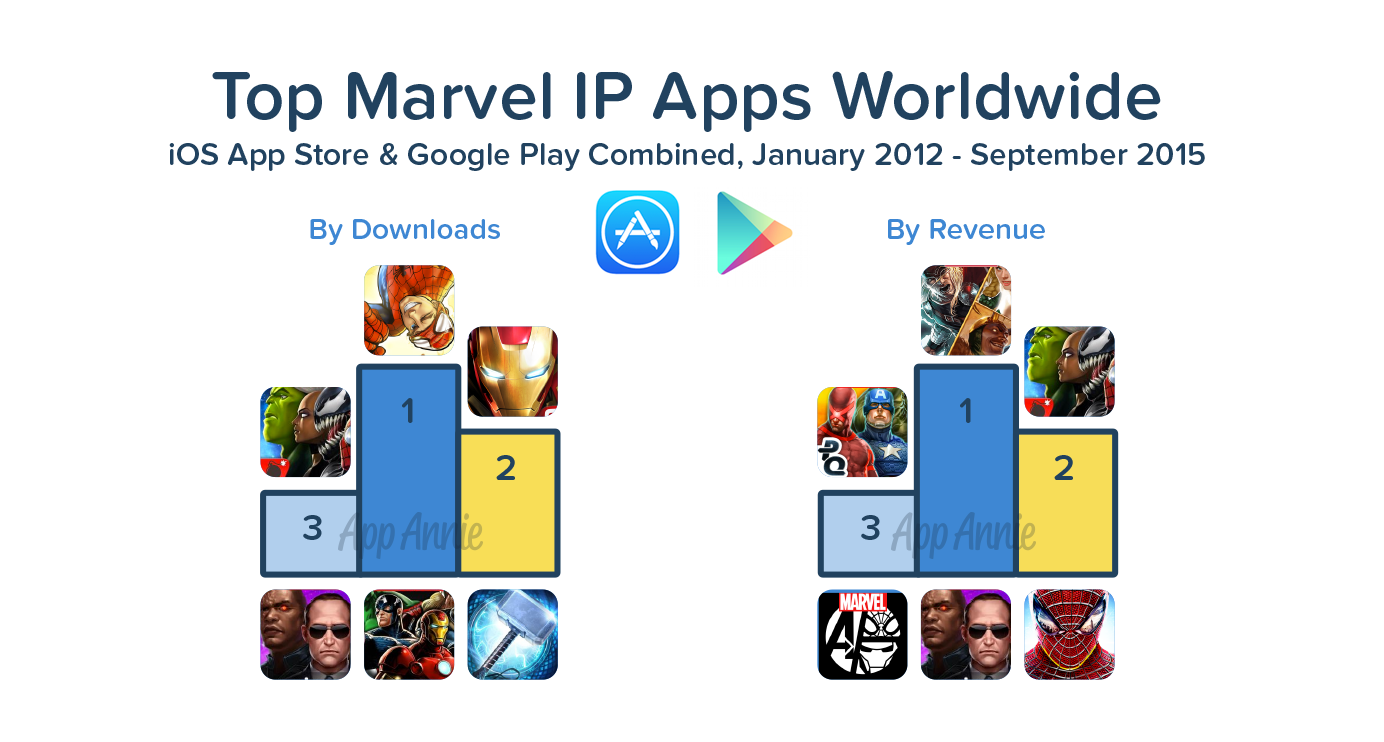 Now let's focus on Marvel's mobile apps. Using Store Intelligence, we looked at the current active worldwide Marvel titles on both the iOS App Store and Google Play from January 2012 to September 2015, including free, freemium, paid and paidmium games and apps. Among Marvel's Top Apps by downloads and revenue, 10 apps emerged (two apps making both rankings):
By Downloads:
By Revenue:
Of the 10 individual apps from our analysis, 9 were games featuring solo heroes, established teams or a variety of characters from multiple comics. Marvel Comics, Marvel's digital comic distribution app, was the only media and entertainment app to take a spot on the revenue rankings.
Tapping Into Games Globally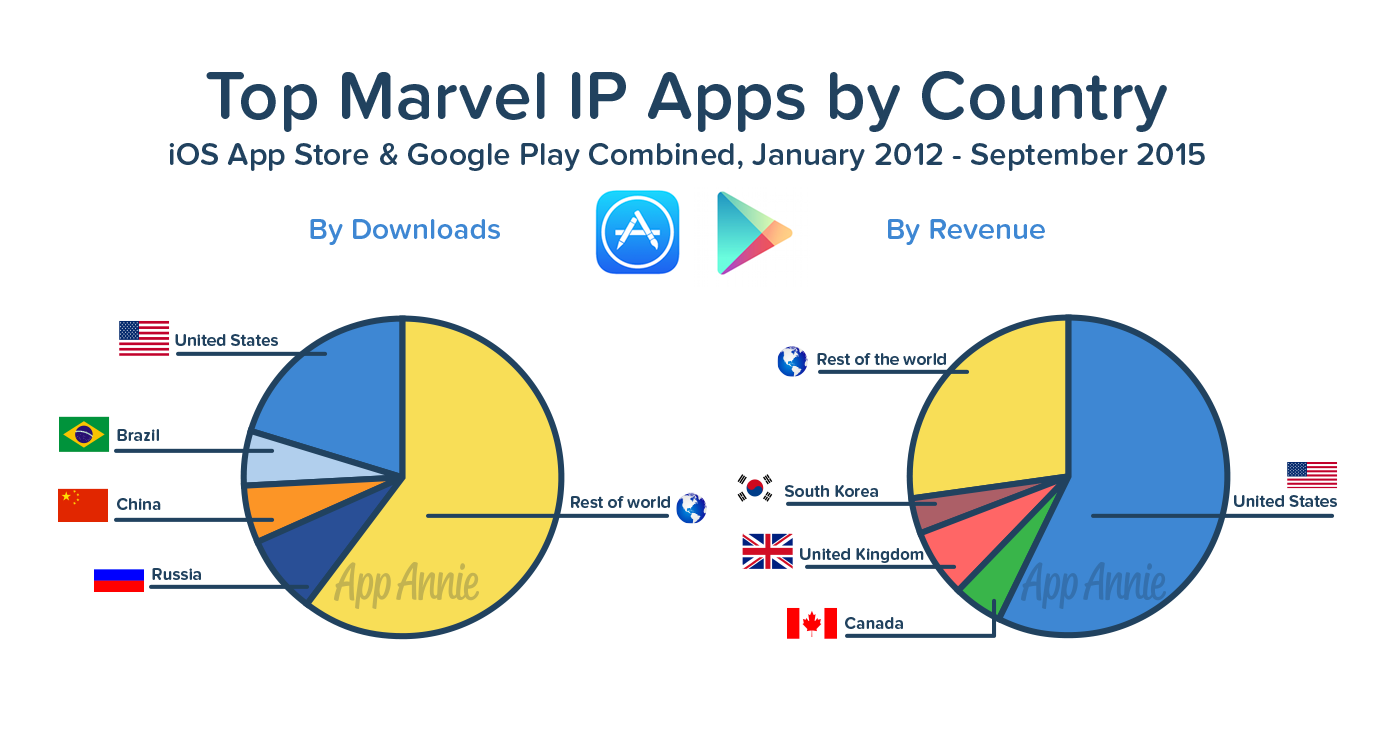 We compared the 9 Marvel games to see where the brand was making the largest impact in downloads and revenue. Unsurprisingly, the United States led by both measures, but many other countries showed they crave the Marvel IP.
Brazil and Russia (a country with a rapidly growing mobile app economy) had significant downloads. All top-downloaded games had impressive Google Play performance in Brazil and took nearly all of Russia's Google Play rankings as well.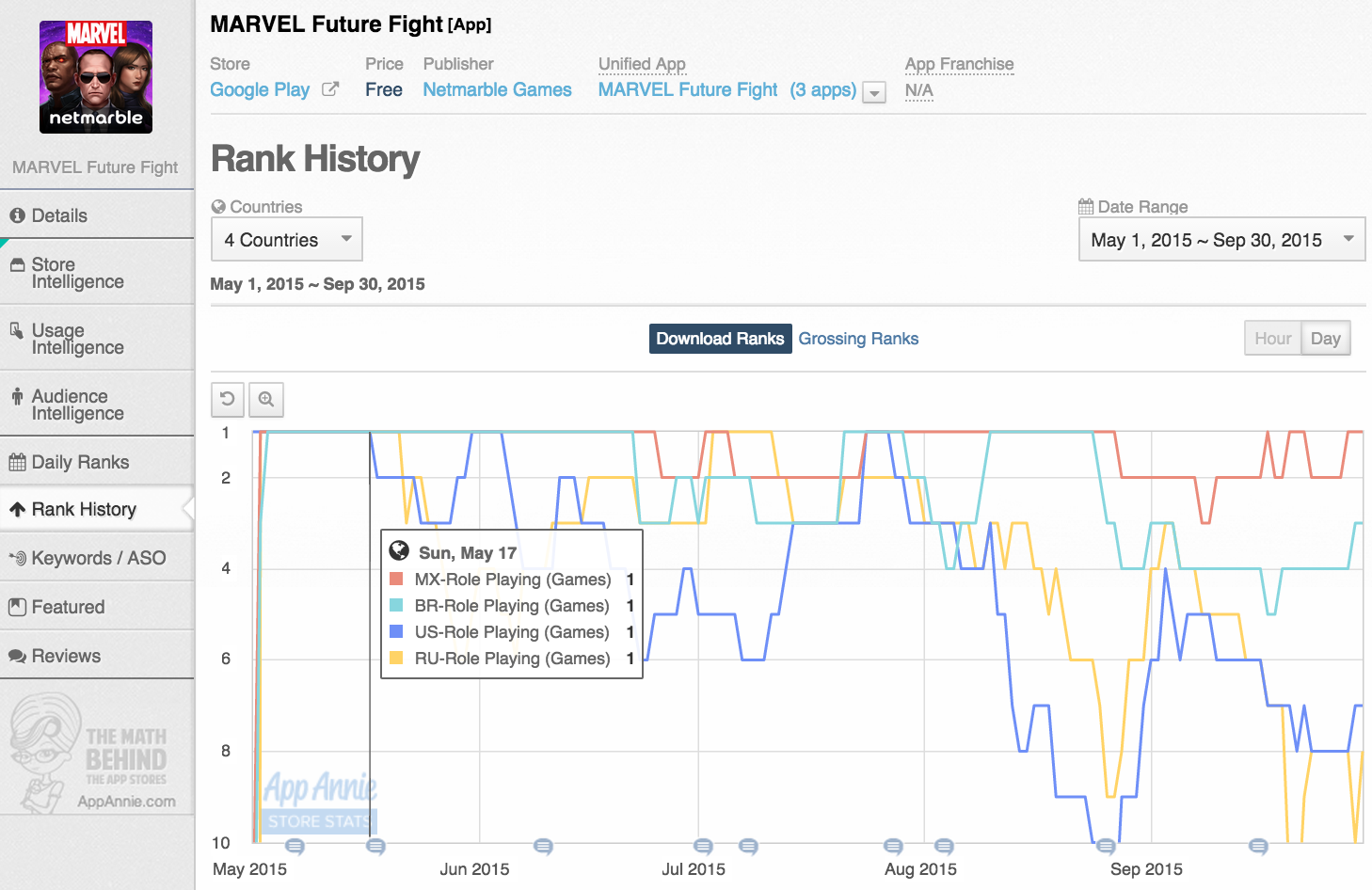 Since its release in March 2015, Marvel Future Fight has been popular in the Role Playing (Games) category on Google Play in Brazil and Russia.
China coming in at #3 by overall downloads showcases the franchise's appeal in the country that recently leads all others by iOS downloads. However, it's less surprising if you consider how much Marvel movies typically gross in China (especially in the case of Iron Man 3 and Avengers: Age of Ultron).
Meanwhile, the United States played a big part in making Marvel War of Heroes, Marvel Contest of Champions and Marvel Puzzle Quest huge top-grossing successes. Marvel Contest of Champions also pulled in strong revenue from the United Kingdom and Canada.
It's easy to see that Marvel is a massive brand in mobile gaming and has major appeal not only in North America, but globally — particularly in Asia and South American markets.
Publishers Score Multiple Times
Three publishers stood out in our analysis, appearing several times with one or more titles.
Gameloft took 4 spots, snagging #1, #2 and #6 by downloads and #6 by revenue. This placed it in a dominant position by total downloads and made it the only company to make a large chunk of revenue through a paid business model instead of freemium.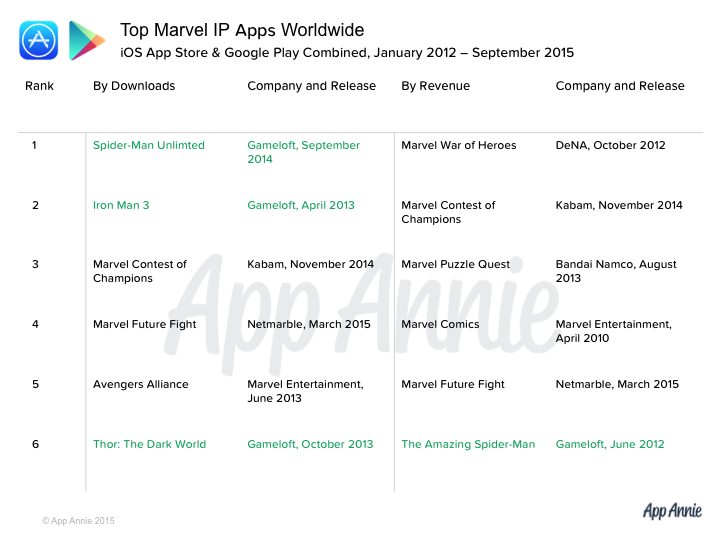 Kabam and Netmarble made both the download and revenue charts with their hit games Marvel Contest of Champions and Marvel Future Fight, respectively. Their rapid growth is impressive — Marvel Contest of Champions released in November 2014 and Marvel Future Fight just debuted in March 2015.
Both titles made use of the freemium model and in-app purchase bundle currencies. In fact, five of the six top revenue apps relied on in-app purchases instead of paid models.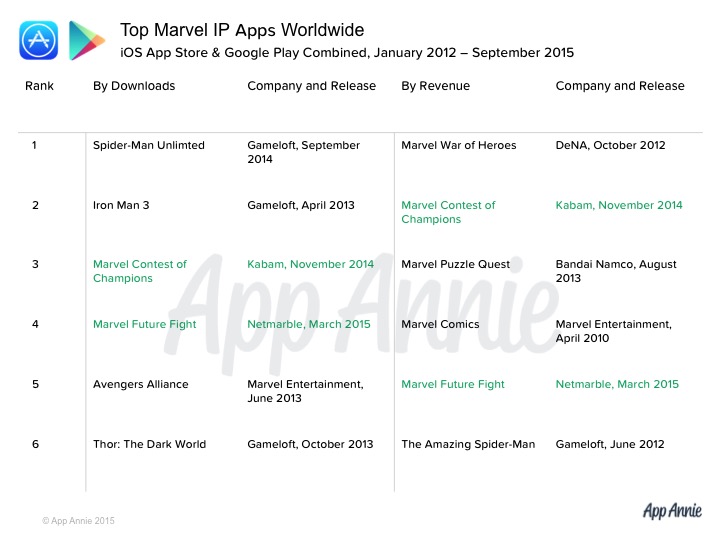 The Heroes Driving Downloads
Of the 10 Marvel apps we identified, the most popular family of characters is the Avengers and their core members, Iron Man and Thor. The team and its members took the #2, #5 and #6 ranks by downloads, and many Avengers characters appear in the other top apps. This popularity may be due in part to the ongoing Marvel Cinematic Universe, which is already planned until mid-2019, and spin-offs on ABC and Netflix.
The Marvel Cinematic Universe played a large part in making Avengers a popular IP.
The most popular standalone hero is Spider-Man, taking the #1 rank by downloads and #6 by revenue. The wall crawler already appeared in five films produced by Sony Pictures Entertainment and is slated to cross into the Marvel Cinematic Universe during Captain America: Civil War in 2016.
While heroic mutants didn't make either top 6 list, the 2016 release of X-Men Apocalypse may revitalize worldwide interest in the X-Men franchise. Popular characters like Wolverine and Cyclops are also featured in screenshots and icons (by the way, you can get tips and best practices from our screenshots and icons guides) for Marvel War of Heroes, Marvel Contest of Champions and Marvel Puzzle Quest.
Crafting a Hit in the Marvel Universe: A Word From the Experts
We spoke to experienced mobile marketers about their experience publishing hit Marvel apps.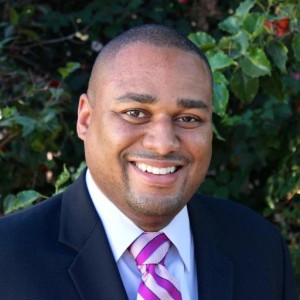 Javon Frazier, Former Vice President of Marvel Games Marketing.
Javon Frazier, former Vice-President of Marvel Games Marketing, talked about the key partnerships he was able to forge. "At Marvel, we were able to partner with top-tier app developers like DeNA and Gameloft to create exciting and immersive gaming experiences."
Frazier was a fan of Marvel at a young age and had a personal investment to create great apps. "Growing up passionate about the Marvel Universe, it was rewarding to contribute to the quality of Marvel Games.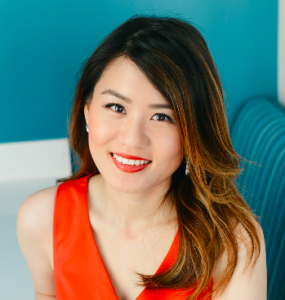 Stephanie Lin, former Product Marketing Manager at Kabam and former Product Marketing Lead at DeNA.
Stephanie Lin, former Product Marketing Manager at Kabam and former Product Marketing Lead at DeNA, had the pleasure of working on two Marvel titles. "Marvel is one of the world's most beloved brands with millions of fans around the world. Working with such powerful Hollywood IP on games like Marvel War of Heroes (DeNA) and Marvel Contest of Champions (Kabam) was a real treat, given the incredible organic pull of the Marvel brand."
Finally, Fabien-Pierre Nicolas, VP Marketing & Communications at App Annie and former Marketing Director at DeNA, closed the discussion. "Having been a part of the team to ship Marvel War of Heroes and seeing it top the Marvel IP app revenue list is an honor. This was widely possible due to strategic collaboration and leveraging an iconic brand with a strong following. Invest time and energy into your app/game: market all the key IP assets you have access to from your license agreement and tap into existing communities, including social channels and websites."
He went on to discuss his expectations for Marvel's IP growth on the app store: "As far as IP licensing, I expect Marvel's reach to keep increasing globally year-over-year given the breadth of the vision Disney has for the overall universe."
Brands: The App Store Stimulant
Marvel's success shows that established intellectual properties are a key driver in games downloads and revenue. Additionally, publishers are evolving their approach to marketing Marvel apps, like we're seeing with the Marvel Puzzle Quest commercial featuring The Incredible Hulk actor Lou Ferrigno.
Other franchises can follow in Marvel's footsteps. Keep an eye on app store rankings in December 2015, when the highly anticipated release of Star Wars: The Force Awakens could boost several existing and yet-unreleased Star Wars games.
It's an awesome time to be a brand on mobile.
Want More? App Annie Has It
Subscribe to our blog to see more app industry reports, conference updates and product news. We love hearing from our readers, so share your questions and comments below or on Twitter.
Want to perform your own analysis? Create a free Store Stats account or request an Intelligence demo today.