The long anticipated mobile version of the popular MOBA game has crossed its first major milestone
A Multiplayer Online Battle Arena (MOBA) game, according to App Annie's Game IQ, originally published by Riot Games (Tencent), League of Legends: Wild Rift has surpassed the major milestone of seeing over $150 million in consumer spend across the world as it marks one year of its global rollout.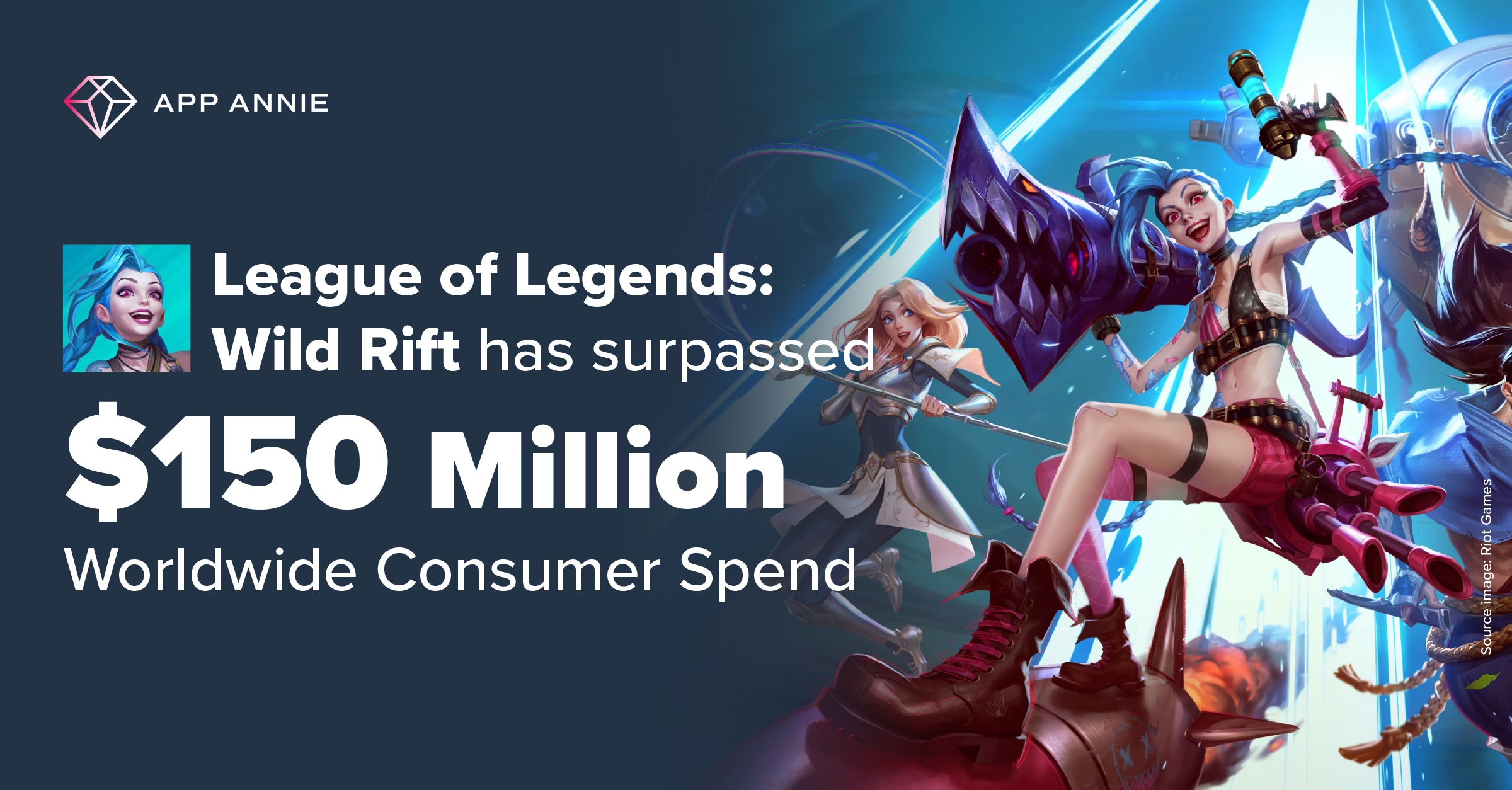 The game first launched in October 2020 as a regional open beta in key markets across Asia Pacific such as Japan, South Korea and Southeast Asia. The rollout further expanded to the Americas, Europe, Middle East and Russia in March 2021 before finally being released in China in early October 2021. The top markets by downloads include Brazil, United States, Vietnam and South Korea, while China, the United States and Brazil contributed the most to the consumer spend share. In fact it's the second fastest MOBA game to reach the $150M milestone after Honor of Kings, almost twice faster than Mobile Legends: Bang Bang, which is currently the second biggest MOBA Game by lifetime consumer spend globally.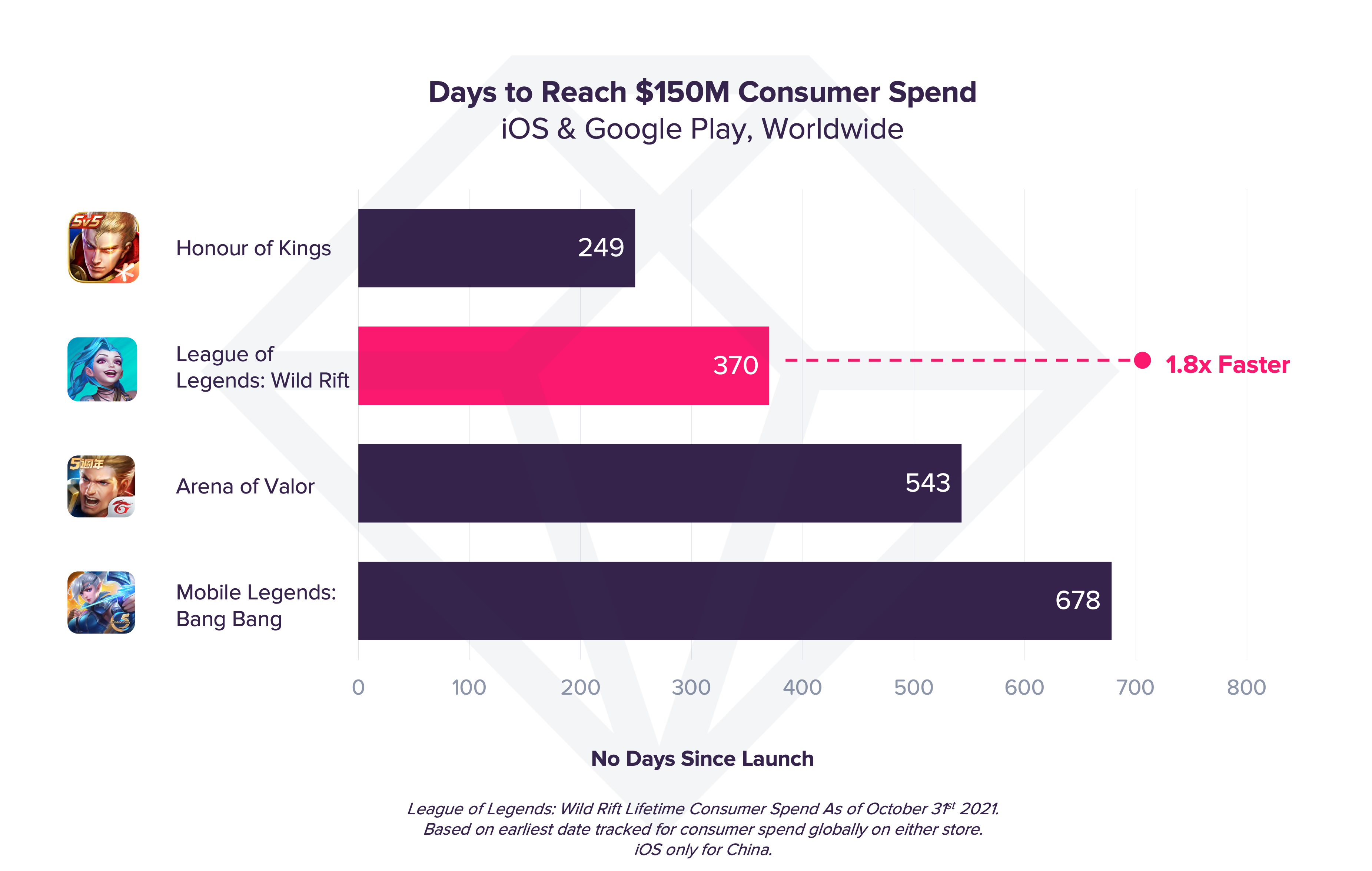 League of Legends: Wild Rift offers the same familiar MOBA mechanics, champion characters and player progression system that made the PC version a huge success, with a slightly simplified control scheme and gameplay rules optimized for mobile devices. This allows it to be more accessible to both newcomers and loyal fans who can stay engaged with the brand while on the go. Like many of its MOBA peers, League of Legends: Wild Rift monetizes through in-app purchases and subscriptions, where players can obtain exclusive in-game cosmetics and items. Most MOBA games also offer innovative ways to keep players highly engaged by allowing non-paying users to obtain premium items only through participation in daily tasks and special events. For instance, a distinctive Box Gacha feature offered by League of Legends: Wild Rift called Poro Chest, which is a type of gacha system where exclusive rewards are offered from a limited pool and no longer made available within that gacha once obtained, meaning that a player has some foresight into the available prizes. Such systems incentivize players with regular activity and in turn, boost both engagement and consumer spend.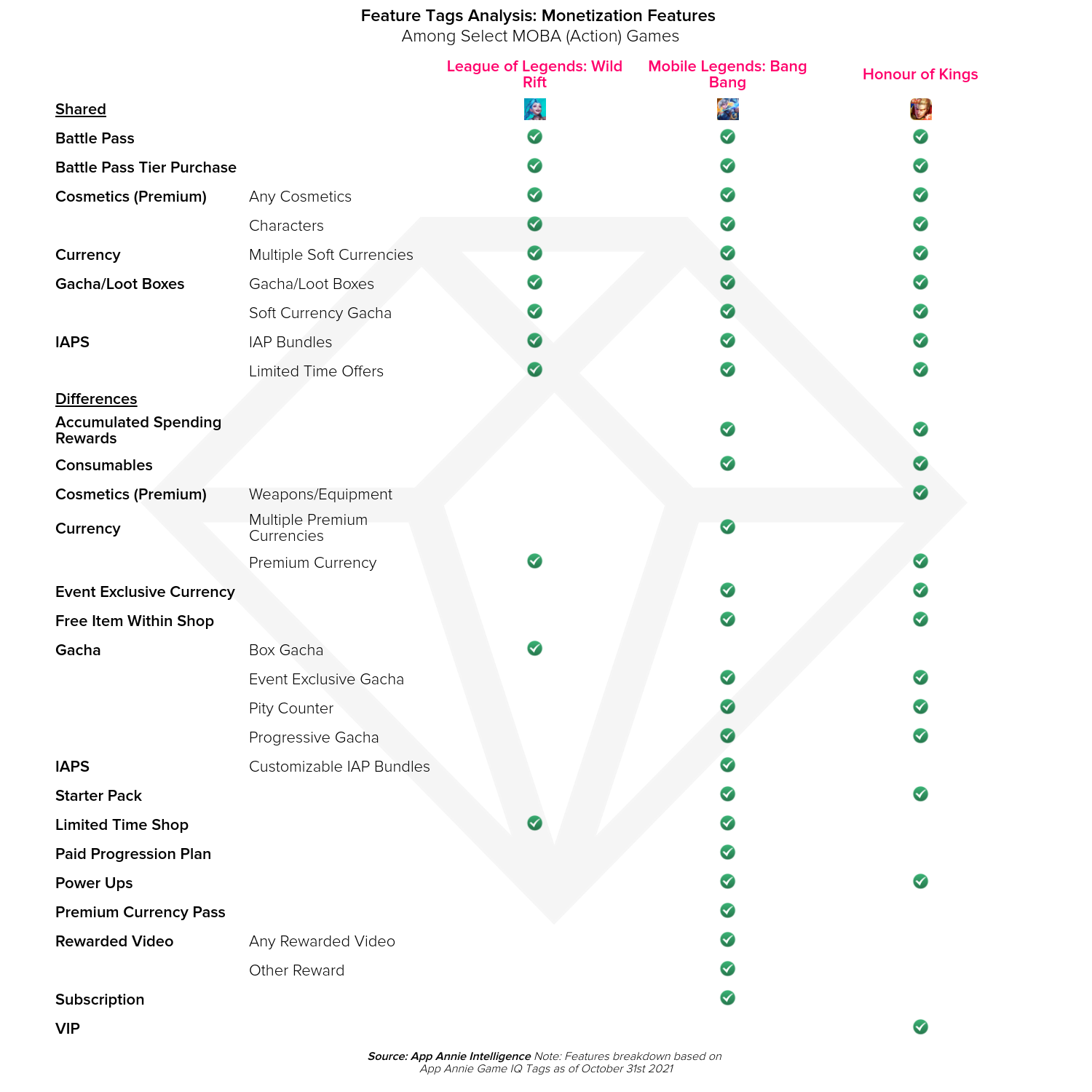 App Annie's advanced Feature Tags reveal features that are prevalent across your competitors.
Ready to uplevel your mobile gaming performance? Join our demo to discover the new capabilities of Game IQ:
DISCLAIMER: 
App Annie is a mobile market estimate service provider. App Annie is not registered in any investment advisory capacity in any jurisdiction globally, and does not offer any legal, financial, investment or business advice. Nothing contained in this communication, or in any App Annie products, services, communications, or other offerings, should be construed as an offer, recommendation, or solicitation to buy or sell any security or investment, or to make any investment decisions. Any reference to past or potential performance is not, and should not, be construed as a recommendation or as a guarantee of any specific outcome. You should always consult your own professional legal, financial, investment and business advisors. Additionally, by providing the information herein, App Annie does not make any representations or warranties and does not undertake any legal or contractual obligations whatsoever. No liability may accrue to App Annie as a result of providing this information to you.