In a webinar hosted by App Annie, iDreamSky and Plarium share their experience of operating in international markets.
iDreamSky is one of China's most successful games companies. Plarium is a global super-publisher based in Israel. During our recent webinar How to Successfully Publish Core Games in the Western and Eastern markets, Sam Yang, SVP of Global Field Operations at App Annie, provided a deep dive into market trends. He also moderated an engaging discussion around key gaming trends and the opportunities for publishers to grow in the hardcore mobile gaming space.
Core gaming is not only where the money is but it's where players spend time. According to our State of Mobile Gaming 2021, core gamers generate 66% of spend and 55% of time spent on mobile games. As Sam highlighted, the mobile gaming industry is on track to surpass $120 billion in consumer spend in 2021 — capturing 1.5x of the market compared to all other gaming platforms combined...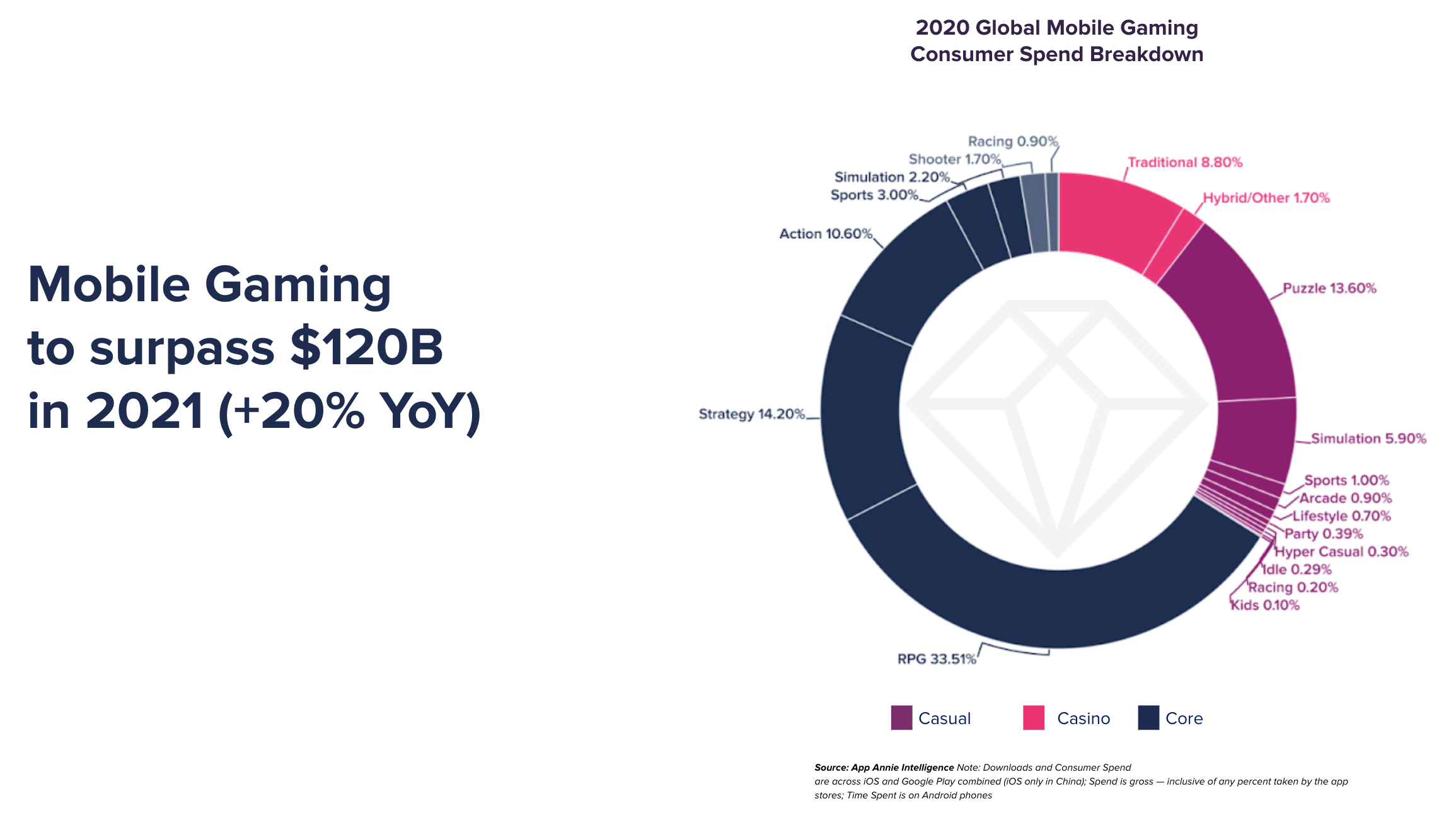 Less pressure, more fun — the making of iDreamSky's Super Animal Royale
iDreamSky is one of China's biggest games publishers. It specializes in bringing Western titles such as Monument Valley and Temple Run to its home market. But it also makes its own games.
Jeff Lyndon went on to explain how the social pressure shaped the development of iDreamSky's Super Animal Royale title. In short, the company went in the opposite direction — putting the emphasis on snackable fun. "We dropped the whole idea of putting ranks in the game. We wanted to create a light-hearted version of a Battle Royale game, so people could actually enjoy playing it. And so far, just since Chinese New Year, we've got 300,000 players organically in a closed beta without any marketing."
Getting noticed: the power of genuinely creative marketing
Lyndon's fellow guest on the webinar, Ronen Gross, VP of Business and Corporate Development at Plarium, brought a more Western perspective to the topic of core gaming. Plarium is an Israeli-based publisher, with 380 million active players across 150 countries.
The company is known for its committed and creative approach to marketing.  Plarium employs 150 people in its marketing department and is especially well-known for its video ads, such as the series in which characters from its hit RAID: Shadow Legend title complain about their relationships to a therapist. Some of these ads have more than 500,000 views on YouTube.
Gross said: "We have up to 15 to 25 people working on a video. Everyone adds something — from the visual gags to the body language to the motion capture and the voice talent. Basically we don't stop work until it makes us all laugh."
Interestingly, one of the reasons why RAID has become such a huge success is that it fuses gameplay elements from both the East and West. Gross said: "RAID carved out a specific untapped niche... It put a more adult-style polished look into the hardcore fantasy genre, and used that style to bring players to an Asian-style gotcha game. No one else was (doing that) before. I think we were able to provide a more Western experience in terms of characters, UI and monetization." 
The challenge of biz dev when you can't meet in person
 During the webinar both Gross and Lyndon reflected on the strangeness of doing business development in a year of international travel restrictions. "Finding opportunities is so much harder now," said Gross. "You have to look online instead of finding them coming your way because you're at a conference somewhere."
"I was never in the office more than 10 days in a row before the pandemic," added Lyndon. "Staying in the office and figuring out new opportunities online is a lot more challenging as a BD."
And yet, thanks to the huge growth of mobile gaming during lockdown, Gross reflected that there was still a hunger for partnerships and deals.
"I saw a lot of M&A deals occur during the pandemic — even with not traveling," he said. "Companies had rising revenues in the pandemic and wanted to increase their valuations. That's fascinating to me."
Best practices for finding insights in games industry data
In the absence of travel and conferences, Gross and Lyndon say they relied even more heavily than usual on data to guide their business decisions. Both are keen users of App Annie's analytics services — and they have strong opinions on the best way to approach these tools.
"One insight I have is that you can't just look at data and expect a solution from it," said Lyndon. "You have to bring a problem and some sort of thesis to it.
"A lot of my BD guys think they are going to get an answer — that the data is going to tell them which game is going to work, or which games company they should be talking to. I always say: if it's going to do that, then your role is useless!
"The trick is to build a thesis in your head and try to use any data to support it. If it doesn't, then maybe your thesis is wrong, and it's highly likely that in the real world your idea is not going to work and you might spend millions of dollars figuring that out." 
What to watch out for…cross platform and cloud gaming
At the end of the webinar, the guests pondered the future of the core gaming space. Both believe cross platform and cloud gaming will have a significant impact. From his Chinese perspective, Jeff Lyndon believes the big opportunity will be in turning mobile games into a big screen experience.
He said, "For Western players, cross-platform is like, 'Oh, I can play my favorite console game on the bus.' But most Chinese gamers just play games on their phones — and now they can play on the smart TV at home. That will be an experience overload."
Lyndon thinks overseas developers can benefit from this transition. "Chinese developers are some of the best in the world because we have so much mobile experience. But it will take time for them to catch up on making PC games — and even more so for consoles. So I think there will be a period of three to five years where foreign developers can come in with high quality games in cross platform and cloud gaming."