We take a close look at the Japanese mobile gaming industry, where players are deeply engaged and unique monetization models drive massive revenue growth
Tokyo Game Show is one of the most important events in the gaming world, and from September 21-24, 2017, all eyes were on Japan again as the game industry's top developers and publishers shared their latest hits and upcoming titles with gaming fans from all over the world. This event has traditionally centered around console video games from Japanese publishers; however, the presence of mobile games and foreign developers, especially from neighboring countries such as China and South Korea, has steadily increased over the past few years. In fact, last year the show hosted a record 614 exhibitors from 36 countries, and this year's event marked yet another exciting time for mobile gaming in the world's' #1 market for mobile game revenue.
Mobile Gaming in Japan Keeps Gaining Momentum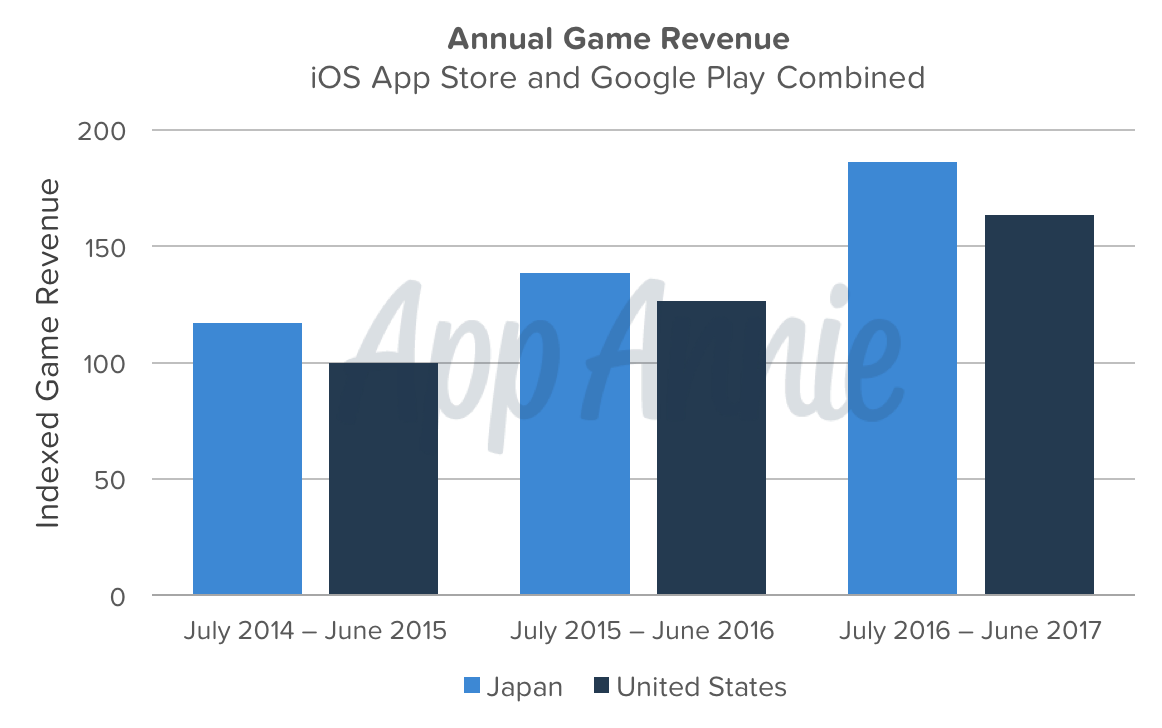 Japan presents a compelling and growing opportunity for publishers of mobile games. Mobile gaming revenue in Japan grew approximately 35% year over year in the 12 months ending June 2017, surpassing that in the US for three years in a row. This is impressive considering the US has over three times as many smartphone users than Japan. Japan's mobile gaming revenue is particularly concentrated in the top games — in the 12 months ending June 2017, the top 10 games by revenue accounted for more than 40% of all gaming revenue. This makes success in Japan especially lucrative.
However, there are a number of unique characteristics that distinguish mobile gaming in Japan from the rest of the world, and understanding these traits is key to building a strong customer base. To help developers and publishers maximize their chances for success, App Annie partnered with Dentsu, Japan's largest marketing agency, and held a joint presentation on the state of mobile gaming in Japan.
Fill out the form below to learn just how much time Japanese mobile game players spend in sessions, which genres dominate there, and how unique game mechanics contribute to revenues. This is a report that anyone with a stake in mobile gaming can learn from.
Customers who log-in will be able to see those insights immediately.