The new Google Maps API will make Jurassic World Alive, Ghostbusters World and Walking Dead: Our World possible. This will be the start of an exciting period of experimentation for location-based games.
2018 will be the year where location-based augmented reality (AR) features will finally reach more mobile games.
A number of big name launches are on the horizon — including Jurassic World Alive, Ghostbusters World and The Walking Dead: Our World — but after Pokémon GO's phenomenal success in 2016, why has it taken the rest of the industry so long to catch up?
In this post, we'll discuss how Pokémon GO's developer Niantic maintained dominance for so long, what's changed to allow more competitors to enter the market and what all of this means for mobile gaming going forward?
Niantic Led the Way
Pokémon GO is one of the most successful games of all time. In March 2018, almost 2 years since its release, it was still the 8th most played mobile game worldwide across iPhone and Android phone combined.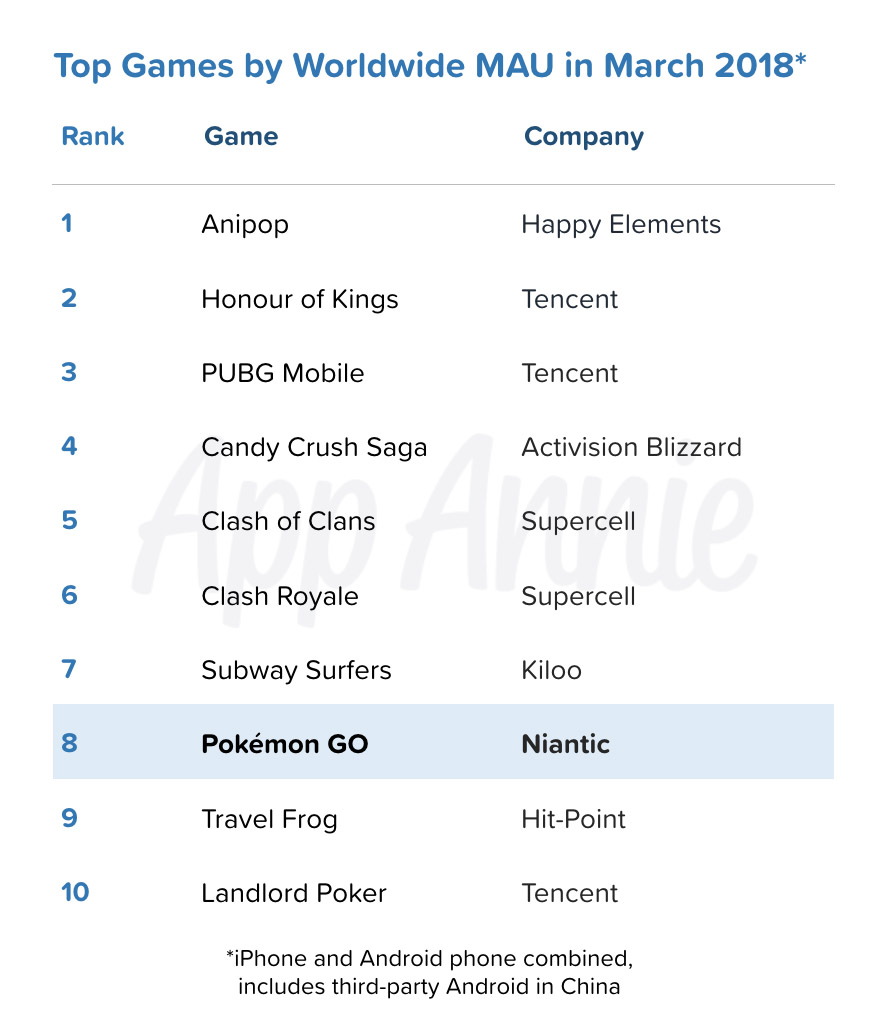 Need to track performance of apps? Sign up for Intelligence Free here
However, in an app economy where success is frequently copied, the Pokémon GO formula has so far gone unreplicated. What's holding challengers back and what can be learned from Niantic's incredible success?
Location, Location, Location
While the Pokémon brand and AR technology were both central to the Pokémon GO experience, it was Niantic's masterful use of location data that made the game so compelling and profitable.
Niantic's wealth of location data enabled them to promote locations, such as Starbucks, to their players
Reliable, accurate and relevant location data was crucial for gameplay — who could forget the site of grown men and women stampeding towards a strategically placed Vaporeon in New York's Central Park? In addition, a savvy use of sponsored locations encouraged players to visit businesses such as Starbucks, McDonalds and Sprint, allowing Niantic to earn up to 50 cents per visit. Niantic has a significant advantage when implementing these features because of their unique pedigree when it comes to location data.
The company began as an internal Google startup, with its founder John Hanke having previously led Google's Geo division where he developed products such as Google Maps, Earth and Street View. Building on this already impressive foundation, Niantic had years to further refine its location expertise and data through Pokémon GO's predecessors Field Trip and Ingress. This expertise has made Pokémon GO's gameplay very hard to replicate. However, following a series of announcements at this year's Game Developers Conference (GDC), it seems other mobile game publishers may soon be hot on Niantic's heels.
Google Maps API Evens the Playing Field
During this year's GDC, Google announced plans to open up its Maps service to game developers via an expansion to the Google Maps API. Upcoming AR games Jurassic World Alive, Ghostbusters World and The Walking Dead: Our World have all announced they will use the new API.
Google's new API will support the eagerly anticipated Jurassic World Alive, Ghostbusters World and The Walking Dead: Our World
Google's API gives developers access to a customizable map, based on the Unity Engine, containing millions of editable 3D buildings, roads and landmarks. The map also contains information about key points of interest — for example landmarks or businesses — that developers can feature within their game, and potentially promote as a part of sponsorship deals.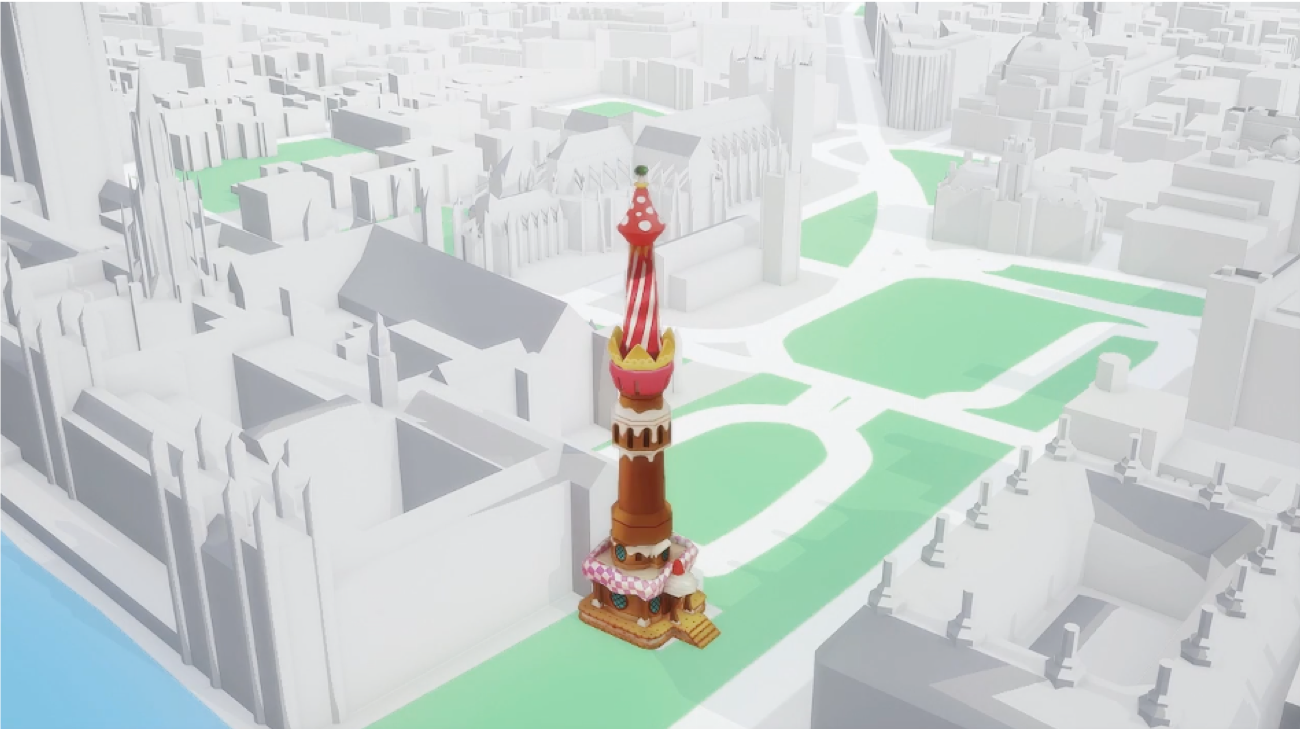 Customizable Google Maps, built in the Unity engine, allow developers to replace or add objects with their own creative elements.
Finally, since these maps are built on Google's infrastructure and servers, they have the capacity to support huge numbers of concurrent players. This minimizes the early instability that new games sometimes experience when an unexpected influx of players tries to access bandwidth intensive features such as maps.
It seems that the API is a powerful tool that will allow more developers to implement features that have, until now, been unique to Niantic.
Will Upcoming Games Surpass Pokémon GO?
At its peak, Pokémon GO had many hundreds of millions of players globally — in theory a huge potential market for new games to tap into. However, Pokémon GO was a cultural phenomenon, based on novel technology and it may be difficult for similar games to capture our collective imagination in the same way.
Even if new releases do not hit the incredible peaks of Pokémon GO, there is still a massive addressable market for location-based gaming. The many millions of players that remained engaged with Pokémon GO for months, and even years, after its release are testament to that.
This is good news for mobile gaming as a whole. We're going to see intense competition to acquire loyal AR gamers, and this is going to bring a flurry of new and experimental gameplay features that complement location technology. Upcoming games are already starting to innovate:
Jurassic World Alive features real-time player vs. player dinosaur battling, a gameplay mechanic that many have been waiting for in Pokémon GO.
Ghostbusters World requires players to use PKE meters, proton packs and traps to find and capture ghosts that are hidden in their environment.
Walking Dead: Our World allows users to fight and clear hordes of zombies from real world locations, using realistic weapons, alongside key characters from the franchise.
Finally, it's important to mention Niantic's own re-entry to the category. Their next game, Harry Potter: Wizards Unite, is set to be released later this year under Warner Brothers' new Portkey Games label. Based on one of the world's most well known brands, likely co-promoted with Fantastic Beasts: The Crimes of Grindelwald, and operated by the reigning champ of location-based AR gameplay — Wizards Unite will be a tough competitor for the incoming Google Maps games. It will take something truly special to unseat Niantic as the leaders in the AR gaming space.
We're at the start of an explosion in gameplay innovations — and with Google recently announcing enhancements to ARCore, there are more possibilities open to developers than ever before.
To hear more of App Annie's insights into the mobile app economy, check out our free 2017 App Market Retrospective report — the industry's largest and most trusted analysis of the state of the app economy. If you're interested in looking into some of the data behind the app market yourself, sign up for our free product here and get started today.