Genshin Impact was the #1 game by worldwide consumer spend for Q1 2022 topping $530 million. data.ai's latest analysis breaks down Genshin Impact's mobile success.
In the 'core' mobile games space, it's unusual for a title to come out of nowhere and dominate the market. Most of the biggest hits accumulate their success gradually – or are backed by well-established publishers with deep pockets.
Genshin Impact is one of those rare exceptions. The Open World RPG, created by Chinese developer miHoYo, was first released in September 2020. It arrived with little fanfare and scarcely any promotion. But in the subsequent 18 months, the mobile version was downloaded around 115 million times by gamers in 174 countries, across iOS App Store and Google Play.
Its track record in monetization has been even more impressive. Genshin Impact has achieved huge success with its massive, completely free-to-play RPG gameplay, supported by a robust 'gacha' mechanic, in which players spend in-game currency to receive highly desirable rare characters and virtual items. The model helped Genshin Impact become the #2 game of 2021 by consumer spend across iOS and Google Play, and #1 in Q1 2022.
By data.ai's estimates, Genshin Impact has generated nearly $2.7 billion in consumer spend globally since launch. And the title appears to be equally popular with gamers in the east and west; its top markets by consumer spend are China, US, Japan, South Korea and Germany.
The headline numbers show that this is an exceptional product. But there are deeper insights and surprising nuggets hidden in the data.ai dashboard. Here are the highlights. 
Genshin Impact Brought Open World RPG on Mobile to Prominence
Genshin Impact is the latest high-profile addition to the RPG Genre on mobile, a genre containing successful subgenres such as MMORPG, Team Battle and Puzzle RPG and top performers such as Lineage M, Fate/Grand Order and Monster Strike respectively. These RPG subgenres place emphasis on either competitive online game play or single player mechanics with deep progression. Prior to Genshin Impact, there was no precedent on mobile for Open World games where players were able to explore the game world freely, with relatively few limitations on what they can do or where they can go. 
On PC and consoles, Open World games stretch back to the earliest days of gaming – to landmark 80s titles such as The Legend of Zelda and Flight Simulator. The subgenre arguably carved its own place with the success of franchises such as Grand Theft Auto and Assassin's Creed. On mobile, Genshin Impact has set a new standard for offering console-quality Open World experiences. Game publishers are taking note and increasingly prioritizing mobile as part of their platform of choice to expand their user base.
data.ai's creative gallery shows how Genshin Impact prioritized the Open World RPG gameplay in ads supporting its mobile launch. One of its launch video ads that ran in 8 markets shows off the game's vast open world and emphasizes exploration and multi-character play — key value propositions for its target audience.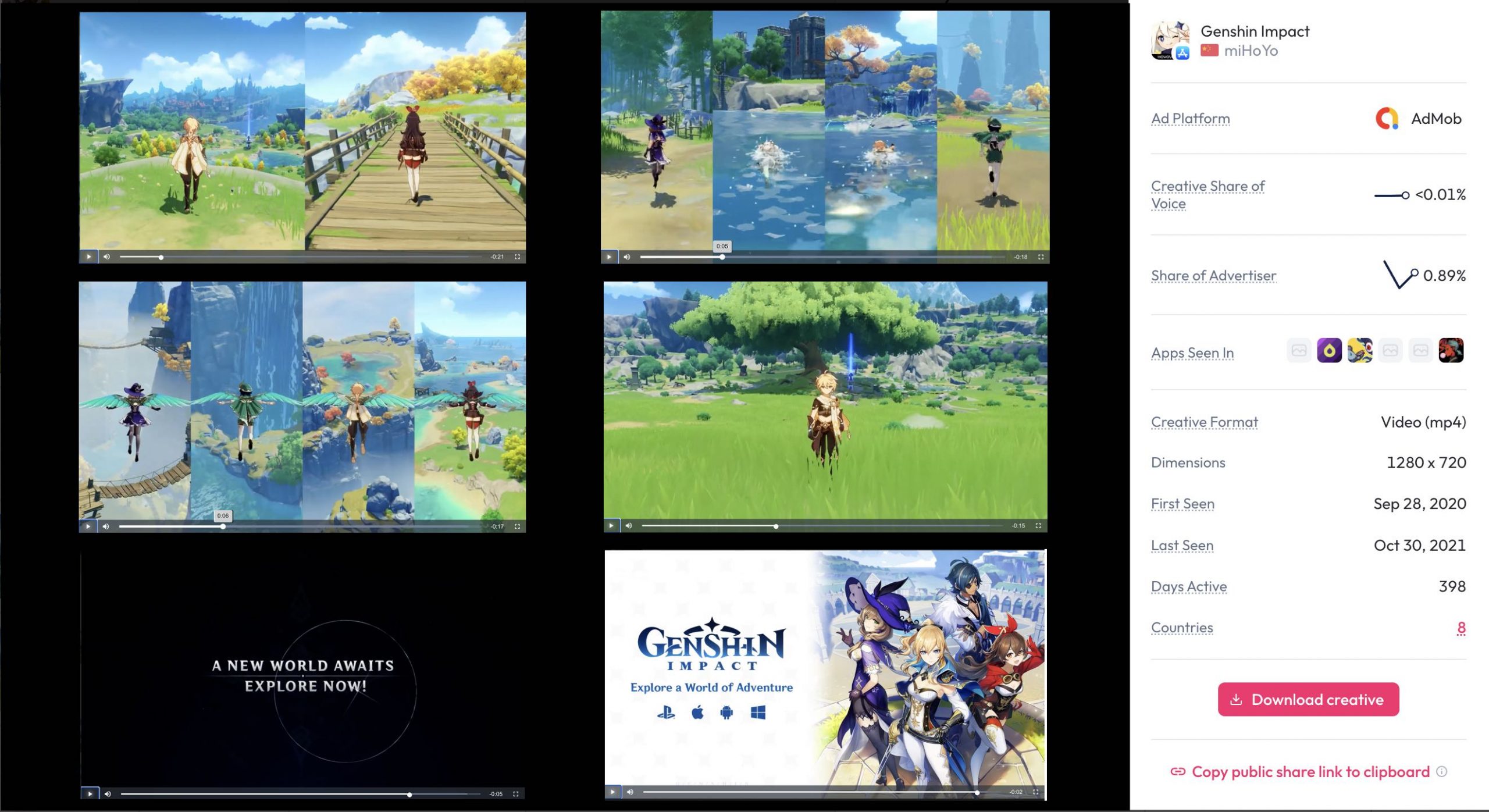 Source: data.ai Intelligence, Creatives Gallery for United States, iPhone, September 2020
RPG games were already among the most successful genres for monetization on mobile. MMORPG games led for this genre growing at an impressive 17% growth year-over-year in 2021. Looking at all RPG game subgenres, we can see the unique contribution of Genshin Impact, which brought the Open World RPG subgenre into the spotlight — causing Open World RPG to rapidly reach the #6th biggest RPG subgenre by consumer spend share in 2021, an astounding 233% growth in spend year over year.
Outside of APAC, Genshin Impact Skews Towards Female Gamers
Mobile gaming continues to push adoption across all demographic groups – and one of the reasons for its explosive growth has been the engagement of older players. But Genshin Impact skews young. According to data.ai's data, Gen Z players (under 24 year old) are around 2x more likely to play Genshin Impact, relative to the average population. The skew to Gen Z is closer to 3x in Germany, Japan, France and the UK.
Genshin Impact's split by gender is less than its split by age. On a global average, the game is equally popular among males and female gamers. But this does vary by region. Genshin Impact is 20%more likely to be played by females in the Americas and EMEA. However it's the opposite in APAC where it is 14% more likely to be played by male gamers.
It's worth noting that Genshin Impact has a colorful anime-inspired aesthetic. (You can read more about anime art style in games in our State of Anime Gaming Report.) It also lets players choose between a male and female protagonist. Both of these attributes might explain its appeal to a younger generation and both genders. Furthermore, we see mobile ads emphasizing the game's accessibility among females and long-term playability in order to appeal to their target users.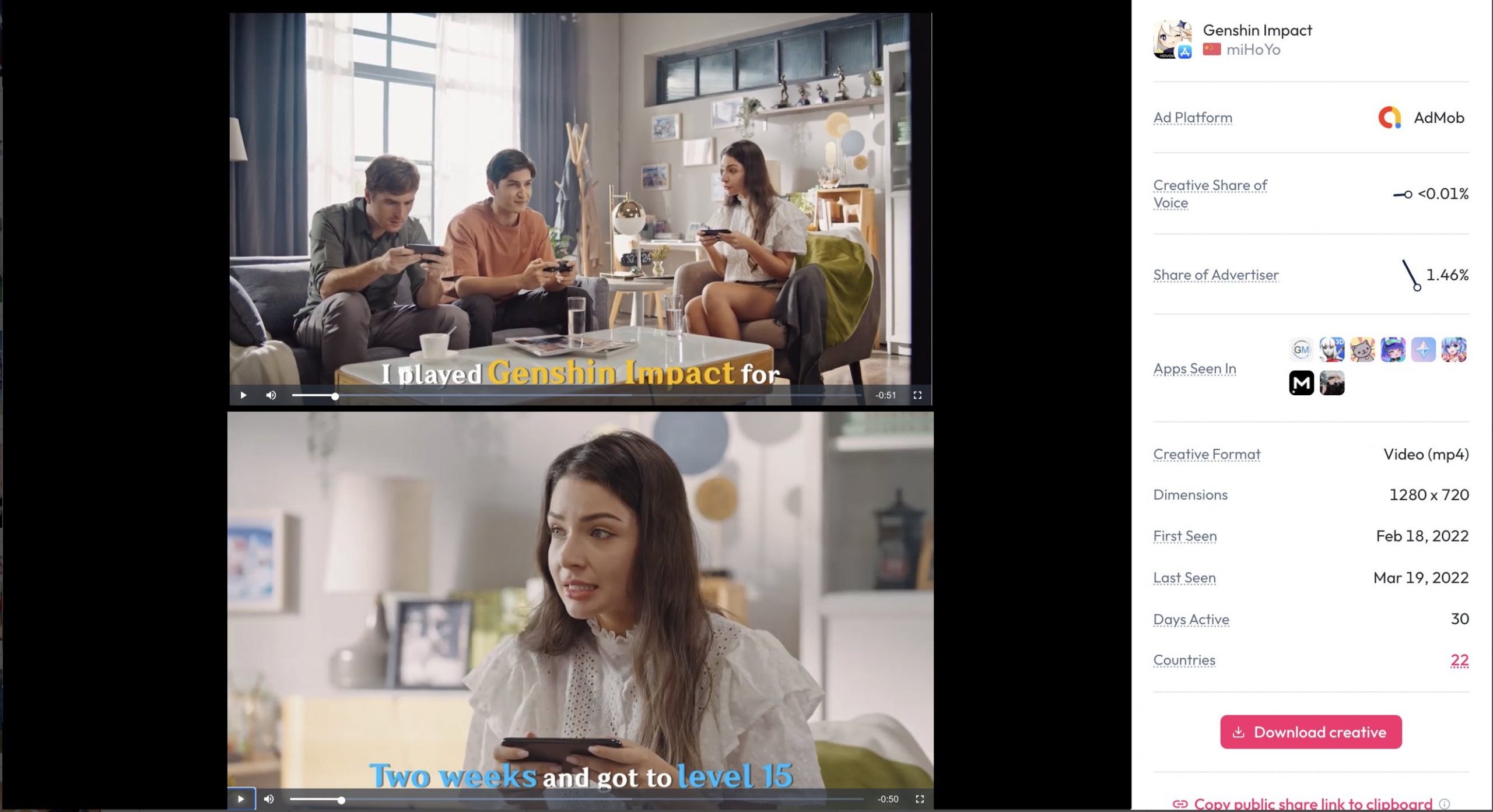 Recent Genshin Impact creatives show the game's immersive and engaging gameplay as enjoyable by both male and female audiences. Source: data.ai Intelligence, Creatives Gallery for United States, iPhone, March 2022
In Japan, Sales of a Single $120 In-App Purchase (IAP) Item Generated 60% of all Genshin Impact's Consumer Spend
Genshin Impact is a free-to-play game. All of its content or characters can be unlocked through gameplay. Nevertheless, players can make in-game purchases of randomized items held in loot boxes. 
Players can also buy "Genesis Crystals", which are a type of in-game currency that can be used to purchase useful resources and powers.The most players can buy in 1 transaction is a "6,480 Genesis Crystal bundle" for $120 USD.
Through data.ai's new In-App Purchase SKU product, we were able to see that the popularity of this premium IAP product varies greatly by country, and Japan is way out in front. In March 2022, 1 in every 5 sales was for a 6480 Genesis Crystal bundle IAP item. These sales contributed 60% of the game's total revenue for that month.
In South Korea, 10% of purchases were for 6480 Genesis Crystals, and the same item makes up over 8% of purchases in China, while in most other Western markets, fewer than 5% of purchases went to this IAP item.
data.ai's In-App Purchase SKU report can help you understand a game's pricing strategies and consumer spend volumes across different markets for each IAP item.
Gacha / Loot Boxes were one of the most used monetization mechanics in Japan, and this was also true in markets like China and South Korea that have a similar market acceptance towards chance-based mechanics. Given Japan's mobile device spend per user is one of the highest in the world, understanding how monetization preferences differ by market is crucial for creating optimal pricing strategies and app monetization.
Genshin Impact Has Turned Every New Version Update Into a Major Event, Propelling It Up the Revenue Charts Each Time
Every 6 weeks, Genshin Impact launches a version update that introduces themed events, quests and new characters. These updates are eagerly awaited by the game's user base – to such an extent that they will propel the title to #1 in many markets.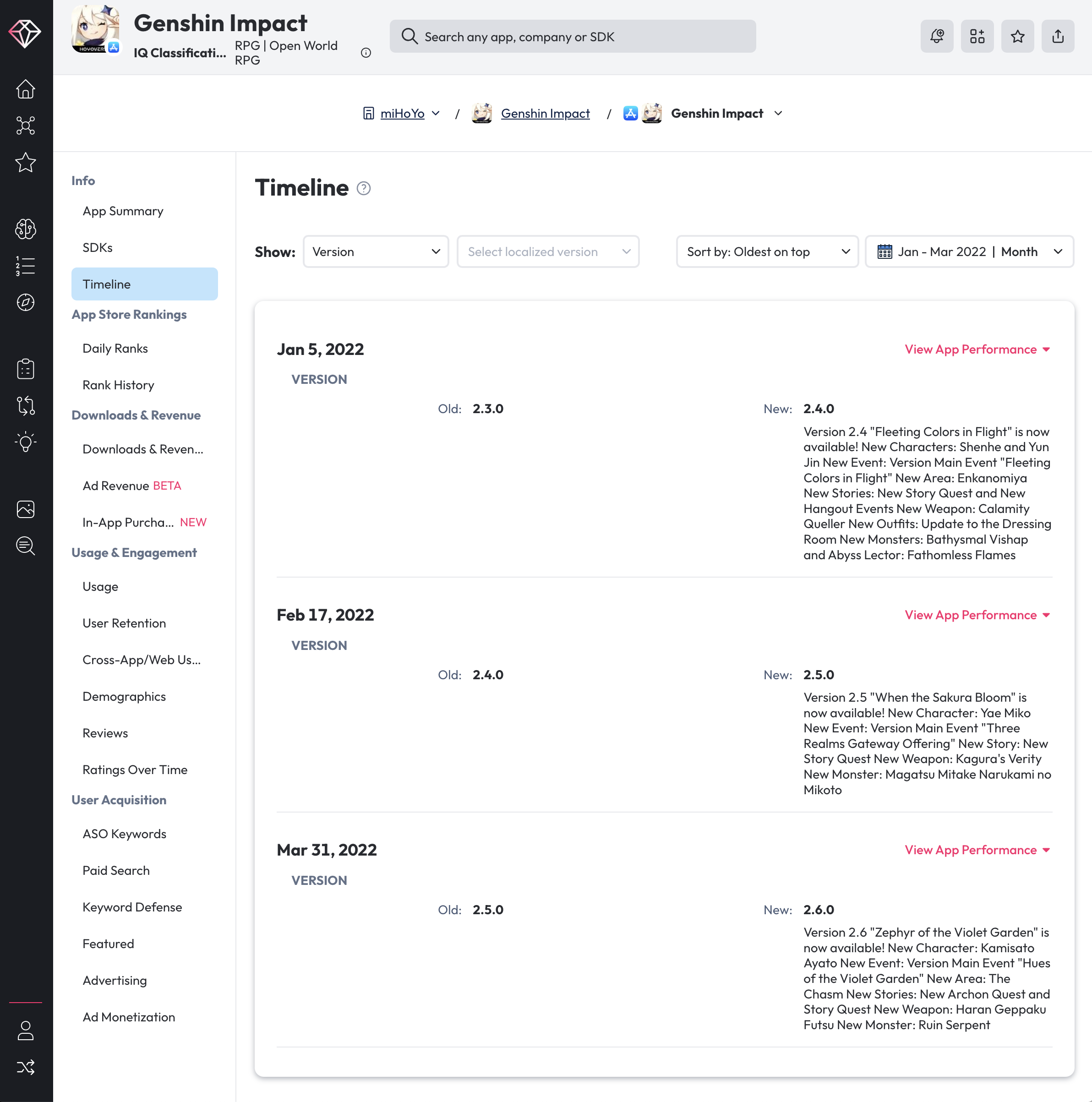 Genshin Impact has a stable cycle of almost monthly version updates with regular special themed events, quests and new characters being added. Source: data.ai Intelligence, Timeline Report for Version for Genshin Impact, iPhone.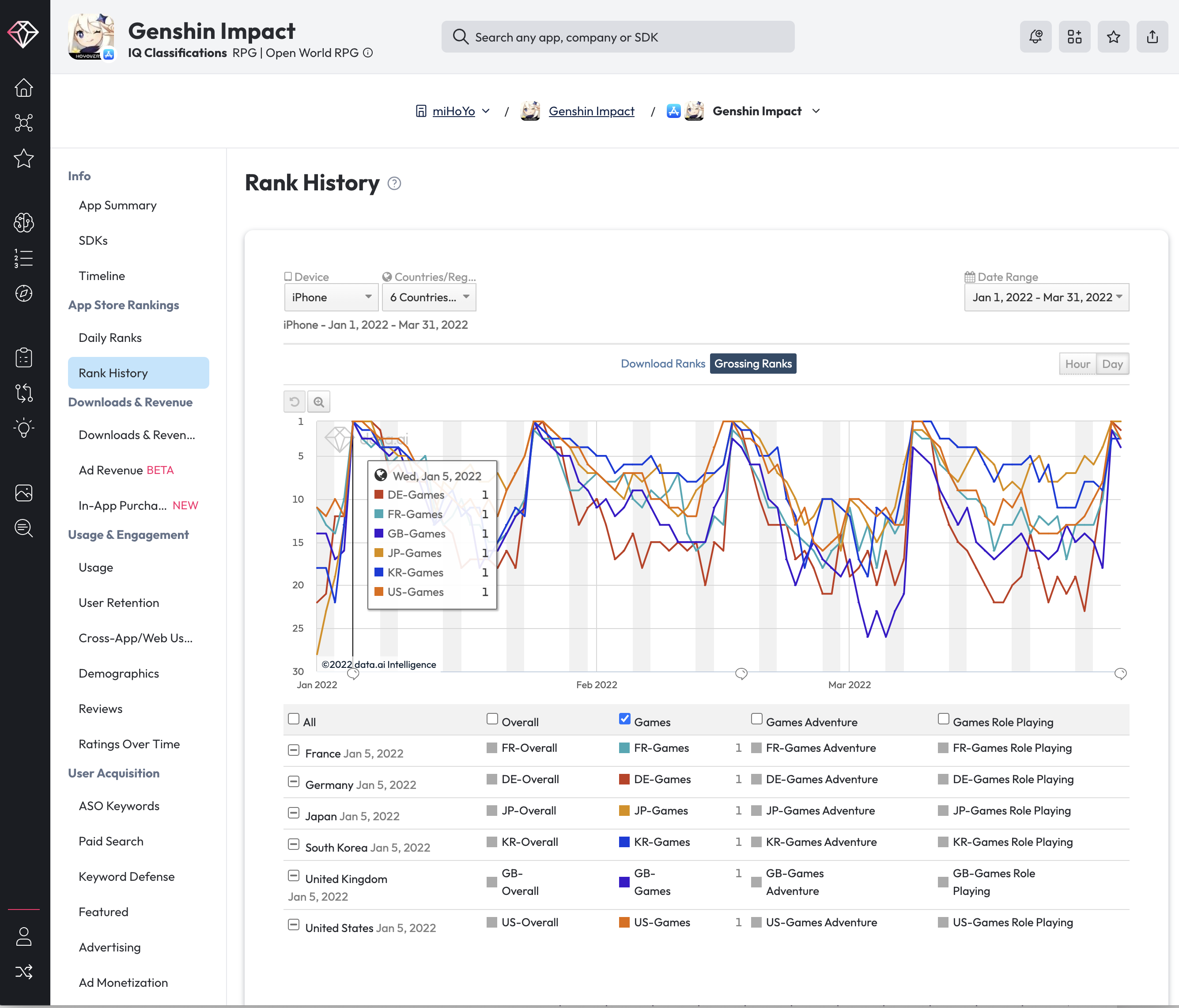 With each new content updates, Genshin Impact's Grossing Rankings shoot up to #1 in many markets. Source: data.ai Intelligence, Rank History (Grossing), Genshin Impact, iPhone, Q1 2022. 
Regular content updates and special events help cultivate player loyalty and foster longer retention. For Open World games such as Genshin Impact, demand for fresh content and collectible items will continue to drive monetization success for years to come as Mihoyo continues to invest into further development and expansion of the game universe.
Looking for More Mobile Gaming Insights?
Sign up here to claim a copy of data.ai's industry-leading State of Anime Gaming 2022 report: