April 2022 was a stunning month for Sega and its Sonic Forces: Speed Battle game. With the launch of Sonic The Hedgehog 2 in cinemas, the title saw 160% boost in month-over-month downloads
Our numbers for April 2022 are in. And amazingly, this Sonic Forces: Speed Battle absolutely smashed it. Why 'amazing'? Because Sega's Sonic Forces: Speed Battle is 5 years old. It was originally released in 2017. What's more, it's based on a games franchise that goes all the way back to 1991.
Sonic is a gaming juggernaut. And Sonic Forces: Speed Battle was no doubt helped to its extraordinary recent success by the launch of the spin-off movie Sonic the Hedgehog 2 on April 3. Having been hailed as the highest grossing video game based movie of all time in the United States, the film certainly re-focused attention on the game. In fact, we saw a correlation between markets where the movie did well against the top markets by downloads for the game, led by Brazil, Mexico, Argentina and France, who were among the top 10 International markets by Gross Box Office earnings.
SEGA SAMMY made the most of the potential boost that the movie could offer. In early April, it launched an updated version of the title with a description that read: "We're taking things to the next level! Win all-new movie characters and experience a brand-new track in our exclusive Sonic the Hedgehog 2 Movie Event!". It also confirmed a month of Sonic 2 events based around the game, focusing on key characters Sonic, Tails, and Knuckles.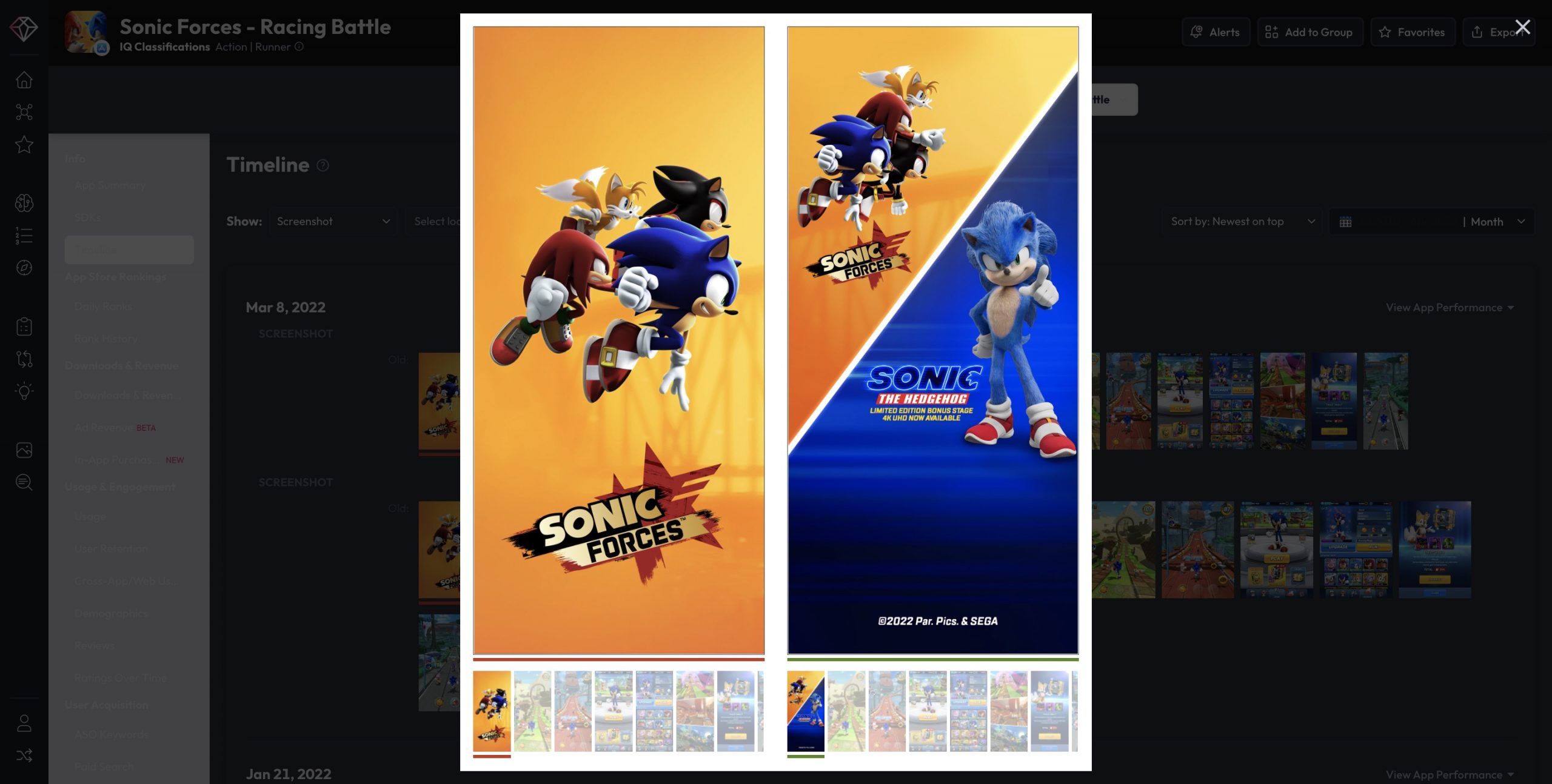 In anticipation of the movie release, the primary App Screenshot for the game has been refreshed with details of in-game events tied to the movie. Source: data.ai Intelligence, App Timeline, Sonic Forces : Speed Battle, iPhone March, 2022.
We've also seen increased activities in Paid User Acquisition, with 20% total share of downloads in the United States in April 2022 coming from Paid Ads and Paid Search, double the share of the month prior.
Looking deeper into the demographic tendencies in select markets revealed GenZ as the primary age group that has the highest likelihood of playing Sonic Forces: Speed Battle compared to the average population. The only exception was Australia where millennials tend to play the game the most. This suggests that the game did well in capturing the younger audience who may not be as familiar with the older groups who grew up playing earlier Sonic games on home consoles. Also while females are slightly more likely to play the game in Canada, in most markets analyzed, the game still skews male. It is important to note that our analysis is limited to males and females only and is not representative of all gender identities.
Fans Are Hungry for More Sonic Games
Needless to say, the halo effect of the Sonic The Hedgehog 2 movie didn't just apply to Sonic Forces: Speed Battle. Fans of Sonic the Hedgehog also seek other Sonic games during this period, in fact all other titles in the Sonic family saw an uplift in downloads.
The impact can be seen in the Global Top Performing IPs— powered by data.ai Game IQ Feature Tags. This revealed games with "Sonic the Hedgehog" IP were the #8th most downloaded IP in Q1 2022, and in Q2 2022, it moved up to #2 position, with Sonic Forces: Speed Battle leading the downloads.
Sonic Forces: Speed Battle is the Definitive Mobile Version of Sonic
Being the latest entry in the series, developers of Sonic Forces: Speed Battle had plenty of opportunities to take learnings from past iterations of earlier Sonic games, and implemented incremental improvements to what makes Sonic work on mobile. 
While the original console game was done as a 2-Dimensional side scrolling game, the latest 3 games on mobile were presented in 3-D in Portrait Orientation according to data.ai's Game IQ Feature Tags, which was more optimal for mobile gameplay in the likes of other Action (Runner) Games such as Subway Surfers. 
Sonic Forces: Speed Battle also took cues from other successful mobile games and implemented Gacha/ Loot Boxes, according to data.ai's Game IQ Feature Tags, as well as additional features not found in other Sonic games such as Achievements and External Friend invites.
Sonic Forces: Speed Battle — Quick Mobile Success Stats
Being the most featured-packed Sonic mobile games, the release of the movie provided a fresh boost of interest in the game, and our data reveals the success of this strategy. The impact was as follows:
4.6 million downloads in April 2022 – its highest since launch. Between Jan to March 2022, the average was 1.85 million

A 160% increase in month over month downloads

#1 breakout game by worldwide downloads in the Runner (Action) category

Ranked #8 by downloads and #4 by consumer spend among games in the Runner genre in April 2022

#3 breakout game by worldwide consumer spend in the Runner (Action) category

135% increase in spend for April 2022

Its highest month for revenue since launch

Players accessed the game 24 times per day – the highest among top Action(Runner) genre during the period
Sonic Forces: Speed Battle lifetime figures are now:
94 million lifetime downloads led by Brazil, US, Mexico, Russia,and Indonesia

$13.2 million in consumer spend led by US, UK, France, Germany and Canada
Looking for More Mobile Gaming Insights?
Sign up here to claim a copy of data.ai's industry-leading IDC Gaming Report 2022:
Looking to make more of the mobile opportunity? Talk to an expert today.
DISCLAIMER: 
data.ai is a mobile market estimate service provider. data.ai is not registered in any investment advisory capacity in any jurisdiction globally, and does not offer any legal, financial, investment or business advice. Nothing contained in this communication, or in any data.ai products, services, communications, or other offerings, should be construed as an offer, recommendation, or solicitation to buy or sell any security or investment, or to make any investment decisions. Any reference to past or potential performance is not, and should not, be construed as a recommendation or as a guarantee of any specific outcome. You should always consult your own professional legal, financial, investment and business advisors. Additionally, by providing the information herein, data.ai does not make any representations or warranties and does not undertake any legal or contractual obligations whatsoever. No liability may accrue to data.ai as a result of providing this information to you.