Traditionally, hypercasual gaming is not a genre for premium income through the app stores. These titles are supposed to make all their money from advertising, right? Well, Lion Studios' Army Commander might just have changed the model.
For the last few years, a succession of hypercasual titles have transformed the mobile gaming market.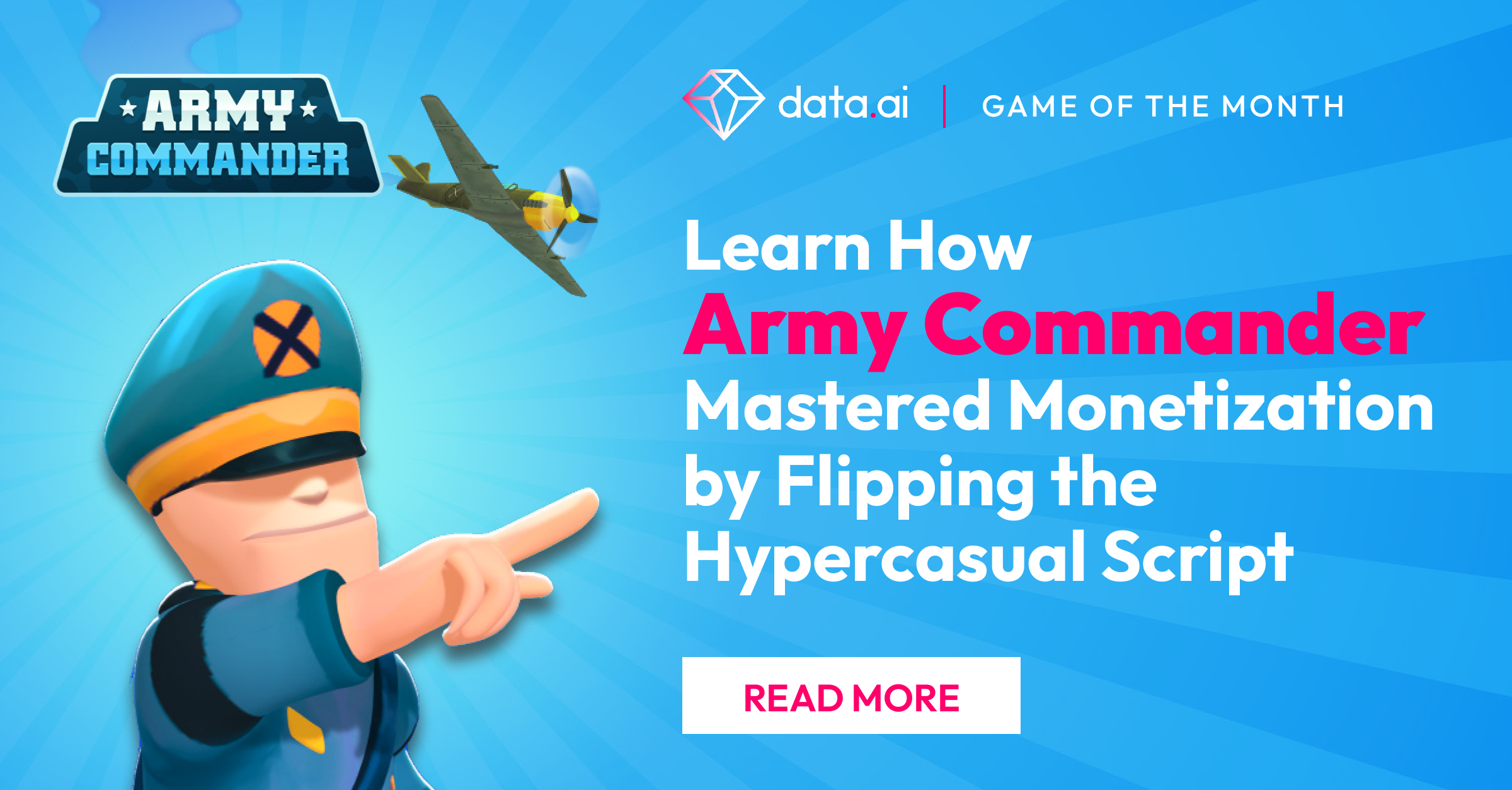 Games such as Bridge Race and High Heels have generated vast download numbers by removing virtually all the friction that would stop less committed users from playing. Hypercasual games are lightweight, have a scaled-down depth of content and progression and are usually free to play.
This simplicity has brought millions of new gamers into the mobile gaming universe. The category scarcely existed before 2014 but in 2021 the action and puzzle hypercasual subgenres topped the download chart in 24 of 28 countries.
Indeed, according to our own State of Mobile Gaming 2022 report, consumers downloaded over 15 billion hypercasual games last year. In 2018 total equivalent downloads stood at around 4 billion. In fact, in Q1 2021, hypercasual downloads reached new heights of 4.5 billion, representing one-third of the total gaming market globally.
Action – the Hypercasual Genre with IAP Appeal
But if hypercasual games set a new bar for downloads, they don't usually figure in terms of direct user spend. Instead, most of their income comes from ads. In fact, while hypercasual games made up 32% of the downloads Share in Q1 2022, they represented less than 1% of the mobile game IAP spend share. 
Is this changing? Our new research suggests it might be – for a particular type of product: the hypercasual game with a focus on action. Hypercasual action was ranked the #1 subgenre by downloads in 2021. In Q1 2022, these titles generated 1.2 billion downloads, which was  8.5% of the market. This was up 40% from the year prior.
And of all the hypercasual action titles in the market now, Army Commander by Lion Studios (AppLovin) is the stand out.
Army Commander invites players to act as the chief commander of an army whose only mission is to capture the enemy's flag. Players can deploy tanks, bazookas and planes to attack and defeat enemies.
The title was first released in February 2022, and is currently available in over 175 markets with over 24.3 million downloads to date. Comparing with other hypercasual games that was released this year, it ranked #1 in the hypercasual game revenue charts (March and April 2022) and remained at #4 into May.
Army Commander Is on Its Way to $1 Million in Consumer Spend
To date, Army Commander has earned nearly $800k in consumer spend with the top markets comprising the US, UK, Germany, Australia and France.
Why is this? What accounts for the title's exceptional ability to break the norms of hypercasual play and inspire users to pay directly to enhance their gaming experience?
Using data.ai Game IQ and Deep Tagging, we dissected Army Commander and looked at how certain design choices and features implemented by the developers impacted the game's key performance indicators.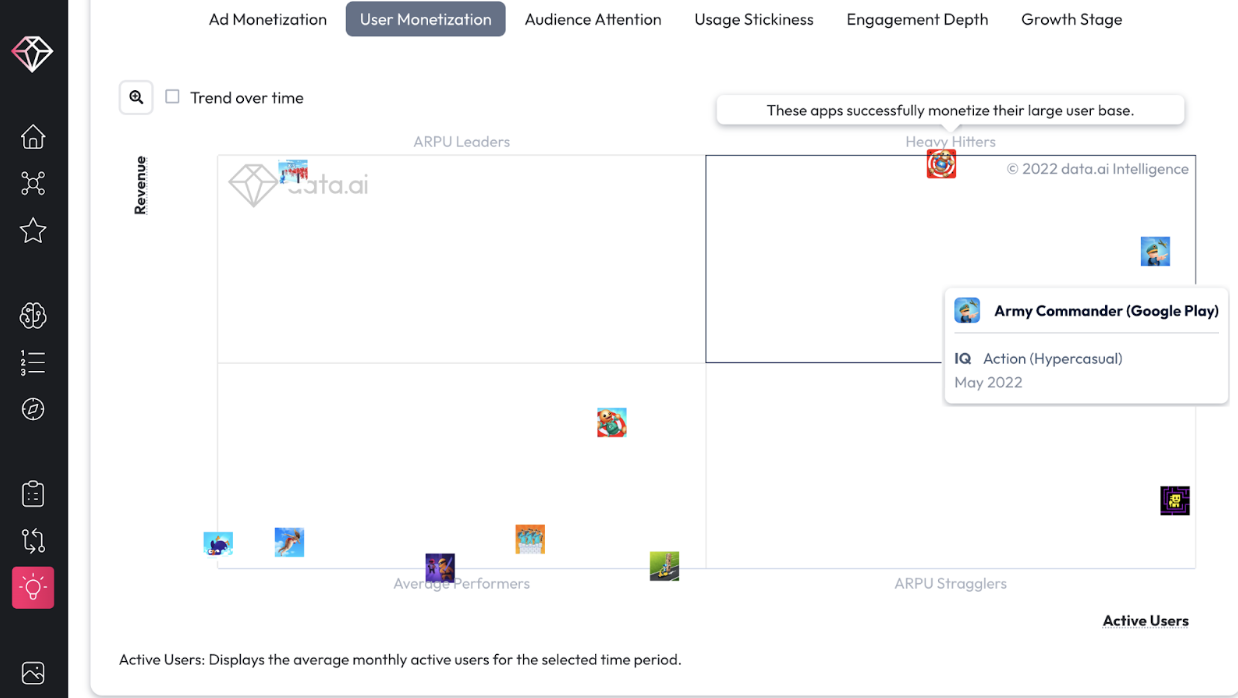 Monetization Insights Generator Among the Top 10 Action Hypercasual by Revenue, Android Phone, US, May 2022
We found that, compared to other games with similar number of active users, Army Commander performed better in terms of average revenue per user (ARPU). Using the data.ai Feature comparison tool, we explored the monetization techniques deployed in these games, and discovered that Army Commander actually shared many of them such as advertising, In App Purchases (IAP) items, rewarded video and paying to remove ads for uninterrupted play.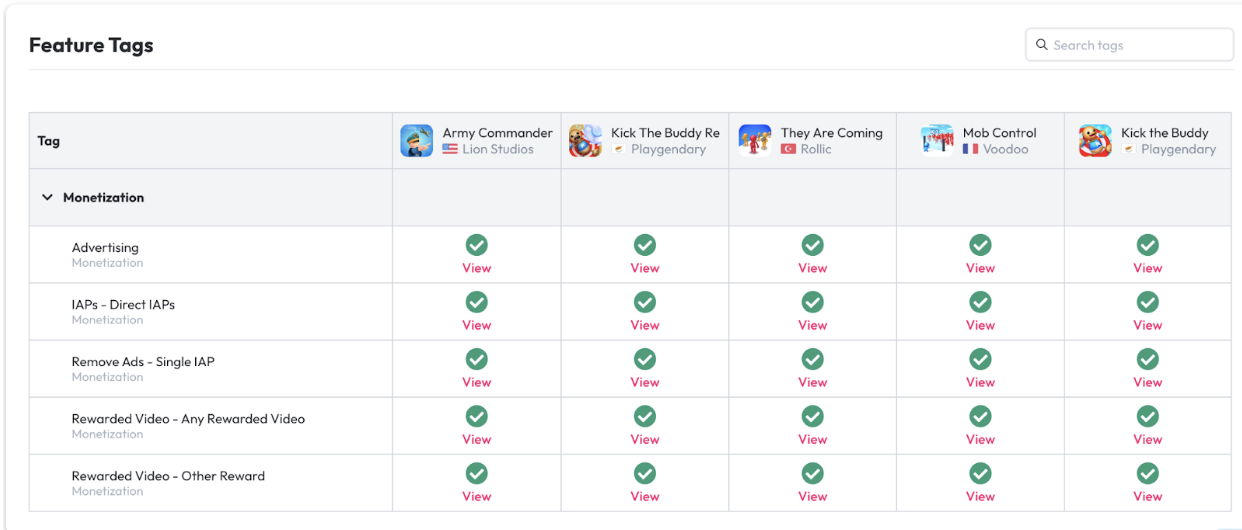 Feature Comparison of Monetization features among Select Top Action Hypercasual Games
Of all these methods, the latter – paying to remove ads – was the most lucrative by percentage of purchase volume and total revenue.
IAP Items for Army Commander, iPhone, United States, May 2022, based on our new IAP SKU product.
We also found that Army Commander's pricing for paying to remove ads is currently set at $5.99, which is higher than the more average industry price point of $2.99.
As many readers will be aware, new attitudes to data privacy are reducing the options for publishers that rely on ads for their revenue. Apple deprecated its IDFA last year, making it harder for marketers to measure and attribute the impact of paid advertising campaigns. 
Does Army Commander's strategy offer a way for hypercasual games publishers to negotiate the new world of consumer privacy and restrictions on targeting? 
Possibly, though Army Commander does have unique properties that not all titles can copy. Still, it is certain that Army Commander is positioning itself as the category's premium hypercasual game, targeting a mid-core to core segment of the gaming population that is happier than most to pay for an enhanced experience.
Looking for More Mobile Gaming Insights?
Sign up here to claim a copy of data.ai's industry-leading IDC Gaming Report 2022:
Looking to make more of the mobile opportunity? Talk to an expert today.
DISCLAIMER: 
data.ai is a mobile market estimate service provider. data.ai is not registered in any investment advisory capacity in any jurisdiction globally, and does not offer any legal, financial, investment or business advice. Nothing contained in this communication, or in any data.ai products, services, communications, or other offerings, should be construed as an offer, recommendation, or solicitation to buy or sell any security or investment, or to make any investment decisions. Any reference to past or potential performance is not, and should not, be construed as a recommendation or as a guarantee of any specific outcome. You should always consult your own professional legal, financial, investment and business advisors. Additionally, by providing the information herein, data.ai does not make any representations or warranties and does not undertake any legal or contractual obligations whatsoever. No liability may accrue to data.ai as a result of providing this information to you.