Console-turned-mobile game, Crash Bandicoot, surges in popularity on its first day of launch
Crash Bandicoot: On the Run has launched across iOS and Google Play worldwide on Mar 25, 2021. In just one day, the game has garnered over 9.1 million downloads in the top 8 markets alone including the US, Brazil, Mexico, Italy, Russia, France, Germany and Spain. The game saw 2.6 million downloads in the US alone, ranking #1 Overall by downloads across iOS and Google Play.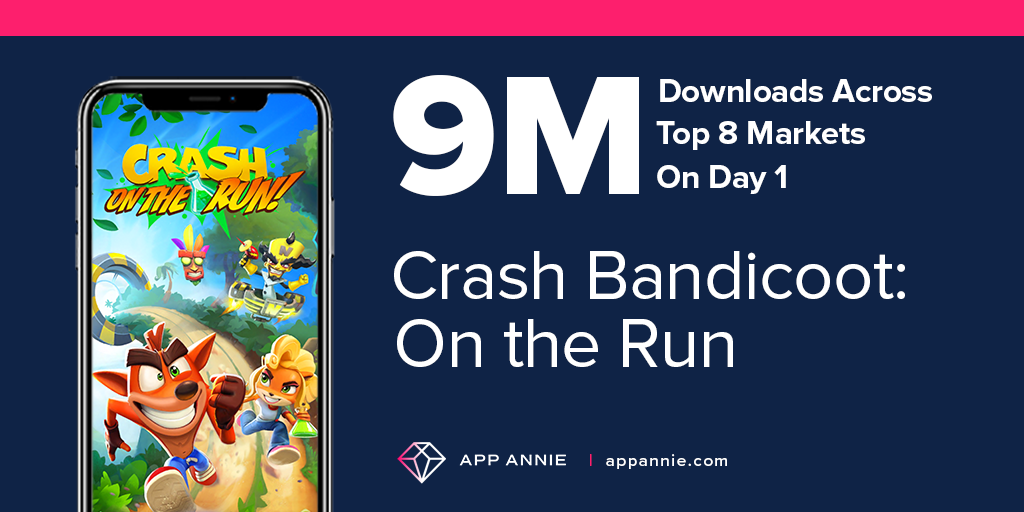 Making the Leap to Mobile: Crash Bandicoot is Positioned for Success 
Crash Bandicoot: On the Run was published by King — the mobile game publisher behind the hugely popular Candy Crush Saga franchise. In 2020, Candy Crush Saga was the 2nd most played game worldwide outside of China. With the weight of a seasoned mobile game developer behind it, Crash Bandicoot: On the Run is well-positioned to leverage the popularity of the franchise as a console video game for the mobile audience. With mobile being the most popular form of gaming around the world and consumer spend set to surpass $120 billion in 2021 — 1.5x the rest of the gaming market — many video games are turning their attention to mobile. Call of Duty: Mobile made the leap to mobile in 2019 and reached 100 million downloads within 20 days — similar to the performance of Pokémon GO (19 days) and 5x faster than other core games including PUBG Mobile (100 days) and Fortnite (643 days). We'll continue to monitor the launch of Crash Bandicoot: On the Run to see how it stacks up against other popular titles.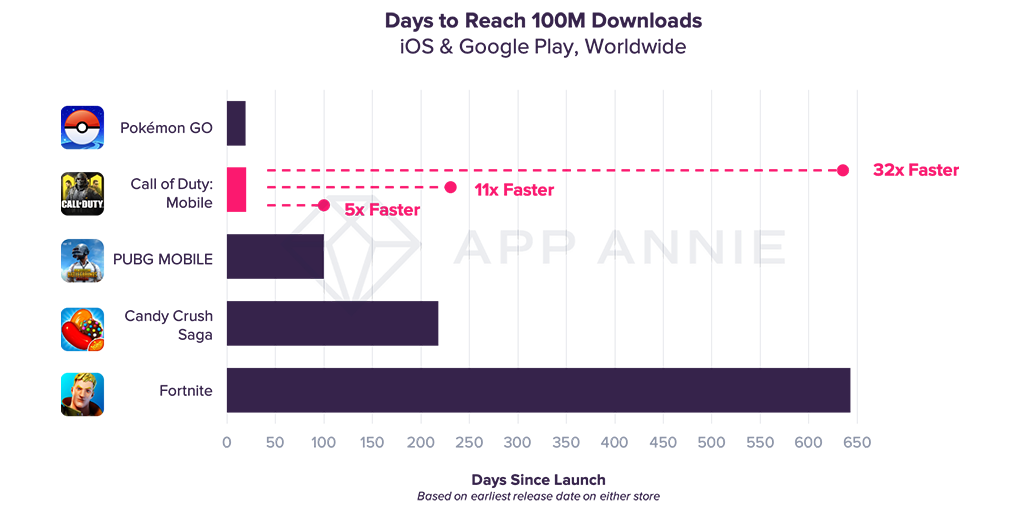 A Console Classic Goes Casual Arcade Runner Mobile Game 
As a casual arcade runner game, Crash Bandicoot: On the Run is characterized by a constantly moving screen with limited control of the character while having to avoid obstacles in the gameplay. These games tend to be tuned to shorter, more frequent sessions with easy gestures — making them easier to play and good contenders to garner widespread adoption. Other notable casual arcade runner games include Subway Surfers and Temple Run. Subway Surfers first launched in 2012, and 8 years later was the #3 Game by global downloads in 2020, and the #8 Game by global average monthly active users (MAU) in 2020 outside of China — an impressive feat especially given increased competition in the mobile gaming space. This speaks to the appeal of casual arcade runner games and their ability to not only maintain an engaged user base but continue to attract new gamers. 
Crash Bandicoot: On the Run's is well-positioned to leverage its brand recognition — particularly tapping into nostalgia from millennials who grew up playing the original 1996 Playstation release and subsequent games in the franchise — with the modern-day appeal and distribution of mobile gaming. Over 9.1 million downloads in just 24 hours is an impressive start, and surely, just the beginning.  
For more on the State of the Mobile Gaming Market in 2021, read our latest gaming report: 
Looking to make more of the mobile opportunity? Talk to an expert today.
DISCLAIMER: 
App Annie is a mobile market estimate service provider. App Annie is not registered in any investment advisory capacity in any jurisdiction globally, and does not offer any legal, financial, investment or business advice. Nothing contained in this communication, or in any App Annie products, services, communications, or other offerings, should be construed as an offer, recommendation, or solicitation to buy or sell any security or investment, or to make any investment decisions. Any reference to past or potential performance is not, and should not, be construed as a recommendation or as a guarantee of any specific outcome. You should always consult your own professional legal, financial, investment and business advisors. Additionally, by providing the information herein, App Annie does not make any representations or warranties and does not undertake any legal or contractual obligations whatsoever. No liability may accrue to App Annie as a result of providing this information to you.